Beautiful Nature Poems For Kids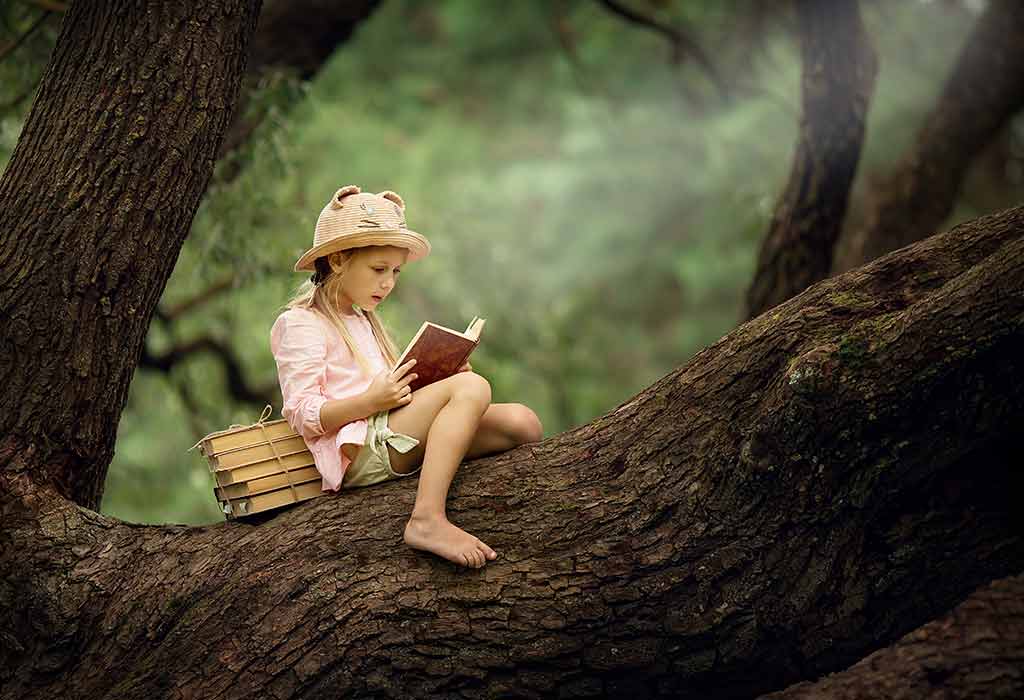 Childhood is the time of enriching minds with learning aspects. A child should be made aware of the many offerings that we get from nature and how it makes the world a much better place. Nature Poems help us to educate children about all the beauty that surrounds us through storytelling. Everything is a part of nature, from lush trees to blooming flowers, the cascading waterfalls, to the smiling sunshine. A short English poem on nature for kids can help to improve their imagination as they try to picture the nature they read about in their minds. Read on as you come across some beautiful and short English poems for class 1 on nature that will help kids admire nature's beauty and splendor.
What Are the Benefits of Nature Poems for Children?
Following are the benefits of teaching nature poem in English for class 2.
It motivates kids to read and write.
It develops creativity and imagination skills among the little ones.
It encourages children to understand the importance of the environment and nature.
It creates awareness among children about the diversity and conservation of nature.
It enables kids to express their thoughts about nature in a creative way.
It develops essential skills in children like vocabulary, reading and writing skills.
Children's Poems About Nature
There are plenty of short nature poems for kids that educate them about nature and let them know why they should protect it. Let us have a look:
1. Cool Summer By Suhaani C. Malik
Here it comes,
Ready or not.
Summer's coming,
And it's going to be hot!
Summer is the time
Just to be free.
Run in the parks
With unbearable glee.
Roll on the grass,
Climb up the trees.
Make shapes from the clouds
While enjoying juicy berries!
Rest on the mat,
Or jump in the pool.
Have ice cream or juice
'Cause, you gotta keep cool.
Chill by the shore,
Or sunbathe on the sand.
Have a dip in the sea
Or relax and get tanned.
Switch on the A.C.,
And, oh, switch on the fan.
Breathe in the cool air,
And have a drink from a can.
Summer is a time
Of all the joy and play.
But can you believe,
It's not around to stay?
At night we look into the sky.
Summer will be gone with all its bloom,
And in a blink of an eye,
Winter will be here soon!
2. Trees By Joyce Kilmer
I think that I shall never see
A poem as lovely as a tree.
A tree whose hungry mouth is prest
Against the earth's sweet flowing breast;
A tree that looks at God all day,
And lifts her leafy arms to pray;
A tree that may in Summer wear
A nest of robins in her hair;
Upon whose bosom snow has lain;
Who intimately lives with rain.
Poems are made by fools like me,
But only God can make a tree.
3. Let's Preserve Our Nature By Arjun
The sun is shining
The sky is blue
The birds are flying
And the breeze is so cool.
Mother Nature is trying her best
To give nothing but beautifulness
But what do we do?
Make her a mess.
Let's make her the best
By polluting less and less
And preserve her green dress
For our kids and the rest.
4. Come Little Leaves By George Cooper
"Come, little leaves,"
Said the wind one day,
"Come over the meadows
With me, and play;
Put on your dresses
Of red and gold;
Summer is gone,
And the days grow cold."
Soon as the leaves
Heard the wind's loud call,
Down they came fluttering,
One and all;
Over the meadows
They danced and flew,
Singing the soft
Little songs they knew.
Dancing and flying
The little leaves went;
Winter had called them
And they were content-
Soon fast asleep
In their earthy beds,
The snow laid a soft mantle
Over their heads.
5. To A Cloud By William Cullen Bryant
Beautiful cloud! with folds so soft and fair,
Swimming in the pure quiet air!
Thy fleeces bathed in sunlight, while below
Thy shadow o'er the vale moves slow;
Where, midst their labor, pause the reaper train
As cool it comes along the grain.
Beautiful cloud! I would I were with thee
In thy calm way o'er land and sea:
To rest on thy unrolling skirts, and look
On Earth as on an open book;
On streams that tie her realms with silver bands,
And the long ways that seam her lands;
And hear her humming cities and the sound
Of the great ocean breaking round.
Ay—I would sail upon thy air-borne car
To blooming regions distant far,
To where the sun of Andalusia shines
On his own olive groves and vines,
Or the soft lights of Italy's bright sky
In smiles upon her ruins lie.
But I would woo the winds to let us rest
O'er Greece long fettered and oppressed,
Whose sons at length have heard the call that comes
From the old battlefields and tombs,
And risen, and drawn the sword, and on the foe
Have dealt the swift and desperate blow,
And the Othman power is cloven, and the stroke
Has touched its chains, and they are broke.
Ay, we would linger till the sunset there
Should come, to purple all the air,
And thou reflect upon the sacred ground
The ruddy radiance streaming round.
Bright meteor! for the summer, noontide made!
Thy peerless beauty yet shall fade.
The sun that fills with light each glistening fold,
Shall set, and leave thee dark and cold:
The blast shall rend thy skirts, or thou may'st frown
In the dark heaven, when storms come down,
And weep in rain, till man's inquiring eye
Miss thee, forever from the sky.
6. I'm Glad the Sky is Painted Blue – Anonymous
I'm glad the sky is painted blue,
And the earth is painted green,
With such a lot of nice fresh air
All sandwiched in between.
7. Trees By Sara Coleridge
The Oak is called the King of trees,
The Aspen quivers in the breeze,
The Poplar grows up straight and tall,
The Peachtree spreads along the wall,
The Sycamore gives pleasant shade,
The Willow droops in watery Glade,
The Fir tree useful timber gives,
The Beech amid the forest lives.
8. The Ferns By Gene Baro
High, high in the branches, the sea winds plunge and roar.
A storm is moving westward,
but here on the forest floor,
the ferns have captured stillness.
A green sea growth they are.
The ferns lie underwater
In a light of the forest's green.
Their motion is like stillness,
As if water shifts between
And a great storm quivers
Through fathoms of green.
9. The Porcupine By Ogden Nash
Any hound a porcupine nudges
Can't be blamed for harboring grudges,
I know one hound that laughed all winter
At a porcupine that sat on a splinter.
10. Spring By Meredith
The dogwood blossoms sing a spring song,
The butterflies dance in the sky,
The flowers bloom and call flying bees to them,
So Beautiful It Has To Catch Your Eye.
11. The Wind By James Reeves
I can get through a doorway without any key,
And strip the leaves from the great oak tree.
I can drive storm clouds and shake tall towers.
Or steal through a garden and not wake the flowers.
Seas I can move and ships I can sink;
I can carry a house-top or the scent of a pink.
When I am angry, I can rave and riot;
And when I am spent, I lie quiet as quiet.
12. The Purple Cow By Gelett Burgess
I never saw a Purple Cow,
I never hope to see one,
But I can tell you, anyhow,
I'd rather see than be one!
13. Maytime Magic By Mabel Watts
A little seed
For me to sow…
A little earth
To make it grow…
A little hole,
A little pat…
A little wish,
And that is that.
A little sun,
A little shower…
A little while,
And then, a flower!
14. Buttercups & Daisies By Mary Howitt
Buttercups and daisies-
Oh, the pretty flowers,
Coming ere the springtime
To tell of sunny hours.
While the trees are leafless,
While the fields are bare,
Buttercups and daisies
Spring up here and there.
Ere the snowdrop peepeth,
Ere the crocus bold,
Ere the early primrose
Opes its paly gold,
Somewhere on a sunny bank
Buttercups are bright;
Somewhere 'mong the frozen grass
Peeps the daisy white.
Little hardy flowers
Like to children poor,
Playing in their sturdy health
By their mother's door:
Purple with the north wind,
Yet alert and bold;
Fearing not and caring not,
Though they be a-cold.
What to them is weather!
What are stormy showers!
Buttercups and daisies
Are these human flowers!
He who gave them hardship And a life of care,
Gave them likewise hardy strength,
And patient hearts, to bear.
Welcome yellow buttercups,
Welcome daisies white,
Ye are in my spirit
Visioned, a delight!
Coming ere the springtime
Of sunny hours to tell-
Speaking to our hearts of Him
Who doeth all things well.
15. Hurt No Living Thing By Christina Rossetti
Hurt no living thing:
Ladybird, nor butterfly,
Nor moth with dusty wing,
Nor cricket chirping cheerily,
Nor grasshopper so light of leap,
Nor dancing gnat, nor beetle fat,
Nor harmless worms that creep.
16. A Dragonfly By Eleanor Farjeon
When the heat of the summer
Made drowsy the land,
A dragon-fly came
And sat on my hand,
With its blue jointed body,
And wings like spun glass,
It lit on my fingers
As though they were grass.
17. A Wee Little Worm By James Whitcomb Riley
A wee little worm in a Hickory nut
Sang, happy as he could be,
"O I live in the heart of the whole round world,
And it all belongs to me!"
18. The Eagle By Alfred Tennyson
He clasps the crag with crooked hands;
Close to the sun in lonely lands,
Ring'd with the azure world, he stands.
The wrinkled sea beneath him crawls;
He watches from his mountain walls,
And like a thunderbolt, he falls.
19. Awake By Susan Zakusylo
Mountains envy show their color of blue,
As they look down at trees dressed in green,
of their new spring look,
And the flowers awake shimmer with delight,
Rainbow colors and dripping with dew.
Creeks and streams,
as we listen to trickling are talking to nature,
Awake from your wintry sleep,
Rise high and be true all the colors red, white and blue
Rise to the artist and the maker of you.
20. Spring of Greenery! By Manjeshwari P. Mysore
The Season is here
The Reason to celebrate
Spring brings blooming buds
Dressing Trees with vibrant flowers
Singing birds, Dancing peacocks
Swings are swung in gentle rocks
The King of Fruits; Mango rules
Wanted by all, geniuses and mules
Joy seems to fill the ambiance
Time to have fun, feast, and rejoice
Refreshing showers of gentle rain
Soothing the Earth, as ever, yet again.
21. Fireflies in the Garden By Robert Frost
Here come real stars to fill the upper skies,
And here on earth come emulating flies,
That though they never equal stars in size,
(And they were never really stars at heart)
Achieve at times a very star-like start.
Only, of course, they can't sustain the part.
22. Beyond Winter By Ralph Waldo Emerson
Over the winter glaciers
I see the summer glow,
And through the wild-piled snowdrift
The warm rosebuds below.
23. First Snow By Marie Louise Allen
Snow makes whiteness where it falls.
The bushes look like popcorn balls.
And places where I always play,
Look like somewhere else today.
24. The Caterpillar By Christina Rosetti
Brown and furry
Caterpillar in a hurry,
Take your walk
To the shady leaf, or stalk,
Or what not,
Which may be the chosen spot.
No toad spy you,
Hovering bird of prey pass by you;
Spin and die,
To live again a butterfly.
25. The Crocodile By Lewis Carroll
How doth the little crocodile
Improve his shining tail,
And pour the waters of the Nile
On every golden scale!
How cheerfully he seems to grin,
How neatly spreads his claws,
And welcomes little fishes in,
With gently smiling jaws!
26. A Bird Came Down The Walk By Emily Dickinson
A bird came down the walk
He did not know I saw
He bit a angleworm in halves
And ate the fellow raw.
And then he drank a dew
From an convenient grass
And then hopped sidewise to the wall
To let a beetle pass.
He glanced with rapid eyes
That hurried all round
They looked like frightened beads, I thought
He stirred his velvet head.
Like one in danger, cautious
I offered him a crumb
And he unrolled his feathers
And rowed him softer home.
Then oars divide the ocean,
Too silver for a seam
Or butterflies, off banks of noon
Leap, plashless as they swim.
27. Undersea By Marchette Chute
Beneath the waters
Green and cool
The mermaids keep
A swimming school.
The oyster trot,
The lobster prance,
The dolphins come
To join the dance.
But the jellyfish
Who are rather small,
Can't seem to learn
The steps at all.
28. How The Flowers Grow By Gabriel Setoun
This is how the flowers grow
I have watched them and I know
First above the ground is seen
A tiny blade of purest green
Reaching up and peeping forth
East and west, and south and north.
Then the sunbeams find their ways
To the sleeping bud and say,
We are children of the sun
Sent to wake thee, little one.
And the leaflet opening wide
Shows the tiny bud inside,
Peeping with half-opened eye
On the bright and sunny sky.
Breezes from the west and south
Lay their kisses on its mouth;
Till the petals are all grown
And the bud's a flower blown.
29. The Little Rose Tree By Rachel Field
Every rose on the little tree
Is making a different face at me!
Some look surprised when I pass by,
And others droop- but they are shy.
These two whose heads together press
Tell secrets I could never guess.
Some have their heads thrown back to sing,
And all the buds are listening.
I wonder if the gardener knows,
Or if he calls each just a rose?
30. Until I Saw the Sea By Lilian Moore
Until I saw the sea
I did not know
that wind
could wrinkle water so.
I never knew
that sun
could splinter a whole sea of blue.
Nor
did I know before,
a sea breathes in and out
upon a shore.
Tips to Consider While Teaching Nature Poems to Kids
Here are a few tips on teaching nature poems to kids:
Choose poems on interesting and everyday nature topics.
Choose poems with easy and understandable language.
Explain the meaning of the words in the poem to kids.
Ask your child to recite the poem loudly to get acquainted with the words.
A poem on nature for class 3 is truly refreshing and endearing as it brings children closer to nature. This list of poems will help your child learn immensely about the different elements of nature and how they help make the world a better place. Poems are a nice way of narrating the many ways in which nature completes this world and why we should always protect its wellbeing.
Also Read:
Funny Poems for Children
Short English Poems for Kids
Witty Limerick Poems for Children