Baked Chicken Parmesan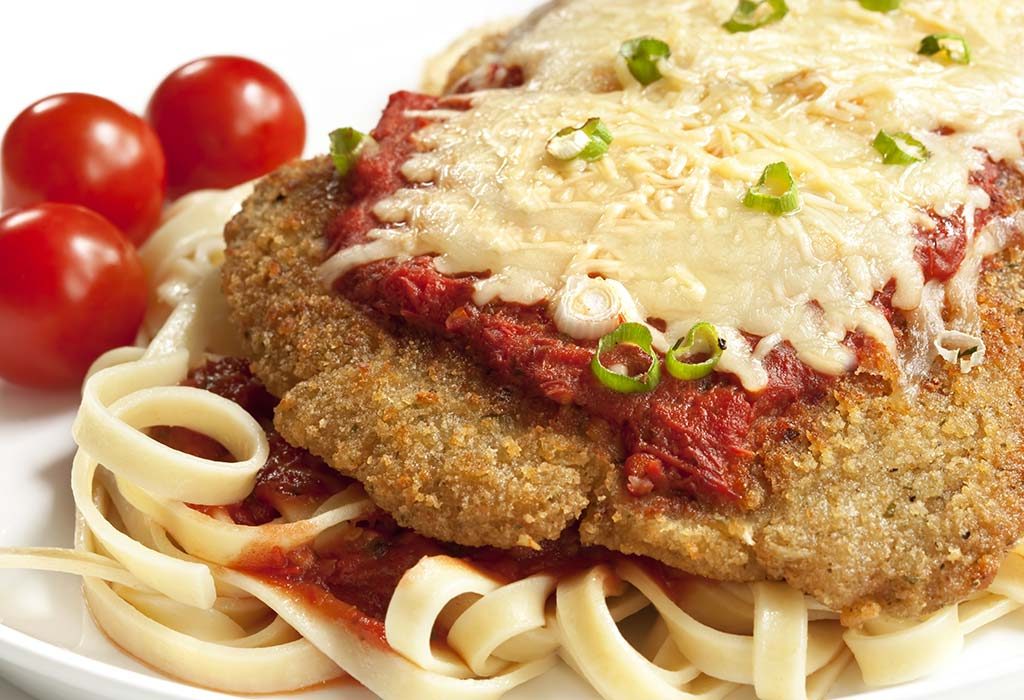 In this Article
Oh, how we love this dish – baked chicken Parmesan — breaded, smothered with ketchup and baked until the cheese gets bubbly and melts into every nook and cranny of the chicken piece. It is undoubtedly a pure comfort food, and is so easy to prepare that it comes together within minutes. Serve it to your family and see them fight over the last drippings.
| | | |
| --- | --- | --- |
| Serves | Preparation Time | Cooking Time |
| 4 People | 10-15 Minutes | 30-35 Minutes |
Ingredients
For the Sauce
2 medium garlic cloves, peeled and minced
1/4 cup extra virgin olive oil
4 crushed tomatoes
1/2 teaspoon dried basil
1/4 teaspoon dried oregano
1/4 teaspoon sugar
For the Chicken
3 tbsp Dijon mustard
1 tbsp white-wine vinegar
1/2 teaspoon salt
1/2 teaspoon black pepper
4 pieces skinless, boneless chicken breast halves (or deboned thighs)
3/4 cup of bread crumbs
1 cup finely grated Parmesan cheese
50 g unsalted butter, melted
Method
Step 1
For the sauce, take a large saucepan and place it on medium heat. Add oil and garlic, sauté till the garlic starts to sizzle.
Step 2
Next, add the tomatoes, basil, oregano, sugar, salt and pepper. Continue to simmer until the sauce thickens a little and flavors blend in with each other.
Step 3
Now take the chicken pieces and keep it between layers of a plastic wrap. Pound the pieces in such a way that the pieces flatten to even thickness.
Step 4
In another bowl, mix mustard, vinegar, salt and pepper, and coat the chicken pieces evenly.
Step 5
Take one more bowl and mix bread crumbs, grated cheese, pepper, and add butter.
Step 6
After coating the chicken pieces in the mustard mixture, dredge it in the crumb mixture. Make sure the chicken piece gets coated evenly.
Step 7
Press the crumbs gently so that they adhere together and transfer it to a baking sheet.
Step 8
Bake for about 15 minutes or until golden brown.
Step 9
Spoon out a little sauce on each of the pieces and serve it with a side of rice or pasta
Nutritional Information
| | |
| --- | --- |
| Calories | 507 K cal |
| Proteins | 33.9 g |
| Fat | 29.8 g |
| Carbohydrates | 27.4 g |
| Cholesterol | 97 mg |
| Sodium | 991 mg |
| Potassium | 82 mg |