Amazing Sesame Street Party Ideas For Kids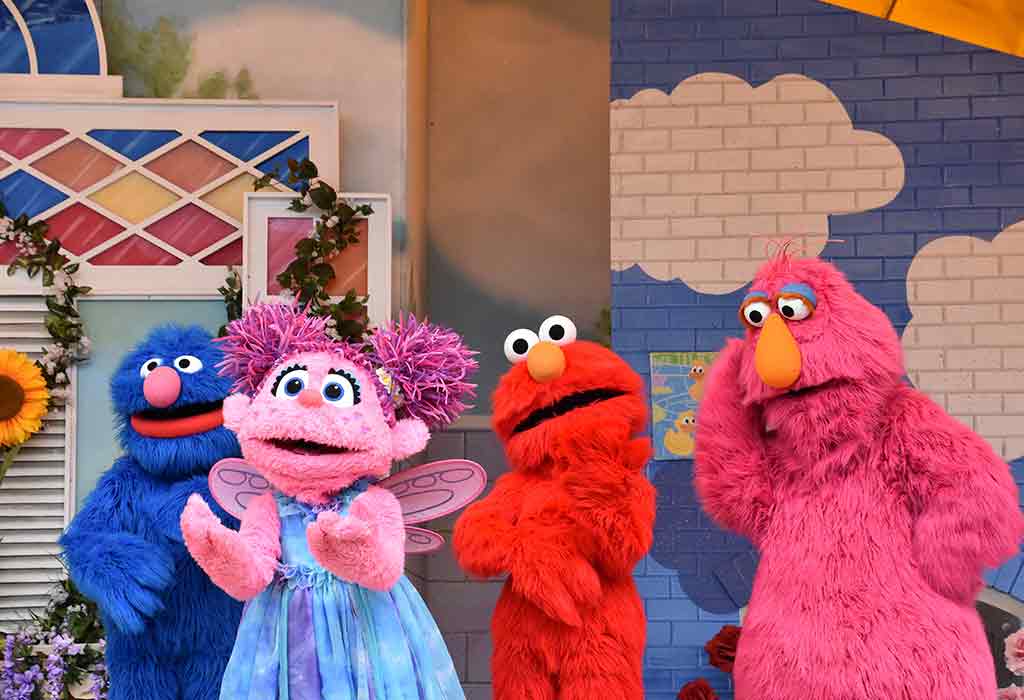 In this Article
Regardless of the budget, you can organize an Elmo-themed party most easily using the unique ideas that will make it the next talk of the town.
Sesame Street Party Ideas for Children
Elmo is a fictional character from the famous TV show Sesame Street. This oversized red-furred hyper inquisitive puppet monster is known for his loud-voiced laughs. Speaking in a unique cadence, exaggerated tone, and gentle vocal rhythm, he produces a calming effect on kids. To toddlers, this child-like behaviour and outlook reflect their own limited self-understanding of the world around them, making Elmo feel like a dear friend.
Research has found that children who watched Sesame Street had larger vocabularies in high school, while boys who watched Sesame Street were rated as less aggressive in high school. Elmo's curious, open-minded, funny, optimistic, and happy-go-lucky image makes him quite popular among kids. Sesame Street offers many valuable learning opportunities and bridges many cultural gaps.. In case your child is also Elmo-obsessed, you can plan for their next birthday party, drawing inspiration from Sesame Street birthday party ideas. Here are some of the colourful Elmo birthday party ideas that will ensure your child has a blast on their birthday that will create everlasting childhood memories.
1. Invitations
The best way to start planning on any Elmo party ideas is by thinking about colourful and attractive invitations. An Elmo-themed invitation should be creative to get the excitement building for friends and family. It should contain important details about the venue, date, time, and directions to the event. You can add a cute saying from Sesame Street on the invitation card like "Sunny days, sweeping the clouds away, you're invited to Andrew's 2nd birthday!" or "Elmo says B is for Birthday!" to make it sound more fun for the guests. You can use invitation templates or make them at home.
2. Decorations
Sesame Street party décor looks inviting for kids who want to join Elmo's adventures and mimic his antics. Customize the venue's look by adding Elmo and Sesame Street décor like books, balloons, toys, streamers, and posters to set the mood for the theme. The tablecloths, chair sashes, and centrepieces should all work together in perfect harmony. Sesame Street risers add a new dimension to your table. They can be created with diaper boxes wrapped in paper and accessorized in Sesame Street style. Add some Elmo personality to your party with minimal effort by arranging a balloon that resembles Elmo's face. Use Elmo banners to decorate the walls or have one with the birthday boy or girl's name. A balloon wreath or an Elmo Air walker balloon can be placed at the entrance to greet people.
3. Food
Colourful cake toppers, candles, and food colouring can be used to create a red Elmo face on your child's Elmo-themed birthday cake, ideal as a dessert. Serve each slice on matching Elmo tableware embellished with Elmo's famous smile to finish off a successful party theme sure to impress. Most kids (and Elmo) love pizza, making it the perfect lunch item for your Elmo birthday party menu. Baking DIY cookies with Elmo's face can be a massive hit with kids. Kids can even have fun decorating pre-iced cupcakes with orange jelly, candies, whipped cream, chocolate chips, and marshmallows. Pick for chopped fruits or veggies as a healthy refreshment.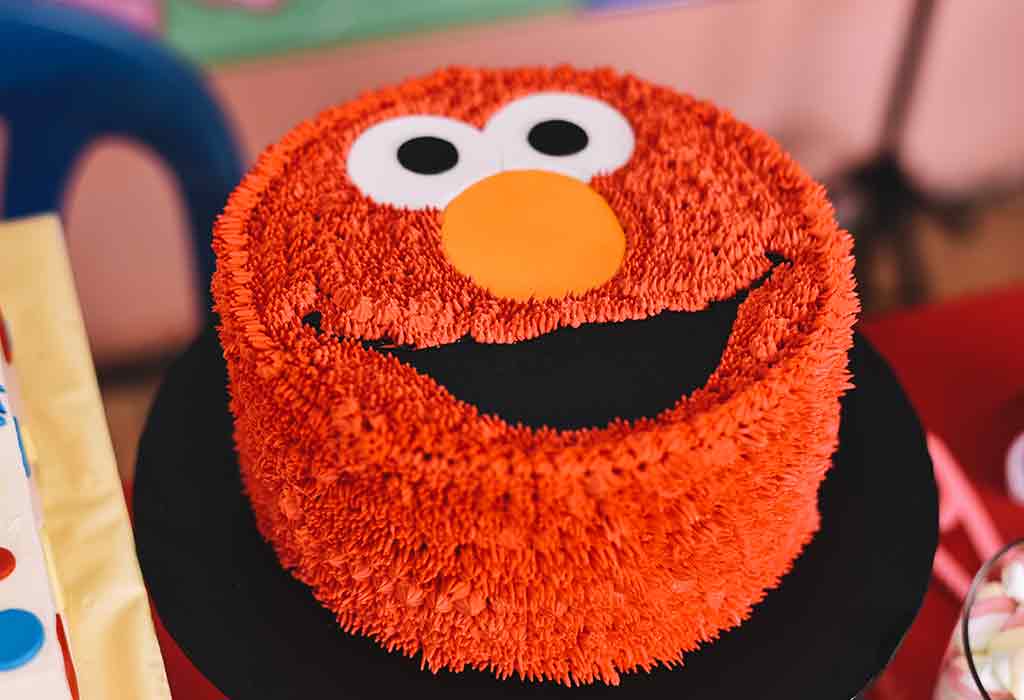 4. Drinks
Your signature drink can convey the theme of your party. You can create an imaginative display of Elmo-themed juice boxes with Sesame Street straws that would catch any kid's fancy. Naming any blue drink as Dorothy's Punch and red drink as Elmo's punch will capture your guest's attention. Use personalized labels made at home to stick them on regular water bottles to give them an Elmo make-over. Elmo loves eating bananas, so make up a batch of banana milkshakes and serve them in Elmo-themed party cups.
5. Games
Keeping a group of kids entertained by including activities such as building blocks, colouring, sticker books, Lego sets, or face painting. Cover your table with paper or plastic sheets and get ready with Elmo printable, crayons, and markers for each participant. It's a good idea to alternate quiet and lively games to prevent overexcitement in children. Pinning the nose on Elmo can be a fun game for kids. Blindfold them one at a time as letting them write their name where they landed. Awarding a Sesame Street medal as a prize to the player who came the closest will add to their joy. Plastic bottles filled with coloured water and decorated with character faces. Use glow stick bracelets as ring toss to throw at plastic bottles filled with coloured water and decorated with Sesame Street character faces. Kids can test their aim by tossing the trash into a trash can that features the Sesame Street characters. While kids have fun, parents can get the party rolling.
6. Party Favours
Elmo party favours like Elmo stuffed animals, books, and stickers that make great handouts for guests after the party. Involve your kids in making these party favours to add a personalized touch to them. They can even participate in the party favour selection under parental guidance. Elmo-themed bags, boxes, buckets, stationery items, art materials, or even lollipop treats will help children and make the fun last long after the party is over.
7. Elmo-Themed Dress
Your adorable Elmo birthday party child must wear a stylish attire that will put them in the spotlight and make them look a part of Sesame Street. So, either you buy an outfit that showcases Elmo as its screen print or Elmo-themed printed T-shirt or make one DIY costume at home with an inventive design for the perfect fit and flair.
8. Elmo-Themed Backdrop
The best backdrop ideas for your Sesame Street themed party turns boring walls into a decorative party element. You can use tablecloths with an eye-catchy design featuring Sesame Street characters, posters, rows of vertically hung twisted streamers surrounded with colourful balloons, also make an easy backdrop idea. For a more professional finishing, invest in a freestanding backdrop board that can be reused every year. They create a lovely photo booth or dessert table backdrop.
9. Music
Music is an integral part of any celebration, and upbeat music creates the perfect ambience for your child's birthday party. Little guests are sure to dance or tap their feet to the rhythm of their favourite Sesame Street character's music or Elmo's own song. Including musical games can also help to practice self-expression, develop motor skills and make friends at the party.
10. Thank You Note
Teaching kids to thank people through a thank you note to guests is a great way to end the celebration. You can use inexpensive Elmo-themed printable notes or regular fill-in-style ones with Elmo's face on them. A thank you note isn't expected to be a work of art or a way to show your child's cleverness. The key is to write something that expresses their sincere appreciation.
Your child's birthday party is an important milestone that positively impacts the development of their personality. Celebrating your child is not the magic solution for good parenting, but it is undoubtedly a 'big-ticket item' that can build a good family bond. You need not go to great lengths to celebrate special events or spend a lot. Create a setting where their young one is the centre point of attention. It sets the stage for boosting self-esteem, helps to create social interactions while offering a rewarding experience for children.
Also Read:
Best Unicorn Party Ideas For Kids
Birthday Party Themes Ideas For Girls
Birthday Party Themes Ideas For Boys