Amazing Black and White Nursery Decor Ideas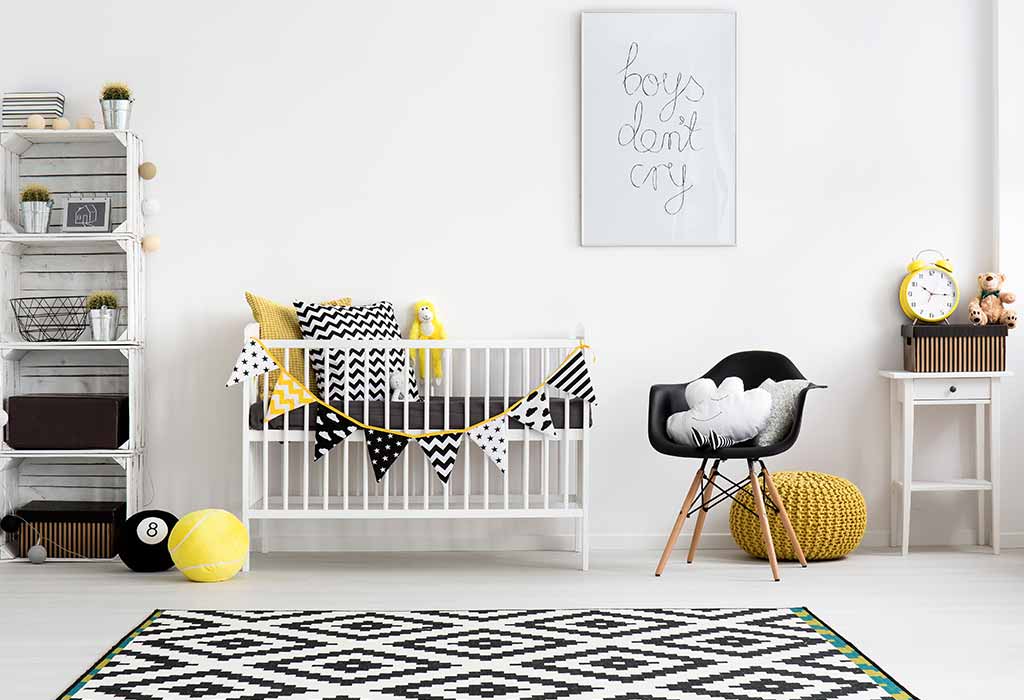 In this Article
Black and white nursery décor has never been more popular, and for a good reason. A gender-neutral set can be a beautiful addition to any nursery. Whether you want a bright, white contemporary environment with a stunning contrast or a rich one that reverses that ratio, it's your choice. When working with a monochromatic color scheme, you have the freedom to try out a wide variety of patterns and styles, from the most traditional to the most imaginative.
Do you feel that your life is lacking some vibrancy? There is no need for a full-scale paint job if you want a dash of color on an accent wall. There are almost no limitations to what may be done!
Best Black and White Nursery Ideas
There was a time when baby rooms were simply that—baby rooms. The nursery is no longer only a place for children but where adults may feel at ease. Black and white nursery décor is much more striking! Choosing a black and white baby nursery is an excellent option since there are many possibilities for gender-neutral nursery themes and stylish baby rooms.
With a black-and-white nursery, the options are almost endless. Whether you're looking for a simple black and white nursery or a patterned nursery, you have an idea. Browse through our collection of black and white baby room décor!
1. Vintage Chic Style With a Black and White Color Scheme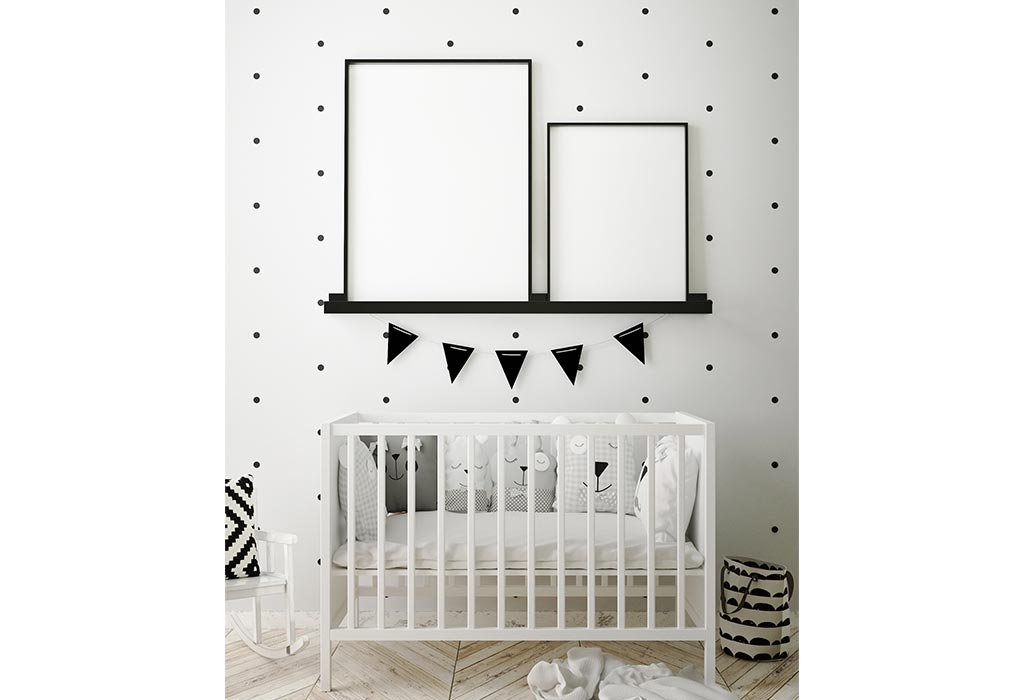 Bohemian finishes, stars on the walls, and an array of enchanted little play nooks and cozy corners may all help you create a dream world for your child. Every square inch of this black-and-white baby's nursery is flawless. Consider adding a variety of patterns if your nursery is limited to two colors. In this case, black and white polka dots and gingham work well together.
2. A Yellow Pop in a Monochrome Nursery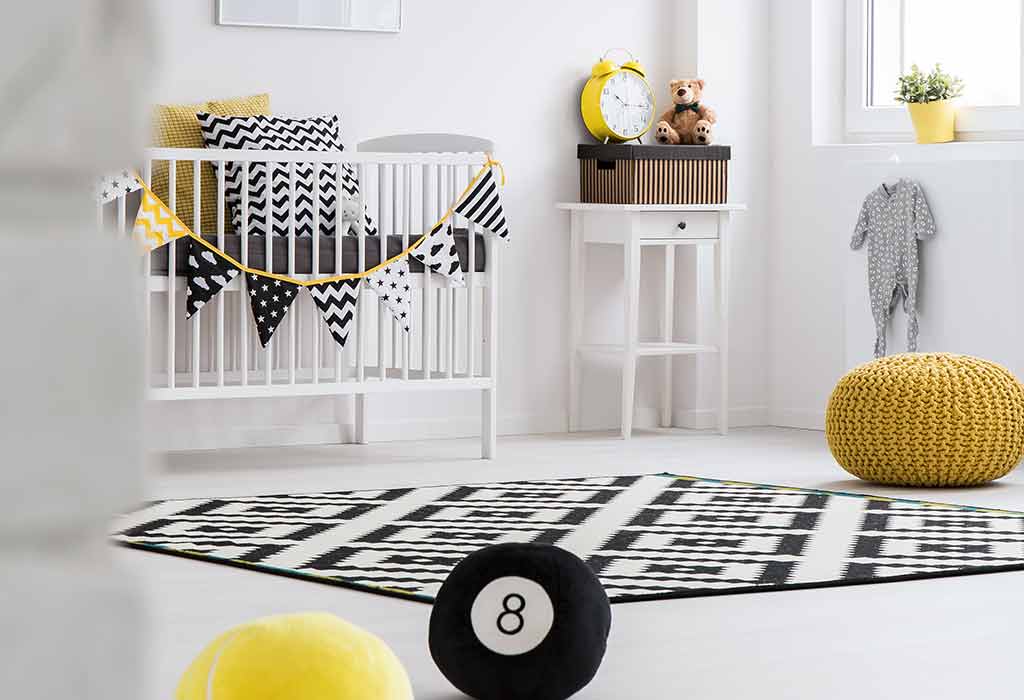 Gold and yellow accents are ideal for brightening up a black and white nursery. The designers of this nursery created an attractive setting for a baby by primarily using black and white with a few vibrant touches, for instance, black and white nursery curtains and throw pillows.
3. Monochrome Baby Room With a Bold Print As Wall Art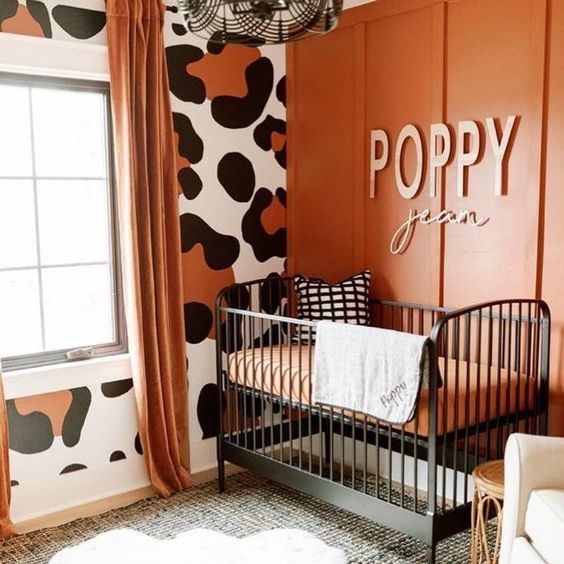 You may replicate this look with cut-up sponges and a can of paint or with beautifully designed black and white nursery wallpaper, but either way, an allover pattern like this on one wall instantly adds flair to a baby boy or girl's room.
4. Accent Wall in Black and White for Baby's Room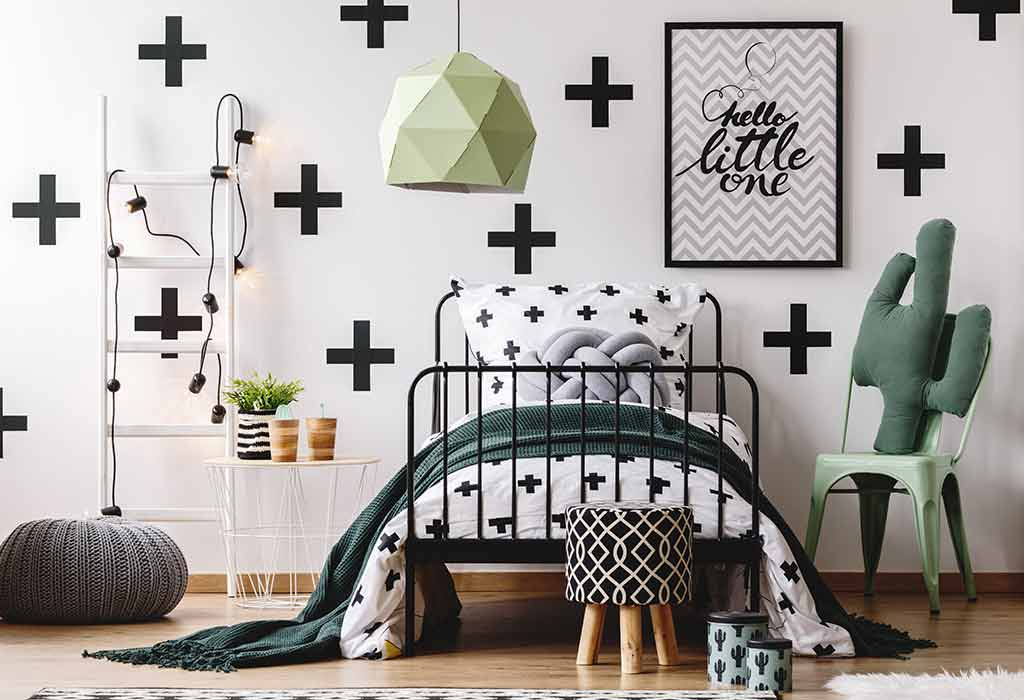 We understand if you're not interested in going completely black and white. Consider utilizing a considerable swath of black-and-white wallpaper on one wall if you strive for a modern, neutral atmosphere in your nursery.
5. Vibrant Black and White Nursery Wallpaper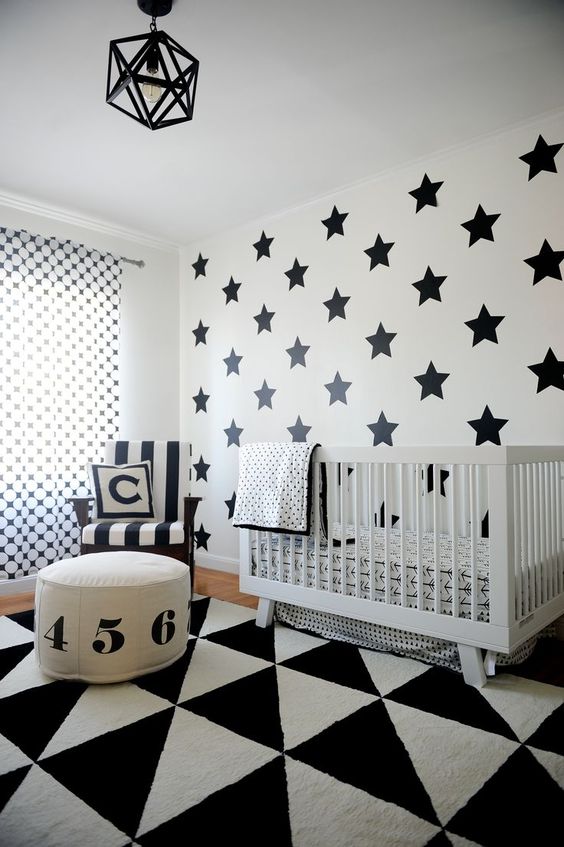 The remainder of the room's clean lines genuinely pops against the vibrant black and white nursery wallpaper! Likewise, colorlessness does not automatically imply a lack of interest. Rugs in black and white with tribal, geometric, or crazy motifs may infuse the nursery with personality and energy.
6. Nursery Furniture With a Black Color Scheme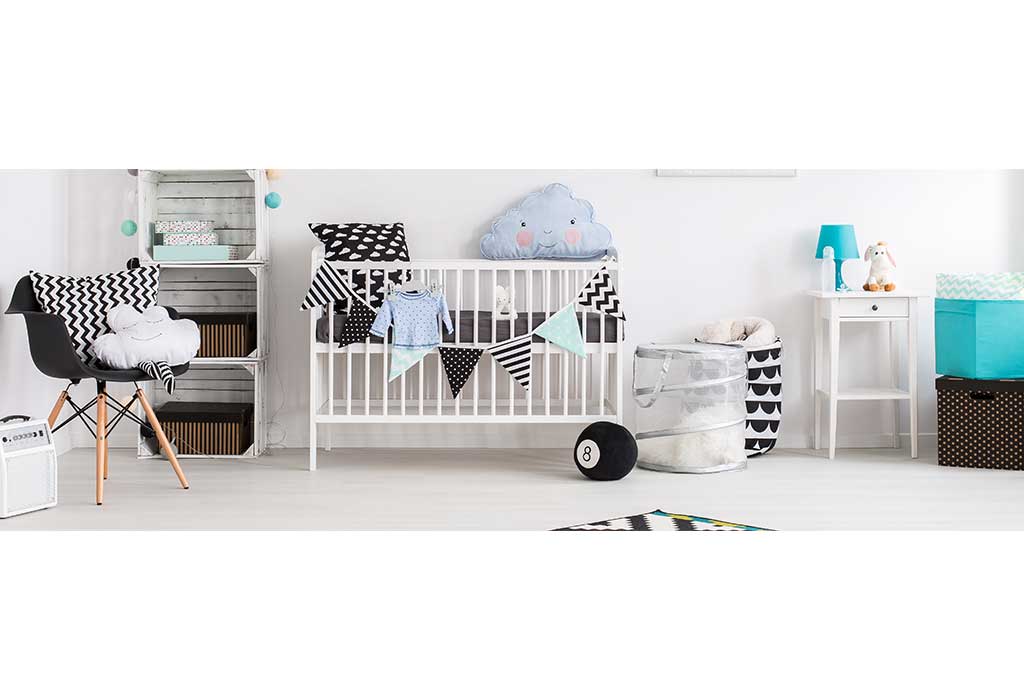 Grayscale nursery décor is a magnificent gender-neutral and aesthetically pleasing alternative to rainbow-themed baby décor. Black and white nursery furniture and goods may be utilized even beyond your child's baby period. Along with adding aesthetic interest to a plain wall, this rack has a practical purpose—it keeps wet baby towels and soft blankets off the floor and may one day double as a storage space for your child's school bag.
7. Potted Plants in a Monochrome Nursery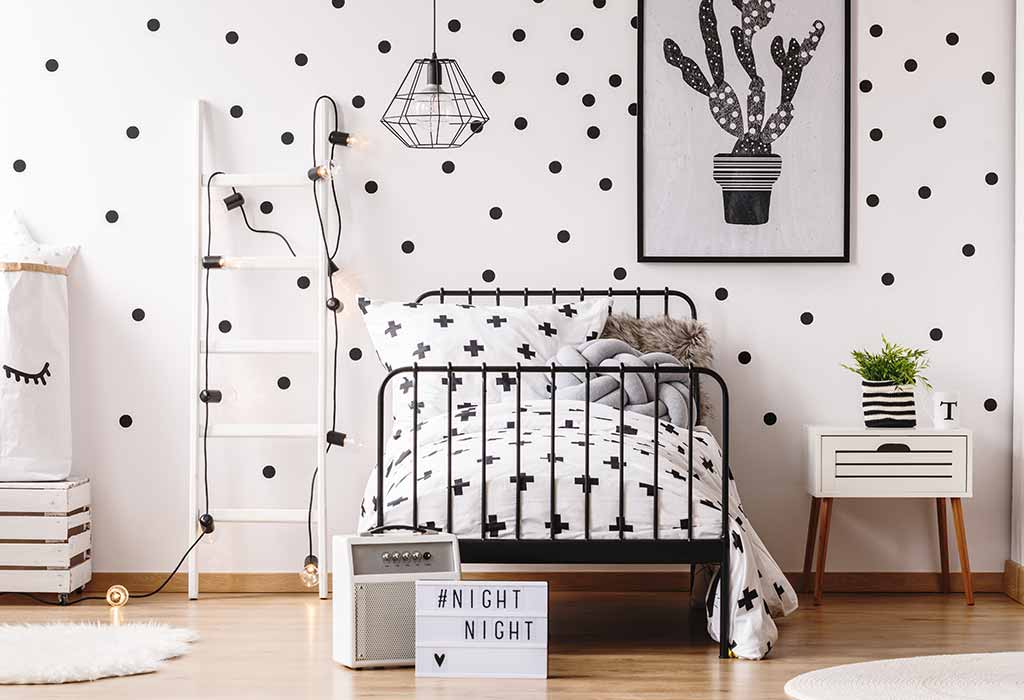 Bring natural elements such as wood and stone into your house to provide color and texture. Black and white nursery décor is an excellent complement to hanging or potted plants.
8. Nursery Rhyme Illustrations and Photographs in Black and White

In this contemporary nursery décor, the black and white nursery accessories, like the quote, cover the crib. For a monochrome nursery, a simple black and white poster with an essential or related piece of writing, such as this one, is an excellent choice.
9. Black and White Contrast Bedding for the Nursery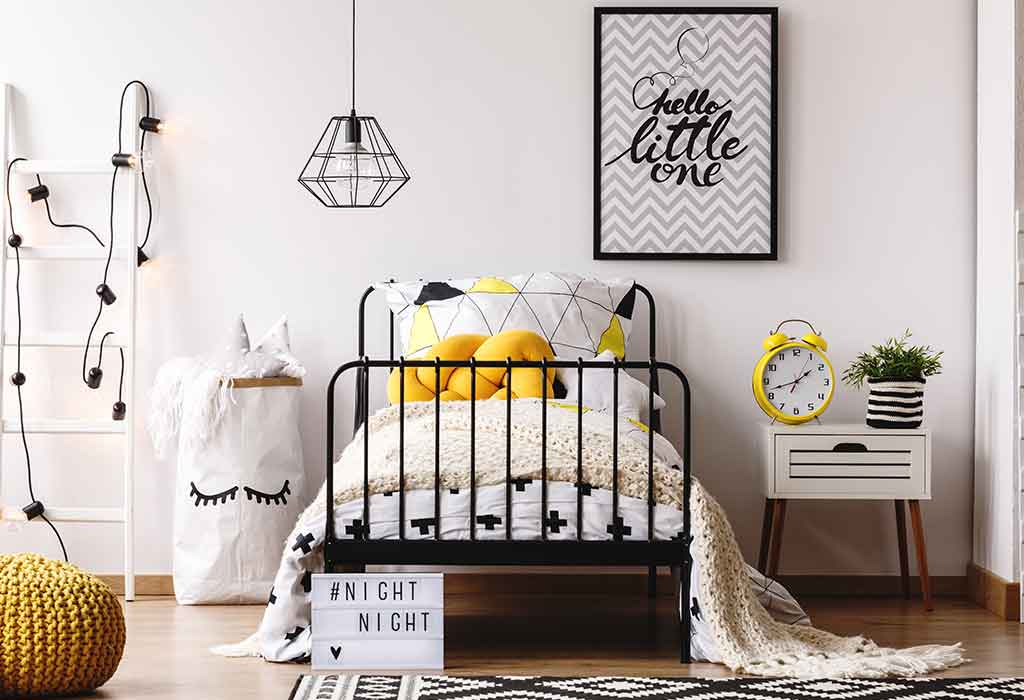 Using a white crib in conjunction with dark or black bedding is a trendy look for a baby's nursery right now. To make the most of your monochromatic baby room, boost the contrast. I'm in awe of how cute this is for newborn photography!
10. Elegant Black and White Room for the Infant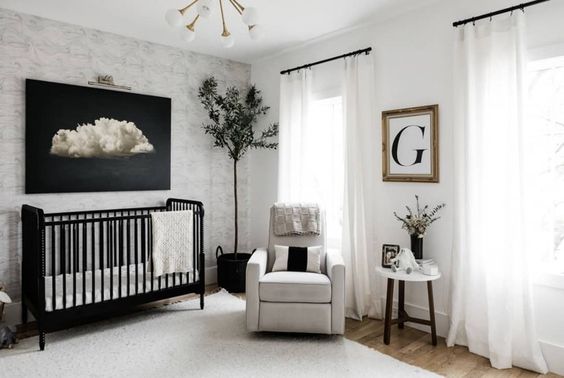 There is no reason why black and white nurseries should be dull or uninspiring. If you want to infuse your area with a sense of femininity and playfulness, consider this bright, feminine monochromatic wallpaper, as shown here.
11. Polka Dots in Black and White Décor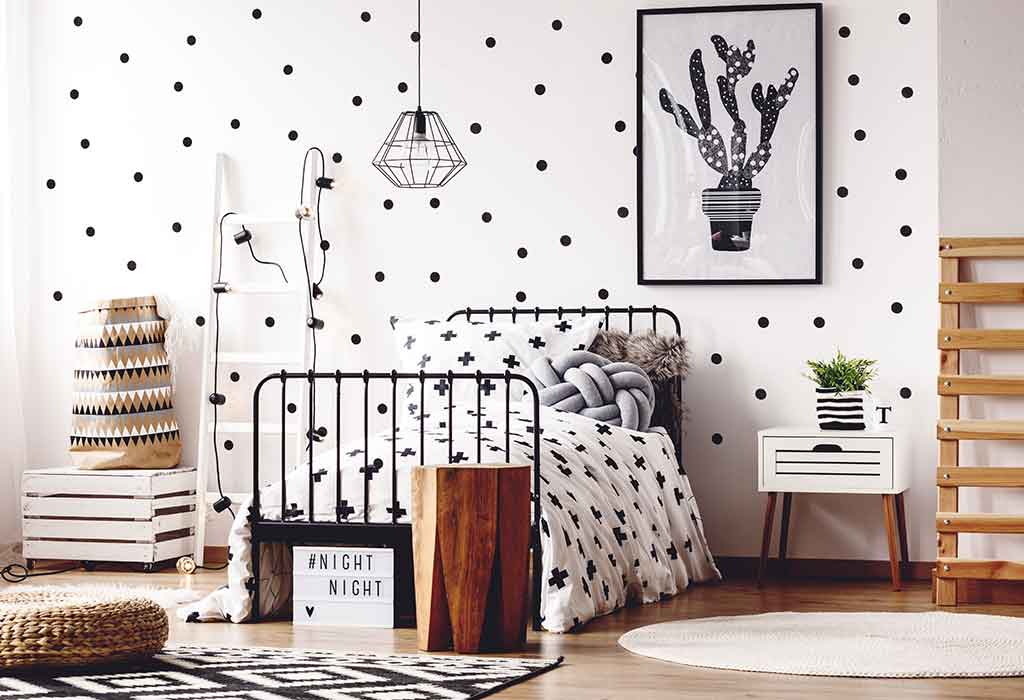 Everything revolves around polka dots, dogs, and stripes! This monochrome nursery screams 'Fun!' to a youngster with a black and white nursery with pops of color due to the dots on the wall, the black-and-white animals, and the range of textures and patterns.
12. Heightened Black-and-White Nursery Motif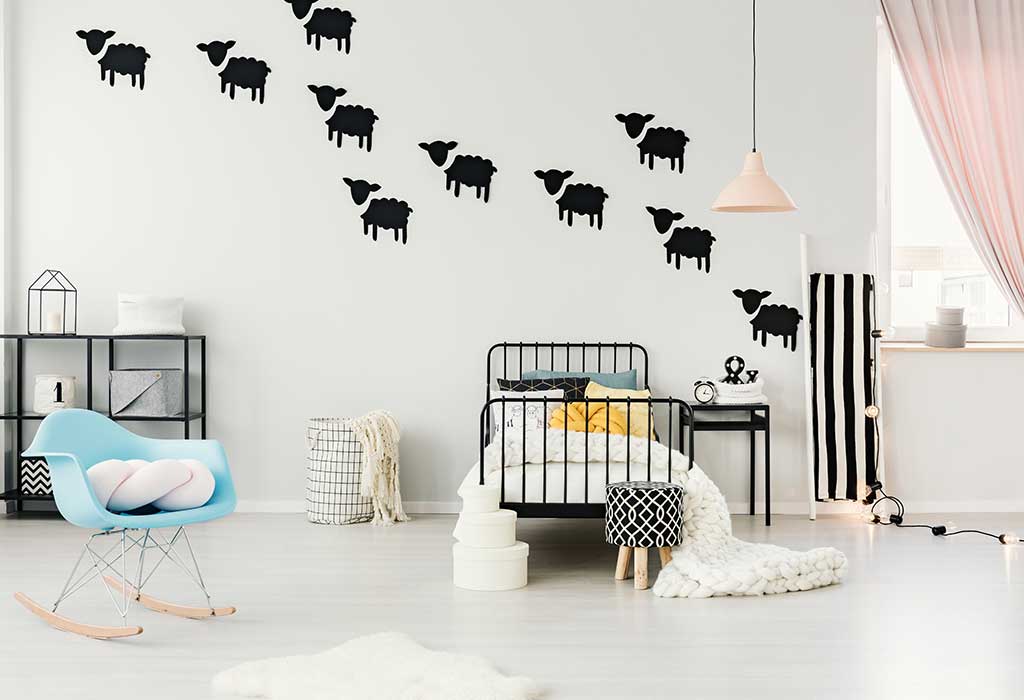 The black-and-white nursery motif is heightened with the addition of a walled triangle, dotted floor cushions, and friendly art. It's a beautiful gender-neutral nursery that transforms into a fashionable playground for your kid.
13. Black and White Art Prints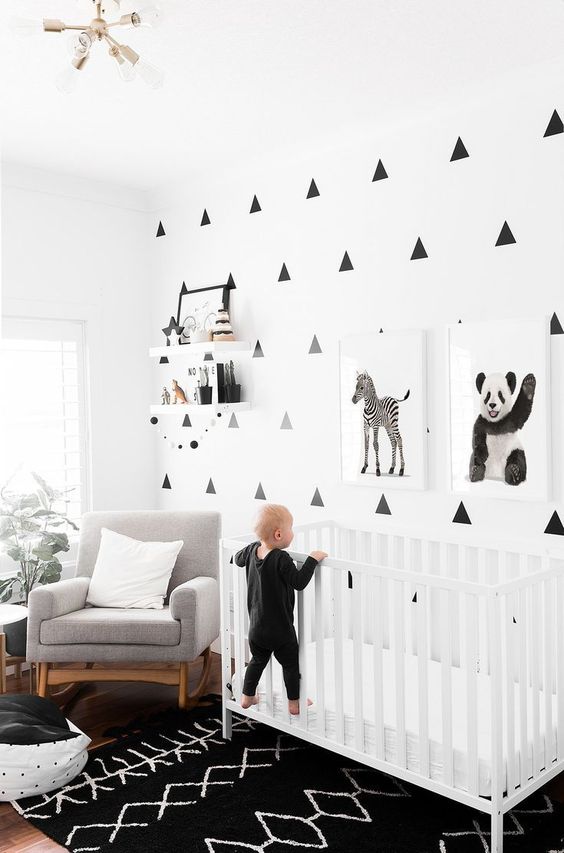 With black and white art posters, you may quickly bring baby-room vibes into your house. The mermaid posters are a must-have for a black and white girl's nursery. Also, black and white floral wallpaper is a classic example of extravagant elegance. This kind of paper sets the tone for a black and white nursery for girls that are both classic and contemporary. The area is brilliantly completed with the dramatic black and white carpeting and gold accessories.
14. Black and White Nursery Walls with Fluffy Lighting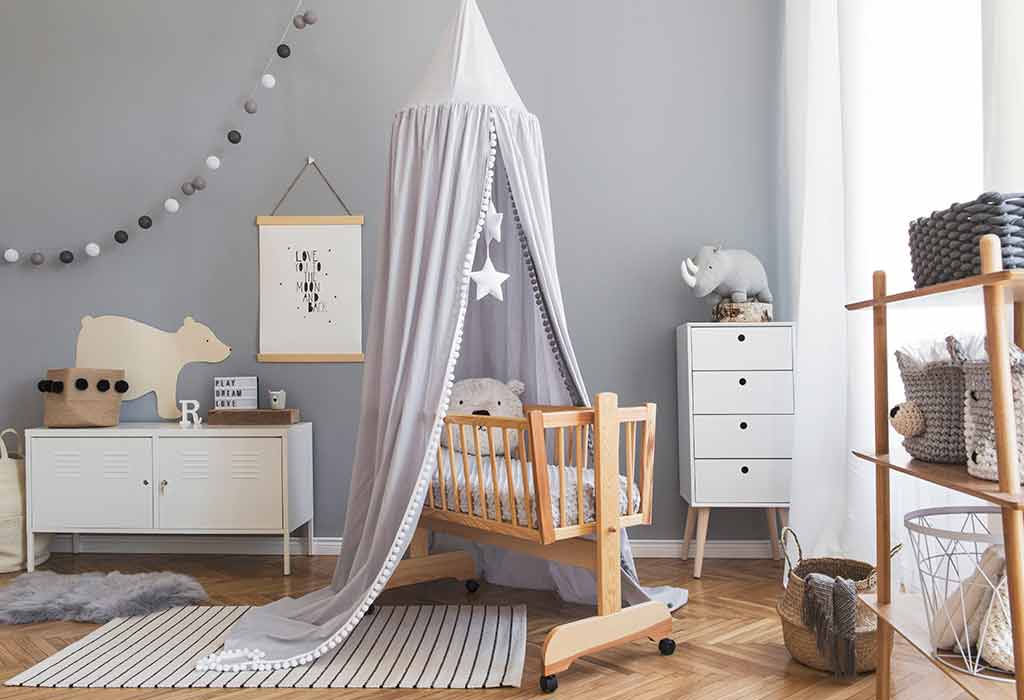 In this striking black and white nursery, the black walls with intricate trim and the feathery chandelier stand out. Consequently, we're emphasizing both to illustrate that decorating your baby's room can be a lot of fun, even without the use of color.
15. Elegant Black and White Nursery With Pink Accents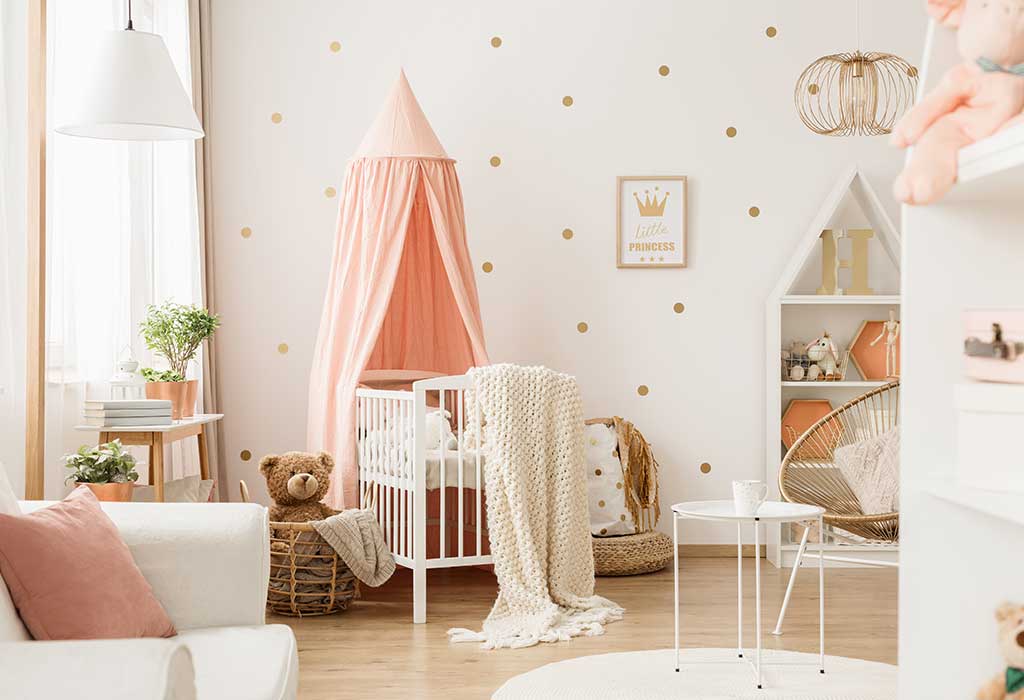 A few dusty ballerina pink splotches provide interest to an otherwise monochrome nursery for a small girl. If you have a favorite piece of colorful art, such as a red racing car photograph, you should exhibit it in a black-and-white room, and it certainly pops out against a monochromatic backdrop. A monochromatic wall hanging, whether fashioned of woolly poms or paper flags, is an easy, low-cost way to add texture and beauty to a black-and-white nursery.
Since black and white patterns stimulate babies, it's beautiful that monochromatic nursery and kid room designs remain trendy. Monochromatic design is the way to go if you want to create a unified space that is straightforward to put together! Consider the designs above to spark your imagination.
Also Read:
Best Nursery Organization Ideas
Woodland Theme Nursery Ideas
Adorable Pink Nursery Ideas for Baby Room