Understanding Baby & Toddler Clothing Sizes
Purchasing clothes for adults is now simpler than ever. You have a good idea of your own clothing size, and you can quickly pop into the trial room to get a confirmation. But parents are usually clueless in understanding how do baby clothes sizes work and what's the right one to pick out for their child. Every baby is unique in their physical constitution and their growth rate. Therefore, purchasing clothes that would fit comfortably as well as last for a longer time is a tough line to walk.
How To Measure Your Child's Clothing Size?
You need to consider some factors when deciding to pick out the right clothes for your baby. Therefore, understanding how to measure the clothing size and the various standards used to define them becomes extremely crucial.
Most of the times, the sizes of the clothes are mentioned on the tags based on the age range of the child. At times, a few brands also choose to mention the height or weight of the baby as a benchmark. While this can be helpful, each baby grows at a different speed.
In baby clothes sizes for 0-3 months, it is highly preferred to purchase single bodysuits or one-piece clothing that can be extended. Larger sizes can be used later in life as well. Toddlers need a different perspective altogether. Since these babies can now move around or might even potty properly, the clothes need to ensure free movement without being restrictive. Also, the units of measurement differ from centimetres to inches, based on the standard adopted by the clothing brand.
Getting boots for your baby is another challenge altogether. It is best to prep yourself by having a basic idea of your baby's foot dimensions, which can be measured at home. Let your child's foot be extended fully and measure from the long toe to the edge of the heel, along with the maximum width.
Baby Clothes Size Chart
Understanding a baby clothes size for 9-12 months or even smaller than that is quite challenging since all of these falls within the months when a child's body grows rapidly. Any clothes that fit exactly in a particular month, might end up being a bit too tight within a couple of weeks. Therefore, shopping for newborn babies and infants under a year old requires extra precaution.
| | | |
| --- | --- | --- |
| Clothing Size Based On Age | Height | Weight |
| Premature New Born | Less than 17 inches | Less than 2.2 kg |
| Full Term New Born | Less than 20 inches | 2.2 to 3.6 kg |
| New Born to 3 months | 20 to 23.5 inches | 3.6 to 5.7 kg |
| 3 months to 6 months | 24 to 25.5 inches | 5.9 to 7.5 kg |
| 6 months to 9 months | 26 to 27.5 inches | 7.7 to 9.3 kg |
| 9 months to 1 year | 28 to 30.5 inches | 9.5 to 10.6 kg |
Toddler Clothing Size Chart
In order to figure out the right baby clothes size for 18-24 months, using a toddler clothing size chart will be extremely useful. You can get an idea of the age range, paired with an approximation of height and weight, allowing you to make a near perfect decision through this chart.
| | | |
| --- | --- | --- |
| Clothing Size Based On Age | Height | Weight |
| Nearly 1 year | 28 to 29.5 inches | 8.8 to 9.9 kg |
| 1 year to 1.5 years | 30 to 31.5 inches | 10.2 to 11.8 kg |
| 1.5 years to 2 years | 32 to 33.5 inches | 12 to 13.6 kg |
| 2 years to 3 years | 34 to 37 inches | 13.8 to 15.4 kg |
| More than 3 years | 38 inches and more | 15.6 kg and above |
How To Convert Sizes To Other International Size Types?
You might have access to a 2-year-old clothing size chart but the standard used to measure those sizes may not be the same as your own. Clothing size standards differ quite a bit, and the major differences come between European, UK and US sizing of clothes.
A rule of thumb to remember when purchasing clothes is to know that nearly all clothes in European sizes are based on the height of the baby. As for UK and US sizes, they are pretty much the same with tiny differences in the width or the height of the clothes. It is best to rely on physical dimensions instead of the child's age mentioned on it.
Tips To Help You Buy The Right Sized Clothes For Your Child
While it is important to understand baby clothes sizes chest measurement before picking out the right clothes for your little one, there are also a few tips that you can take into account to make things easier.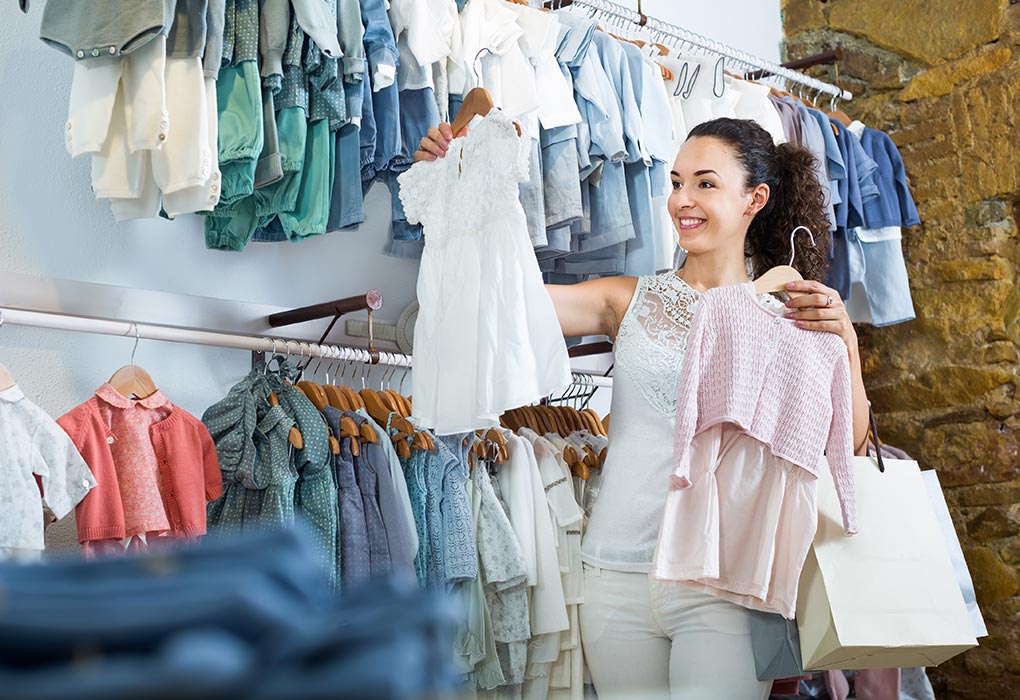 Do your best to avoid any clothes that are made from synthetic materials. Go for the ones made from cotton or other natural fibres. These would be much easier on your child's sensitive skin.
Most of the clothes that you purchase for your baby can be cheap and utilitarian. When buying any clothes that you might want your baby to wear when going to an event or for a photo shoot, make sure you take about 2-3 of those. There is a good chance the little one would make a mess of either one of those, so having a backup is in your best interests.
The initial months of your toddler are precisely where the umbilical stump is still in the process of healing and becoming a proper navel. Therefore, avoid getting any separate pants in a small size which would have their waist right on the umbilical cord, making it irritated.
Making a baby wear a T-shirt is a difficult task. Not only do infants have no idea about navigating their body parts in a way to wear the clothes correctly, but most babies hate their heads and faces being covered by anything. Therefore, go for shirts or suits that have a front-open button, or buy a T-shirt that has enough space for the head to pass through easily.
If your friends or relatives give you any of the old clothes worn by their kids, accept them whole-heartedly. These are clothes that have bode well for their children, and they will so for yours, too.
While picking out clothes to gift a relative or a friend who has just had a baby, pick out a size larger than the current age of the child. Larger ones are more comfortable and even if they don't fit the baby right now, they definitely will in a couple of months.
In terms of baby clothing, single bodied suits are the best style you can opt for your little one. These can be worn easily and, since they are buttoned up right below the crotch, your child won't be able to pull them up or disturb the diaper in any way. Avoid using cloth-based nappies with such clothes though.
Buttons on a baby's clothes can be difficult to close when the baby's crying and it is the middle of the night. Zippers are a tad more convenient but they might get worn out quickly or get stuck randomly. Opt for clothes that have studs that can be pressed easily.
After having bought any clothes that are larger than what your baby needs, don't immediately wash them or remove their tags. Some clothes could be stored until the time is right. The others could be exchanged from the store if their need is imminent.
Don't go out and buy an entire suitcase full of clothes for your baby. Purchase a couple of necessary items and follow up once you know how large your baby is and its gender. Your friends and family will, no doubt, gift you a few clothes, too.
If you are planning to expand your family, later on, it is best to purchase clothes that are gender neutral. This would allow you to store them once your baby grows up and reuse them in case you plan to have a second child later on.
When buying clothes for infants, opt for quality over quantity since a good texture is needed for their skin. For grown-up toddlers, purchase durable clothing that can be washed easily or replaced cheaply.
Making use of a baby clothes size guide can be one of the most important tools you'd need to help with your purchases for the little guy. Knowing the rapid growth rate of babies and planning ahead accordingly can help you be in a better place with your shopping.
Also Read: Essential Baby Sleep Products – Checklist