80 Nautical Names for Boys and Girls With Meanings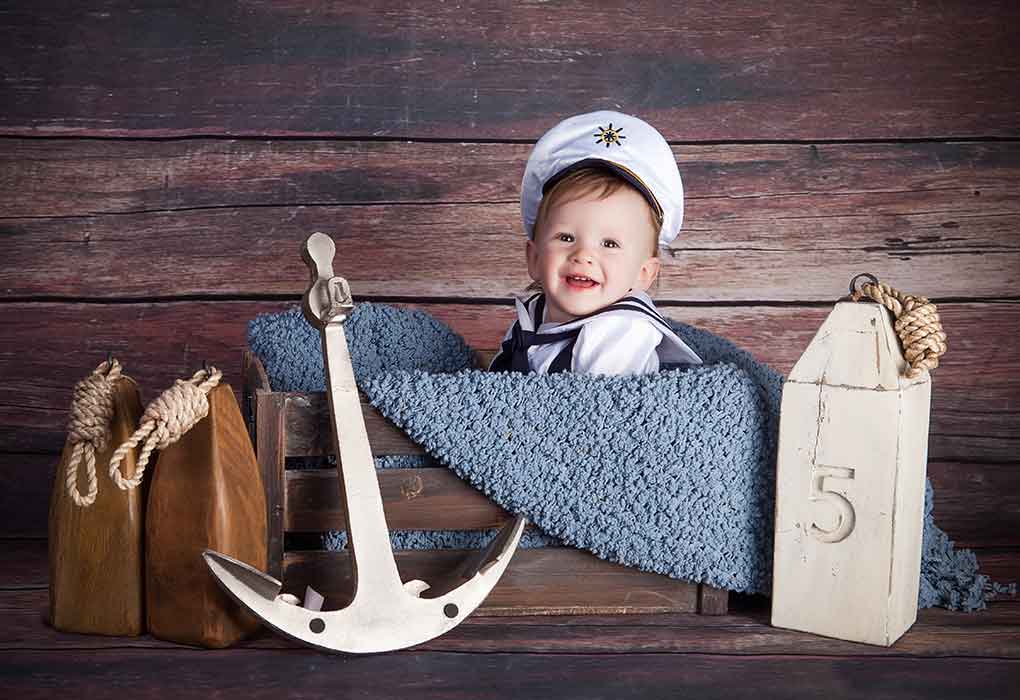 You need to sit and think for a name that matches not just your persona but that will aptly describe your baby's personality too. Park the sailing ship and anchor it at the harbor. The sea evokes a wave of emotions in most people and there is a certain pride associated with sailors and explorers given their undying spirit for adventure and thrill. Nautical-inspired baby names would be the ideal choice for those who have a connection with the navy or who simply love the sea. Read the below sailor baby names shortlisted as an ode to brave explorers who have serenaded the sea to bring the earth closer.
Video :
30 Best Nautical Baby Names for Boys and Girls
Nautical Baby Boy Names
Waves, sand, sea- surfing, parasailing, diving- all things that boys love. Below are some nautical names for boys, the sound of which evokes passion, courage, and veracity.
One of the best and favorite sailor boy names – Adrian is inspired by the Adriatic Sea. It is also a name that belonged to several saints and Popes.
2. Agwe
A beautiful Native American name which means water.
Not just a word, but it can be used as a name too. Just like its meaning, Anchor could let your kid become strong and be a support to all their loved ones.
4. Akir
Another name that means anchor, Akir is sounding nice and smooth. A different moniker, the name will separate your son from the rest and pique the interests of others to know the meaning.
5. Bay
Bay is a name of British origins. It means to bathe in beautiful depths.
6. Brendan
Brendan is an Irish name meaning 'king' or 'prince'. Saint Brendan was also known as the patron saint of sailors.
The Caspian Sea is one the largest enclosed space of water on the planet. It is the name of a character in the 'Voyager of the Dawn Treader' who led the voyage in the sea. That will instill a leadership spirit in your son.
8. Charles
Charles is a beautiful and classic name. It also has a nautical touch to it, as it's what one calls the smoke stack on a ship's galley.
A popular name in the name lexicon, it became famous after Josh Morrow, star of the 'The Young and Restless' picked it for his son. The spelling variant 'Crue' is really popular too. Meaning 'people working as a team' your son will be a team player right from the start.
This variation of David sounds hip! Incidentally, the bottom of the sea is also referred to as the Davey Jones' locker.
11. Douglas
This name has Gaelic origins and means 'dark streams'.
12. Duffle
Duffle means a seabag that contains the personal stuff of all sailors. In Irish, the name means 'swarthy'. In Scotland, it is used to refer to someone with dark hair.
13. Dune
Dune is a delightful name and reminds one of a sandy beach.
14. Elmo
The dictionary says dunes are sloped, steep mounds of sand that are created by shoreline winds. A pretty unique name for boys, the name is soaring in popularity because of its sound.
A name of Greek origin, Erasmus will be an audacious pick. The name belongs to a patron saint of sailors of the 4th century who was also known as Elmo.
16. Eric
This name has a nautical connection as it was also the name of a Norse navigator who discovered greenland in the 10th century.
Reminiscent of the fin, this slyly nautical name has its reference to the most attractive creatures in the sea- fish.
The name means 'fisherman' and is a famous surname. But it is soaring in popularity as a first name in the last couple of years as it sounds good with any last name.
19. Francis
St. Francis was the patron saint of naval officers and mariners.
Galiot has been the name of several types of ships in the past and has the trend of the name ending with 't.'
Jim Hawkins from 'Treasure Island' is an English name that sounds cool and means 'falconry.'
A stately sounding name, the heron is also the name of a bird that lurks around waters to hunt its prey- fish.
23. Horatio
your baby will share his name with one of the greatest naval commanders in history – Horatio Nelson
For parents who love water, Hurley is a perfect choice. It means the tides of the sea. The name will give the confidence your child needs to navigate through rough and happy times.
Isle means an island or peninsula. It deeply embodies the spirit of water and is a great choice for boys.
Popularised by Shakespeare in 'As you Like It,' Jacques Cousteau was one of the first to explore the undersea. He also pioneered the conservation of marine life.
27. Jack
Jack means 'God is gracious' and is also a name for sailors who wear overalls of tarpaulin cloth.
28. Jason
The name Jason means 'to hearl' and is also the name of the mythological Greek sailor who went in search of the Golden fleece'.
A truly unique moniker that means the sea, Kai is a short and sweet choice. The popularity of the name has been on the rise as it is short and sounds perfect with any last name.
Son of Eric the Red, Leif was a successful sailor and navigator during his time. Sauve, chic and regal, the name has a Norse meaning to it. It means 'descendant or heir.'
31. Marino
This is an Italian name which means 'of the sea'.
Cute, funky and jazzy, Moby is a perfect pick for the parents who love fun. It was made famous by the central character- the huge white whale in Herman Melville's American book, Moby Dick.
A variation of the Greek name, Nikolaos, it means 'people of victory.' The name is also the name of a patron sailor.
Ortun means 'from the shore' and it will instantly establish a connection with water. An ideal pick for parents who want their kid to have a life filled with adventures.
35. Peter
Peter was a fisherman and an apostle of Jesus Christ.
A great amiable name, Ray could mean the species of ray fish, especially sharks that roam around the ocean.
37. River
This is a beautiful name and is associated with the river Phoenix.
Wendell Jermaine Sailor was an Australian rugby player and the name Sailor is popular for boys. It means 'boatman' and has a unique appeal to it.
With a Zen-like appeal, Tao originates from the Chinese word that means 'great waves.'
40. Tide
This is a lovely nautical name that is quickly gaining popularity.
Nautical Baby Girl Names
As you search the perfect name for your baby girl, consider the vast, deep blue sea. These nautical names for girls seek inspiration from the water body. So choosing a sailor girl name for your munchkin is no longer a difficult task.
1. Adira
Adira is a Hebrew name which means 'strong and powerful'.
2. Anahita
This lovely Persian name means 'goddess of the water and river'.
Inspired from the 'Little Mermaid,' Ariel the central character has an independent strike that guides her to new frontiers.
It refers to Berth, which is a rank given to a sailor. It originates from the German word 'beraht' which means 'bright.' It is also the name of the Teutonic goddess who was worshipped in the Alps.
A beautiful name of a girl, Blue is a soothing name that resonates with the color of the sea.
A short form of California, the name exudes liveliness. California has long been known for its gorgeous and beautiful beaches.
Careen was the name of Scarlett O'Hara's sister in 'Gone with the Wind.' It also means tilting of the ship for cleaning.
Catalina means 'pure' and in nautical terms, it means the ship or the island it sails to. Catalina is popular as it sounds very similar to Catherine.
Celeste means 'heavenly' and sailors often used stars to navigate through their journey. A beautiful name, the choice ideal for parents who want a regal name.
10. Christina
This lovely sounding name is one of the patron saints of sailors.
11. Coral
Coral is a sea plant that has a variety of beautiful colours and shapes.
A funny character in 'Buffy the Vampire Slayer,' Cordelia is also a Welsh Goddess that means 'jewel of the sea.'
Persian in origin, the name means 'sea' and sounds feminine.
Doris was one of Oceanus' daughters. It also means 'gift of the ocean' a perfect name for your precious gift.
15. Ervina
The name means 'sea friend' and has such a beautiful sound to it. It will go well with any second name.
Gale is popular and means a stormy wind. Gale is a spelling variation that sounds great with any last name.
17. Gali
Gali is a name with Hebrew origins and means 'fountain' or 'wave'.
18. Grace
Your baby will share her name with the famous and fearless Grace O'Malley who defended her country at sea.
An ultimate nautical theme for a baby girl's name is inspired by Spain. It means 'island' in Spanish and sounds trendy.
20. Jeanne
Jeanne was a pirate who became so to avenge her spouse's death.
21. Kaia
This is a name with Hawaiin roots which means 'sea'.
An extension of Kai, Kailani is ideal for girls and means 'sea and sky.'
23. Krystyna
Your little baby will share her name with the famous Polish Krystyna who was the first ever woman to sail solo around the world.
Do you want your little tot to be a maiden and a warrior, then this is a perfect choice. It means a warrior maiden. In Latin, Laraine means 'sea bird.'
Marina means 'sea' and used extensively all over. Marina also means boat dock. The rhythm of the name is lilting and sounds very feminine.
26. Mary
Mother Mary is also known as the 'Star of the Ocean'. She is believed to be the protector and guide to all at sea.
Meaning "waves of the sea", the name may seem long but is a great pick for a name with a difference. It is Cornish in origin and unique.
28. Nancy
Nancy means 'grace' or 'favour'. Nancy Wagner was the United State of America's first ever female ship pilot.
A quirky take on Melissa or Merissa, Nerissa is inspired by Shakespeare. Nerissa was Portia's confidante in 'The Merchant of Venice.' It means 'from the sea' in Greek.
What better namesake to give your child if she is precious to you like water. Majestic and lifelike, the name resonates life.
31. Oceane
This sophisticated name means ocean, and sounds chic.
Olive Oyl, the wife of the famous cartoon character 'Popeye the Sailor' has a subtle charm of her own and so does the name.
Found in the deep, bottom of the ocean, Pearl is a precious name for the gem found under the sea.
Marine whistle signals were called piping and were used to move visitors aboard or to the other side. Piper also means one who plays the pipe.
Short, succinct and buoyant- Reef is a great name for your girl. It sounds ultra-feminine.
A Norwegian princess, Sela became a pirate and a warrior in the fourth century.
Shelley may sound regular but it has a timeless appeal and sounds an extension of shell found on shores.
38. Stella
Stella is a Latin word for 'star' and is symbolic of a guiding light for those at sea.
39. Ula
Ula has Gaelic roots and means 'sea's jewel'.
40. Yemaya
Yemaya is also knows as mother Goddess of the ocean.
For ages, oceans have inspired adventure seekers. We all have a story behind the sea. Go ahead and name your baby a name that is close to the ocean to let them have some swashbuckling adventures.
?>