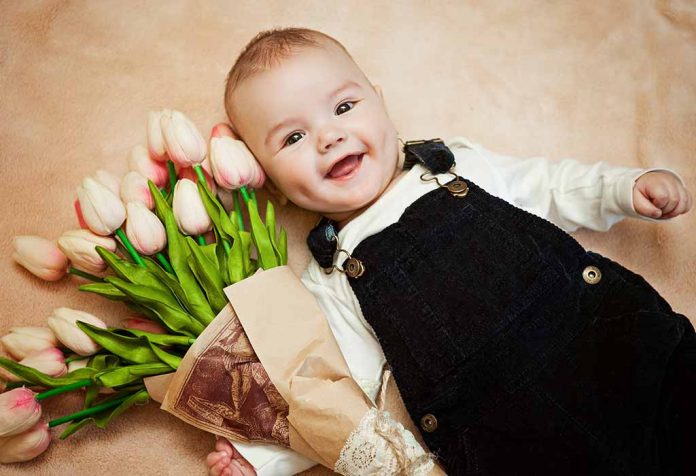 As a parent, there are millions of names to choose from, and you need to be careful with these. It remains part of your child's identity for the rest of their lives. Floral baby names can be the right choice for you as it has the delicateness and fragrance of the flowers. These names are unique and remind you of the beauty of Mother Nature. These baby names after flowers form part of the trend that is not fading away any soon.
50 Floral Boy Names With Meanings
Flowers are one of nature's best creations. Names based on flowers are expressive and representative of the personalities it reflects. Flower names are relatively popular; choose one for your baby boy from the following list:
1. Aaron
This English and German floral name also refers to the mountain of strength. It has been a famous name for boys for a long time.
2. Aciano
It is a blue bottle flower and is a Spanish air to it. It is a preferred baby boy's name in Europe.
3. Admon
Admon is a red peony flower, and this name originated from Hebrew. This English name can be the perfect choice for your baby boy.
4. Anthony
In history, you will find it as a common Roman family name. It signifies a priceless flower in the English language.
5. Asciano
This name gets inspiration from the cornflower. It is an elegant flower name for baby boys.
6. Arnit
The name comes from India and refers to a 'beautiful flower.' It has recently become quite popular with parents.
7. Aloe
It is a gender-neutral name. Aloe is a succulent plant that has both ornamental and medicinal use to it.
8. Bud
Here is a peppy and friendly name for your baby boy. It makes a cute nickname that stands for a male flower, meaning blossom.
9. Basil
The name has a Greek origin and is a regal choice for your little prince. It is a fragrant herb that has flowers too.
10. Blodwyn
This name has a Welsh origin and stands for blessed flowers.
11. Calix
This name has a Greek origin and is handsome and also very unique. This floral name has a fragrant feel to it.
12. Cedar
This French name is unisex. The cedar tree is considered to be home of important gods, and in ancient times it was used for purification.
13. Cosmos
It is a beautiful and beneficial herb that is part of the sunflower family. It is a unique floral name.
14. Crisanto
If you are looking for an uncommon baby boy name, here is one. It refers to a golden flower and is an Old Greek name.
15. Celandine
It is a unisex name that has magical associations with it. Referring to bright yellow flowers, the charm of these flowers is attractive.
16. Clem
It is derived from Clematis, which is a climbing vine of beautiful flowers. The sound of the name is humble and sweet.
17. Corey
It is a short form of Coreopsis, which is a long-lasting and cheery flower. The name will be an unconventional choice for a baby boy.
18. Cypress
It is an attractive choice of a name for baby boys. It is the name of a flower that signifies the five-pointed stars.
19. Elm
This name represents the Elm tree that blooms white flowers. It is strong and robust just like the flowers.
20. Fox
Here is a name that sounds super smart for your little boy. This fantastic name is inspired from the foxglove flowers.
21. Flax
It is a tiny flower with a pale blue color. It will be a unique floral name for your boy.
22. Fiorello
It refers to little, colorful flowers. This baby boy's name comes from the Italian language and is an uncommon choice too.
23. Fleuri
This Latin name is a variation of Florius. It refers to a beautiful and fragrant flower.
24. Fleury
Another entry to cool flower names is Fleury. It is a Latin floral name for boys.
25. Florent
It is a popular French boy's name that means 'flowering.' It can be an appropriate choice for your little prince.
26. Fern
The name has an uncanny and appealing sound to it. It is a tropical herb and has lush green foliage.
27. Indigo
Here is a trendy name for your baby boy. The name comes from a deep blue due to the indigo plant.
28. Iris
It is a striking plant that has bright blue flowers blossoming on it. It also refers to the Greek Goddess of the rainbow, although it is a popular boy's name.
29. Jared
In Hebrew, it means 'rose.' Quite a few celebrities are the name bearers.
30. Jacek
It is a unique Polish name that means 'Hyacinth flower.' This name will suit your little prince the most.
31. Kunal
The name originates from India and means' lotus' or 'someone who sees beauty in everything.' It is a nice choice for a boy's name, meaning flower.
32. Kamal
The word translates to 'lotus' in Hindi. It is unique by all standards and signifies purity and spirituality in the Indian culture.
33. Ketak
It is an excellent choice for a baby boy name in India. It means 'a beautiful flower.' It is now gaining fast acceptability in Western cultures as well.
34. Lupin
It is the name of the flower and also pertains to the wolf. It is a common name for boys in European cultures.
35. Mazus
This name comes from a flowering plant that is referred to as a creeping maze.
36. Nalin
The name comes from the Hindu and Buddhist religion that means 'lotus.'
37. Oleander
It is a shrub that bears beautiful flowers and sounds playful, charming, and a sophisticated choice for a name.
38. Quill
It refers to a hardy, spring flower and has a unique attractiveness to it.
39. Roosevelt
It is a Dutch name for boys that means 'field of roses.'
40. Ren
It is a beautiful choice for your boy. This Japanese name refers to the lotus.
41. Rue
This name may sound a little old fashioned. It has a French appeal and is the name of a herb that has medicinal properties.
42. Shamrock
It is a popular boy's name that is also the national flower of Ireland.
43. Sorrel
It is French and a German name that means 'reddish-brown hair.' It also refers to red flowers that are found in the Caribbean.
44. Tarragon
Here is a name that sounds so medieval and yet has a modern-day charm to it. It is a fragrant herb that is found in abundance.
45. Trevor
It is a Persian word for a flower and has now become popular in Europe and America alike.
46. Valerian
It is a perennial flowering plant and a suitable name for boys.
47. William
It is a popular English name that refers to white, pink, purple, and red flowers that grow in clusters.
48. Yarrow
This gender-neutral name seems to sound better on boys. It is a fragrant herb that blooms with bright yellow flowers.
49. Zahur
It is an Egyptian name and means flower.
50. Zephyr
It is the name of the Greek God and also the flowering plant. This name for boys has a dainty and exotic appeal to it.
Flower baby boy names are the right choice for parents. These names have the elegance as well as the purity of the flowers. If you are looking for baby names that are flowers, this compilation will serve your purpose.