25 Excellent Tips and Ideas to Click Perfect Baby Pictures This Diwali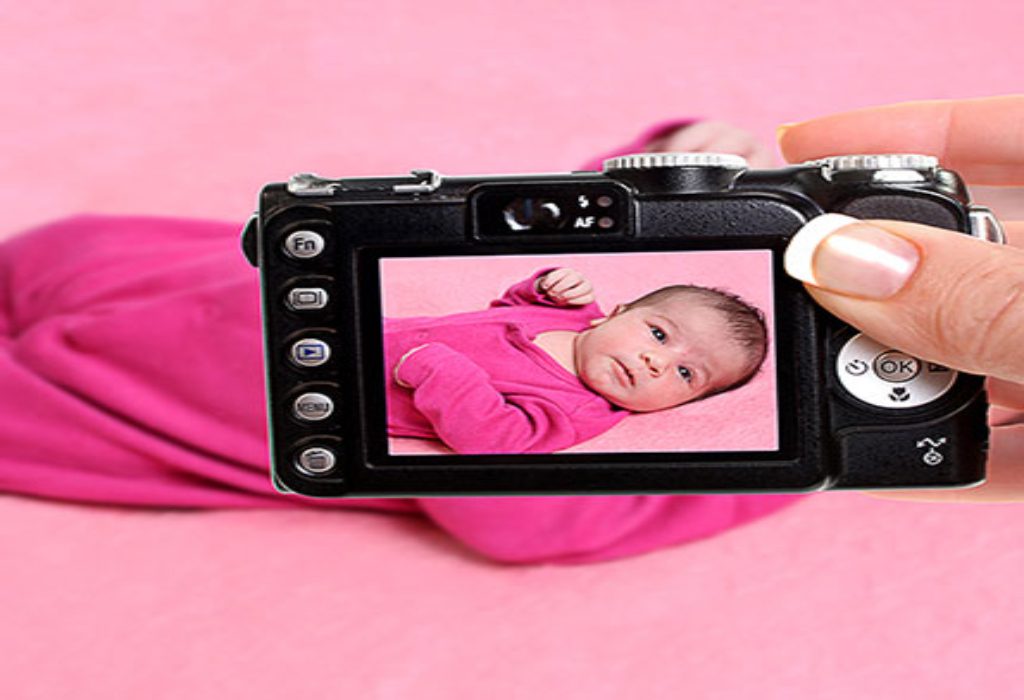 In this Article
As sad as it sounds, babies don't get to be little forever. They grow up way too fast and that's that. Which is why it's all the more important to photograph them regularly – particularly on special occasions like birthdays and festivals. With Diwali just around the corner, we have 25 excellent ideas for you to click perfect pictures of your dear baby.
Clicking pictures of your adorable newborn is another one of the most satisfying and exciting experiences of parenthood. All parents want to capture striking pictures of their newborn, and add it to their cherished album. Those tiny feet, wrinkled skin, little bums and most adorable faces – how can you help clicking, right? But here's the catch: newborns are perfect in every aspect other than being great camera posers! You require creativity, patience, planning and a lot of packing before you get clicking your newborn baby. After all, you don't want to shoot mere images but capture the memories and the most fascinating expressions of your little one.
This Diwali, let's help you capture some stunning photographs of your baby that you will treasure forever. You don't need to be a professional or use an expensive camera for this. All you need to do is follow these tips and ideas and we promise you will have an incredibly glittering set of newborn pictures this festive season!
Diwali Photography Tips For Baby Pictures
1. Plan Ahead: Portrait, Close-Up or Full Body
The first thing to consider while clicking your newborn's picture is to decide on what sort of shots you intend to capture. It can be a portrait or close-up detail of his hands, face or the whole body. For example, you can concentrate on main features such as the hands, eyes, feet and mouth. If you have dressed your child in Diwali finery, a full body picture would be your best bet. Make use of a macro lens to capture your little one's cute contours on cheeks or extreme detail of hands.
2. Set the Lighting as Per These Guidelines
Make use of dim lights to enhance your newborn's features and add an amazing effect to his photographs. However, stay away from bright lights as they might annoy or irritate your baby. Instead, go for soft lighting. For instance, you could decorate the room with pretty diyas. Make sure they are at a safe distance from baby. If you'd rather not take the chance of baby playing with fire, opt for a glow lamp instead. It will impart the same magical glow to baby's face minus the fear of baby burning himself.
3. Set the Focus Properly
If you are using a professional camera, lock the focus when clicking pictures with wide apertures. If you want more creative images with some depth, open the aperture to a wider setting because shooting from an improper angle can create a huge sense of depth, making your baby's photos fade-out in both foreground and background. This is applicable even with some phone cameras that allow you to set the focus by touching the appropriate section of the picture.
4. Dress Your Baby Up For The Occasion
Diwali is dress up time! Keeping the theme of the festival in mind, dress baby up in royal finery in the image of Lord Rama or Sita and click away! Just make sure that he is comfortable in the clothes you have got or else he will be too cranky to cooperate! You can find a good selection of ethnic wear for your baby here.
5. Arrange the Backdrop In Advance
Plan a setup in advance in which you want to click your baby's photos. Too many blankets and pillows might not be a good option, as they can overpower your baby's image. A subtle and cute background can enhance your baby's picture. The living room wall where you have placed the "Happy Diwali" decorations or the nursery with twinkling lights by the bed are good ideas. Remember: never crowd the background too much!
6. Capture Natural Activities of your Baby
While your family will be busy doing typical Diwali things such as gorging on sweets and lighting diyas, it is likely that not much about your baby's routine will change. For them, it is important that their routine stays as undisturbed as possible because their little bodies are unable to handle sudden changes. It's your call to take photos of your baby when he is sleeping in his cot, playing, yawning, having a bath, eating food or cuddling with his father. Be it in any form, capturing natural activities of your child will turn out to be a perfect picture, as opposed to planned poses. Taking lifestyle shots is an amazing experience while clicking your baby.
7. 'Hairy' Diwali is an Idea Worth Exploring
Newborns can lose their 'baby curl' in about 10 days after birth. If your baby still has his lovely post-birth hair, and you are looking forward to capturing your newborn's shots by moulding him into different positions, then this is the time to do it. Capture some stunning shots of your infant's beautiful and soft hair before he is old enough to get his first haircut!
8. Baby and His Sweet Tooth Go Together
Can you imagine your dear little baby munching on a sweet delicacy? Is that a cute mental image or what! If your baby is old enough to eat solid foods, pick a sweet that contains ingredients your baby loves/may love, and you're all set. With all the yummy sweets prepared just for Diwali, it won't be hard picking one for this sweet photo! Here's some help with Diwali recipes just for babies in case you're confused about what you can feed him.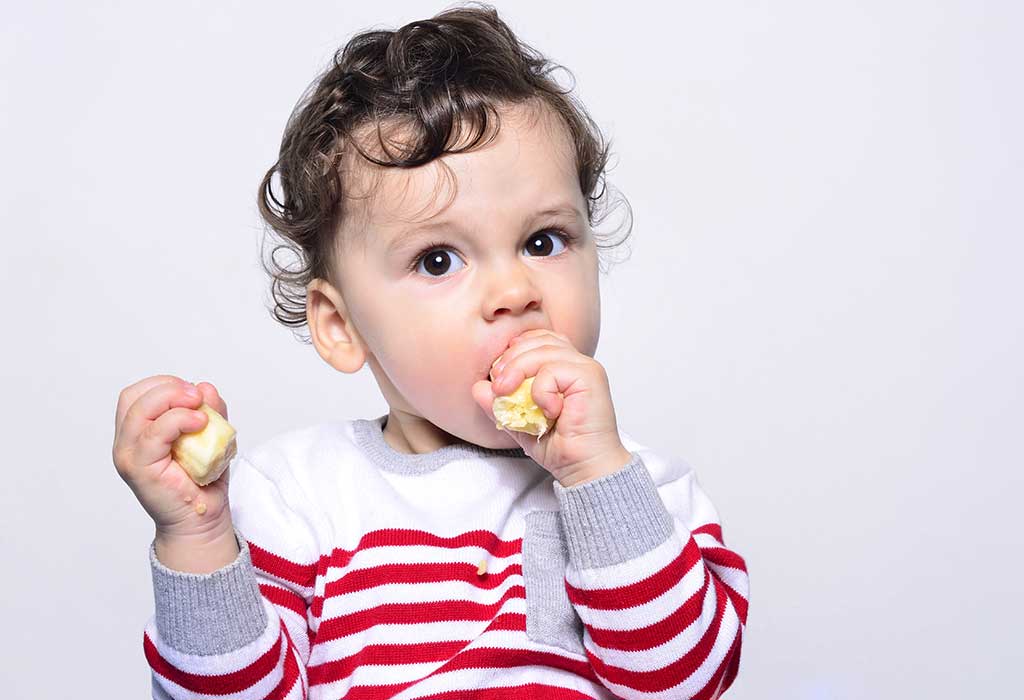 9. Be Prepared for Nature Calls
One thing you definitely want to avoid when in your Diwali dress is poop! During a photoshoot, you might have to deal with unexpected nature calls. This is why putting your baby in diapers will help. Have a backup of disposable diapers in case the baby poops while changing him from one attire to another during the photo-shoot.
10. Wait and Watch Out for Sudden Smiles
Since newborns don't spend a lot of time smiling, capturing happy pictures of newborns is difficult. Capture shots when you see him settled and content. For example, it could be during his bath time, when he is half fed or when he is having a little play before finishing his feed. It could also be when you show him some twinkling Diwali lights in the night sky!
11. Keep Baby Away From Noise
No matter how much kids love crackers, they definitely hate them when they are just babies! Loud and sudden noise can be dangerous for your baby's hearing. As for your planned photoshoot, that will also be spoiled if your baby gets scared and irritable after being exposed to noise. It is best to click away in a relatively quiet section of the house and limit outdoor noise if you're looking at open-air pictures.
12. Let Babies Have Some Fun With Props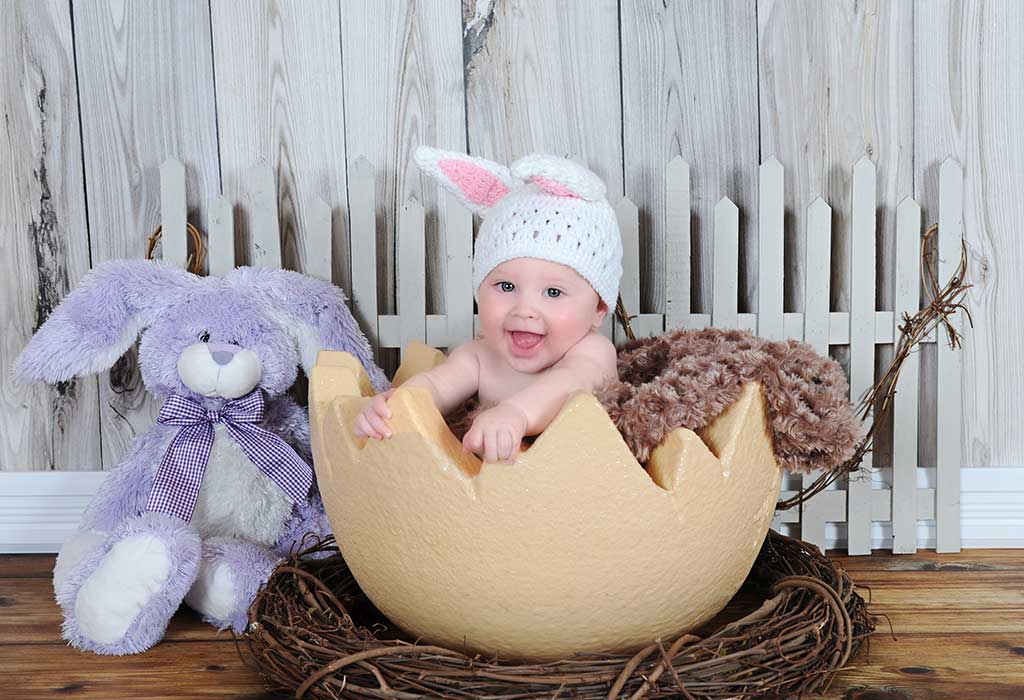 There is a great variety of props available at this time – from kandeels to soft-toys resembling Lord Ganpati and baby play-sets. Props can liven up any picture as your baby will be totally engrossed in them and deliver some terrific expressions. Just remember to use only baby-safe props and never have too many of them all at once. You don't want the focus to shift from your darling!
13. Diyas Make a Great Picture As Long as They're Safe
This festival of lights feels a bit incomplete without diyas, right? Well, as long as you're taking necessary precautions and keeping your baby away from smoke, oil and fire, there is no reason they cannot pose with diyas. Battery-operated diyas or diyas that are far away from their reach are ideal for this. Also remember to stay away from floating diyas. Babies get attracted to them primarily because of the water they float in, and this can lead to injury.
14. Use Fireworks Outside the Window as a Backdrop
Many babies are fascinated by fireworks due to their beautiful colours and lights. But it's no surprise that their need to strictly stay away from fireworks in babyhood. However, one great thing you could do for a slightly older baby is to let them watch from the window or a glass door. This way, they will enjoy watching the fireworks minus the noise and the smoke, and you'll get a great photo of your darling with a sparkling background.
15. Let the Whole Family Pose Together
Your entire family loves your munchkin and deserve to get pictures clicked with the star! Give every member some time with the little one. You will cherish these photos immensely when your baby grows up and your family misses the good old days. Check out some great ideas on doing this if it's your baby's first Diwali!
16. Stay Close to your Baby During The Shoot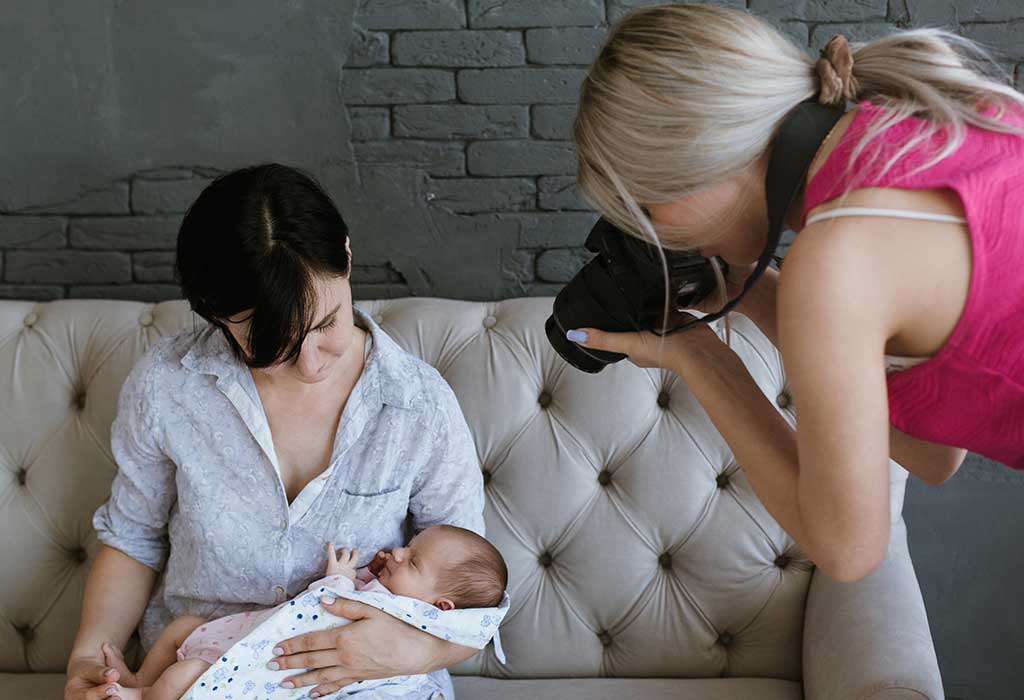 During Diwali, when there are so many guests at home and a million things to do, it is very easy for your baby to get overstimulated. If that happens, not only will he be disinterested in posing for the camera, but will also fail to enjoy the festival at all. The best way to avoid this is to never leave your baby unattended before, during or after the shoot. At the very least, you should have a friend or relative to babysit if you have something to handle urgently.
17. Floral Photoshoots May Not Be a Good Idea
Diwali is a time when almost every home is decorated with flowers, garlands and petals. While these arrangements definitely look very pretty and you may want to click your baby in their proximity, we would advise you against it. Many flowers can trigger allergies in babies or even become a choking hazard. They could also have dust and germs which can come in contact with your baby's skin. It is best to keep your baby away from them or spray them thoroughly with water first.
18. Pictures With the House Pets
If there is someone else who is not fond the Diwali noise and smoke either, it is your pets! Dogs and cats have an especially hard time dealing with the bangs and outbursts of bright light all through Diwali night. So why not have some fun clicking pictures of your baby and pet together in one frame? One rule: do this only after you have introduced your pet to your baby. Make sure they don't come in close contact during the shoot.
19. Use Colours and Brightness Well
If there is one rule to click a Diwali picture it is this: use colours and light! No Diwali picture of your baby should come out dull or dark. For this, create a good balance of colours in the frame. If your baby is wearing an orange ghaghra, for instance, don't use a colour from the similar family in the background (red, orange, yellow). That said, play with contrast and colours and have fun at it. You may ruin a couple of pictures but there will also be some great ones!
20. Make a Water Colour Rangoli in your Baby's Room
It is best to not expose babies to powder Rangoli colours as they could become choking risks and interfere with the respiratory system. However, this doesn't mean you cannot introduce your baby to the beauty of a rangoli. Try making a little rangoli with watercolours outside your baby's room. This will double up as a great photo opportunity as your child enjoys looking at it and playing in its vicinity.
21. Beware of Electrical Connections During the Shoot
At your home around this time, there is likely to be an abundance of electrical lights, sockets and extension boards. If you have a professional camera setup with charging equipment, this can complicate matters further. Before taking your baby in such surroundings, make sure all electrical connections are babyproofed and that there are no loose wires. This is critical for your infant's safety.
22. Celebrate The Spirit of a Fresh Year
Diwali also happens to be New Year and the harbinger of new tidings for households across India. This is a good time to give your baby's room a new look before snapping away to glory. You can use conventional decoration items such as festoons and fairy lights, or go out of the way and get some new baby furniture, a colourful cupboard for his toys, or a new bed-light representative of the festival of lights.
23. Give Daddy Some Special Camera Time
It is a great idea to get some exclusive pictures of your baby with the daddy. Diwali is a family occasion and no better time to bond with someone who's going to be your role model soon, right? Also, parents have to be patient while photographing their newborn baby, since you will have to put the camera down quite often to tend to the baby's needs. This is another reason why you should share the activity with your husband.
24. Click Pictures With Diwali Gifts
The spirit of gifting is an integral part of Diwali. For your baby too, this cultural teaching should start early. Get them something special and glittering like a musical toy or rice-lights and click away as they are busy fiddling with the package. Make sure you don't use any small objects in the packaging material and keep it as safe and eco-friendly as possible.
25. Get the Siblings into the Picture
Finally, if you have other children, then no baby photoshoot can be complete without getting them to pose with the little member of their family! Siblings can play with baby, cuddle or hug him as per their age. You can also get pictures of all the kids holding Diwali things like mithaai and decorations in their hands.
There, you now know exactly how to click stunning Diwali pictures! After you're done, select your favourite picture of your sweet little one in ethnic wear and share it with us to win some super prizes! No, we are not kidding! Here's what you have to do:Wishing you a glittering Diwali and loads of beautiful click-worthy moments.