This Mom Shows How to CREATE More Space in Your Cupboard in Only 8 Steps!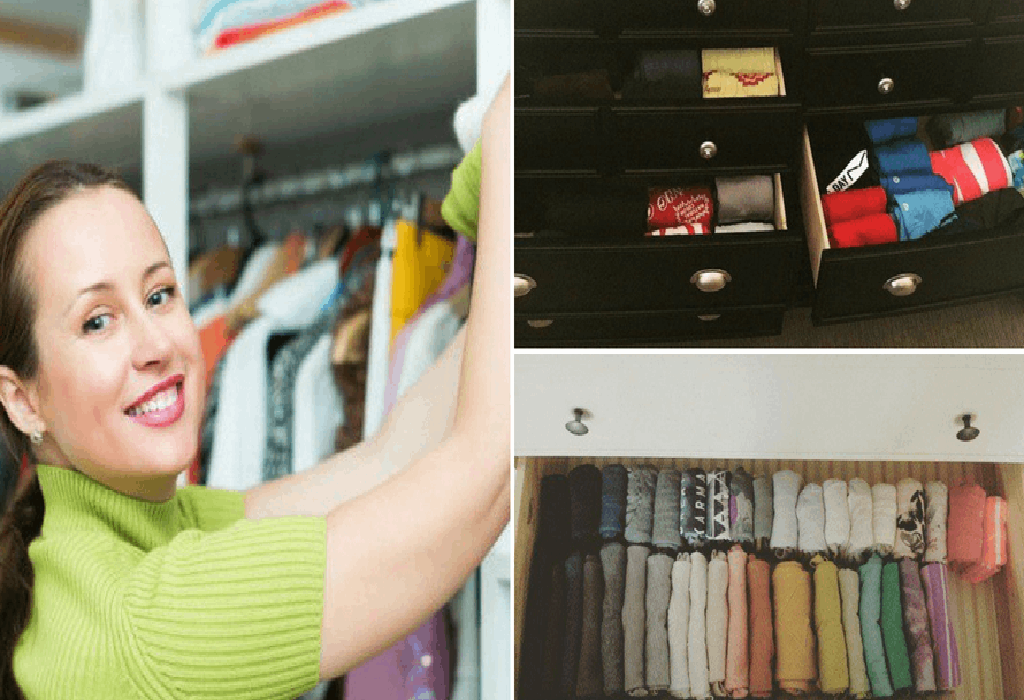 In this Article
Closet full of clothes but always cribbing about how you have nothing to wear? Is there never any space in your wardrobe no matter how tidy you try to keep it? Well, the problem perhaps lies in the clutter!
Take a closer look at your closet and you will find that you perhaps have not worn that jeans in ages but it is lying in a corner. Same goes for that kurti you thought you will wear once you lose a little weight and those running shoes that are just collecting dust all over. A cluttered environment attracts negative energy, brings a sense of restlessness, and is certainly not soothing to your eyes. Whether or not you are organized as a person, decluttering your wardrobe is always a good idea. It brings a different sense of calmness and is also a step towards an organized and balanced way of living.
Marie Kondo, a mother and Japan's renowned organizing consultant, introduced the world to the now famous 'KonMari' or 'Kondo' method of organization. It has changed many lives – and we are not kidding! With her New York Times bestselling guidebook 'The Life- changing Magic of Tidying Up', she has transformed the lives of many. Her idea of organizing isn't only restricted to your wardrobe, but goes much beyond to your kitchen, living room and even office.
What is The KonMari Method
The KonMari or popularly known as Kondo method of decluttering thrives on the idea of one time dramatic transformative measures undertaken to be completed methodically over 6 months. Hence, it isn't an ongoing battle against clutter. It is process wherein whatever does not 'spark joy' is supposed to be touched, thanked and thereafter sent away to someone who may find joy from it.
Her method is opposed by some, however appreciated by many. Many clients claim this to be life-changing. What makes her method extremely efficient is that she doesn't tackle this process room by room but belongings by subject. Instead of focusing on what one needs to get rid of, the focus should more be on what needs to be kept.
Following are 8 quick ways that will help you learn the art of de-cluttering your cupboard and make space for the things that you actually do require. Trust us, this will actually create space in your cupboard, space you never knew existed!
1. Reduce The Number of Clothes in Your Closet
It's always a good idea to begin by evaluating what you TRULY need and what you don't. If you have kept your clothes in a hope to wear them or just because of the value they hold but you cannot make use of them any longer, it's important you let them go. Ask yourself, 'Does this piece of clothing spark a joy in my life?' If the answer is no, pack them in big back and let them go. Rule: Your closet should have enough room for two people's clothing!
2. As Far As Possible, Fold Your Clothes
After you've decided what stays and what goes, you need to start stocking them in your closet. Kondo believes that clothes stay better and 'happier' when you fold and stack them in your shelves.
3. Follow The Kondo Method of Folding
Kondo insists on following the following guideline for folding your clothes, especially your pants. This method will not only make your clothes more compact, but provide more space and will look better organized and neat.
Fold your pants in half
Fold your pants in half again
Fold your pants in thirds, starting with the waistband
Finish by folding the other third on top
4. Place and Store Belongings Vertically
The vertical stacking method is very core to KonMari method. Keeping clothes in a pile is not advisable and therefore stacking them in an order makes more sense. This method can also be adapted for drawers as it enables you to have an overall view of everything and you wouldn't need to start hunting for that blue collar shirt in a pile!
5. Colour Coordination Always Makes Life Easier
While stacking your clothes, arrange them in a colour coded manner. This makes the process simpler and your life easier. This way you can always find all your black clothes ready when you need to attend an all-black theme party. Besides, the clothes look better organized.
6. Store The Small Belongings in An Organized Manner
Small items present in your closet (like jewellery) need not be scattered all over the place. It is advisable to always collect them and store them in small containers and boxes. Besides, they should always be kept handy for future use.
7. Smaller Garments Need Folding Too
If you thought Kondo's method of folding was only for the T-shirts and pants, well, here's some news for you. She is a huge fan of folding small items like socks and stockings too! Even the smallest things take up space in your closet and therefore folding/rolling them appropriately matters a lot.
8. Pay Attention to Your Toiletries Cupboards as Well
According to this method, it is important to remove the 'unwanted' toiletries and only keep the essentials that you may actually make use of. Once that has been decided, store these in small containers. Kondo also suggests wiping off these products after use and keep them out of sight until their next use.
Yes, many things do hold an emotional value for us; however, purging is an essential process to lead a more organized life. Marie Kondo's method is a tried and tested guide to a 'spacious' life. We are defnitely going to try it out this weekend!
Did you try this method? Share your experience with other mommies by leaving a comment below.