12+ Easy DIY Bookmark Ideas for Kids
In this Article
Books are an investment and fragile commodity that needs good care for them to last a lifetime. Bookmarks are a marking tool that ensures that your books remain in good or even mint condition without getting defiled by dog-ear culprits. Bookmarks help you keep track of your progress and quickly return to where the previous reading session ended. Fun bookmarks for kids encourage them to care for their books and maintain them well. There are several DIY bookmarks for kids to make that can be a stepping stone in starting a love for your child's reading journey.
Creative Bookmark Ideas for Children
Modern bookmarks are made from different materials and showcase a variety of designs and styles. Simple bookmarks ideas for kids can be interesting craft projects. Designing bookmarks can improve kids' fine motor skills and get them into the habit of reading if only to admire their creations. Handmade bookmarks for kids make lovely gift ideas for Mother's Day, Father's Day, Teacher's Day, and Friendship Day.
In case you're wondering how kids can make their bookmarks, there are endless possibilities of customizing themed bookmarks based on their adorable cartoon characters, superheroes, or protagonists of a book. Bookmark crafts for kids help to engage them positively and inspire them to read. Here are some of the best bookmark craft ideas for preschoolers that can be used in the classroom, library, or home.
1. Seasonal Bookmark Craft
Making this bookmark can be a part of your child's school craft activity and portray whichever season catches their fancy.
What You Will Need
Colorful Cardstock Paper
Markers
Paint Sticks
Stickers
Paper Cutter
Instructions
Cut card stock paper into strips of about 1.5 inches in width, using a paper cutter.
Choose any color for the bookmarks and decorate as desired.
Laminate them.
2. Mini Bookmark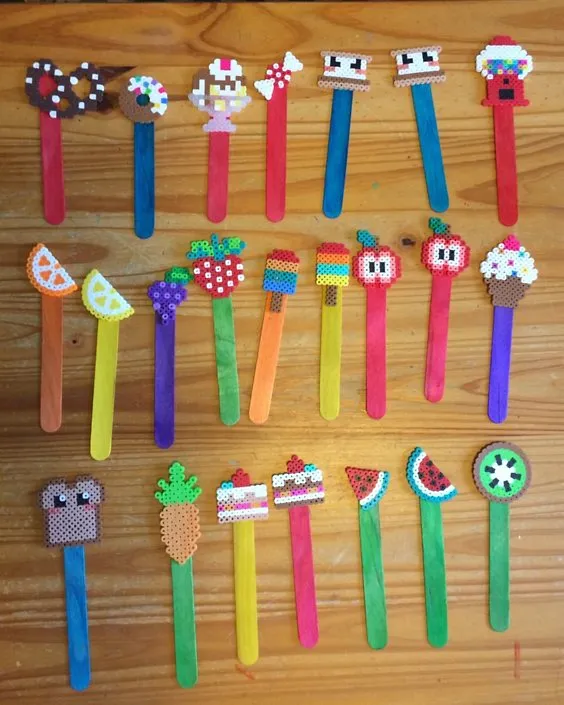 This pretty pixilated project lets kids embrace the multi-bead sensation and become geniuses in all sorts of creations.
What You Will Need
Boards
Ironing Paper
Standard Metal Paper Clips
Iron
Instructions
Make a design out of Perler beads on the Perler grid board.
Melt one side of the design by placing the ironing paper on top of the design and then pressing it down with a hot iron.
After

one side is fused, turn it over and place a metal paper clip near the bottom end of the design.

The opening end of the clip needs to be opposite the Perler beads so that the clip can easily open once everything is fused.
Keep the ironing paper over the beads and paper clip. Press down with a hot iron until the clip is fused to the beads. Leave it to cool.
3. Ribbon Bookmarks
These non-slip elastic ribbon mark stretches to accommodate the book pages and ensures you never lose your page again.
What You Will Need
Decorative Ribbon (1/2 in. wide)
A Pair of Scissors
Elastic Hairbands
Needle and Thread or Sewing Machine
Decorative Buttons
Instructions
Cut the ribbon into 18-inch strips.
Fold the ribbon from one end over 1/4 inch. Fold it over another 1/4 inch and stitch across with any design of your choice, using your hand or a sewing machine.
Repeat

the process by folding the other end of the ribbon and

adding the elastic hairband to complete one end of the ribbon bookmarks.
Use needle and thread to attach a button to the other end of the ribbon.
4. Ocean Bookmark
These bright and attractive bookmarks can get kids interested in nautical themes and the underwater world.
What You Will Need
Watercolors
Black Glue
Cartridge Paper
Instructions
Print out your templates.
Cut your bookmark template and trace the outline. Fill in the details by drawing additional designs.
Make it look like a black glue-stained glass project by adding some crisscross lines.
Use black glue to outline your design fast enough to ensure the lines appear smoother and better.
Once it has thoroughly dried, use paint on wet paper that blends and spreads beautifully. Leave it to dry.
Take Black Glue and watercolor bookmarks and cut out your shapes, leaving a little white rim on the edges.
5. Avengers Bookmark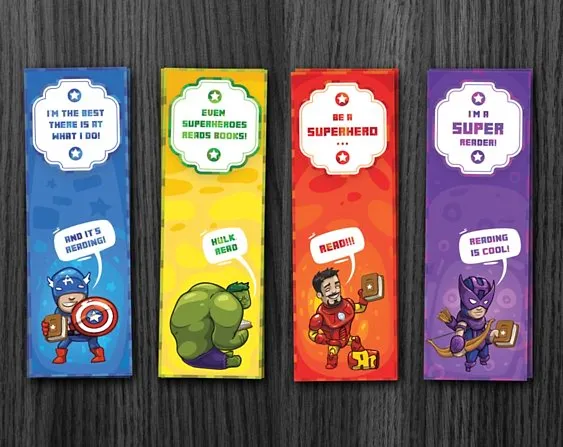 Kids would surely be excited to make bookmarks based on the superheroes from The Avengers series of Marvel comics and movies.
What You Will Need
Jumbo Craft Sticks – 3
Clear Paintable Sealer or Mod Podge
Black Sharpie
Pattern
Black Ballpoint Pen
Paintbrushes
Paint Colors
White Paint Pen
Instructions
Freehand the characters using paint of all colors to cover all areas as per the original designs.
Once everything dries, use a white paint pen to add the physical features and accessories associated with the heroes.
Use a ballpoint pen to outline the mouth and the teeth. Leave them to dry.
Apply a coat of paintable sealer or Mod Podge to give everything a protective coating. Leave it to dry overnight.
6. Scribble Monster Bookmarks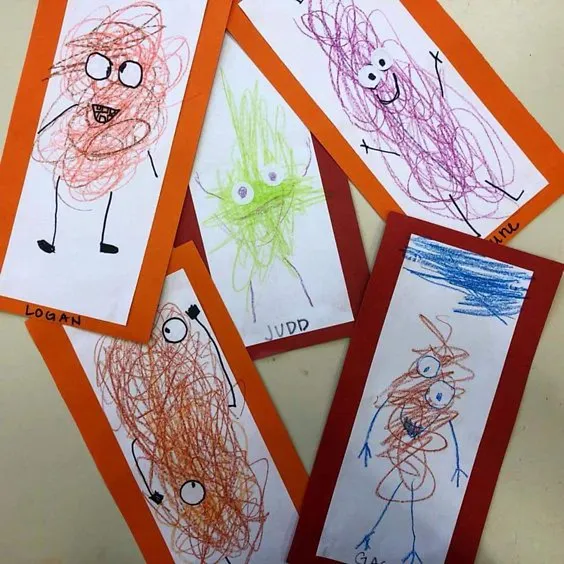 This DIY bookmark craft for preschoolers let them take pride in their artistic creation.
What You Will Need
Blank Index Cards
Googly Eyes
Ribbon
A Pair of Scissors
Hole Puncher
Watercolor Paints, Marker, Crayons
Heart Stickers
Glue
Cardstock, Blank Cards
Printable Labels
Double-sided Tape or Glue Sticks
Instructions
Draw a scribble monster on the index card in a portrait layout.
Use watercolor topped with crayons and marker doodles.
Add arms and legs with a black permanent marker. Scribble monster horns and smiles.
Stick on googly eyes of different sizes and colors with glue, double-sided tape, mounting tape, or hot glue.
Thread a 4-inch ribbon piece into a hole near the top center of the index card.
7. Washi Tape Bookmarks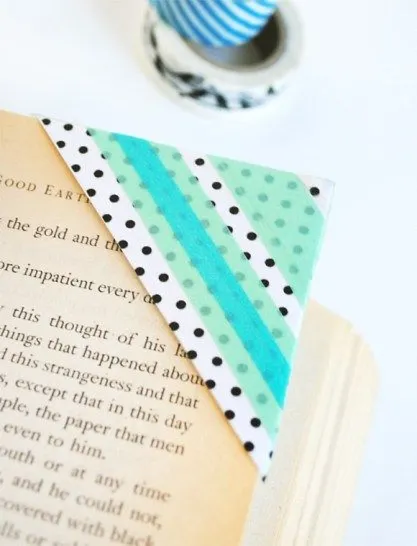 These bookmarks can be made using some basic supplies easily available at home.
What You Will Need
Card Stock or Heavier Weight Scrapbook Paper
A Pair of Scissors
Alphabet Stamps and Ink
Paper Trimmer
Washi Tape
Ribbon
Instructions
Trim the paper scraps into long rectangles measuring about 2 inches wide and 6 inches tall.
Punch a hole in the paper on the top end.
Use washi tape of different patterns and colors to decorate the bookmark.
Personalize

it with your favorite

alphabet stamps.
Tie a 4-5 inches long ribbon onto the hole of the bookmark.
8. Postage Stamps Bookmarks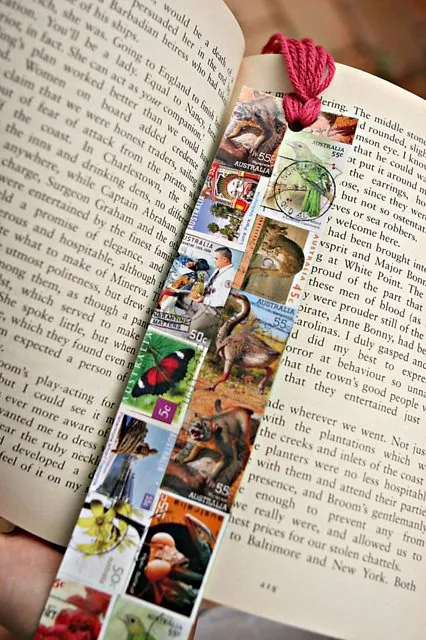 This activity can get your child interested in philately and gain information about the stamps of different countries.
What You Will Need
Construction Paper or Card Stock of Any Color
Glue Stick
A Pair of Scissors
Old Postage Stamps
Instructions
Cut card stock to the desired size. Stick the postage stamps with glue to the card stock.
Wait for it to dry.
9. Cat Bookmark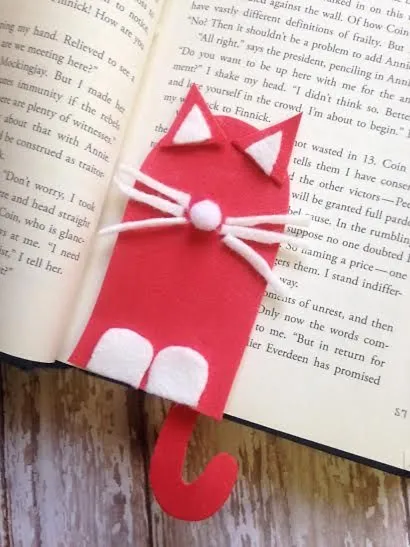 If a child happens to have a pet cat, this craft can surely excite and uplift their mood.
What You Will Need
Crafting Foam or Felt
Small Craft Pompom
A Pair of Scissors
Glue
Instructions
Create the shapes needed to form the cat – Four triangles (two medium and two small), a large arch, two small arches, a candy cane shape for the tail, and a few strips for whiskers.
Assemble your pieces, layer, and glue the two ears first. Attach to the top of the large arch.
Stick the pompom with glue to form the nose. Add the strips to the side for the whiskers.
Stick the small two arches to the bottom of the body to resemble the paws.
Stick the candy cane shape to the back of the body for it to hang low as the cat's tail.
10. Flower Bookmark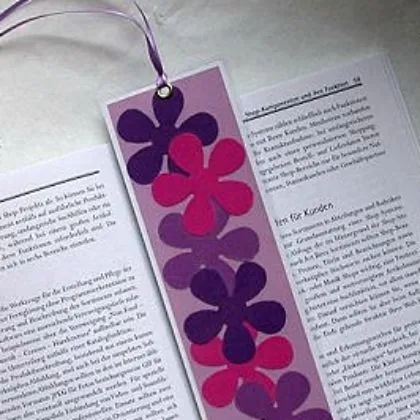 This fun spring activity for kids can encourage reading.
What You Will Need
White Cardstock
Clear Contact Foil
Cardstock (lilac, purple, dark purple, and pink)
Jumbo Puncher With Flower
Satin Ribbon
Glue Stick
Scissors and Ruler
Hole Puncher
Eyelet and Eyelet Tool
Instructions
Cut a strip of white card stock into the desired size.
Cut a second strip of lilac cardstock slightly smaller than the previous one and adhere it to the white one, leaving an even margin on all sides.
Punch out flowers and arrange and stick them lightly to hold them in place.
Cut a piece of contact paper;

stick it to the front side of the bookmark. The paper should be bigger than the bookmark. Cut and stick another piece to the back.

Trim excess foil away from the sides, leaving a slight border.
Tie

a ribbon through the hole made on the top of the bookmark.
11. Button Bookmark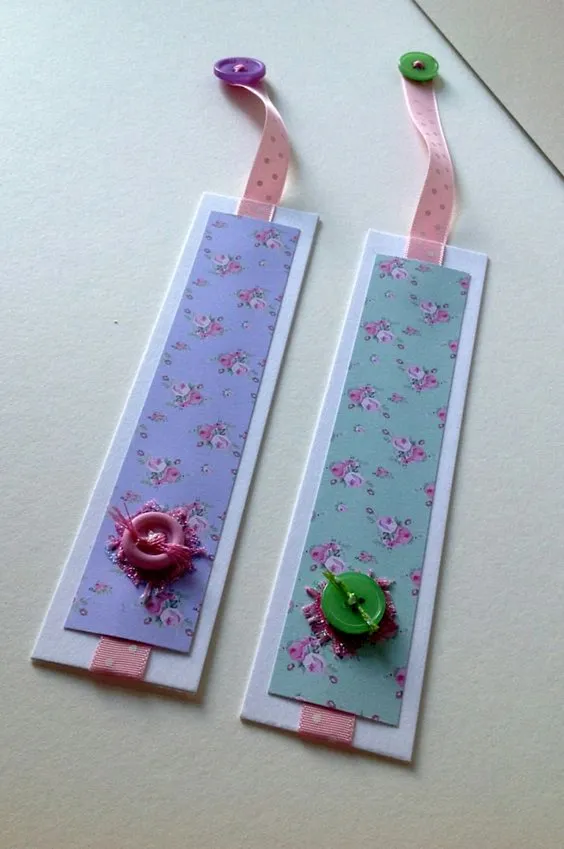 This simple handmade bookmark can pave the way for happy reading adventures for your kid.
What You Will Need
Scissors
Construction Paper
Buttons
Hot Glue Gun and Hot Glue Sticks
Instructions
Use construction paper or poster paper and paint to make a design.
Once dried, cut it into strips about 2 inches wide and 5 inches long.
Stick buttons on the top of the bookmark with a hot glue gun.
12. Thumbprint Heart Bookmark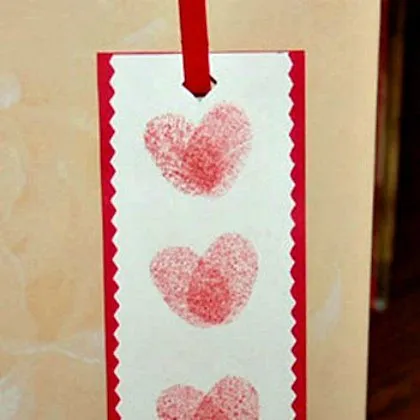 This unique craft makes an adorable homemade gift made from a child's loving hands.
What You Will Need
Red and White Card Stock or Construction Paper
Glue
Scissors
Hole Punch
Length of Ribbon (red, white, pink)
A pair of Scissors
Designer Edge Scissors
Instructions
Carve out two rectangles from the red and white card stock, each measuring 6 inches long and 1.5 inches wide.
Press your thumb down into the red stamp pad and press it down on the white card stock rectangle at a slight angle to form one-half of the heart.

Overlap the first print with a second thumbprint to form the other side of the heart.

Repeat to make four hearts down the center.
Cut off the long edges of the white rectangle with decorator edge scissors.
Stick the white rectangle to the center of the red bookmark and leave it to dry.
Thread through a ribbon and tie to the hole made on the bookmarker.
13. Confetti Bookmark


These fun and colorful bookmarks are gifts to suit any age and occasion.
What You Will Need
Sturdy Paper – either Card stock, Paint Chips, or Scrapbook Paper
Masking Tape
Craft Knife and Mat
Tissue Paper (construction paper, sequins, or circle stickers)
Clear Contact Paper
Hole Punch
A Pair of Scissors
Cutting Mat
Instructions
Use a hole punch to create confetti out of tissue paper sheets folded together.
Trace and cut out a bookmark template using a colorful paint chip or other sturdy sheets.
Cut out two pieces of clear contact paper. The second sheet should be slightly larger than the first.
Tape the smaller sheet of contact paper with the sticky side up onto the work surface.
Stick the contact bookmark border. Sprinkle on the confetti.
Carefully stick the second sheet of contact paper to the first.
Cut out the bookmarks.
14. Rainbow Bookmark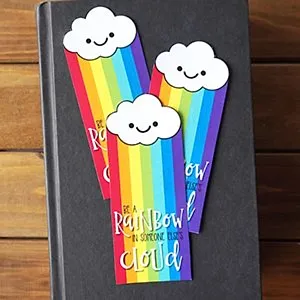 The multi-colored rainbow bookmark can help brighten up your child's day, no matter how dull they are.
What You Will Need
Craft Paper in rainbow color
White Card Stock
Gold and Red Craft Paper
Ruler and Pencil
A Pair of Scissors and Glue
Heart or Star Cutout
Instructions
Cut an arrow shape out of white card stock paper.
Cut out thin strips of equal width from the colored craft papers and stick them on the arrow shape, side by side.
Trim any excess from the sides.
Make multiple rainbows of different shapes.
Stick a star or heart on the top end.
Bookmark making for kids allows them to exercise their creativity and imagination, which has immediate and lasting cognitive benefits. Along with providing a unique bonding time with parents which creates memories of a lifetime, you can ensure that your child develops an interest in art, can improve their fine motor skills, and can fuel their creativity through such crafts.
Also Read:
Amazing DIY Tree House Ideas for Children
Creative DIY Playhouse Ideas for Children
Beautiful DIY Dollhouse Ideas for Children