17 Fun and Easy Thanksgiving Craft Ideas for Kids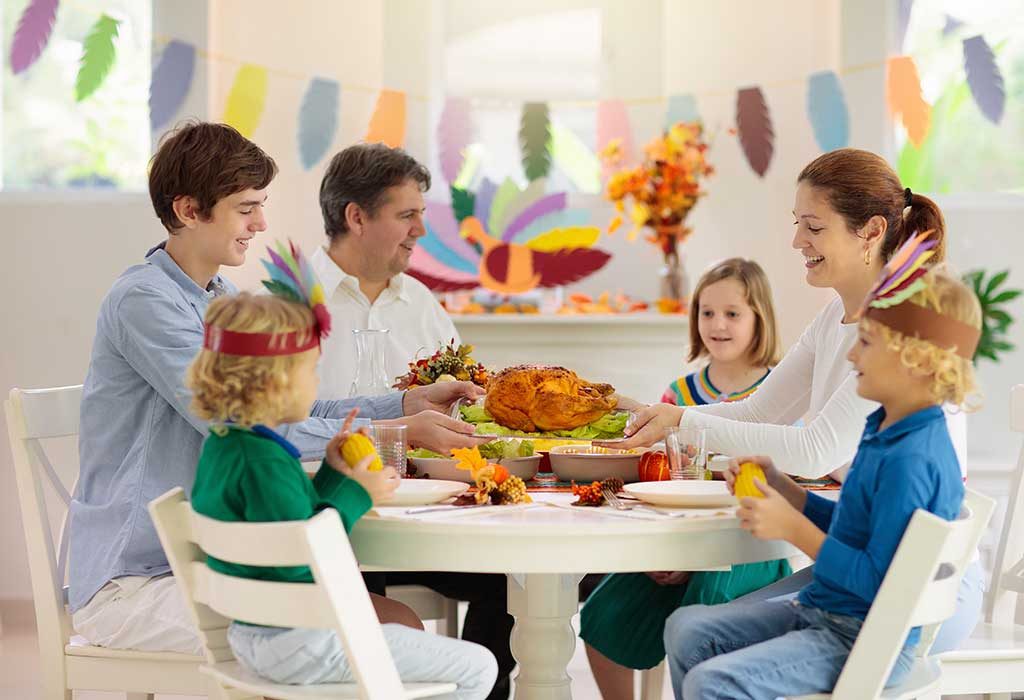 It's time to be thankful! Thanksgiving is a holiday of celebrating and giving thanks for the blessings of the preceding year, and it is gaining a lot of popularity in different parts of the world. As more and more people celebrate this festival of gratitude and happiness worldwide, you must be wondering how can you educate your kids about this festival and involve them in the celebrations. Read on to find out how you can make this festival a lot of fun for your kids.
Video : Fun and Easy Thanksgiving Craft Ideas for Children
Interesting DIY Thanksgiving Art and Craft Ideas for Children
As you prepare to bring your family and friends together for this year's Thanksgiving celebrations, keeping kids occupied can be a worry. Here is the perfect list of crafts that will keep your kids busy and double as beautiful Thanksgiving party decorations.
Thanksgiving Crafts for Toddlers (1-3 Years)
Keeping toddlers busy is a challenging task as they are still dependant on their parents to do a lot of things. The crafts given here will need adult supervision, but you can get them in the festive mood and teach them all about Thanksgiving.
1. Family Tree
This finger painted family tree will help you introduce your toddler to all the family members coming over for the Thanksgiving celebrations.
Materials required:
White paper
Black or brown sketch pen
Red, orange, brown watercolours
Procedure:
Take the white paper and draw the tree trunk, branches, and twigs using the black or brown sketch pen.
Get the watercolours ready and dip your toddler's finger in the different colours and press it on the twigs and branches, making the impression look like leaves.
Let the paint dry. Once it has dried, write the names of different family members against each leaf.
2. Painted Corn Husk Headband
The best way to use corn husk is by making a Thanksgiving craft with it. This is a great Thanksgiving craft for toddlers of the age of 2 or above as it requires some artistic paint strokes.
Materials Required:
Dried corn husks
Paint
Glue
Headband
Procedure:
Stick the corn husks together in the shape of a semi-circle.
Once the glue has dried, let your toddler explore her artistic side by painting the corn husks in different colours.
When the paint dries, stick the corn husks on a hairband and let your toddler wear her beautiful creation.
3. Turkey Craft for Toddlers
Painted hand turkeys look super cute, and your toddler would love making them. So go ahead and indulge your little one using this Thanksgiving art for toddlers.
Materials required:
A few cardstock papers
Paint
1 googly eye
Crayons
Procedure:
Dip your toddler's palm in brown paint and dip each of her fingers in different colours.
Let your toddler stamp her hand on the cardstock paper and repeat this step for as many paintings as you want to make.
When the paint dries, stick a googly eye on the thumb's impression and draw small details like the turkey's feet, beak, and tongue with the crayons. Your painted turkey hand is ready.
4. Corn Cob Craft Painting
Every Thanksgiving celebration is incomplete without corn on the cob. But what about some corn on the cob painting? Here's how you can make your toddler enjoy some corn cob craft painting.
Materials required:
Corn on the cob
Paint
Paintbrush
White paper
Procedure:
Remove the husk from the corn and paint the corn with different colours, painting a part of the corn with one colour.
Once that's done, let your toddler roll the white paper, making a vibrant painting.
Let the paint dry, and then you can hang it up by attaching a piece of thread to it.
5. Pumpkin Handprint Card
In the world of instant messaging and emails, letters and cards are only sent out during festivals. So use this opportunity to involve your munchkin in the celebrations.
Materials required:
Green, white, and orange papers
Orange and green paint
Scissors
Procedure:
Fold the green paper to make a card and keep it aside.
Cut out a circle from the orange and white papers, keeping the orange circle bigger than the white.
On the green card, first, stick the orange circle and then paste the white circle on the orange one.
Dip your toddler's hand in the orange paint and stamp it on the white circle.
Dip one of your toddler's fingers in green paint and press her finger on the leftover white paper.
Cut out the finger impression and stick it on top of the pumpkin, making it the pumpkin stem.
Thanksgiving Crafts for Preschoolers (3-4 Years)
Do you have a restless preschooler who has too much energy and not enough to do? Here is the solution to your problem, the following list of Thanksgiving crafts for preschoolers will use up all of their energy, and you won't even have to leave the house.
6. Thanksgiving Paper Pumpkins
Let your preschooler tell you all she is thankful for with this simple Thanksgiving papercraft.
Materials required:
Orange and green coloured paper
Scissors
Stapler
Procedure:
Cut out eight long strips of orange paper and two strips of green paper.
Make your child tell you all she is grateful for this year and write it down on the orange strips.
Staple the left ends of the orange strips together and then staple the other end together to make a pumpkin.
Roll up the green paper strips to make a pumpkin vine and staple them to the top of the pumpkin. Your gratitude pumpkin is ready!
7. Thanksgiving Pasta Necklace
Your kids will love making and wearing these festive necklaces, so get ready to find pasta all over your house.
Materials required:
Dyed pieces of macaroni or penne pasta
A long piece of thread or yarn
Procedure:
Give the piece of thread and the pasta to your little one.
Knot one end of the thread and show her how to pass the pasta pieces through the thread.
She can use different colours to create a unique pattern and once she is done, knot the other end of the thread and tie it around her neck.
8. Turkey Craft for Preschooler
This fun turkey craft for kids will keep your preschooler engaged and make her use the new skills she is learning at this age.
Materials required:
Brown foam
Googly eyes
Glue
Clothespins
Feathers
Procedure:
Cut out two circles (one bigger than the other) from the brown foam and stick the two circles together.
Stick the googly eyes and a small orange triangle (cut from coloured paper) to make the turkey face.
Stick the feathers on the clothespins and make your little one use those fine motor skills to press the clothespins and place them around the brown foam.
9. Thanksgiving Leaf Garland
You can finally use those brown paper bags you have in the house. This beautiful leaf garland will keep your baby occupied, and it will also make for a pretty Thanksgiving decoration, so make sure you try it out!
Materials required:
Brown paper bags
Ribbon
Glue
Scissors
Clothespins
Paint
Procedure:
Draw big autumn leaves on the paper bags and let your child paint these leaves in different colours.
When the paint dries, cut out the leaves. On a long piece of ribbon stick some clothespins, and let it dry.
Stick the paper leaves on the clothespins, and you're done! Hang this garland to add some festive cheer to your house.
10. Letter Feather Turkey
If your little one is learning the alphabet at school or you've taught her how to spell her name, this simple Thanksgiving craft will help your preschooler brush up on his/her skills.
Materials required:
A white paper plate
Orange and brown paper
Scissors
Glue
Brown crayon
Googly eyes
Procedure:
Set your munchkin's artistic side free and let her colour the paper plate using the brown crayon.
While she is busy colouring, cut the coloured sheets in the shape of turkey feathers and label each feather with one letter of your child's name.
When you are done, hide the feathers in different parts of the room and make her look for them.
Once she finds all the letters ask her to arrange the feathers according to the spelling of her name and paste the feathers to the paper plate.
Add googly eyes and a beak to complete the turkey's face.
11. Apple Stamping Greeting Card
When festivities come, we greet our loved ones with wishes, gifts, and greetings. This Thanksgiving, let's make pumpkin greetings using apples and paint.
Materials Required:
Apple, cut into two pieces
Google eyes
Orange paint
Brown and green pipe cleaners
White cardstock
Procedure:
Cut the apple into two pieces. Apply some orange paint on the underside of the halved apple and press it on the white greeting card.
It will take a shape similar to a pumpkin.
Once the paint is dry, paste different-sized googly eyes. Cut some brown and green-coloured pipe cleaners. Paste the brown ones as stem and twist green ones to make leaves. Paste onto the paper using glue.
Thanksgiving Crafts for Children (4-8 years)
If your kids are old enough to do some art and craft on their own, have them make these amazing Thanksgiving crafts. They can even take them to school and show them to all their friends.
12. Winter Gloves Turkey
These bright turkey gloves will not only keep your hands warm but also amuse your little one immensely.
Materials required:
Brown or tan coloured glove
Green, yellow, red, and blue felt paper
Googly eyes
Glue
Scissors
Procedure:
Cut the felt papers (two of each) in the shape of turkey feathers and stick the two parts together.
Stick the felt feathers on all the fingers of the glove. Stick the googly eye and a small beak on the thumb making the turkey's face.
Make your kids wear these cute turkey gloves and have fun with them.
13. Felt Pumpkin Pie Coasters
The upcoming Thanksgiving celebrations will definitely require some coasters, so why not make some with your kids?
Materials required:
White, orange, and tan felt paper
Glue
Scissors
Procedure:
Cut the orange and tan felt paper in a conical shape resembling the shape of a piece of pie. Make sure the orange piece is smaller than the tan piece.
Cut the white felt paper in the shape of a cloud to resemble whipped cream.
Make your kids stick the orange felt on the tan felt and add the white felt on top of the orange felt. Arrange the pieces to make it look like a piece of pumpkin pie.
Viola! Your pumpkin pie coasters are ready to add to the Thanksgiving vibe.
14. Toilet Paper Roll Turkey Showpiece
When occasions come, it becomes imperative to decorate the house with colourful showpieces and crafts. If you are looking to create crafts with your kids, then this easy to make craft is one such craft idea.
Material Required:
Toilet paper roll
Brown paint
Glue
Small google eyes
Black marker
Cardstock – yellow, orange and red
Procedure:
Take toilet paper and paint it brown with brown paint.
Take red, yellow, and orange coloured cardstock, draw feather shapes, and cut out the shapes.
Ask your kid to write things that they are grateful for on the feather cutouts using a black marker.
Paste googly eyes on the toilet roll using glue.
Cut out a tiny triangular beak and feet on orange cardstock. Paste the beak and feet on the roll.
Next, paste the feathers on the back of the toilet paper roll.
15. Thanksgiving Turkey Bookmark
If you're raising some bookworms, then your kids will love this paper turkey craft.
Materials required:
Brown felt paper
Glue
Scissors
Popsicle stick
Procedure:
Cut the felt paper in the shape of an autumn leaf, use the first leaf as a stencil to draw and cut out another one.
Stick the two pieces of felt together.
When it's dry, stick the popsicle stick on the bottom of the leaf.
16. Turkey Craft for Children
This funny turkey headband will look super cute in your Thanksgiving pictures. So make one for every member of your family!
Materials required:
Brown, yellow, orange, and green paper
Googly eyes
Brown headband
Scissors
Glue
Procedure:
Cut out two circles (one smaller than the other) from the brown paper and stick them together in the figure of eight to make the turkey.
Cut out the feathers from the yellow, orange, and green paper.
Stick the turkey's body on a brown headband and add the feathers behind the body.
Stick the googly eyes and a yellow beak to make the turkey's face.
Make your kids wear these hilarious headbands and click many pictures!
17. Thankful Wind Spinners
Let your child's gratitude flow and what better way to express it than put it on a wind spinner!
Materials required:
White paper
Crayons
Sketch pens
Scissors
Procedure:
Make your child draw a spiral on the white paper.
Around the spiral make her write the things she is thankful for.
Let your child colour the other side of the paper. When she is done, cut the spiral carefully.
Attach a piece of thread on top of the spiral and hang this wind spiral to celebrate the feeling of gratitude and the spirit of Thanksgiving.
These fun art and craft activities are sure to keep you and your kids busy this Thanksgiving season. Let us know which ones you tried to make with your kids and have a happy Thanksgiving!
Also Read:
Amazing Thanksgiving Stories for Kids
Unique Ways to Celebrate Your Baby's First Thanksgiving