11 TV Shows To Watch With Your Kids On Netflix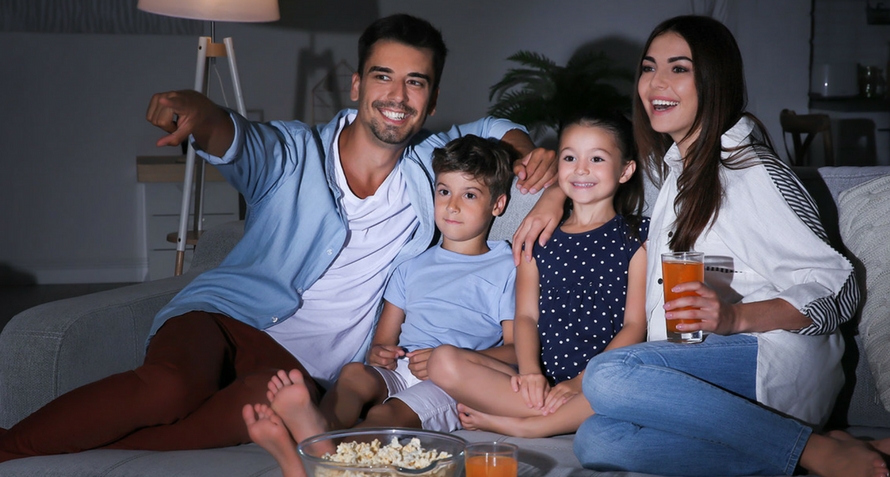 Summers were once for outdoor play and messy times for kids. But with heat waves hitting us hard, sometimes its best to have your kids playing indoors. However keeping your kids occupied all summer is easier said than done. These 11 NETFLIX shows are great for the entire family. There! Summer's sorted!
Summer heat usually brings along additional indoor time for kids and a slight pressure on mothers especially, to keep their children occupied! Like most parents, you've probably chalked out an entire summer plan for them and it's already been exhausted in less than a week! So if you're a mother who is looking to keep her kiddos entertained, Netflix has got your back.
As a parent, you're probably aware of the fact that your child can navigate his way through your phone way better than you can. Which means, that if you are new to using Netflix, you and your child will soon get the hang of it.
For those of you, who are clueless as to where is this going, allow us to enlighten you! Netflix is a streaming service which enables people to view unlimited, award winning movies and TV shows, even those which we might have never seen before, without having to watch a single commercial! You heard me, commercial free unlimited content, isn't that every viewer's fantasy? The following article gives a brief about TV shoes that are well suited for kids above the age of 8. So Netflix presents a list of interesting TV shows for you mommies & daddies to watch with your kids.
1. Phineas and Ferb

Don't think of this as just another terribly drawn cartoon with ancient comedy. This animated adventure series is actually one of the smartest and funniest kid's TV shows ever. It's quite relatable as the plot revolves around two brothers who make each other's day exciting in a long summer vacation, while their elder sister desperately keeps trying to get them into trouble. Kids love this pair of trouble-makers and their outrageous summer adventures. It's a good watch and is enjoyed by parents as well.
2. Richie Rich

Vaguely based on the 90s animated comic series, Richie Rich is about a normal boy who runs into a huge fortune overnight and lives a life full of comfort and luxury. The plot revolves around Richie's family members, his robot maid and others who live in and around his trillion dollar mansion. This show is a blend of comedy and limitless adventure. Also it's interesting to see how down to earth Richie is living amongst all these treasures. Kids will definitely enjoy this show!
3. Agatha Christie's Poirot

In case you're a bookworm and really enjoy detective stories and thriller-suspense novels, this is the right kind of TV show for you. The classic Hercule Poirot, Agatha Christie's fictional Belgian detective, who has a knack for solving mysteries comes to life in these beautifully crafted 13 seasons. Kids of all ages will enjoy this mind spinning yet interesting TV series.
4. Once Upon a Time

This modern fairytale smoothie is a blend of all your beloved characters from childhood tales. One might actually stop to recall whether what they're watching is true or how they've always pictured their favourite characters is true. Younger children might find it confusing, thus it's well suited for ages above 14. Again, a highly recommended TV show, you do not want to miss out on this one.
5. America's Funniest Home Videos

You probably don't need to a reminder in case you already know that kids love this show. It's a long-running series showcasing funny and weird home videos, often featuring pets and kids. If you're looking forward to some serious, eye-watering laughs, these videos are a good choice.
6. Angry Birds Toons

Like I said before, operating a gadget is no rocket science for kids these days. If your kids are crazy behind the angry birds android game, they're going to love this series. It's all about tiny feathered birds who have a lot of adventures while protecting their eggs from naughty yet funny pigs. If you're looking for ways to bust your stress, angry birds sure have a lot in stock for you.
7. Adventures of Puss in Boots

For those of us with pets, series like Puss in Boots seriously have us wondering whether or not these animals have a 'cool talking side'. Ask the kids, there is no greater adventure than protecting the people you care about, especially when the protector has paws and whiskers. You're most likely to enjoy this one more than your kids.
8. DreamWorks Dragons

Trust me on this one, this TV show has won awards for its graphics and animation. It's based on a film 'How to train your dragon' and the series is a continuation of the life adventures of teenage kids living in a fictional town that has pet dragons. So this basically features a group of dragon trainers who have dragons of their own which kids might refer to as the bad ones V/s the pet dragons who are pitted against the former. This TV series is most likely to change your perception about dragons!
9. Just Add Magic

Kelly and her friends love to cook, so when they find an old cookbook belonging to Kelly's grandmother, they decide to start trying out recipes. Little do they know that when they make the recipes, they are actually stirring up a magic spell with unintended consequences. This one has good writing, solid acting, and characters that are a fresh change from the patent ones in many of today kids' shows.
10. Planet Earth 2

Keeping in mind the importance of mother Earth and its wildlife, Planet Earth 2 is like experiencing the world from the viewpoint of animals themselves. This show takes you closer to nature more than you have ever been before and is a delightful watch for the kids. In addition, you get a glimpse of wildlife in their natural habitat. Geography has never been more fun!
11. The Big Family Cooking Showdown

For all the foodies and sweet tooth's at home, this cooking competition is one mouth-watering watch. The kick to this show is that entire families participate and compete against other families, which is fun to watch with your kids and other family members.
Besides, who doesn't enjoy watching the making of lip-smacking dishes on TV?
So, these are some of the shows that we think both you and your kids might enjoy this summer. If they don't sound so good to you, Netflix provides a wide range TV shows and movies to choose from.
So subscribe now and give you and your family a treat this summer!