10 Best Nursery Rhyme-themed Baby Shower Ideas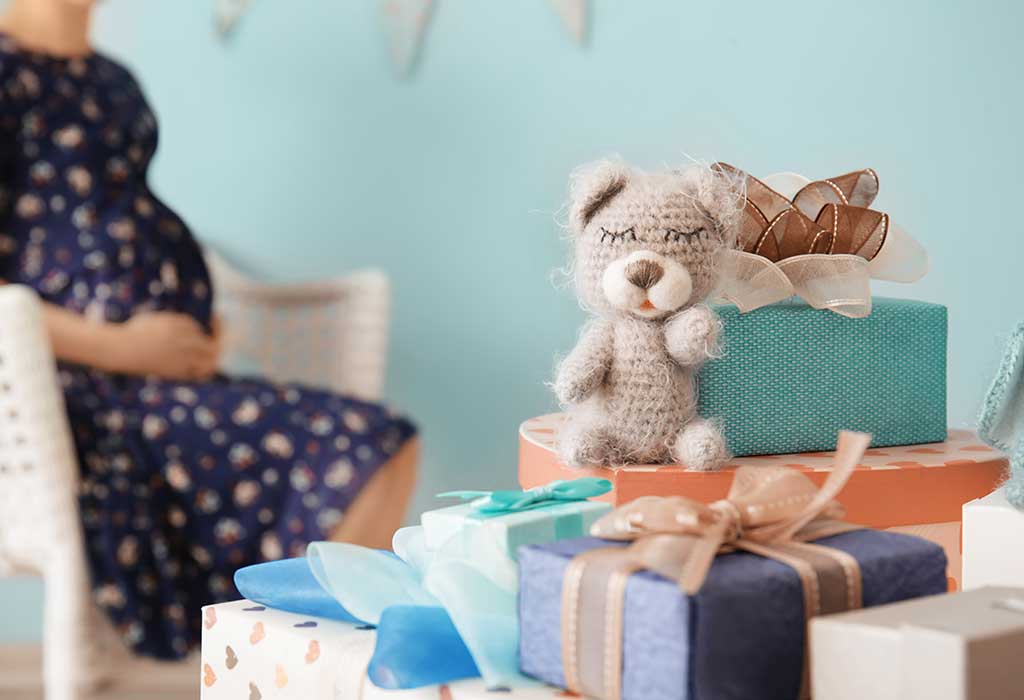 In this Article
A baby shower is a party of gift-giving or a ceremony that is a part of many cultures worldwide. It celebrates the birth or expected birth of a child or the transformation of a woman into a mother. You can give the classy charm of the quintessential baby shower a slight twist with a Nursery Rhyme baby shower theme to create a whimsical celebration for the mom-to-be. With so many nursery rhymes for inspiration, we need to list different favorites for multiple tables or pick one nursery rhyme as the theme. The rest of the party games, invitations, favors, and decorations may be based on that theme to set the ball rolling.
Outstanding Nursery Rhyme Baby Shower Ideas
A baby shower is a traditional occasion when friends and family come together to express their joy at your pregnancy by showering them with gifts, love, and good wishes before the birth. It might be a suitable distraction to help handle the psychological stress, morning sickness, and tiredness accompanying pregnancy. You may be worried about what to expect during labor or sleepless nights of baby care after delivery. Listening to music during pregnancy has a soothing and uplifting effect on the pregnant woman and positively influences the unborn baby.
Rhymes are made of words that have familiar phonetic patterns. As they are accompanied by music, they have a calming effect on the listener. A good theme has a lot of potential to take an average party to a jaw-dropping event to remember. There are so many wonderful ways to incorporate a nursery rhyme baby shower theme into your baby shower celebration. From nursery rhymes for baby shower games, nursery rhyme quizzes for baby showers, to nursery rhyme baby shower decorations, you can make everything look like the perfect bash. Here are some specific ideas for creating a magical atmosphere for your baby shower party that both the host and the guests can enjoy.
1. Music
If the expecting mommy is a music lover, who plays an instrument or loves singing, you can play nursery rhymes in the background. Prepare a playlist of the mommy-to-be's favorite songs or nursery rhymes that can be played in the entertainment background. A garland made from vintage music paper displaying pretty musical notes in bright colors would make a lovely decoration for the baby's room after the party is over.
2. Decorations
Cut-outs of nursery rhyme books and main characters like three blind mice, Itsy Bitsy Spider, or Mary's little lamb can be made with readily available supplies like Styrofoam balls of different sizes, googly eyes, black pipe cleaners, black paint, foam board, pink or blue ribbon, yellow paint and yellow glitter bought from your nearby arts and crafts store. Place several spiders of different sizes on each table as a centerpiece or part of nursery rhyme decoration. You can add pale pinks and blues to reveal the gender of the baby and soften the overall feel of the party.
3. Food & Drinks
With so many cute nursery rhyme characters to choose from, one can get highly creative and set them out with the food on your buffet table. A rhyme-themed menu can include Spaghetti topped with meatball subs, colorful egg devils as Humpty Dumpty, yummy cupcakes decorated with a "B" for Patty-Cake, and a tub floating in the punch bowl. You can serve drinks in any rhyme character-themed glasses.
4. Games
Delightful nursery rhyme baby shower games can add life to your party. Select five nursery rhymes and type their lyrics onto a piece of paper. Review and remove one line from each one to replace it with a blank line. Print multiple copies of the lyrics as the number of tables and pass out a sheet of paper to each table so that the guests can guess the missing lyrics of the rhyme. Whichever tables guess the lyrics correctly win a prize.
5. Personalised Confetti
Giving confetti is customary at a baby shower celebration is unique. So, You can cut out beautiful confetti from vintage children's songbooks and singing games. It may include nursery rhyme illustrations, musical notes, or favorite characters like The Farmer in the Dell, Little Boy Blue, Little Jack Horner, and Black Sheep, which can instantly cheer up your guests.
6. Invitations
You may paste downloaded Nursery Rhyme pictures in front of the card, or you could have a particular nursery rhyme invitation card printed. Stuffing them with confetti shaped like moons, animals, children, baskets, and countless other nursery rhyme creatures can add a bit of whimsy to the invitations. You could even make a rhyme as an invitation.
7. Supplies
From paper goods, balloons, cups to plates, napkins, and other decorations, everything can have a nursery rhyme stamped with A Tisket A Tasket and filled with Short'nin' Bread bread mix, Peter Peter Pumpkin Eater pumpkin butter, Mary Mary Quite Contrary potted love plant and What Little Boys Are Made Of homemade cookies.
8. Gifts, Favors, and Prizes
A nursery rhyme baby shower gift, party favor including cards and wrapping paper should ideally reflect the party theme. Offer some advice on what they can buy that would be theme-oriented. You can match prizes for games and other party favors with a nursery rhyme to make them appropriate for adults. A figurine of a girl that could be Miss Muffet or a boy that could be Little Jack Horner can be memorable keepsakes including date and name engraved or painted onto their base.
9. Cake
You can bake cupcakes with a base frosting color pink or blue belonging to each of the genders. A spider in the middle of each cupcake made with black frosting and black string licorice for the legs will best represent the nursery rhyme baby shower theme.
10. Vintage Nursery Rhyme Party Idea
You can use vintage sheet music featuring "Twinkle Twinkle Little Star" or a popular lullaby in front of each luminary bag to make luminaries line aisles, create pathways, or make lovely centerpieces for your baby shower. You can also use old newspapers for a game of crossword puzzles and a nursery rhyme quiz for the guests to play at each table.
Nursery rhymes are one of the most popular themes for any baby shower party, and it brings back memories of the innocent days of childhood and carries the hope of a fun-filled childhood for the newborn baby. So, irrespective of the location or age limit of the guest, the most straightforward baby shower party theme ideas at home can be exciting and cost-effective enough to suit any budget. It just needs some of your creativity and imagination to make this occasion an event to remember.
Also Read:
Diaper Themed Baby Shower
How to Plan A Perfect Baby Shower
Harry Potter Themed Baby Shower Ideas