20 Baby Shower Songs to Play and Party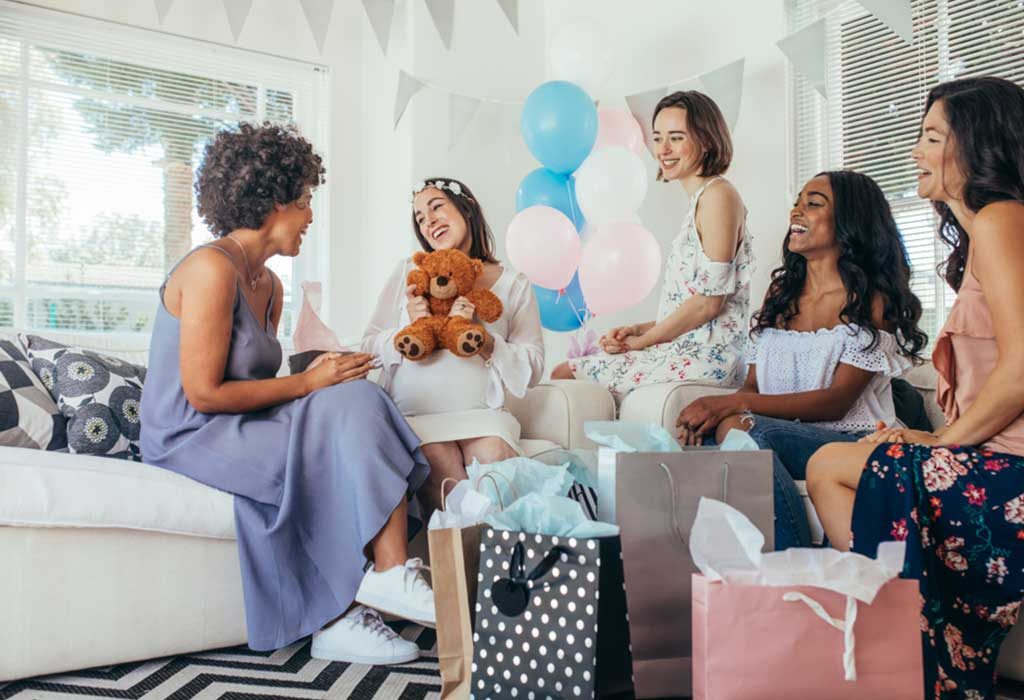 A party without great music would simply be incomplete. Even for a simple party like a baby shower, music is essential to keep the guests entertained and creating a playlist that signifies the bond between a child and the parent would be perfect. Check out this amazing collection of songs that you could add in your baby shower music playlist! The list contains everything, from country baby shower songs to funny baby shower songs and even beautiful baby shower songs for dance.
Why Is It Important to Choose a Good Playlist for a Baby Shower Party?
When you are inviting people who are close to you, you are sure to end up with at least two generations at your party. However, no matter what age groups your guests belong to, you can be sure that no two people at your party will like the same type of music. While some might like the current pop vibe, others would be into music from the 20th century. Therefore, it is best to diversify the type of music since a playlist will help make people at your party get more comfortable.
Moreover, your baby might also start enjoying these songs. Various studies have shown that fetuses inside the womb can still be sensitive to sounds and remember them when they are born. During the time of the baby shower, the baby would have already developed its ears and would be able to recognize the mother's voice, sound patterns, and language. At this point, the baby's brain would be receptive to soft music, which can promote early brain development and happiness.
20 Songs to Play at a Baby Shower
Here are some hits that people of all ages might enjoy at your baby shower.
1. Home – Phillip Phillips
"Hold on, to me as we go
As we roll down this unfamiliar road
And although this wave is stringing us along
Just know you're not alone
'Cause I'm going to make this place your home"
2. Never Grow Up – Taylor Swift
"Your little hands wrapped around my finger
And it's so quiet in the world tonight
Your little eyelids flutter cause you're dreaming
So I tuck you in and turn on your favorite nightlight"
3. First Day of My Life – Bright Eyes
"Yours was the first face that I saw
I think I was blind before I met you
And I don't know where I am, I don't know where I've been
But I know where I want to go"
4. I'm Yours – Jason Mraz
"Well, open up your mind and see like me
Open up your plans and, damn, you're free
And look into your heart, and you'll find love, love, love, love
Listen to the music of the moment, people dance and sing
We're just one big family"
5. Haven't Met You Yet – Michael Buble
"And I know that we can be so amazing
And baby your love is gonna change me
And now I can see every possibility
But somehow I know that will all turn out
And you'll make me work so we can work to work it out
And I promise you, kid, I'll give so much more than I get
I just haven't met you yet"
6. Count On Me – Bruno Mars
"If you ever find yourself stuck in the middle of the sea,
I'll sail the world to find you
If you ever find yourself lost in the dark and you can't see,
I'll be the light to guide you"
7. Welcome to the World – Nicolette Larson
"It's the same old story
Yes, it's nothing new,
Just a gift from heaven
Just a dream come true.
In a flash of glory,
In a ray of light,
Welcome to the world,
That will hold you tight."
8. Yellow – Coldplay
"Look at the stars
Look how they shine for you
And everything you do
Yeah, they were all yellow
I came along
I wrote a song for you
And all the things you do
And it was called, "Yellow"
So then I took my turn
Oh, what a thing to have done
And it was all yellow"
9. Twinkle, Twinkle Little Star – Jewel
"Twinkle, twinkle, little star
How I wonder what you are
Up above the world so high
Like a diamond in the sky"
10. Always Be My Baby – Mariah Carey
"We were as one babe
For a moment in time
And it seemed everlasting
That you would always be mine
Now you wanna be free
So I'm letting you fly
'Cause I know in my heart babe
Our love will never die, no"
11. You Are the Sunshine of My Life – Stevie Wonder
"You are the sunshine of my life
That's why I'll always be around
You are the apple of my eye
Forever you'll stay in my heart"
12. When I Look at You – Miley Cyrus
"When I look at you, I see forgiveness
I see the truth
You love me for who I am
Like the stars hold the moon
Right there where they belong
And I know I'm not alone"
13. Baby Baby – Amy Grant
"Baby, baby
My tender love will flow from
The bluest sky to the deepest ocean
Stop for a minute
Baby, I'm so glad you're mine, yeah
You're mine"
14. You're Having My Baby – Paul Anka
"Having my baby
What a lovely way of saying
How much you love me.
Having my baby
What a lovely way of saying
What you're thinking of me.
I can see it your face is glowing"
15. Sweet Child O' Mine – Guns N' Roses
"She's got a smile that it seems to me
Reminds me of childhood memories
Where everything was as fresh as the bright blue sky
Now and then when I see her face
She takes me away to that special place
And if I stare too long, I'd probably break down and cry"
16. Beautiful Day – U2
"It's a beautiful day
Sky falls, you feel like
It's a beautiful day
Don't let it get away"
17. Just The Two Of Us – Will Smith
"Got you home safe, placed you in your bassinette
That night I don't think one wink I slept
As I slipped out my bed, to your crib I crept
Touched your head gently, felt my heart melt"
18. Last Night On Earth – Green Day
"You are the moonlight of my life every night
Giving all my love to you
My beating heart belongs to you
I walked for miles 'til I found you
I'm here to honour you
If I lose everything in the fire
I'm sending all my love to you"
19. Miracle – Celine Dion
"You're the reason I was born
Now I finally know for sure
And I'm overwhelmed with happiness
So blessed to hold you close
The one that I love most
With all the future has so much for you in-store
Who could ever love you more?"
20. Sweetest Devotion – Adele
"With your loving, there ain't nothing
That I can't adore
The way I'm running, with you, honey
Means we can break every law
I find it funny that you're the only
One I never looked for
There is something in your loving
That tears down my walls"
Music is the best way to keep your party alive and fun. You could add more of your favorite songs to this baby shower playlist and host the perfect baby shower.
Also Read:
Amazing Baby Shower Poems & Verses
Cute and Unique Baby Shower Invitation Wordings
Fun Baby Shower Games Ideas