Your Complete Diwali Puja Vidhi Guide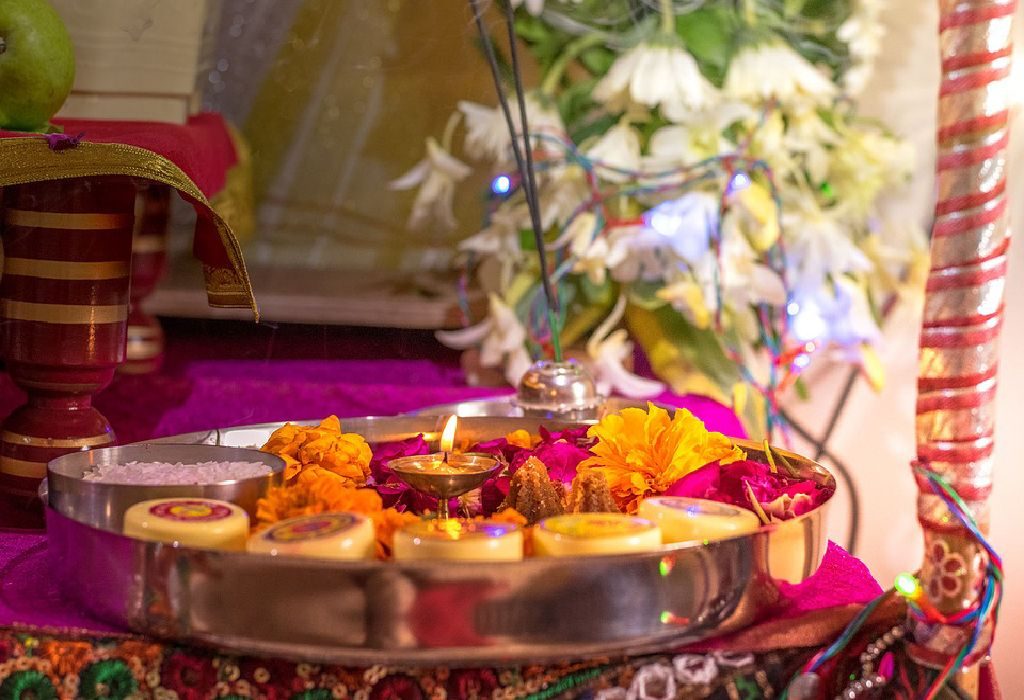 Diwali is a time for fun and festivities; but it's such a busy occasion that it's easy to forget it is also Amavasya (or moonless) night! Many families perform Laxmi puja on this day to seek Goddess Laxmi's blessings for the year ahead. If you too are planning to perform a Diwali puja, this guide is here to help!
A family that prays together, stays together! Get your husband, kids and the extended family together on this auspicious occasion and join hands in prayer. Follow this step-by-step guide on Laxmi pujan to get an overall idea of how to proceed.
Why Do We

Perform

Laxmi Pujan

on Diwali

?

It is believed that Laxmi, who is the goddess of wealth and wife of Lord Vishnu, visits Her devotees and blesses them with wealth and prosperity. This is why there is much emphasis placed on the cleanliness and decoration of houses; it is believed that Laxmi will visit the cleanest house first and bless the family with health and wealth. To invite Her in, devotees place lamps or diyas on their windowsills and open up their doors and windows.
Diwali Puja Preparation
As per tradition, the preparations for the Diwali puja should start off early, and not just on the actual day itself, as there is the cleaning and decoration of the house (using marigold and banana leaves), as well as fasting to be observed. If health conditions permit, you can choose to observe a full-day fast, which will be broken after puja in the evening.
Diwali Puja Samagri
The rituals for the Diwali puja vary across families and regions. Here's an indicative list of the basic items you will require:
Pot/Kalash
Aam Patta/Mango leaves
Idol or picture of Goddess Lakshmi
Milk and curd
Honey
Ghee
Puffed rice
Sweets/Mithaai
Coriander seeds
Cumin seeds
Shubh Muhurat

f

or Diwali Laxmi

Puja

2020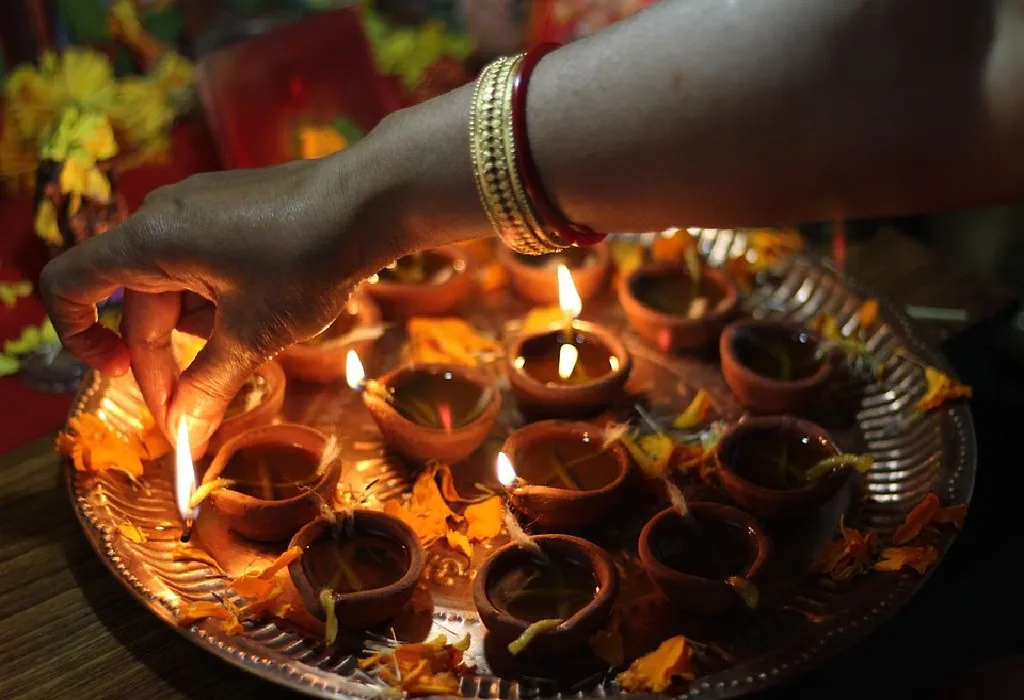 This puja is performed towards the evening and the muhurat time usually ranges from 6 PM to 8 PM. This year, the auspicious time for perfoming the Laxmi puja is between 6.42 p.m. and 8.12 p.m., on the 27th of October. What you must ensure is that all the paraphernalia for the puja are in order before the muhurat, so that you can have them at the ready while performing the puja.
Laxmi and Ganesh Pujan Vidhi for Diwali
The method of the Diwali puja again varies, depending largely on the region and rituals observed by individual households. You may choose to observe the following basic methodology for your puja. The key part is to keep your faith strong and your prayers sincere!
The first step is to spread out a clean cloth where you wish to perform the puja, and create a bed of rice on it. Now, place the kalash on the bed of rice.

Pour water in the kalash. Place a betel nut, flowers, a coin, and some rice inside, and arrange the aam patta around the opening. Also, place a thaali (plate) on the kalash. This is where Goddess Lakshmi will sit.

You can decorate the thaali by painting a lotus with turmeric powder and placing coins on it.

Lord Ganesha usually sits on the right of the kalash. You can also place the idols of Saraswathi alongside as this completes the three forms of Shakti – Lakshmi, Saraswathi and Durga.

Sprinkle gangajal (or clean water) on all the items. It is important to keep the atmosphere clean and well-lit with lamps.

You can now recite the mantras for invoking Goddess Lakshmi. These are available in puja books or online, and may vary based on your native tongue.

Make offerings of flowers, rice, garlands of marigolds, coconut, fruits, sweets, betel nuts, sandalwood paste, kumkum and incense sticks during the puja.
Kuber Puja on Diwali
Apart from Laxmi and Ganesh, Lord Kubera, or the treasurer of Gods, is also worshipped on Diwali. For Kuber puja, worship the locker or safe in which you keep gold and cash at home.
Now that you are all set for the Diwali puja, it is a good idea to start cleaning your home right away. This is a time-consuming process as you might feel the need to renovate and repair as well. Then, go shopping for the items required for the Diwali puja, and don't forget to get lots of tasty mithaai!
Wish you a happy and prosperous Diwali!
Also Read:
Fun-Filled Diwali Activities and Games for Kids
Tips for Celebrating Eco Friendly Diwali
Pre Diwali Home Cleaning Hacks You Must Know