Working From Home: 5 Interesting Challenges in a Mum's Life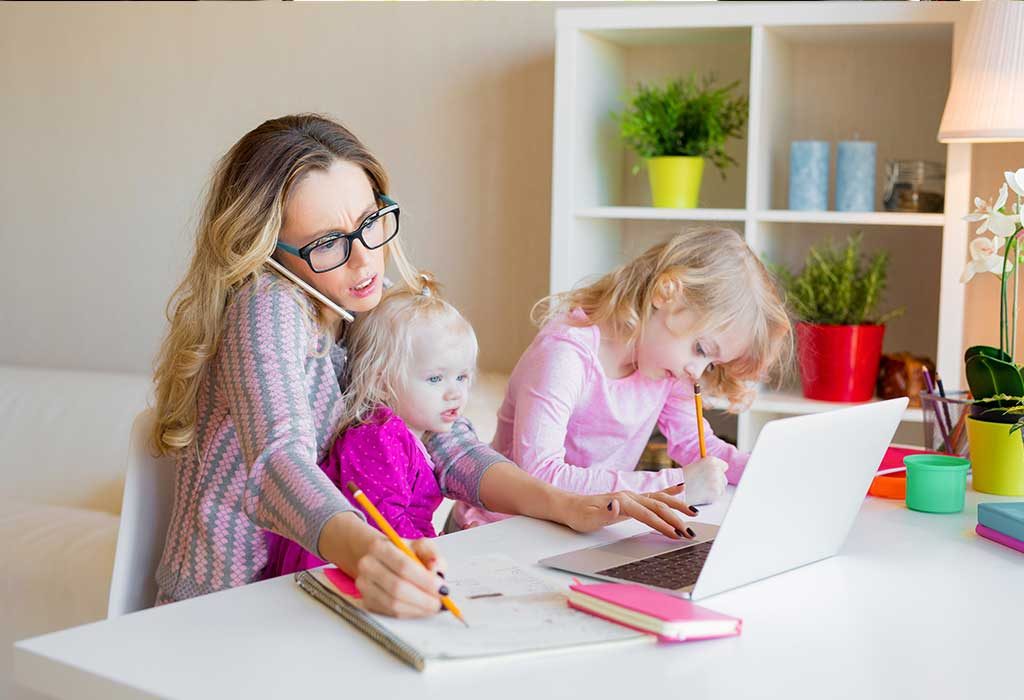 Working from home is one of the many changes the COVID-19 situation has brought into our lives. Working from home is not a totally new concept, though. Before the pandemic made it an infamous entry in our lives, working from home meant a great deal of respite from the normal office environment. But COVID-19 has made working from home a way of life for many.
These three words 'working from home' sound alluring. You don't need to step out and commute to and fro from work. After all, what more can you want from life if your career can be managed sitting at home? But what does this facility actually mean to women who need to manage a career, a home and also kid(s) at the same time? Do mums really enjoy working from home? Or are they still trying to cope with the pressure?
Here are 5 interesting challenges a mum faces while working from home:
1. Attend to the kid or the client's calls :
Mum has an important call scheduled with the client. But it's also breakfast time for the little one. Who is the priority in this scenario; the kid or the client? It is a tough choice. Feeding breakfast is just one of the tasks from the day-long to-do list involved in taking care of a toddler. In the absence of domestic help (many have stopped employing people due to the pandemic), the entire routine gets upset and becomes mainly the mum's responsibility to take charge. From feeding, diaper changes and potty training to giving a bath, each and every activity demands the mum invest a considerable amount of time and energy.
2. 24 x 7 service :
A mum sitting in front of the laptop in her pyjamas or a kaftan doesn't necessarily indicate she gets to focus only on her KRA. On one hand, she is trying her best to fix the bug in the complied code or lead the team. And on the other hand, she also needs to fit into the shoes of a wife and a daughter-in-law. She cooks, cleans, does the laundry, serves food to the family and tends to the child, while working hard to achieve her monthly targets at the same time. She is working round the clock to make sure everyone's world around her is moving at the perfect pace.
3. Losing patience invokes guilt :
It's not child's play to continue working from home with a kid in tow. With daycare facilities closed and the mum at home all the time, the child constantly demands her full attention. Sometimes the child may even throw tantrums when he doesn't get what he wants. Deadlines at work, piles of dirty dishes lying in the sink along with managing a child often leaves moms at a complete loss, feeling angry and frustrated. This results in them losing their cool, which only make them feel guilty later on.
4. Meetings with a background score :
Most of the time, a mum's calls with clients, the boss and teammates go on with a background score. The theme may change from nursery rhymes to talking gibberish, to even occasional meltdowns. But the kid ensures that the audience is always entertained with something and doesn't get tired of mundane things like a project status report. The poor mum, who very much wants to seal her kid's mouth with a tape, can only request for apologies time and again.
5. No 'me' time :
'Me' time was anyhow an alien concept for a mom since her bundle of joy arrived in this world. Now with the pandemic, home confinement, closed parks and social distancing, getting a healthy dose of sleep itself has become a challenge. Books purchased a long time ago are still lying in the bookshelf. Chipped nails crying for a manicure are ignored. Dark circles are somehow camouflaged behind thick reading glasses. The last level of the online game is not yet clear.
All that a mum gets to do throughout the day is either work from home or work at home. Loo breaks are the only peaceful times when a mom is left alone. But is working from home a total bane for a mum? Fortunately no.
The child is happy to get both mom and dad at home all the time.
The mum is also relieved to always have the child in front of her eyes.
Mom and dad are just a few feet and a laptop away in case of any emergency.
The mum doesn't need to worry about the child's safety in a daycare facility or with domestic help.
Needless to say, parenting is a tough job, especially for a mother. And if she also needs to take care of a career, then the difficulty level increases even more. Husbands and grandparents play a great role here. Husband and wife (and in-laws as well) can come to a mutual arrangement where the chores related to their child and household are divided between them. This would prevent only one person to get burdened with all the workload. With COVID-19 still at large, this situation is going to be a long-lasting one in parents' lives. When such is the case, then lending a helping hand can ease a mum's life to a great extent. Mums, too, shouldn't shy away from asking help wherever and whenever needed.
Disclaimer: The views, opinions and positions (including content in any form) expressed within this post are those of the author alone. The accuracy, completeness and validity of any statements made within this article are not guaranteed. We accept no liability for any errors, omissions or representations. The responsibility for intellectual property rights of this content rests with the author and any liability with regards to infringement of intellectual property rights remains with him/her.