Why Peek-a-boo Is Important For Your 1 year old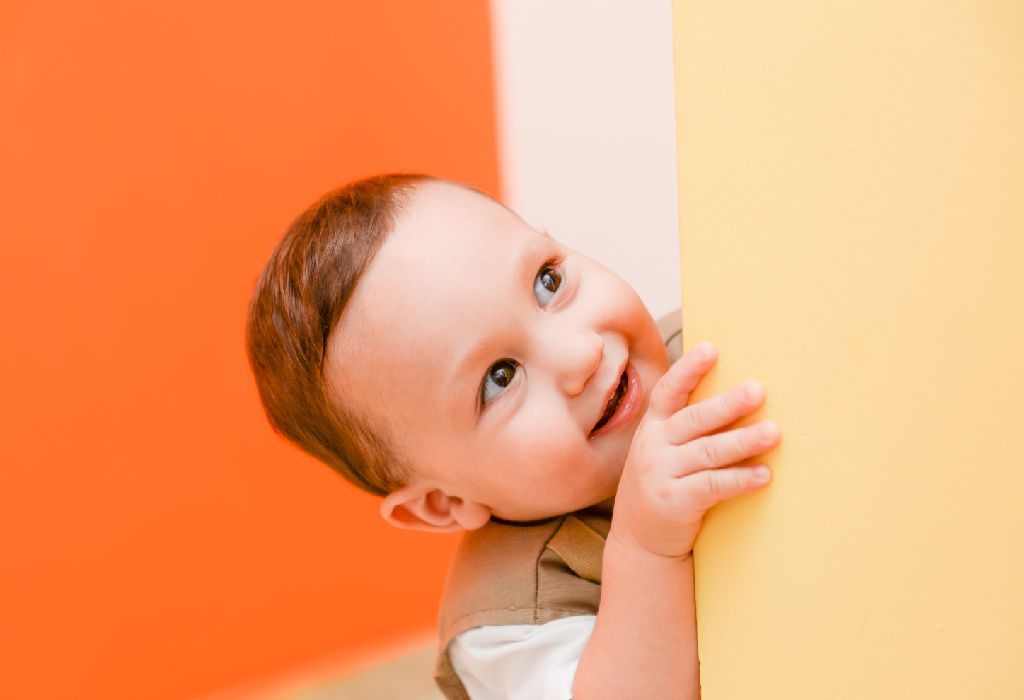 In this Article
Watching a 12-month-old playing peek-a-boo is fun and adorable. However, dismissing this as merely a child's game is just not right. Studies have shown that playing peek-a-boo with toddlers can actually help them learn a lot of things, not least of which is that they're separate entities.
Peek-a-boo is definitely a hot favourite with growing children. They find unexplainable joy when you hide behind your hands and then suddenly appear laughing. They follow suit and it turns into a game that can go on for quite some time! However, peek-a-boo is more than just a silly game. It can do a lot more than keep your child engaged and entertained. Find out more!
Peek-a-boo Developmental Milestones: A Game Worth Learning
1. Identifying The Self and Others
Your little one might take some time to identify himself as a separate entity from his surroundings. The realisation dons when he starts seeing differences, similarities, actions and reactions. Peek-a-boo is a great way to initialise this realisation. Of course, he might take his own time to reach the milestone, but peek-a-boo will definitely help in achieving it at a faster pace.
2. Differentiating
For a long time after birth, your child does not perceive himself to be different from you. The warmth and love that emanates from you gives him a womb-like experience. However, as he starts growing, he realises that you're a different entity just like the other people he sees around him. The peek-a-boo toddler game can actually explain this difference to your child in a more pronounced way. Encourage him to play the game with others too, so that he learns to deal with people besides you.
3. Making Distance Less Frightening
As your toddler starts moving around without your help, he comes to realise that he can distance him from you. Though the distance may be small, it can still be quite distressing for him. This is one of the main reasons why your little one rushes back to you every now and then. However, it's important that he learns to maintain distance as it prepares him for when he starts going to school. Getting him to understand that he will ultimately get back to you makes things easier. Play peek-a-boo when he's at a distance from you. When your baby plays peek-a-boo with you in this manner, he practices distancing himself and coming back to you.
4. Realisation of Your Presence
Though your child needs you almost round the clock, it's not possible to be with him all the time, especially once he grows a little. Making him realise that you aren't going anywhere far even when he can't see you is extremely important. When you play peek-a-boo, you're training him to this effect. Playing this for long and in different ways will help him understand that you're close by even if he's not able to see you.
Now that you know the significance of the peek-a-boo game in babies' growth, treat it with a tad more seriousness than you usually do. Come up with novel ways to play the game and keep it interesting.
Do you know of any other benefits of this favourite game of tots? Feel free to share your thoughts and suggestions.