8 Beautiful And Stylish DIY Baby Mobiles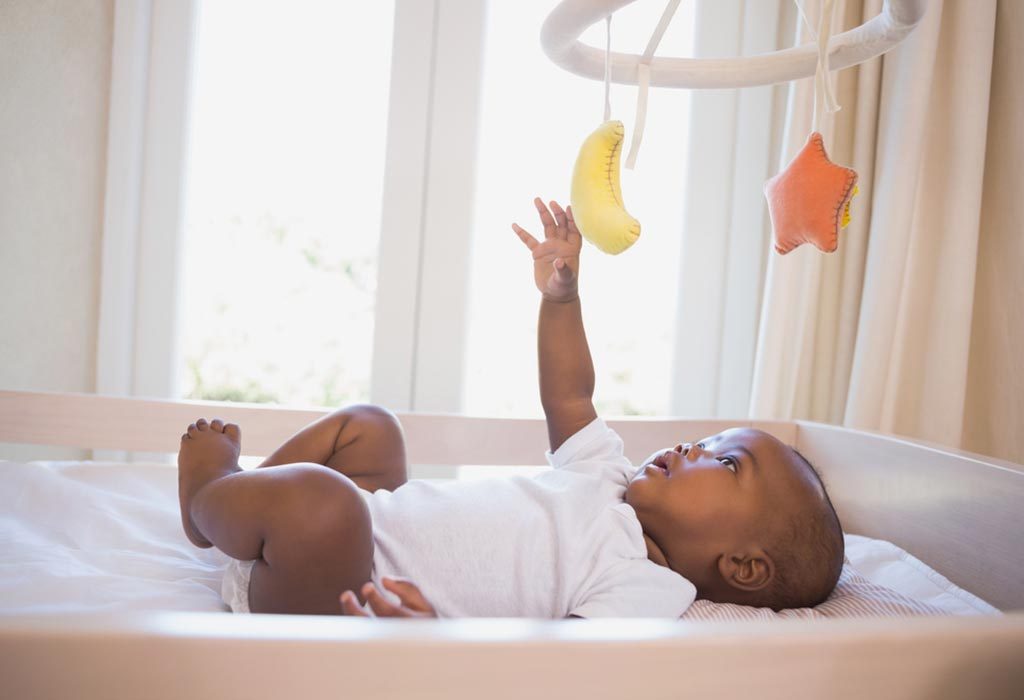 In this Article
Are you doing up your baby's nursery? Well, it surely would be incomplete without some adorable mobiles to keep your munchkin entertained. These utterly simple toys have some magical ability to keep your baby occupied and entertained. Though there are many options available in the market, however, the joy of creating something with your own hands has its own charm and glamour! Here in this post, we have some stunning and stylish handmade baby mobile ideas that you can get inspired with to create one for your little munchkin too!
Homemade Baby Mobiles – Make Your Own Infant Crib Mobile
Exuding oodles of mystical charm, a baby mobile can add to the décor and charm to your baby's nursery. You would also agree with us when we say that a baby's nursery is kind of incomplete without a mobile. If you are looking for some baby boy or baby girl mobile ideas, here we have some easy to make ideas that you can try!
1. Handmade Pom-Pom Mobile
Add some zing and character to your baby's nursery with this stunning looking baby mobile that comes with attractive pom-poms.
What You Will Need
Sewing hoop
Wool yarns in 3 to 4 bright colors (blue, green, yellow, etc)
Felt in 3 to 4 different colors
Fancy buttons
Embroidery floss
Hot glue gun
Hook (for hanging the mobile)
Scissors
Instructions
Cut felt in floral shapes of different sizes. Stick random colors according to size, one on top of another to form a fluffy flower, with the glue gun. Stick button in the center to complete the flower. Make 15 to 20 different sizes and colors of flowers.
Make pom-poms using your thumb and pinky finger. Open your palm and get your thumb and pinky a bit closer. Start rolling the yarn in the shape of number eight between both these fingers for at least 10 to 12 times (or more if you want fluffier pom-poms). Tie a knot in the center and cut the loops on both ends to form a pom-pom. Make 15 to 20 pom-poms in different colors and sizes.
Cut embroidery floss in different sizes and stick flowers and pom-poms randomly on it. Make 6 to 7 strings like this and tie them around the sewing hoop.
Tie up the hook to the hoop and your dreamy pom-pom mobile is ready!
2. Ombre Mobile
Add a splash of color in your baby's nursery with this super easy baby mobile idea! The best thing is you can create it in the colors of your choice!
What You Will Need
Thick white craft paper
Sewing ring
Acrylic paints (light blue and dark blue)
Blue satin ribbon (12 inches)
Scissor
Light blue yarn
Glue gun
Paintbrush
Instructions
Cut craft paper in 1-inch roundels. You would need approximately 150 to 200 roundels, depending upon what size you wish to make.
Take one-third roundels and color them dark blue. Take the remaining half and color them light blue and leave the rest of the roundels in white color only.
Take the random sized yarn and stick darker to lighter roundels on it. Make 15 to 20 strings of different lengths in the same manner. Secure the ends of the string on the ring with the glue gun.
Tie the end of the string to the sewing ring.
Take the ribbon and cut it into two and tie around the two ends of the ring. Make a bow with the ribbons in the center and use this swatch paint mobile to decorate your baby's room!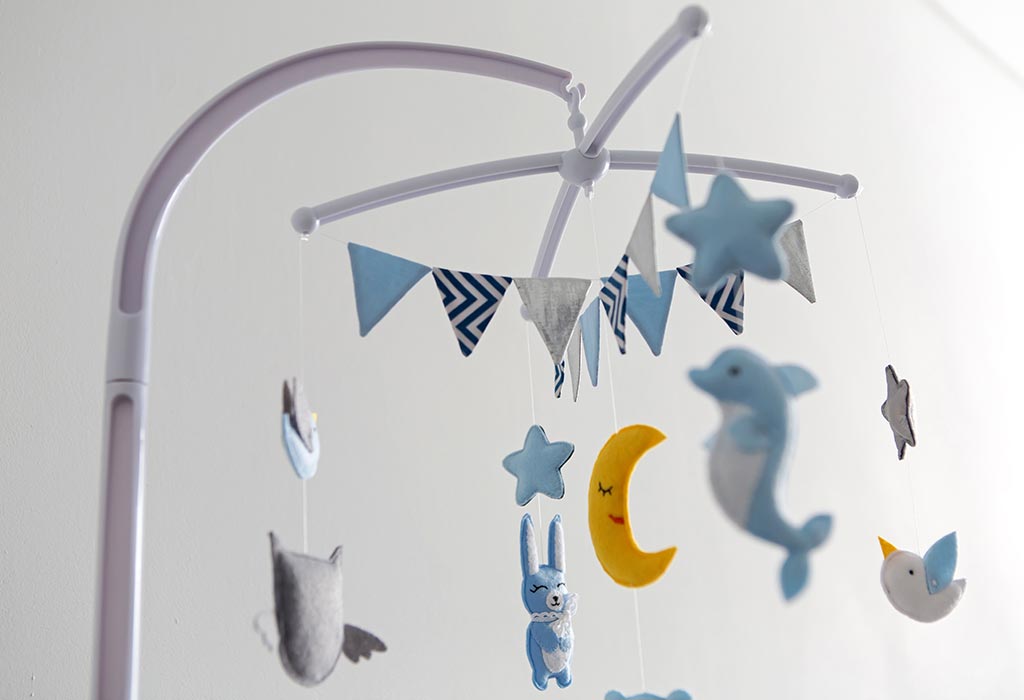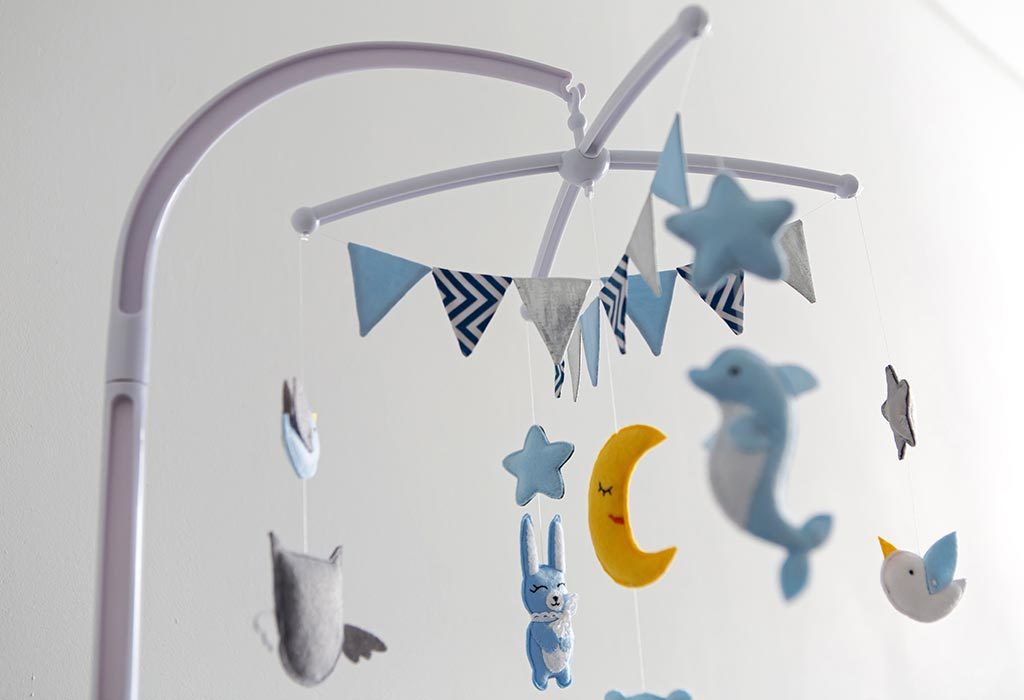 3. Raindrop Mobile
Right out of a fairyland, this easy to make diy crib mobile can be used to decorate a nursery too!
What You Will Need
An old embroidery hoop (well, you can use a new one too!)
Embroidery floss
Pillow stuffing (you can use any old pillow to obtain that)
9 different colored felt sheets
Hot glue gun
Scissors
Instructions
Cut 18 droplets of approximately 1 inch, from each felt sheet. (Use all 9 colored felt sheets to cut 18 droplets)
Take the embroidery floss and stick droplets of a one-color at equal distance, both on the back and the front side of the string, using the glue gun. Make all nine colored strings like this.
Take all the strings and tie around the embroidery hoop by keeping an equal distance.
Fluff the pillow stuffing and use the glue gun to stick it on top of the hoop to replicate a cloud.
Use the embroidery floss to make a big loop and tie it on the two ends of the hoop for hanging!
4. Magical Gold-Dipped Feather Mobile
Captivating the world of magic and charm is this beautiful and extremely simple piece of artwork that you can create for your munchkin's room!
What You Will Need
A cloth hanger (preferably a wooden hanger)
5 to 6 turkey feathers (you can use kinds of feathers)
Golden craft paint
Paintbrush
White thin satin ribbon roll
Instructions
Clean the feathers by soaking them in soap water and then washing them gently with clean water. Leave them for drying.
Take out some golden paint in a deep cup. Take the feathers one by one and dip the ends of the feathers (almost 1 inch) into the paint.
Use golden paint to color the entire hanger.
Leave the feathers for drying on a heightened surface such as a thick notebook by protruding the painted ends.
Tie the ends of the feathers with ribbons of different height and tie them at equal distance on the hanger. Your magical golden feather and the wooden baby hanger is ready to add a hint of mystical and magical charm in baby's nursery.
5. Mini Christmas Ornament Mobile
Apart from adding zing to your festivities, Christmas tree ornaments can be used for creating an innovative baby mobile too!
What You Will Need
Different patterns and sizes of Christmas ornaments
Thin satin ribbons in red and green colors
Broad satin ribbon in red color
Sewing hoop
Hot glue gun
Instructions
Take the sewing hoop and start rolling broad satin ribbon around it to nicely cover the wooden area. Seal the ends of the ribbon with glue.
Take the thin red ribbon and cut it to make 6 to 7 ribbon strings, approximately 10 inches long.
Use the green ribbon to cut 6 to 7 ribbon strings, approximately 12 inches long.
Stick Christmas ornaments at the one end of both green and red ribbon strings. Let them dry.
Tie the red and green ribbons alternately on the sewing hoop.
Use the broader red ribbon on the two opposite sides of the hoop and make a bow in the center. The loop thus made can be used for hanging the mobile!
6. Starry Mobile
This celestial beauty will add a hint of heavenly feel to your munchkin's nursery!
What You Will Need
Plastic star cut-outs in three sizes (40 pieces in each size)
Silver spray paint
Metallic light blue spray paint
Metallic dark blue spray paint
Silver ribbon roll (pick a thinner one)
Two wooden sticks of 12 inches length and ½ inch width
Hot glue gun
Instructions
Take the biggest star cutouts and paint them silver from both sides. Similarly, take the other two sizes of stars; paint one size in darker blue shade and the other size in lighter blue shade. Let them dry.
Take the wooden sticks. Make a cross by placing one on top of another, glue the joint. Let it dry.
Take the silver ribbon and make 20 strings, each approximately 12 inches long.
Stick silver, dark blue and light blue stars randomly on each string with the glue gun. Leave them for drying.
Take the strings and tie 5 on each side of the cross at an equal distance.
Take the ribbon and tie a knot at the center of the cross to create a loop for hanging the mobile.
You can use craft paper to cut the stars too. Also, for some more shimmer and shine, you can also paint the wooden cross with silver paint.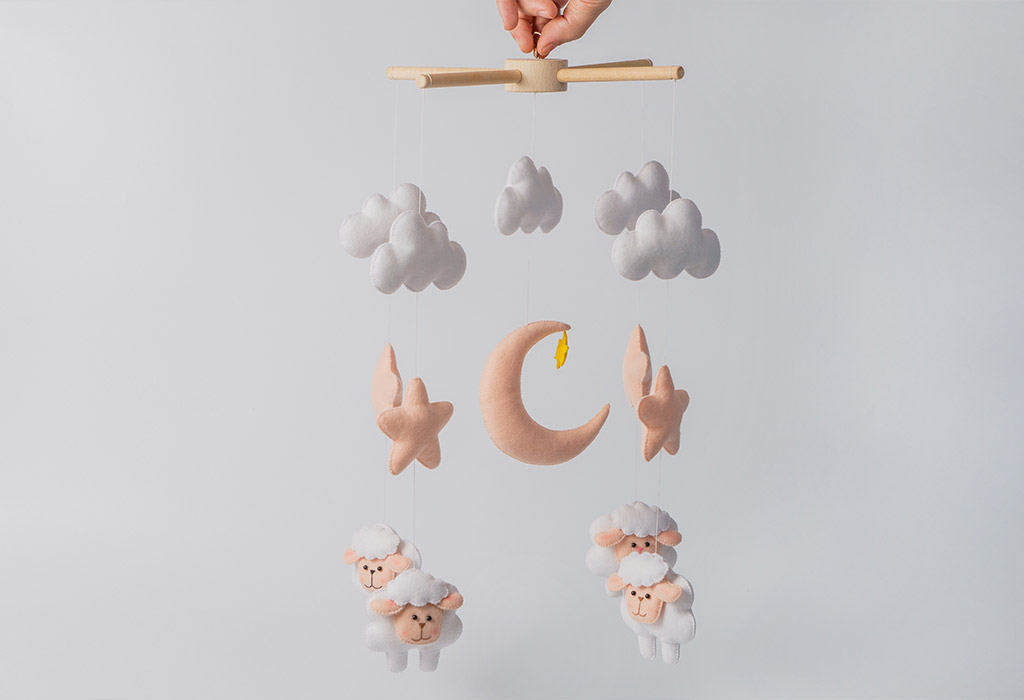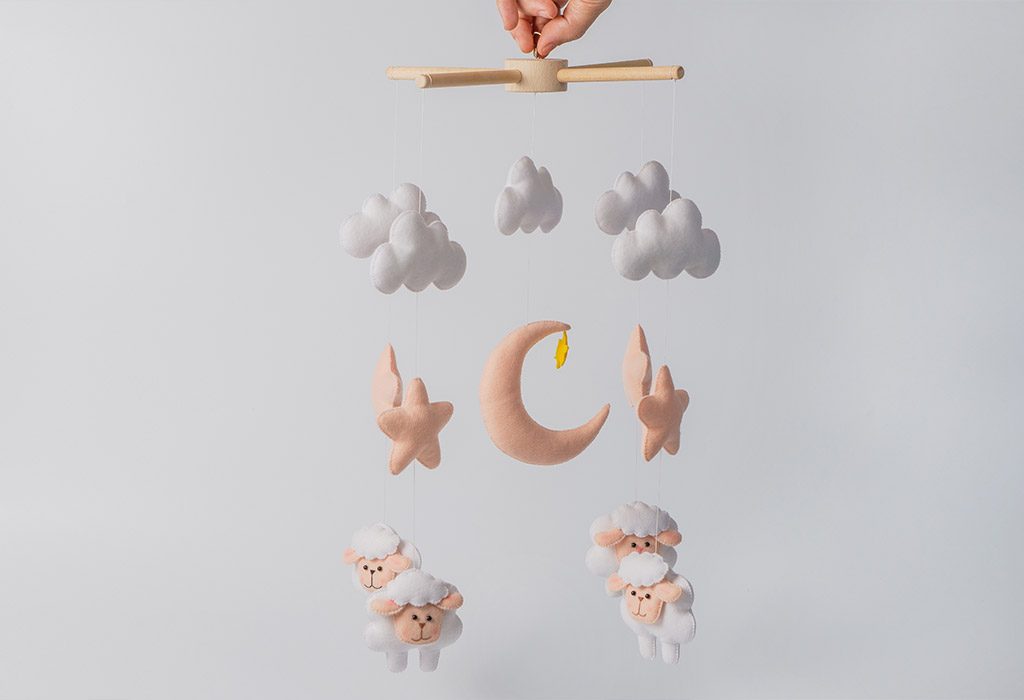 7. Ribbon Mobile
This is undoubtedly one of the easiest ways to make a colorful mobile for your baby's nursery.
What Will You Need
Embroidery hoop (we prefer a wooden one for this craft)
Satin ribbons in as many colors and sizes that you wish to use (preferably 4 to 5 but you can use more)
Yarn (pick one in the same hue as ribbons)
Glue gun
Scissors
Instructions
Roll the yarn around the embroidery hoop to hide the wooden base. Glue the ends of the yarn.
To make the loop for hanging the mobile, tie yarn strings of approximately 10 inches length on four sides of the hoop. Adjust the distance between all the four strings for uniformity. Knot all the loose ends to create a loop at the end of the yarn strings, for hanging.
Take the ribbons and cut all of them anywhere between 15 inches to 17 inches length.
Start sticking the ribbons on the inner side of the hoop by keeping a very little distance between two ribbons. Use random colors and widths of ribbons to add more zing to the mobile. The ribbon mobile is ready to keep your little one elated with the splash of colors.
8. Elegant Baby Mobile With Beads And Crystals
A perfect décor idea for your little princess' room, this elegant mobile comes with bead and crystal detailing!
What You Will Need
White beads, approximately 100 (in three to four sizes)
Crystals, approximately 100
Sewing hoop
Plastic thread
White broad ruffled lace
Hot glue gun
Hook (for hanging the mobile)
Scissors
Instructions
Take the plastic thread and cut it to make the same 20 same sized strings of approximately 15 inches length.
Take each plastic string and sew beads and crystals randomly. Tie a knot after each bead or crystal to secure it at its place. You can place them at equal distance or randomly. Prepare all 20 strings in the same way.
Stick all the plastic strings at equal distance on the inner side of the sewing hoop.
Tie four strings, approximately 10 inches long across four parts of the hoop, by maintaining equal distance between them. Tie the loose ends to a hook.
Cut the lace in the size of the hoop. Using the glue gun, stick it on the outer rim of the hoop. Viola! The dreamy hoop is ready to sparkle and shine in your little princess' nursery!
When it comes to making a mobile for your little one's nursery or crib, the sky is the limit! We hope you find some of these ideas useful for making one on your own!