Things Parents Should Be Aware of While Putting a Car Seat on a Shopping Cart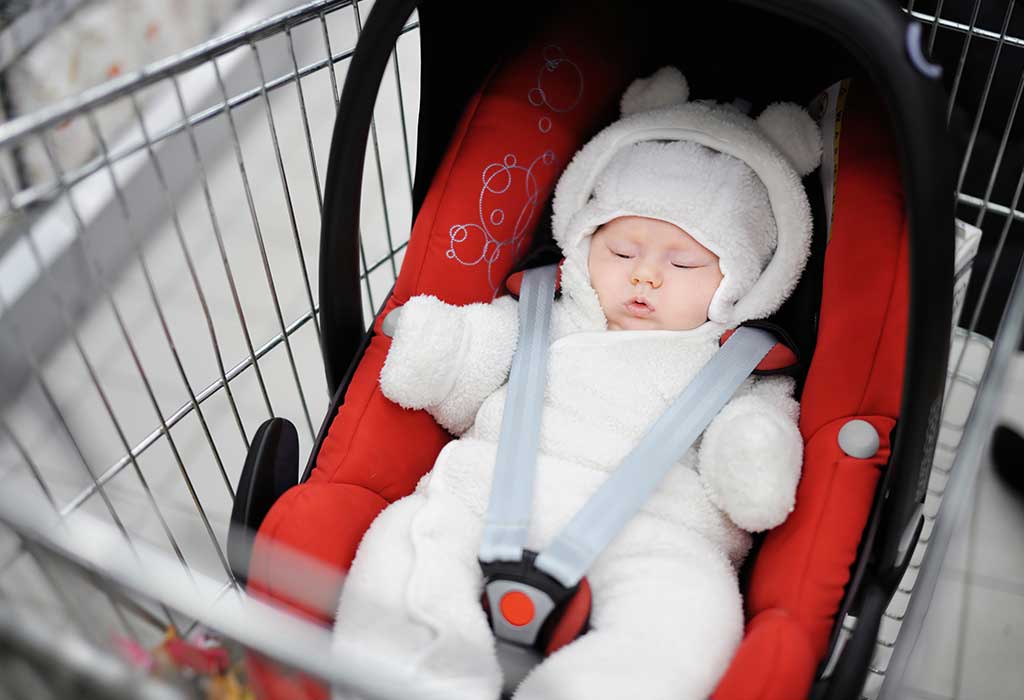 Car seats for kids are not designed to be put into shopping carts. Although you may see other parents put their kids into shopping carts and stroll them around, it doesn't mean they're safe. If you look at the making of a baby's car seat, you'll realize that the centre of gravity gets affected. Shopping carts have a narrow base when compared to the height, and when you add a car seat to it, the centre of gravity shifts. This increases the risk of children falling or tipping over when mounted on them.
It is not advised to put a car seat in shopping carts due to safety issues. Here is more information on the risks and reasons why doing so may be unsafe.
Should You Put a Car Seat in a Shopping Cart?
There is no storage space underneath a shopping cart. However, there are also no safety devices like belts or locks for infant car seats. Most shopping carts come with a warning saying to buckle your kids onto the cart at all times. It's a good idea to have a partner look after your child while you're busy shopping.
Others could accidentally bump into the cart while you're adding items, making the child topple over. That is why it's never a great idea to shop with your child sitting in a car seat mounting to the shopping cart.
In short, no – you shouldn't think of putting a car seat in a shopping cart.
Warnings Issued By Authorities Regarding Placing Car Seats in Shopping Carts
There are weight limits placed on each shopping cart and the reason is that they're not designed to carry heavy weights. A warning is issued in most cases where the cart specifies the age and height limits it can carry. A vast number of carts don't have safety measures put in place and a single bump could be dangerous for your child.
Most shopping cart manuals also tell parents not to place their kids in the cart. It's mentioned in the instruction manual itself and infant car seats cannot sometimes click in place, which makes them insecure by default.
Risks of Putting a Baby's Car Seat on the Shopping Cart
Here are the risks involved in putting a baby's car seat on the shopping cart:
Car seats do not secure well in shopping carts. A bit of wind or gust could risk blowing away your child when left unattended.

There is the risk of other kids running around the grocery store or mall and bumping into your baby.

Other shoppers could accidentally bump into your cart.

Infant car seats do not mount properly into shopping carts because they don't 'click' into place.

Alternatives to Placing a Car Seat on a Shopping Cart
Here are a few alternatives to putting a car seat in a shopping cart. If you're worried about your child's safety, these will come in handy.
1. Start Shopping Online
If the idea of placing your infant car seat in a shopping cart does not appeal to you, start shopping online or remotely.
2. Go for Shorter Trips
If you have a baby stroller with a lot of storage space underneath it, you can use it for shopping. Visit the mall or convenience store a few times a week and take shorter trips. It will save you money and make the experience hassle-free. Plus, you won't even need a shopping cart that way.
3. Look for Built-In Child Seats
Most modern shopping carts have built-in child seats which are stable and well-balanced. These come with belts and straps to secure your child in place. Instead of getting a separate infant baby seat, look for shopping carts which feature built-in child seats instead.
4. Let Your Partner Tag Along
It's a good practice to bring your partner along for shopping when you're taking the baby with you. In case your attention slips, your partner can look after your child.
5. Use Docking Stations
There are docking stations designed to be used with shopping carts. It makes the transition from car to cart easier for kids and U.S. brands design them specifically for a safer and simpler shopping experience. Some safety docks come pre-installed with GPS tracking to help make locating the carts easier. Some U.S. stores install safety docking stations by default in their shopping carts. If you're not sure, contact the store before visiting.
Safety Tips While Using a Shopping Cart with a Car Seat
Here are a few things to watch out for when using shopping carts with the car seat:
Check the expiry date – Look at the expiry date of the infant car seat before going for used car seats. If you're buying a new car seat, it's okay but be sure to inspect for signs of damages. Manufacturing defects could cause problems later down the line, so be sure to keep an eye out for that.
Review the features – If you're absolutely determined to use an infant car seat for your shopping cart no matter what, do this – go for infant car seats with safety measures and locks built into them. You want attachments to secure the child to the cart and make sure their centre of gravity stays fixed to the cart.
Switch out with your partner – Don't go shopping with your baby alone. Bring your partner along with you and go tag-team shopping. You can switch places with them while you're adding items to the cart or looking around the grocery aisles.
Consider Using a Baby Carrier – You can strap your baby onto a baby carrier which is much safer than a car seat. The base is more stable and there's no risk of falling over
Check the Registration – Go over the car seat's registration and check to see if there's a manufacturer's warranty added to it. You don't want a baby car seat that's unreliable or comes from an unrequited seller. Look for reviews from other customers and see the testimonials if you're planning to buy online. If you're buying it from a physical store, you can ask for recommendations and test out the seats before making a purchase.
Avoid Using Them When You Can –

There are studies that show that 1 in 10 babies get injured every year when using baby car seats in places other than cars. They're not safe and can hurt kids when used outside cars. The American Academy of Pediatrics backs this with many evidence-based studies which is why it's always best to use baby strollers instead of plugging the seats into shopping carts.
Getting an infant car seat for a shopping cart and taking your baby along on it may not be the best move. Hopefully, these tips will help you out. It's always better to take your child in a stroller and go shopping. Hire a babysitter to look after the kids if you're planning to go away for long hours and if your partner isn't available. The safety and wellbeing of your child comes first.
Also Read:
What Is The Right Age For Your Child To Face Forward In A Car Seat?
Safety Tips While Using Car Seat
Types Of Child Car Seats And Its Restraints