Zoom App for Kids – Importance, Usage, and Parental Guidance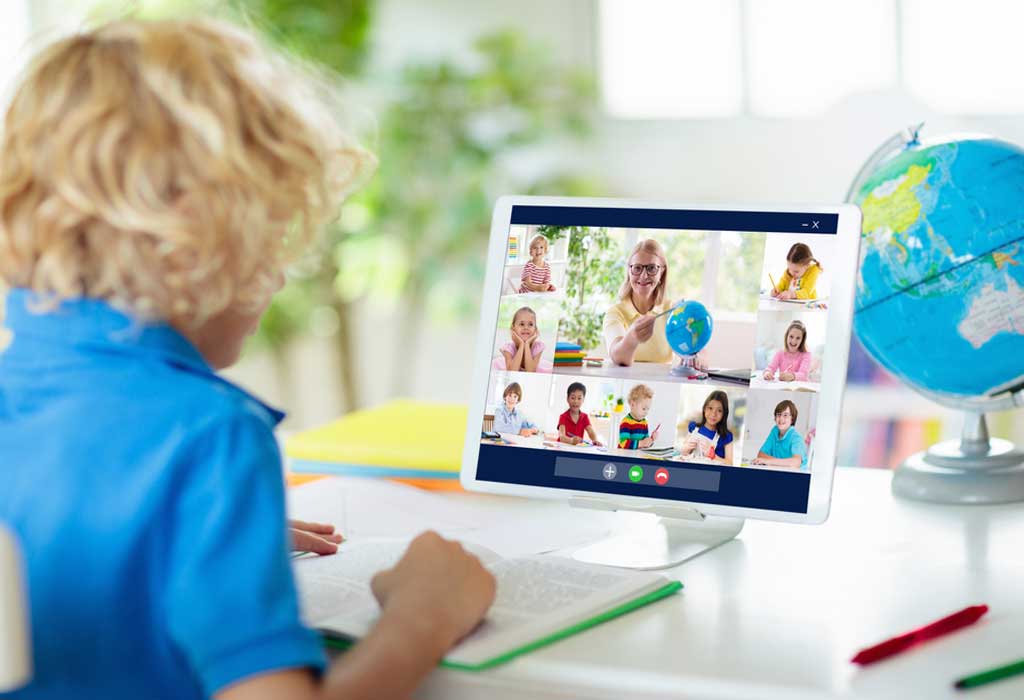 Video conferencing has been around for a while, with several service providers being active in the industry for a decade now. Zoom is a video conferencing app that has become popular relatively quickly, fueled by the COVID-19 lockdown for workplaces, schools, and colleges. It is now the most popular video calling app, and parents have to play catch-up to understand its features and how to keep their kids safe as they attend their online classes via this app. If you are one of those parents looking to learn all about how Zoom works for classes, this article is exactly what you need.
What Is Zoom, and How Does It Work?
Zoom is a video communication application that skyrocketed to popularity during the COVID-19 pandemic as the go-to video conferencing tool. Fundamentally, like all other apps of its kind, Zoom helps people around the world connect in a live-streamed virtual meeting space. All that is needed to attend a Zoom meeting or a Zoom call is a computer or a phone that has a camera and a microphone in it. Due to its simplicity, great features offered for free, and the ease of installation, Zoom became the most popular application for companies and education institutions. According to Zoom, their usership exploded in a matter of months from December 2019 to March 2020, from 10 million users to 200 million users every day, for their free and paid versions. They also say over 90,000 schools across 20 countries make use of the application to conduct virtual classes.
Zoom's free version allows up to 100 participants in one call, along with providing other useful features such as virtual backgrounds. However, as Zoom grows in popularity, it has also come under increased scrutiny, as there are many young people using this application, and there have been lapses in safety features. Since the company gathers user data, many experts are concerned about the price people pay for using a 'free' app.
In What Ways Can the Zoom App Help Kids?
Zoom for the classroom includes many useful features, aside from voice and video chatting. It allows the class to work together, and even form sub-groups for different activities, like they would do in a real class. Here are some of the other useful features for kids:
1. Screen Sharing
The screen sharing feature allows the whole class to see one student's computer screen, and even allows others in the class to annotate documents on their computers. This feature can also be restricted by the teacher for the rest of the students to see only their screen.
2. Whiteboard
Like physical whiteboards, this tool allows kids to work together for group projects and toss ideas around.
3. Clap, Raise a Hand, Speed Up, Slow Down, Disagree
These features allow students to raise questions or voice opinions, just like in a real classroom. They can also ask the teacher to talk faster or slow down and clap at the end of the class.
4. Private and Group Chats
This feature allows students to send private messages to each other, which the teachers cannot view. Group chats allow kids to send notes to everybody in the chat group.
What Is a Zoom Virtual Background?
Since most of the students call from their homes, Zoom allows them to change the background to any theme of their choice. This can conceal a messy bedroom or house in many cases. However, there is another legitimate reason the feature exists: it disguises the socioeconomic difference between students by not allowing an intimate view of others' living conditions. The feature is also controlled by the teacher, so that when kids go out of line by putting up a distracting theme, it can be turned off to restore order in class.
How Can School Teachers Use Zoom to Teach Children?
Many of the features available to kids are also shared with the teachers in class, except that teachers have complete control of the platform. Here are some ways in which they can teach with the app:
Screen Sharing: Screen sharing is the primary way in which teachers conduct their classes. They can use slides and videos to present lessons and information, similar to how they would in a real class.
Breakout Rooms: This feature allows teachers to break up a class into groups for an activity, and then bring them back together later.
Whiteboard: This feature is used for brainstorming and discussions about lessons in class.
Special icons: Special icons allow students to make comments, disagree, and raise hands, clap and speed up. This is similar to requests kids make routinely in classes.
Group chats: Everybody can send messages to each other on Zoom, and teachers can use the feature to have students work as partners to work together.
Does a Child Need to Create His Own Zoom Account for Attending Classes?
Children do not need to create an account to attend classes. They can join the class as participants with a login name and password under the school subscriber's account. The teachers who create the class will have to provide the login credentials to join the class, so they have complete control over the meeting. An invitation link is all that is needed to attend the class for all students.
How Can You Download Zoom for Your Child?
Here are simple steps to download Zoom for your child:
To install Zoom on the PC, you will have to visit their download center to download the application to your computer.
Your computer will choose a location to download the files, or you can define the path.
Click on the Zoom installer icon to start the installation process. Once it is done, the app opens by itself.
To install Zoom on your phone, go to the App Store and search for Zoom.
Click on the application, and the opening page will have a download button. Click on that, and it does the rest.
How to Properly Set Up the Zoom App for Your Child
Although Zoom was originally intended for business meetings where most people behave professionally, kids can be mischievous and disrupt a session when they have complete control. Here are a few ways to properly set up the app for your child:
1. Random Meeting ID
Teachers can use the same meeting ID for every session. However, it is recommended by Zoom that they use random IDs every time while creating the invitation, to keep the session secure.
2. Mute Option
Kids should be taught how to use the mute option, so their ambient sounds do not disturb the ongoing class. Teachers also have the option to mute individual students, or all at once.
3. Chat
Since students can send and receive personal messages to others, teachers can control whether they can chat publicly or privately.
4. Enable/Disable Video
All participants who join can have their video on during the session. The participants can also join with audio only, and turn on the video when ready. Teachers can also enable or disable videos of students.
5. Nonverbal Feedback
Students can be allowed to give nonverbal feedback without causing much disruption by using audio. They can use features such as raise their hands, give thumbs-up or thumbs-down, or ask for permission for a break without interrupting the class.
6. Lock Meeting
The lock meeting feature is exactly like locking doors in a real classroom. Teachers can keep the Zoom meeting locked so no one else can enter without their permission. This allows them to maintain order by not allowing random people to enter the class.
7. Waiting Rooms
The waiting rooms are a clever way to find out who the latecomers are. The participants who wish to join are held in a virtual waiting room until the teachers approve their request to join.
8. Turn Off File Transfer
File transfers allow students to share pictures, gifs, memes, and even quiz answers in their chat. Teachers can disable this feature when needed.
Zoombombing and Other Security Issues
Like many other Internet applications, Zoom also comes with its downsides, which the company is working on fixing rigorously. One of the major safety issues that seems a little obvious to anyone who uses Zoom is called "Zoombombing." Since most Zoom meetings only need a link and ID, trolls gain the credentials illegitimately and crash meetings. They can spam meetings with noise, use the video camera share feature, and hijack the session by showing inappropriate content. Teenagers and college students are more prone to pranking their classes with Zoombombing and disrupting sessions.
Other concerns include privacy issues, as hosts can see if their participants are still on the Zoom window and seeing it. While this feature is great for kids, it's a privacy breach for professionals. The Zoom calls are not end-to-end encrypted, and are therefore vulnerable to hackers. The lack of end-to-end encryption led companies like NASA and SpaceX to ban the use of Zoom.
One of the major concerns about Zoom from experts is how the company uses the data it gathers from the millions of people who use its platform. Zoom maintains that it does not sell user data collected from children who are under 13 to protect their personal information. However, there still are weaknesses in the system and how it uses targeted ads. The only way to keep the data of your children private is to use the school subscription accounts and not a personal account. So, is Zoom safe for kids? The answer is mostly yes, depending on how you regulate its use and set up the Zoom parental controls.
Zoom is currently one of the most popular video conferencing applications used by school children around the world. It is simple to use, easy to install, and offers plenty of features on just the free version. While there are concerns about data and privacy, Zoom is a reliable app for virtual classrooms.
Also Read:
Coding Apps for Preschoolers and Children
Best Learning Apps for Children
Language Learning Apps for Children