The Complete Baby Bouncer Buying Guide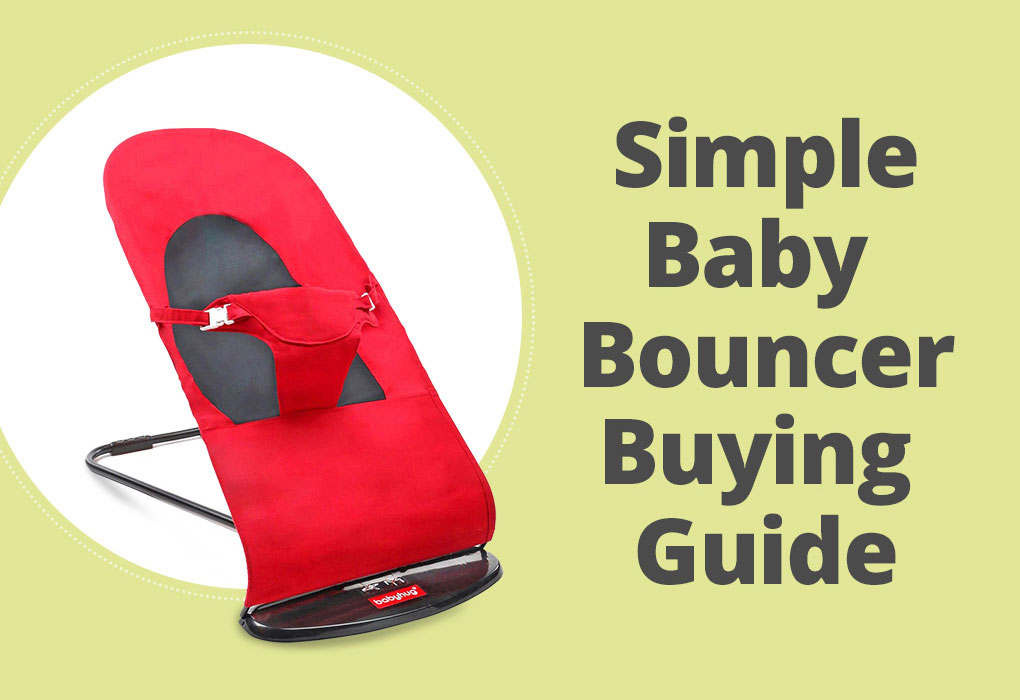 Overview
Nothing beats holding your baby in your arms. But as a new mother, you need some 'me'-time to get back to your prime physical and emotional state. A baby bouncer is the perfect answer to the times when you want to have your hands for yourself � to put up your feet and catch up on your reading, or to whip up a nutritious meal for yourself and your family, or to attack those pending emails and tasks from work. Baby bouncers are comfy and entertaining accessories for your baby and you. They ease the stress of early motherhood by being the 'mother's arms' for her child when she needs her arms for herself.
What

is a Baby Bouncer?

A Baby bouncer, in simple words, is a soft, comfortable bassinet fixed over a metal frame, which bounces with the movement of your baby.

Baby Bouncer – A safe, comfort zone for your bundle of joy

Baby bouncers are useful baby products for babies in their early stages of development, providing them with a safe and secure environment in both your presence and absence. It is a place where babies find comfort in the padded seat with a sturdy frame, allowing them to recline at ease in a comfortable position. The design of a baby bouncer comfortably provides full support to the baby's entire body. When the baby kicks, the seat responds with a springy up-and-down motion. This not only satisfies the baby's desire for movement, but also helps the baby develop the muscles necessary for crawling.

Some baby bouncers come with added features that help in soothing and entertaining your baby. The battery-operated music boxes play happy or peaceful tunes to calm your baby into a restful state. The vibration feature helps relax your baby when in a fussy mood. You can even hang soft toys within your baby's arm's reach. Some bouncers have dancing lights that flash according to your baby's movements in the bouncer.
When

to Start and Stop Using a Baby Bouncer?

Baby bouncers indeed make your life a lot easier by holding and entertaining the apple of your eye while you complete your daily chores. However, over-use of any gadget can spell harm to the baby, and you certainly do not want that to happen. There are various factors you need to consider to determine whether it is ok to use a bouncer for your baby or not.
Weight
Every baby bouncer comes with a manufacturer's guidelines specifying the exact weight capacity of the bouncer. Most manufacturers specify an upper weight limit of 9 to 11 kg. (A heavier child may tip off the seat.) Some seats do accommodate toddlers and bigger kids, with weight limits ranging from 5 to 8 kg. One must refer to these specifications at the time of purchase.
Age
The ideal age of using a baby bouncer, specified on the bouncer seat guide, ranges from 0 � 7 months. However, the use of the baby bouncer is subject to change depending on factors other than age, i.e. baby's weight and development.
Growth and Development
Every baby reaches developmental milestones at different ages – some might learn to sit up unassisted by the age of 5 months while others might accomplish the same at 7 months of age. Look out for signs of development in your baby. If you baby is attempting to climb out of the seat, or has learned to sit up unassisted, it is time to stop using the bouncer seat, irrespective of your child's chronological age.
With Preemies
Premature babies require greater neck, back and tummy support than normal babies. Also, being smaller in size than normal newborns, preemies will not be the right fit for a bouncer. Therefore, it is best to avoid using bouncers for premature babies. If you feel that your baby is healthy enough to enjoy a bouncer, please consult your paediatrician before starting to use the bouncer for your baby.
Don't Make it a Habit
It becomes very tempting for mothers to keep their babies in the bouncer for longer periods of time as they get to use both hands and get a lot of work done then. However, letting your baby spend too much time in the bouncer might not be a great idea. Babies remain in a reclined position in a bouncer at all times, and this prevents them from indulging in other playful activities necessary for their growth and development.
Reclining Seat
You should place your newborn in the bouncer only when it is in a full reclining position. This is the safest position for your baby. A semi-reclined position might press on the chest and block your baby's airflow.
Features

and

Characteristics

of a Baby Bouncer
Features of a Baby Bouncer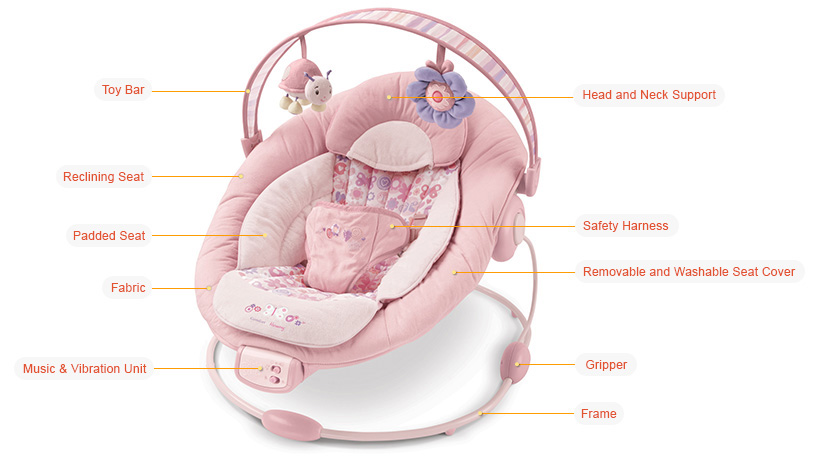 Baby Bouncer
Having a detailed knowledge of the major features of a baby bouncer will help you make an informed buying decision. With that aim in mind, we have listed below some of the important features provided by the various baby bouncer manufacturers.
Frame
A basic bouncer seat consists of a lightweight frame made of metal wire, tubular metal or heavy-gauge plastic. Covered with a soft, removable, washable pad that conforms to a baby's shape, bouncer seats are springy and bounce or rock when your baby moves. The frame also adds to the sturdiness of the bouncer.
Safety Harness
The second most important feature in a baby bouncer is the safety harness. Bouncers come with three-point or five-point harnesses. Most baby bouncers have a soft three-point safety belt that goes around babies' waist and in-between their legs. This keeps them from falling or slipping out of the seat.
Reclining Seat
Bouncers offer you three different reclining positions to choose from. You can quickly transit your baby's playtime to sleeping time by changing the bouncer's reclining position – all you have to do is adjust the bouncer's upright position to a reclined one. However, be sure to transfer your baby to a crib or bassinet after the baby falls asleep.
Head and Neck Support
Head and neck support is of utmost importance for newborns. Until the age or 3-4 months, babies cannot hold their heads up. Their skull bones are soft and fragile. A head rest attached to the bouncer seat supports baby's delicate head and neck. It also helps to avoid any head injuries by cushioning the hard frame of the bouncer.
Padded Seat
Seat padding can vary from basic to extra thick to comfortably thin. A nicely padded baby bouncer will be very comfortable for your little one.
Removable and Washable Seat Cover
Many types of baby bouncers come with removable seat covers suitable for machine washing. This is an important feature, as the bouncer is guaranteed to get dirty. Easy to wash feature maintains the cleanliness of your baby bouncer.
Toy Bar
Simply lying down in a bouncer will bore any baby. Most bouncers come with an attachable toy bar. When attached within reach of your baby's arms, it will entertain your baby and provide sensory stimulation. Toy bars allow you to add toys like soft plush animals, teethers and squeaking toys, and only begin to amuse babies once they have crossed the age of 4 months.
Canopy
Sometimes, when you take your baby outdoors to the park, etc., the rays of the sun could prove to be hazardous to the baby's skin and delicate eyes. Canopies provide the necessary shade to babies while they are still comfortably seated in their bouncers.
Music and Vibration Unit
Most bouncers come with an inbuilt music, vibration unit, which when turned on adds gentle vibrations to the bouncer seat, helping to pacify and relax the baby. The bouncer plays happy or peaceful sounds to lull your child into a restful state.
Characteristics of a Baby Bouncer
Bounciness
Bouncers, well, have to bounce, don't they? The bouncing movement can be provided in two different ways – naturally or through a battery operated mechanism. Natural bouncing helps strengthen the motor skills of babies. Their movement bounces the chair, causing them to have lots of fun. However, if your baby is extremely active and loves extra fun, you can choose the battery-operated alternative that will increase the fun quotient. For younger babies, gently help them bounce using your hand and feet.
Fabric
The fabric used on the bouncer seat comes in direct contact with your baby's delicate skin, and needs to be soft, non-slippery, smooth and comfortable. It also needs to be free from health-hazardous substances and allergens. The most preferred material would be soft cotton. Such a fabric is gentle on the skin and safe to chew or suck on, making it a perfect material for little babies to relax and play in.
Body Support
The bouncers are designed to provide comfort to your baby, by ensuring proper head and back support. Headrests prevent your baby's head from flopping around when trying to wriggle.The fitted, padded fabric of the seat moulds itself to your baby's weight and size, ensuring that your baby is comfortable and protected.
Grippers
Grippers provide a firm grip on the surface and keep the bouncer stable when vibrating mode is on.
Portability
Bouncers are compact and easy to carry along with your luggage. Their size and simple design make them ideal for storage and transport. If you are going to be waiting at the airport or relaxing on a vacation, your baby can enjoy too, on the bouncer.
Multi-Utility
An advantage of bouncers is that they can be used as bouncers as well as chairs. Once your baby has outgrown the bouncer's age or weight limits and can sit upright unattended, you can turn the fabric around and use the bouncer as a chair.
Comfort
A soft, comfortable fabric used in a bouncer provides maximum comfort to babies. They experience the freedom to bounce, swing and enjoy the world outside your arms while still being ensconced in the soft luxury of the fabric. Leading baby bouncer manufacturers ensure that the fabric is eco-friendly and made of non-hazardous material, so it is even ok if your baby ends up inadvertently teething it.
MP3 Player/iPhone/iPod Hook Up
MP3 player/iPhone/iPod hook up are of great help to listen to soothing music, sounds of your baby's choice while you take a relaxing shower.
Compact Fold
It should be easy to pack up and store when not required.
Motion, Speed, Sound and Light Control Unit
The bouncer which allows swing motion offers a control panel which allows motion, speed, sound and light settings in accordance to your baby's preference.
Trendy
Baby bouncer seats come in a variety of sizes, colours, themes, etc. Some even offer changeable seat covers and matching toy bars. These little angels are probably going to be tomorrow's fashionistas, so why fence away from trends and colours? Let them be today's trendsetter too.
As the competition in the market is increasing, manufacturers are coming up with new never-thought-before features for their bouncers, trying to make their product stand out from the rest.
Pros

and

Cons of a Baby Bouncer

Baby bouncers are fast becoming one of the staples in the baby development arsenal of new parents. Here are the pros & cons of a baby bouncer to help you choose the right one for your bundle of joy.
| | |
| --- | --- |
| Pros | Cons |
| Vibration unit: Many bouncers come with an inbuilt vibration mechanism with adjustable speed. The calming vibrations can effectively soothe crying and fussy babies and lull them to sleep. | Weight restrictions: Baby bouncers can be used only for a very specific weight range (up to 12kgs).They cannot be used for premature babies, who are below the weight limit. It can prove hazardous to them. |
| Music box: Baby bouncers come with additional features like a built-in music box or soft plush animals hanging from a play bar that babies can easily grab and play with. These keep the babies engaged in other developmental activities, when in bouncers. | Age restrictions: Bouncers can be used only till the baby is about 6 to 7 months old. |
| Portable: Unlike cribs and elaborate swings, most baby bouncers are portable. They allow new parents to get out of their homes and spend time outdoors without worrying about engaging their babies. | Preference over cribs or beds to sleep in: Babies tend to stay in their bouncers for as long as possible and even like to sleep in them. This can be a hindrance for crib training. You can resolve this by restricting your baby's bouncer time and encouraging intermittent usage of the crib. |
| Fabric: All recognized brands of baby bouncers undergo a quality check by JPMA (Juvenile Products Manufacturers Association) and adhere to the usage of skin friendly fabrics and materials. This ensures that a baby doesn't get a rash or skin problem by staying in the bouncer for a long time. | Wide base placement hazard: A baby bouncer is considered to have a good design and balance if it has a wide enough base to absorb jerky motion. However, this wide base can become a placement hazard, so be careful about placing the baby bouncer around the house. |
| Ergonomic design: Baby bouncers are designed to better suit the delicate, growing spines of babies. So your baby can lie in the bouncer comfortably, without experiencing any discomfort or ill effects at a later stage. | |
Reference:- 1-http://jpma.org/
What to
Look

for in a Baby Bouncer?

There are many variants of baby bouncers available in the market for varied price ranges. Even the most basic ones are approved by JPMA or similar governing authorities before being sold for retail. The more advanced ones are designed with paediatric help and undergo numerous quality checks to ensure the development of best possible products. You must, therefore, clearly know what to look for in a baby bouncer and how to look for it.

So here is mentioning those critical features you should keep an eye out for:
Safety Features
Baby bouncers come with safety belts (and water hooks if you intend to use them in a paddling pool) to ensure that the baby isn't hurt due to any erratic movement. Parents must check the tensile strength and ruggedness of the safety features at the time of buying a baby bouncer.
Weight Capacity
Since the calming mechanism of a baby bouncer involves bouncing and vibrating, most baby bouncers come with a weight restriction. If the baby is below the specified weight limit, the vibrations can be uncomfortable or topple the baby. If the baby is above the specified weight limit, then the baby bouncer may not work properly. Thus, parents must check the weight restriction for a baby bouncer, determine the usage term of the bouncer and then decide how much to invest in it accordingly.
Body and Base Design
The body of a bouncer must be pliant and designed in such a way that the delicate frame and developing spinal cord of the baby is sufficiently supported. A wide base is also essential to ensure that the contraption remains balanced while the baby is in it. Thus, parents must check for these features while selecting a baby bouncer.
Quality Textile and Materials
As a baby spends a good amount of time in the baby bouncer, it is quite important to have a bouncer with good quality textile and materials, which are baby skin-friendly. Many baby bouncers even ensure that the surface material is chewable and doesn't cause any rash or skin problem for babies. A bouncer can get messy in no time, and the fabric must therefore be easy to clean. Check to see if the seat cover can be removed easily for cleaning, and whether or not it is machine washable.
Portability
Little babies get used to a particular routine, schedule and space much more quickly than you think they do. If they do fall in love with the comfort of their new bouncer, they will probably want to be in it all the time. Thus, it should be lightweight and easy to move around with. Check to see if the bouncer can be folded or easily taken apart for storage or travel. If you are planning a family, you might want to dismantle and store it away until your next sweetheart arrives into this world.
Interactive Features
Baby bouncers come with additional interactive features such as felt toys and music boxes, which can keep a baby engaged on a bouncer for long intervals of time. Parents must consider these carefully before selecting a baby bouncer.
Price
Lastly, a baby can only use the bouncer in the initial developmental months. Parents must keep this in mind, consider the competitive prices offered in the market and select a baby bouncer that doesn't burn a hole in their pocket yet serves their purpose sufficiently.
Types

of Baby Bouncers
Bouncers can fulfil your newborn baby's need for constant movement. Their gentle motion calms babies and lulls them to sleep, making your life easier.
While there are a number of brands available in the market, they can all be categorized into three broad categories:
1. Simple Baby Bouncers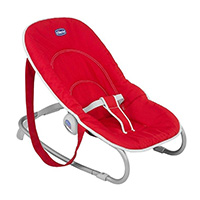 Simple baby bouncers have a simple design that helps babies have fun while also letting them get some physical action by moving their arms and legs.
2. Battery-operated or Vibrating Baby Bouncers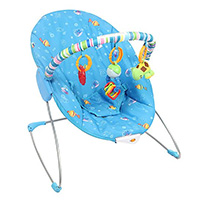 In contrast to simple baby bouncers that have only a limited range of movement, battery-operated bouncers offer a lot more options. These are quite similar to the simple, non-powered bouncers, with the difference that they produce a vibrating motion with a battery-operated motor. These are an excellent choice if your baby enjoys constant motion.
3. Combination Baby Bouncers
Combination bouncers, as the name suggests, are bouncers combined with another baby device.
There are two types of combination bouncers: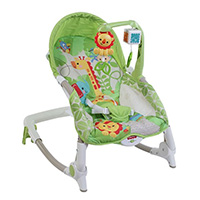 Bouncer rockers are a combination of bouncers and rockers. These bouncers can be easily converted into rockers, by providing a variation in the type of movement offered to the baby. Basically, the movement pattern of a bouncer is low in intensity – perfect for infants. But as infants grow, they require a more intense movement and therein comes the need for a rocker. Bouncer rockers can thus be used right from the early days of your baby's life until toddler-hood.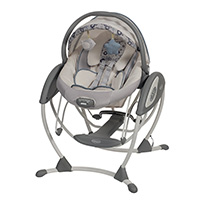 Bouncer swings are a combination of bouncers and swings. Such bouncers have a detachable bouncer seat. So when children learn to sit by themselves, the bouncer seat can be placed into a swing frame, thereby converting it into a swing.
Dos and Don'ts
Baby bouncers are a must buy for all parents. However, it is important for you to consider its usability, comfort and convenience, and the cost associated with it, before making an informed buying decision.
While Buying a Bouncer
Dos
Think well about how you would be using the bouncer before deciding on which type of bouncer to buy. If you want to be completely hands-free while still keeping your baby engaged, then go for a battery-operated model.
Study brand reviews and look at the major features of all the models. Most big brands offer plenty of attractive features like, a toy tray along with toys in multiple colours, selection of fabric for bouncer seat, durability, etc.
Make sure that the bouncer you are planning to buy has passed the safety standards of organizations like JPMA.
Look out for sharp edges, frayed ends or loose fittings.
Buy combination bouncers according to your baby's preference. If your baby does not like to swing, go for a bouncer rocker instead.
If buying offline, take your baby along and try a bouncer model by placing the baby in it. If buying online, be sure to buy from trusted websites that are capable of providing you with all the necessary information and are also capable of recommending a good model suited to your needs.
Don'ts
Don't buy a bouncer model if your baby is already over or nearing the upper weight limit specified for the model. Before buying one, check that the age and weight limits specified are appropriate for your needs for your child.
Don't buy bouncers without asking for a demonstration. Check out the music volume levels and ensure that it isn't too loud or brash, as it could end up irritating babies instead of soothing them. Similarly, check for other functions like speed, different motions, etc.
While Using a Bouncer
Dos
Use baby bouncers only up to six or seven months or until your baby begins to sit independently.
Make sure that the fittings have been made properly and that there are no sharp edges left unnoticed while assembling the baby bouncer.
Make sure the fabric is dry and clean.
Wrap your baby properly and make sure that your baby is not placed inside the bouncer without a diaper.
Make sure to always keep the bouncer within your reach.
When placing the baby bouncer on the floor, make sure that it is kept away from hazardous things like cables, cords, heaters, sharp things, etc. Place your baby in the bouncer only after you are sure that you have completely understood and followed the manufacturer's instructions.
Don'ts
Don't use bouncers for babies weighing above 11 kg or above the specified weight limit of a bouncer.
Don't place the baby bouncer with your baby inside, on an elevated surface like tabletop or soft surfaces like bed, sofa or couch. The bouncing movement could slide the bouncer to the edge and lead to a fall.
While shifting bouncer chairs along with baby from one place to another, don't carry it by frame or the toy bar. These features are almost brittle and aren't supposed to be used as handles.
Avoid leaving your baby in the bouncer for long periods of time and give the baby some floor time, in your supervision. Experts recommend mandatory time for natural movements such as crawling, tummy time, etc. for the growth of your baby's limbs and other organs.
FAQs
1. My Child Sleeps Better in The Bouncer Than on The Bed. Is it Safe to Let Her Sleep in The Bouncer?
Most baby bouncers are designed to provide babies with a soothing and comforting ambiance. The bouncing motions and vibrations, along with soft music, are most conducive to a happy baby sleep. However, bouncers are not designed for a long period usage. Hence, it is not recommended to let your baby sleep in the bouncer. What you can do, is transfer the baby to a bed or crib once she sleeps.
2. I am Worried If There Will Be Any Issues Related to Spinal Alignment if My Baby Sits in a Baby Bouncer.
There has been no strong proof of spinal alignment associated with baby bouncer usage. However, letting your baby remain in bouncers for long periods can hamper the spine development13. Hence, use the bouncer only for short periods of time, under your supervision, and your baby should be just fine.
3. Can I Use Bouncers for Both My Kids?
Most bouncers can only be used for kids who cannot yet sit independently, so you might want to check the bouncer's weight limit before letting both your kids use them. In any case, a bouncer can, and should, hold only one kid at a time. However, using a bouncer for one child in combination with a baby carrier or stroller for another can help you easily manage both your kids simultaneously, without getting too harrowed.
4. Is It Ok If I Use The Bouncer for My Two Months Old Baby?
Bouncer can be used for baby right from birth. However, if your child is a preemie, you might want to consult your paediatrician before determining whether the bouncer is suitable for your baby.
5. My Baby is So Attached to her Bouncer That She is Reluctant to Play on The Floor. What Do I Do?
Bouncer or not, floor time is highly important for babies. Most bouncers are compact, foldable and lightweight. So try distracting the baby with a toy or book while putting away the bouncer for some time to give the baby adequate floor time. You can always set up the bouncer back quickly when you need to attend to something else and require the baby to be safe while you are distracted.
6. My Daughter is Colicky. Can a Bouncer Help Her Feel More Comfortable?
The vibrations/ movements of a bouncer are a godsend for colicky babies. Placing them on a bouncer works more effectively than comforting them by holding them in the arms or putting them down on their tummy.
7. Is It Safe to Feed My Four-month-old on a Bouncer?
Bouncer seats are not designed for feeding. Babies can choke or get injured by the feeding utensil. This is unavoidable on any moving baby seat, including swings. You are supposed to hold baby when feeding using a bottle, and for solids, you are supposed to use high chairs or convertible baby boosters/feeding chairs to prevent injury to your baby.
Reference:–