It's a Baby Boy for Sania Mirza and Shoaib Malik!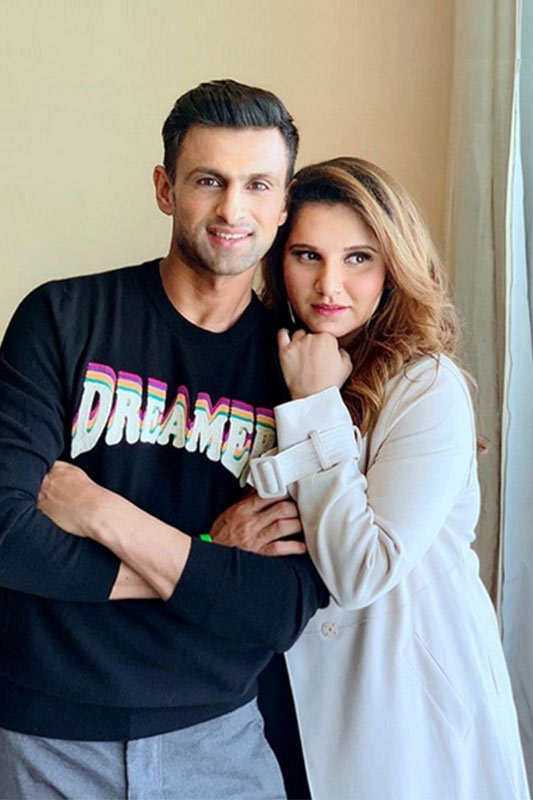 It's the news we've been waiting for and the wait is finally over – Sania Mirza and Shoaib Malik have become parents to a baby boy today! The excited father took to social media to announce the happy news and assured that both mom and baby are doing fine.
Excited to announce: Its a boy, and my girl is doing great and keeping strong as usual #Alhumdulilah. Thank you for the wishes and Duas, we are humbled ?? #BabyMirzaMalik ??

— Shoaib Malik ?? (@realshoaibmalik) October 30, 2018
Filmmaker Farah Khan, who is one of Sania's closest friends posted congratulatory wishes on Instagram with the caption: "Finally!! Best news in a long time!! Congratulations @mirzasaniar@realshoaibmalik @anammirzaaa@imranmirza58 n of course the nani n daadi ♥️god bless our lil angel"
https://www.instagram.com/p/BpifBBdgUTg/?taken-by=farahkhankunder
Partner-in-crime and sister of the new mommy, Anam Mirza couldn't hold back her excitement of becoming an aunt either, as she posted the same picture above with the caption – "It's a boyyyy!!!! Alhamduilllllaaahhhh!!! @mirzasaniar@realshoaibmalik #babymirzamalik30.10.18"
Sania and Shoaib got married in the year 2010 and this is their first child. The pregnancy was announced on April 23rd of this year on Instagram with this simple little image and hashtag #BabyMirzaMalik, and seriously, how cute is that little onesie!
https://www.instagram.com/p/Bh6U0QpgLGs/
It's evident from her career graph that Sania is not someone who can be slowed down easily. She had been quite outspoken about her pregnancy journey as well, and has proved that it isn't a handicap, contrary to regressive beliefs. Rather, she believed that pregnancy empowers a woman because she gets to experience how much she is truly capable of, mentally and physically! In fact, when asked how soon she can be expected to be back in the courts, Sania answered:
"For now, my priority is to have a healthy child — that's it. I'm not really thinking about hitting the court right now. But realistically, I plan on playing at the 2020 Tokyo Olympics. There's absolutely no pressure, but trying to get fit will also be another priority."
Source – https://www.pinkvilla.com/lifestyle/people/pregnant-sania-mirza-wants-have-healthy-baby-and-plans-playing-2020-tokyo-olympics-429949
Inspirational, as always!
https://www.instagram.com/p/BmJZ90-FVka/?taken-by=mirzasaniar
Sania's Diet and Fitness Regimen
Everyone knows that pregnancy automatically calls for a strict diet and exercises. Some foods may have to be restricted while others may need to be consumed in the right quantity to meet the body's nutritional requirements during pregnancy. As a sportsperson though, this wasn't too challenging for Sania who does follow healthy food habits. She had been on a gluten-free diet for a while, but quite luckily for her, her cravings had been leaning more towards spicy delicacies than sweets (there's one way to stay clear of gaining weight!). She also stayed away from red meat during her pregnancy. While following a healthy diet, Sania was also mindful about not denying her body what it craved once in a while, be it a doughnut or some chatpatta snacks.
https://www.instagram.com/p/BlCmSDwFHzC/?taken-by=mirzasaniar
As part of her diet, she usually had scrambled or fried eggs for breakfast. Before lunch, she'd drink a healthy green juice made of spinach, apple cider vinegar, and green apple. Plenty of fruits, vegetables, and protein were part of her daily diet, as much as water was.
Sania also made sure to exercise as much as possible during her pregnancy. While she practised tennis lightly initially, she decided to take it slow, later on, opting to walk a couple of kilometres a day and also practising yoga four times a week. The video below is what you need to watch to gain some real inspiration to get off that couch and get moving!
https://www.instagram.com/p/BmOYjZ4F2Mp/?taken-by=mirzasaniar
Sania On Her Pregnancy
Staying fit and healthy has been an important aspect of Sania's pregnancy. When asked how she was able to avoid any bloating on her face, she credited luck but also mentioned how she drinks a lot of water. Sania acknowledged that she was lucky to have quite an uncomplicated pregnancy, whether it's the lack of morning sickness or any such problems at all. She also urged pregnant women to stay as active as possible to maintain a healthy pregnancy, in an Instagram Q&A session.
But diets and physical care are not all that's required during pregnancy; Sania had stressed many times on the importance of staying positive and motivating oneself throughout the process. Trusting one's instincts are also equally important, which is another piece of advice Sania had for pregnant women. "You must do what you want to do and what your body is allowing you to do. You and your child know what's best for each other. You will get a lot of advice, but you know what's best and trust yourself", the tennis star has said.
Source – http://www.indulgexpress.com/life-style/sports/2018/oct/05/tennis-player-sania-mirza-talks-about-her-odd-cravings-and-fitness-regimen-during-pregnancy-10516.html
In fact, the six-time Grand Slam winner had faced plenty of criticism and had to deal with "well-meaning advice" from many people, a lot of them including men. Responding quite scathingly to such comments, Sania had tweeted that pregnancy isn't a disease to be ashamed of or one that reduces the value of a woman. Hear, hear!
Word of advice for ppl(specially since the majority seem to be men) who think being pregnant means you have to go into hibernation for 9 months,sit at home and for some reason be 'ashamed in this haalat'..So when women are pregnant they don't have a disease or become untouchable-

— Sania Mirza (@MirzaSania) October 12, 2018
Or become a corpse!!! They are still 'NORMAL' human beings and are still allowed to live a normal life!! so pls take your heads out of your a** and think where exactly you came from too..your mother's womb!! #ittakesallkindstomakethisworld #dumidiots too !!

— Sania Mirza (@MirzaSania) October 12, 2018
On Preparing for Motherhood
Being a high-profile sports couple and hailing from different countries, Sania and Shoaib have faced a wide range of questions, ranging from 'who'll handle the burden of raising the child' to 'what sport is the baby going to play'!
https://www.instagram.com/p/Bnsfgj2lRvd/?taken-by=mirzasaniar
Right off the bat, Sania had been vocal about the fact that what she truly wants is a happy and healthy child, rather than worrying about its gender. She also wished that kids everywhere should have the freedom of choice in their lives, to follow what they want, and dream and achieve things, whether ordinary or out-of-the-box. Given that the sports pursued by Shoaib and Sania are different, people have also asked her which way they'll push the child, which Sania mentioned to be undue pressure put on the child before he or she is even born!
When it comes to parenting, Sania already knows that she is going to the stricter one among the two! She has claimed that Shoaib is a lot more patient than she is and it's going to make him the lenient parent! But jokes aside, the couple isn't focused on any particular formula for 'perfect parenting' and would rather go with the flow. She also mentioned that there will be plenty of help from their families, but the ultimate responsibility of caring for the child would lie with the parents alone.
https://www.instagram.com/p/BkFecl5Abkc/?taken-by=mirzasaniar
Both families have been very excited about the pregnancy and Sania's sister, Anam, has been incredibly active taking care of Sania's ever-gorgeous wardrobe and surprising her with a fun pyjama party (we LOVE the baby elephant costume she sported for this one!). The official baby shower was celebrated a few days ago.
https://www.instagram.com/p/BndA9rylIJI/?taken-by=mirzasaniar
https://www.instagram.com/p/BowCJuphAwT/?taken-by=theviralbollywoodnews
Coming to the big change that is going to take over her life, Sania had said that she was prepared for the sleepless nights ahead owing to certain discomforts she faced during the last trimester of her pregnancy. And when it comes to diaper-duty, she's apparently looking forward to it! She also believes that once the timing is right, she doesn't need to be by her baby's side all day long to prove her worth as a good parent. As a progressive woman, she wants to set an example for her child to show that pregnancy and motherhood are, in no way, obstacles to a woman's career or journey in life.
We wish the happy couple all the very best and plenty of happiness for their new journey ahead as parents, and can't wait to see Sania back in action too!