From Aamna Sharif to Shweta Tiwari, TV Moms Share 5 Post-Baby Weight Loss Tricks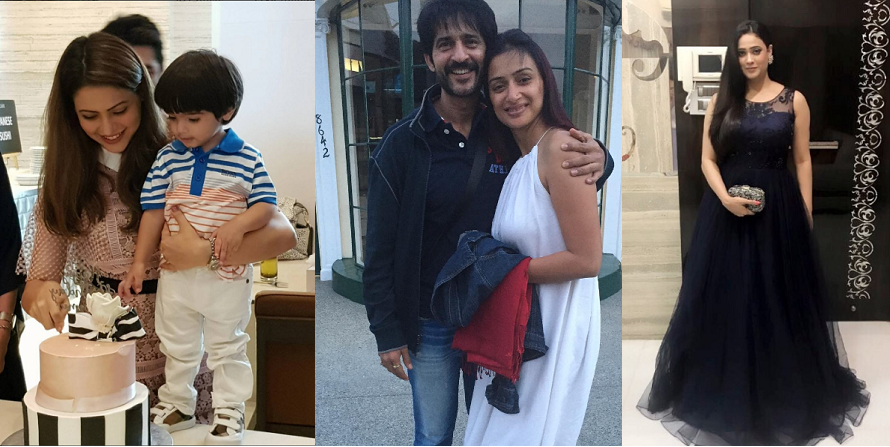 In this Article
The stress to lose weight after having a baby is a huge reality for all of us. Family, friends, neighbours and relatives all make comments about how 'fat' we have become, and how this weight will remain forever. It is often portrayed as a side effect of motherhood – your old wardrobe will never fit you again, your pre-baby pictures will now only be a dream. But is this true? Absolutely NOT! Many among us have successfully lost weight after becoming mothers, and through natural, healthy means! It is important to focus on our overall health after we become mothers – even more than before, as our baby needs us to be healthy for them. Let's see how some of our favourite television mommies did it.
Note: Please consult your doctor before trying out any of the tips recommended below. Different things work for different women, and it is always safe to get an expert's evaluation before starting a new diet or exercise plan.

TV Moms Share Weight Loss Mantra After Pregnancy
1. Shweta Tiwari
The determined and strong-headed Prerna of Kasautii Zindagii Kay has been one of India's favourite bahus! Shweta is mom to a little daughter Palak – and as all of us mothers know, it is extremely difficult to balance exercise or diet with motherhood! Shweta too faces this problem, and it gets compounded by the fact that she has erratic shooting schedules. However, the fit and svelte actress has some tricks behind her weight loss.
https://www.instagram.com/p/BS85r2FjWSd/
Shweta's Trick – Daily Running & Diet Tips
We love her weight loss exercise – running! It is one of the simplest of all exercises that all of us can do, and yet it reaps great rewards. Shweta says, "I don't have time to go to the gym. So I run, even if it is 2 am after I'm back from a shoot. Even if it means taking a hurried round of the neighbourhood, I find time to run every day. It keeps me in shape and I love the runner's high!"
Shweta also follows some important dietary precautions to maintain her weight. We have listed them for your benefit here:
She breaks down her day into several small meals instead of having 3 big meals
She eats only healthy snacks that include fruit, healthy cookies and salad
She avoids refined flour, deep-fried food and sugar very strictly
Shweta's Daily Menu
| | |
| --- | --- |
| Breakfast | Porridge and milk with honey, a fruit or a glass of fruit juice |
| Lunch | Two rotis with vegetables and lentils and a bowl of salads |
| Snacks | Fruits, coconut water, juices, a few healthy cookies, green tea |
| Dinner | Soup, salad, two rotis and vegetables |
2. Aamna Sharif
The beautiful TV actress became a household name with 'Kahin Toh Hoga' and was last seen with Riteish Deshmukh in the movie 'Ek Tha Villain'. After Aamna became mom to baby boy Arain, she put on considerable pregnancy weight. However, looking at her today, she doesn't seem to have changed one bit!
https://www.instagram.com/p/BPxnR1YjqjN/
Aamna's Trick – Daily Yoga
Postnatal yoga has been this mommy's best friend on her weight loss journey. Doing yoga regularly releases endorphins in the body – and this gives you a sense if wellness. So, not only does yoga rev up your physical fitness and metabolism but it also improves your mood. The right postnatal yoga poses for weight loss show amazing results for many women. Aamna says, "I am a fitness freak and regularly practice yoga. It gives me a peaceful feeling and it is good for the body too."
True to the spirit of Yoga, Aamna also extends this sense of balance and wellness to her eating habits. She does not deprive herself of her favourite cuisines, neither does she diet. But she always maintains a balance and works off extra calories by never missing her exercises. She says, "I believe in eating healthy. I don`t diet. I love trying new cuisines. At the same time I am fitness freak. I have to hit the gym and do a lot of cardio."
3. Dalljiet Kaur
The pretty TV actress first shot to fame with the daily soaps Kumkum and Kulvaddhu. She ended up putting on a lot of weight after getting married and having a baby – just like many of us do. However, today, Dalljiet has lost a whopping 25 Kg and is looking slimmer than ever before! She's enjoying a great time with her little cutie – son Jaydon – and says that she feels younger and more confident after the weight loss.
https://www.instagram.com/p/BVxWs7yAI7s/
Dalljiet's Trick – Strict Diet Without Rice or Roti
The weight loss trick this mommy has adopted is surely a difficult one – she has cut down on rice and roti completely! She says, "I am watching my food. I have been following a strict diet since last one year. I have had no roti or rice in this last one year."
The diet Dalljiet is following is a no-carbs (or low-carbs) diet. Carbs, or carbohydrates, are often seen in negative light when we are trying to lose weight. Cutting down on them and instead opting for a protein-rich diet (e.g. chicken, eggs) is often practised as a weight loss trick.
Caution: Cutting out carbs completely can lower your body's energy levels drastically. This can also lead to low blood sugar. Many dieticians including celebrity dietician Rujuta Diwekar also suggest that good old desi Indian foods must not be totally chucked in an attempt to lose weight! It is not recommended to cut down on carbs completely before discussing with your doctor.
When it comes to rice, a better option is to opt for fibre-rich rice and not heavily-polished rice. You can also switch to brown rice instead of white rice. Another good idea is to eat a light (low-carb dinner) as the body's metabolism slows down at night and you tend to put on extra kilos from heavy meals.
Watch Kareena Kapoor talk about her diet secrets and how she maintains her healthy weight. Inspiring stuff!
4. Gauri Pradhan
The svelte TV actress rose to popularity with her role in Kutumb (where she starred opposite now husband Hiten Tejwani). Though she has always been fit, maintaining her weight did become a challenge after she delivered twin babies. Gauri looks as shapely as ever, balancing her roles of motherhood and TV star beautifully.
https://www.instagram.com/p/BTqt-3-DgAT/
Gauri's Trick: Traditional Indian Diet Without Mixing Proteins Together
The secret to Gauri's weight loss is a careful diet and the right food combinations. While she sticks to standard Indian fare for her daily meals, she ensures that her food pairings are optimal. Her main mantra is: "I'm careful not to mix two proteins together." This means, for example, she consumes either lentils (daal) or chicken, but not both together.
Expert opinion varies on whether it indeed is a bad idea to mix proteins. Some experts believe that there are a few proteins that recognize and bind to each other when eaten together. This means the nutritional value you derive from them might get affected. Whether or not you decide to try this approach, Gauri's idea of pairing her food properly is indeed a winner. There are some combinations that actually burn the kilos but only when paired. Example – bell pepper and eggs, garlic and fish, etc. You can see the full list below.
Guess what, Gauri's husband Hiten feels there is an entirely different reason behind her weight loss. Dance rehearsals for Nach Baliye! This is why he keeps treating his wife to delicious pav bhaji to fatten her up! Isn't that cute?
Gauri's Daily Menu
| | |
| --- | --- |
| Breakfast | An omelette made from 3-4 egg whites / porridge / idli/ dosa + a glass of milk |
| Lunch | One or two chapattis with dal/sabzi or chicken |
| Snacks | Idlis, elaichi, banana |
| Dinner | Chicken or fish or dal/sabzi, brown rice (occasionally), vegetable soup |
5. Mandira Bedi
Mandira has been quite the epitome of fitness and style for the television industry. She has always been vocal about her fitness mantras. Pregnancy, however, ended up piling a lot of weight for Mandira – as it does to all of us mothers. She actually put on 22 kgs! But the diva is back to her pre-baby shape and looks as energetic and healthy as ever.
https://www.instagram.com/p/BWdRCG6l7UA/
Mandira's Trick: Balancing Comfort Food With Healthy Food
Mandira doesn't believe in crash diets. She thinks they only shock the system and are not good for long-term health. So, instead, she believes in rationing all the 'unhealthy' foods that she loves, and balancing them with healthy foods. This way, she doesn't have to deny her body and soul of anything, but her weight also stays in check.
Mandira says, "I do have my addictions and vices. Sweets are my weakness, I can never do fewer sweets, so I go clean, all the way. I avoid it for some time. I pretend that I am on a mannat, that settles it. No taste of a little chocolate on the side.
I ration out wine and coffee and compensate with other healthy addictions like quinoa. I never deny myself a treat once in a while-aloo tikki or even potato chips, but then I also compensate by eating healthy and exercising."
Experts also agree that this approach is much better than being harsh with your body and depriving it of fats or carbs completely. It has more permanent results too. You can read in more detail about how Mandira Bedi lost pregnancy weight here.
We cannot wait to start implementing some of these tips in our daily routine. If these women could do it, so can we. Let's start a fitness journey that's only for the sake of our own health and happiness, and not to show anyone else. That's the motivation that really matters – and that really works too!