Roasted Chivda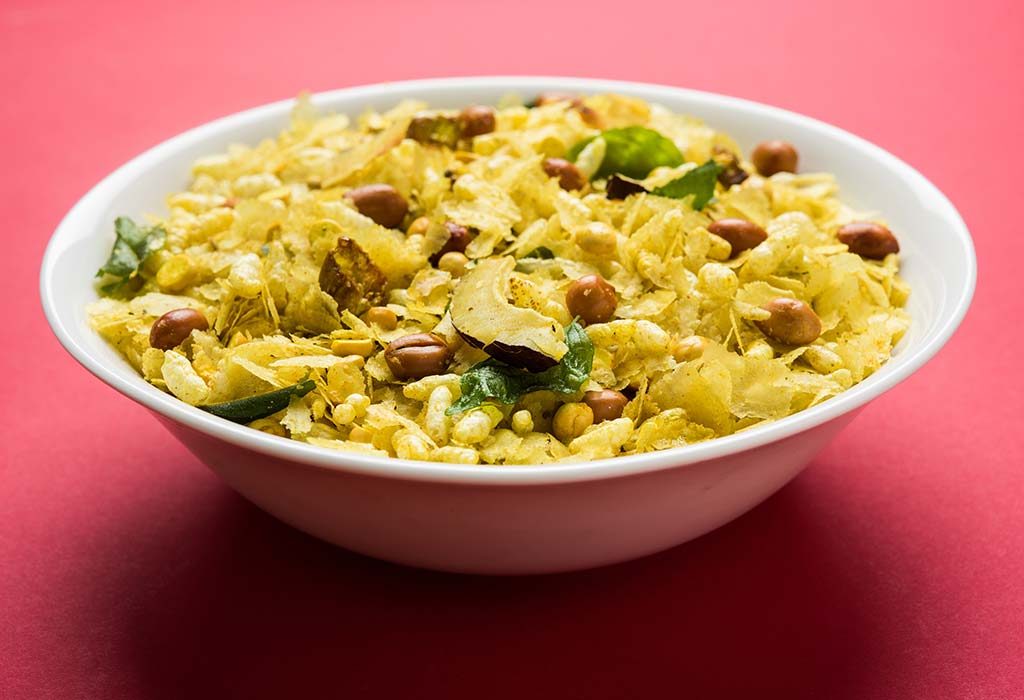 In this Article
This crunchy savory snack is quick and easy to make and even healthy too. Chivda is flattened rice (poha) flavored with spices. It is a popular snack in Western parts of India. If you love gorging on those ready-to-eat mixtures and snacks available in the market, its time to junk those high-calorie options with loads of preservatives, for this low-calorie chivda, which is very easy-to-make and can be stored for many days. This chivda is surely a delectable option for a mid-morning or an evening snack. Store this in an airtight container and this chivda stays fresh and crunchy for 2 to 3 weeks.
| | | |
| --- | --- | --- |
| Serves | Preparation Time | Cooking Time |
| 4 People | 5 Minutes | 8 Minutes |
Ingredients
1 cup beaten rice(poha)
1 tsp raw peanuts(optional)
1/4 tsp mustard seeds(rai /sarson)
2 green chilies, slit lengthwise
4 to 5 curry leaves(kadi patta)
1 tbsp roasted bengal gram(chana dal)
a pinch of asafoetida(hing)
a pinch of turmeric powder(haldi)
1 tsp powdered sugar(optional)
1 tsp oil Salt to taste
Method
Step 1
In a non-stick pan, roast the beaten rice(poha) and peanuts.
Step 2
Stir occasionally till the poha is crisp (approx. 3 to 4 minutes).
Step 3
Heat the oil in a non-stick pan, add mustard seeds.
Step 4
Once they begin to splutter, add green chilies, curry leaves and roasted Bengal gram and stir.
Step 5
Add the asafoetida and turmeric powder and mix well.
Step 6
Add the roasted beaten rice and peanuts.
Step 7
Add sugar(optional) and salt and mix well.
Step 8
Cool and store in an air-tight container.
Nutritional Information
Amt
22 gm
Energy
83 kcal
Protein
1.8 gm
Cho
15.2 gm
Fat
1.7 gm
Vit A
16.4 mcg
Vit C
0.0 mg
Calcium
5.2 mg
Iron
3.2 mg
F. Acid
5.9 mcg
Fibre
0.2 gm