Pirate Pancake with Strawberry Jam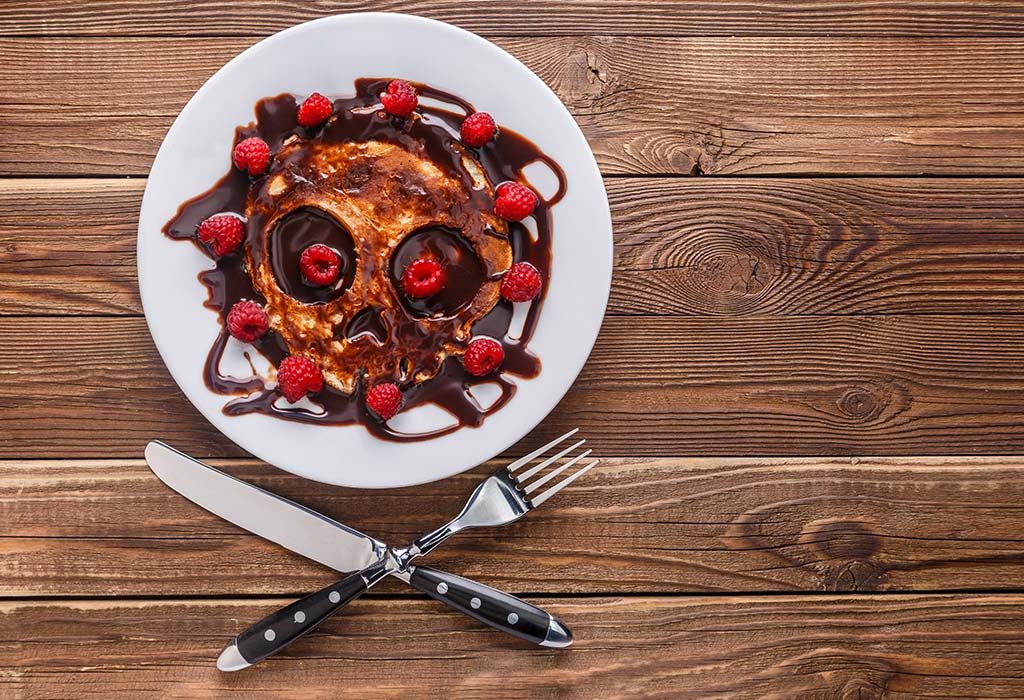 In this Article
Some dishes become more special when we serve them in an innovative way. That's what we have done with these pancakes. Inspired by the pirate theme, we have used some simple ingredients to decorate this pancake like the face of a dreaded pirate! We are sure that your kid will love it for breakfast. What say Momma?
| | | |
| --- | --- | --- |
| Serves | Preparation Time | Cooking Time |
| 3 People | 10-15 Minutes | 10-15 Minutes |
Ingredients
½ cup whole wheat flour
½ cup maida
1 tbsp sugar
2 tsp baking powder
1 cup milk
1 tbsp vegetable oil
2 tbsp butter
2 tbsp water
For the Pirate Topping
Apple slices
Banana slices
Oreo cookie
Chocolate chip
Strawberry Jam
Method
Step 1
In a bowl, add the dry ingredients and mix slightly. Add milk and oil. Whisk together until just combined. Set aside and let it rest for a few minutes.
Step 2
Heat a nonstick skillet over medium-high heat. When the pan is hot, add butter to it. As soon as it melts, add the melted butter to the pancake batter.
Step 3
Place the skillet back on the stove.
Step 4
Stir the pancake batter. Add a ladle full of the batter onto the skillet for the pancake.
Step 5
When the pancake is cooked on one side, bubbles will form on the surface. Flip it and let it cook on the other side.
Step 6
Repeat the process with the rest of the batter to get about 4 pancakes.
Step 7
Place a pancake in a serving plate and arrange the apple slices on the pancake in the shape of a bandana. See the image for reference.
Step 8
Split an Oreo cookie and place it for the eye patch. The chocolate chips form the string that holds the eye patch. Use a banana slice and a chocolate chip for the other eye. Another chocolate chip for the nose.
Step 9
A slice of apple goes for its mouth. Do the same with the rest of the pancakes. Serve with strawberry jam. Enjoy!
Nutritional Information
| | |
| --- | --- |
| Calories | 506 K cal |
| Proteins | 6.8 g |
| Total Fat | 20.3 g |
| Total Carbohydrates | 76.4 g |
| Cholesterol | 30 mg |
| Sodium | 157 mg |
| Potassium | 579 mg |
Tip: Make the pancakes fully with whole wheat flour for a healthier version.