Rasmalai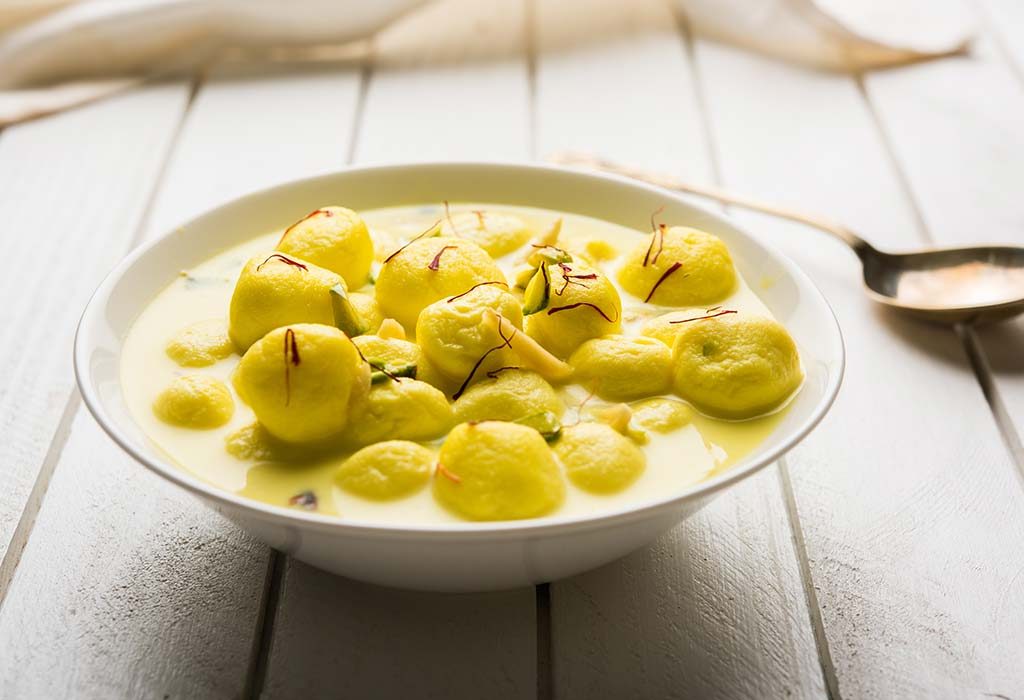 In this Article
Rasmalai is a favourite sweet not only among the Bengalis, but also across the nation. It is usually prepared on special occasions or during the festive season. Fluffy paneer balls immersed in creamy saffron-flavoured milk tastes absolutely divine. Serve it chilled and you won't need any accompaniments with this delectable dessert.
| | | |
| --- | --- | --- |
| Serves | Preparation Time | Cooking Time |
| 5 People | 15 – 20 Minutes | 20 – 25 Minutes |
Ingredients
For Paneer
10 cups milk
2 tbsp lemon juice
For Rasgulla
500 g Paneer
1 tbsp Maida
1/2 tsp corn flour
1 tsp sugar
1/4 tsp cardamom powder
For Sugar Syrup
2 cups sugar
5 cups water
For Rabdi
10 cups milk
5 tbsp sugar
1/2 tsp saffron
1/2 tsp cardamom powder
10 almonds (sliced)
10 pistachios (sliced)
Method
For Paneer
Step 1
Bring milk to boil in a pan.
Step 2
Reduce the flame and add lemon juice to it. Keep stirring continuously.
Step 3
The milk will start curdling. At this point also you have to keep stirring it.
Step 4
Once the curdling is complete, strain it through a muslin cloth. Wait for it to cool.
Step 5
Squeeze the muslin cloth to remove all the water.
Step 6
Tie a knot to the cloth and allow it hang for 15 – 20 minutes. Now, press this by keeping a heavy object on it for 40 – 45 minutes. Paneer is ready. You can use it immediately or refrigerate it for later use.
For Rasgullas
Step 1
Transfer paneer to a plate. Add a tsp of maida, cornflour, cardamom powder and sugar to it. Knead to form a smooth dough by pressing with the heel of your hand.
Step 2
Divide the dough into equal parts. Sightly flatten the balls and take care that no cracks are formed.
Step 3
Heat sugar and water on low flame to prepare sugar syrup. As the sugar dissolves, increase the flame and let it boil for about 3 – 4 minutes.
Step 4
Reduce the flame and add the rasgullas to it one by one. Cover the pan with a lid and let it cook for about 15 minutes. Keep stirring lightly at intervals.
Step 5
Now, the rasgullas should spring back when pressed and should be double the size as compared to before. This indicates that it has cooked completely.
For Rabdi
Step 1
Add pistachios, almonds and saffron strands in 3 tbsp of warm milk and keep aside.
Step 2
Boil milk in a thick bottom pan. Let it reduce to half. Keep stirring the milk while doing so.
Step 3
Add sugar and cardamom powder. Let the sugar dissolve completely.
Step 4
Add the milk with almonds, pistachios and saffron into the pan.
Step 5
Mix well and switch off the flame.
For Rasmalai
Step 1
Take the rasgullas and squeeze them to remove excess sugar syrup.
Step 2
Add these rasgullas into the rabdi.
Step 3
Let it cool and then keep it in the refrigerator. Serve it chilled while garnishing with more slivered almonds and pistachios.
Nutritional Information
| | |
| --- | --- |
| Calories | 342 K cal |
| Proteins | 24.3 g |
| Fats | 22.1 g |
| Carbohydrates | 13.5 g |
| Cholesterol | 53 mg |
| Sodium | 113 mg |
| Potassium | 504 mg |