Prawn Biryani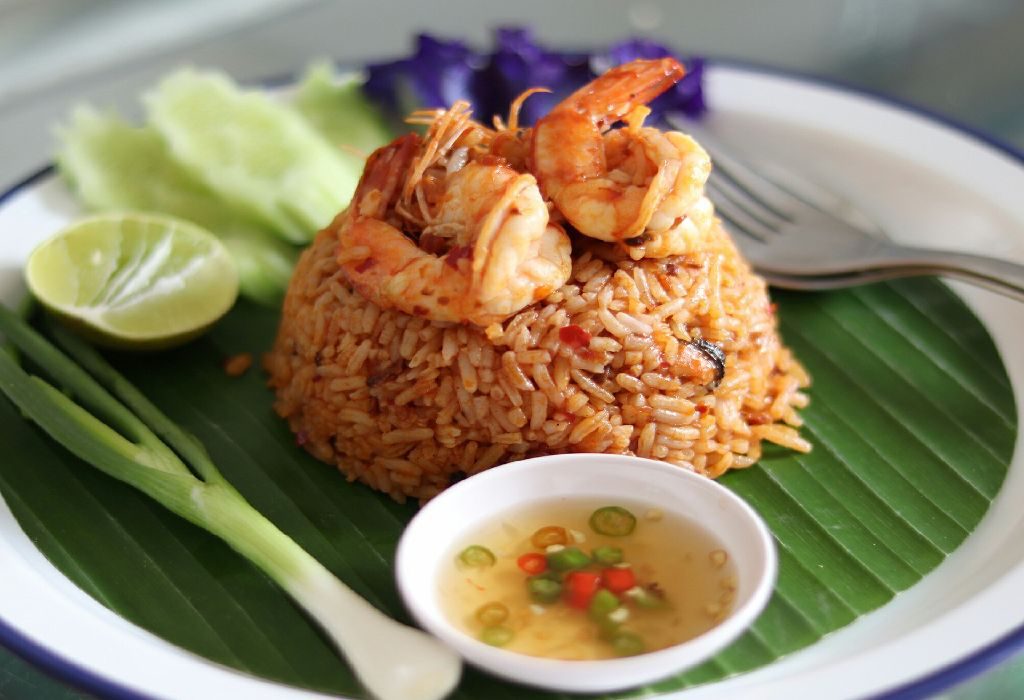 In this Article
Our prawn biryani is right up the alley for all you sea-food freaks. Not only does it look tempting, but the taste is also absolutely divine. Spicy, tangy and utterly delicious, watch your family come back for more of this prawn biryani. Although this is an elaborate dish in terms of time required, but in the end every moment you spend is worth the effort spent.
| | | |
| --- | --- | --- |
| Serves | Preparation Time | Cooking Time |
| 4 People | 15-20 Minutes | 35-40 Minutes |
Ingredients
For Marination
500 g prawns, shelled and de-veined
2 tbsp coriander powder
1 tbsp lemon juice
Salt to taste
For Rice
200 g basmati rice
2 tbsp lemon juice
2 tbsp red chilli powder
2 cloves
1 inch cinnamon stick
4 tbsp curd
A few saffron strands
½ cup milk
For Masala
A few fresh coriander leaves
200 g onion, sliced
100 g tomatoes, chopped
2 tbsp garam masala
2 tbsp turmeric powder
A few mint leaves
2 tbsp ginger paste
2 tbsp garlic paste
4 green chillies
Method
Step 1
In a bowl, take de-veined and shelled prawns. Wash them properly and pour lemon juice, red chilli powder, turmeric powder and coat the mixture well on prawns. Let it marinate for 30 minutes.
Step 2
Soak basmati rice in water for 45 minutes.
Step 3
Now take a pan and add ghee to it. Add cinnamon, bay leaves and cloves to the ghee.
Step 4
Allow these three to splutter. Now add soaked rice and saute it for 2 minutes. In another pan, keep water for boiling.
Step 5
Add this boiling water to the pan and let the rice cook. Squeeze half a lemon over the rice. Add salt to the rice and allow it cook for 8 to 10 minutes. Remove it once the rice is cooked al dente.
Step 6
Drain the excess water and spread the cooked rice on a plate. Allow it cool.
Step 7
In a small bowl, soak the saffron strands in the milk.
Step 8
In a broad, heavy-bottomed pan pour oil. Add sliced onion and green chillies. Saute fry till onion turns golden brown.
Step 9
Remove half the onion in a bowl. Now add, garlic and ginger paste. Saute it and add chopped tomatoes. Next, add turmeric powder, red chilli powder, garam masala and curd. Stir it well.
Step 10
Next, add mint leaves and coriander. Slide down marinated prawns and allow it cook for 10 minutes. Once cooked, remove half of the prawns from the pan in a bowl.
Step 11
Now add boiled rice and spread a layer of it in the pan. Next, place the remaining prawns and fried onion. Pour saffron soaked in milk and allow it cook on slow flame for 8 to 10 minutes.
Step 12
Garnish with coriander leaves. Serve hot with cucumber or boondi raita.
Nutritional Information
| | |
| --- | --- |
| Calories | 407 Kcal |
| Proteins | 35.9 g |
| Fat | 4.1 g |
| Carbohydrates | 54.4 g |
| Cholesterol | 266 mg |
| Sodium | 382 mg |
| Potassium | 577 mg |