Paniyaram / Appe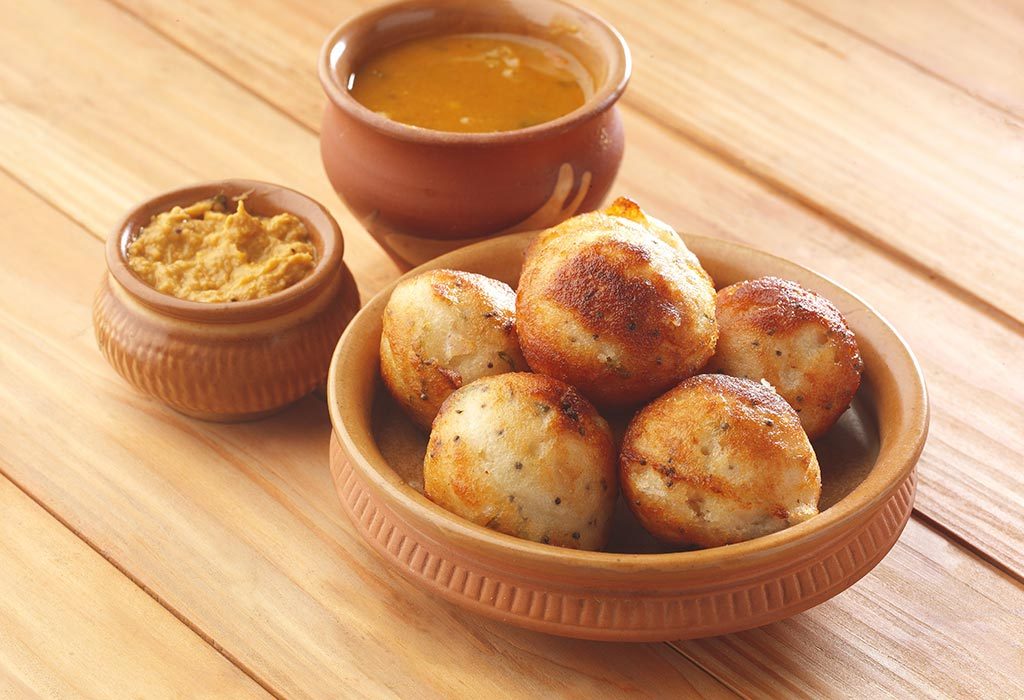 In this Article
Paniyaram is a South Indian breakfast dish, made out of left over idli batter that is turned sour. It can be made spicy or sweet and you can also add to it veggies if you wish to. This healthy snack is soft like idlis from inside and crispy from outside. Pack it with chutney for your kid's snack box and it can be a perfect breakfast or dinner if you are planning something light.
| | | |
| --- | --- | --- |
| Serves | Preparation Time | Cooking Time |
| 4 People | 15-20 Minutes | 15-20 Minutes |
Ingredients
1 cup rice
1 cup parboiled rice
1/2 cup urad dal
1/4 tsp fenugreek seeds
1 onion, chopped finely
2 – 3 green chillies, chopped
1/4 tsp mustard seeds
1/4 tsp cumin seeds
2 tsp oil
2 sprigs of curry leaves, chopped
Salt to taste
Method
Step 1
Soak rice and urad dal in water for 5 – 6 hours. Drain the water and grind it until idli batter texture is obtained.
Step 2
Keep it for overnight fermentation.
Step 3
Heat oil in a pan. Add mustard seeds, allow it to splutter. Now, add cumin seeds, onion, green chilli and curry leaves.
Step 4
Saute for 2 – 3 minutes and add this to the batter.
Step 5
Heat a non stick paniyaram pan on a medium flame. Apply little oil to each dents of the pan.
Step 6
Pour a laddleful of batter to each dent. Sprinkle little oil over the paniyaram. Cook for 4 – 5 minutes.
Step 7
Turn the paniyaram with a spoon and sprinkle some oil over again. Let it cook for another 4 – 5 minutes. Repeat this with the remaining batter.
Step 8
Serve hot paniyarams with coconut or tomato chutney.
Nutritional Information
| | |
| --- | --- |
| Calories | 461 K cal |
| Proteins | 13.4 g |
| Fat | 3.3 g |
| Carbohydrates | 92.1 g |
| Cholesterol | 11 mg |
| Sodium | 51 mg |
| Potassium | 410 mg |