Palak Khichadi Recipe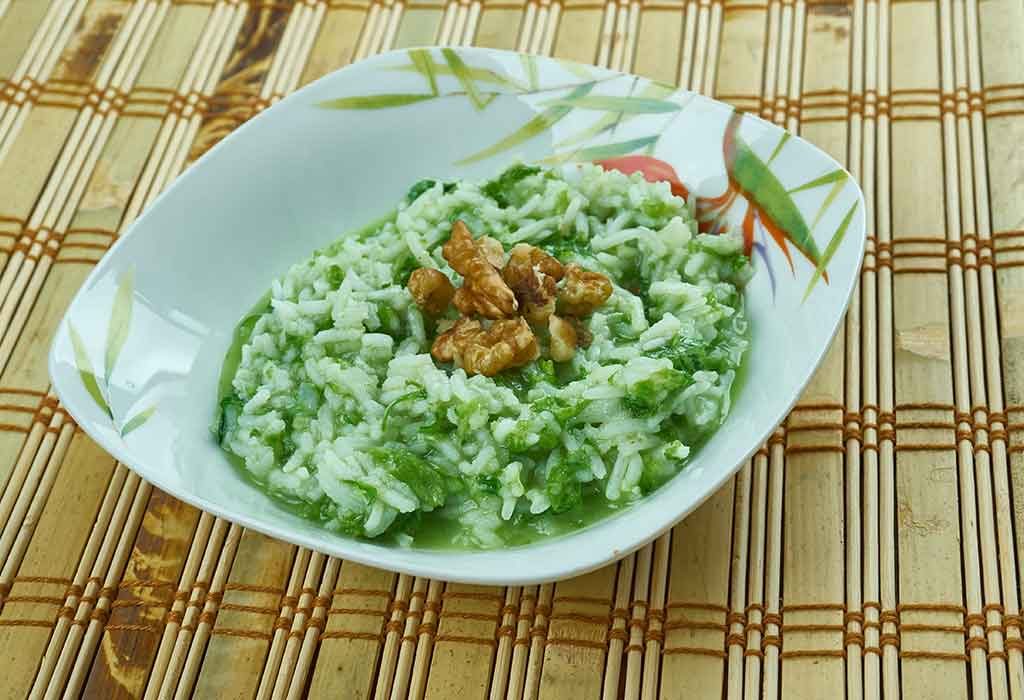 In this Article
Palak Khichdi, also known as Spinach khichdi, is an easy, quick and healthy wholesome meal for your toddler. If you intend to introduce veggies to your baby, this healthy green recipe is the perfect one. Who doesn't remember the popular cartoon show, Popeye? Where does the sailor man get all his energy from? Yes, It's spinach, The hero of our homemade baby food recipe.
Palak khichdi is a famous Indian dish made of rice, moong dal, and spinach. Spinach is an extremely nutrient-rich leafy vegetable. It has a huge amount of vitamin C, vitamin K, folic acid, iron, and calcium.
Here is how to make this simple Palak Khichdi for babies effortlessly.
Cooking Time
| | |
| --- | --- |
| Type | Time (hh:mm:ss) |
| Preparation Time | 00:15:00 |
| Cook Time | 00:20:00 |
| Total Time | 00:35:00 |
Cooking Method
Pressure Cook
Type of Meal
Vegetarian
Suitable For
Babies above 6 months
Meal Schedule
Lunch or dinner
Recipe Type
Main Dish
Ingredients
| | |
| --- | --- |
| Type | Quantity |
| Rice | 1 cup |
| Moong Gram (Moong Dal) | ½ cup |
| Spinach (Palak) | ¼ cup |
| Ghee | 1 tbsp |
| Turmeric | A pinch |
| Water | 2-3 cups |
| Salt | As per taste |
| Asafoetida (Hing) | 1 tsp (optional.) |
For Tempering (Optional)
| | |
| --- | --- |
| Type | Quantity |
| Oil | 1 tsp |
| Mustard Seeds | 1 |
| Cumin Seeds | ½ tsp |
| Green Chilies | 1 |
Instructions
Let's see the step by step procedure for making the homemade Palak Khichdi baby food recipe:
Take rice and moong dal in a container and wash them nicely, at least two times.
Add it to the pressure cooker with a cup of water and let them soak for about half an hour.
Take a bunch of fresh spinach leaves and wash them thoroughly.
Chop them finely and add them to the soaked rice and lentils with a pinch of turmeric. Pressure cook it for 2-3 whistle.
Once the pressure goes off, mash the ingredients to the desired coarseness and adjust the consistency by adding some warm water.
Add some salt and mix it well.
Heat some oil in a pan and add mustard seeds, green chilies, cumin seeds, and hing.
Add this tempering to the khichdi and give a quick stir.
Serve it with ghee.
Recipe Tips
Palak khichdi is not just the kid's ideal meal, you can have it with the entire family as this is loved by the adults too. Be sure to keep a few tips in mind while preparing this recipe:
Always find fresh baby spinach leaves for more taste.
You can mash them nicely or make a puree as per your babies need.
You can also add garlic cloves as they will help with your kid's digestion.
Adding ghee not only enhances the flavor of the dish also helps in gaining your babies weight.
You can skip chilies if you haven't introduced spices to your kid.
Frying moong dal a little before washing will help in eliminating the raw smell of it.
You can also substitute the moong dal with masoor dal.
Nutrition Information (Per 100 Grams)
| | |
| --- | --- |
| Calories | 140 Cal |
| Fat | 5 gm |
| Potassium | 110 mg |
| Protein | 4.4 gm |
| Fibre | 3 gm |
Health Benefits
Palak khichdi has always been high in the nutrient chart for its healthy properties. Here is why:
Palak or Spinach is rich in vitamin A, good for eyes and skin. Iron contents help in building hemoglobin.
Moong dal is full of nutrients and easy to swallow. It also helps in the digestion process in infants.
Moong dal is also rich in protein and will help in nourishing your baby's hair, skin, and nails.
Helps in blood circulation in your kids.
Ghee is extremely beneficial for infants as it is a good source of nutrition. Adding it to your baby's diet will improve immunity and eyesight.
It also contains vitamins A, D, E and K and is rich in fatty acids.
Rice is a great source of energy and can energize the baby instantly.
It is rich in Vitamin B complex, contains a useful amount of protein and is easy to digest.
As rice is considered to be a low allergen food, it's ideal for babies above 6 months.
It is easy to chew as well as digest for your little one. Cooking it this way will also keep the pungent odour of spinach away from the dish.
Buying Guide
Here are some useful buying guides for making homemade Palak Khichdi for your baby.
Pick fresh and green baby spinach.
Choose verified and 100% authenticated ghee for your toddler .Homemade ghee is preferable when it comes to feeding babies.
Try this simple and easy Palak Khichdi recipe for your baby and see your little one enjoying it.
Also read: Dahi Palak Dip Recipe