Meal Ideas and Recipes for New Moms Who Just Had Their Baby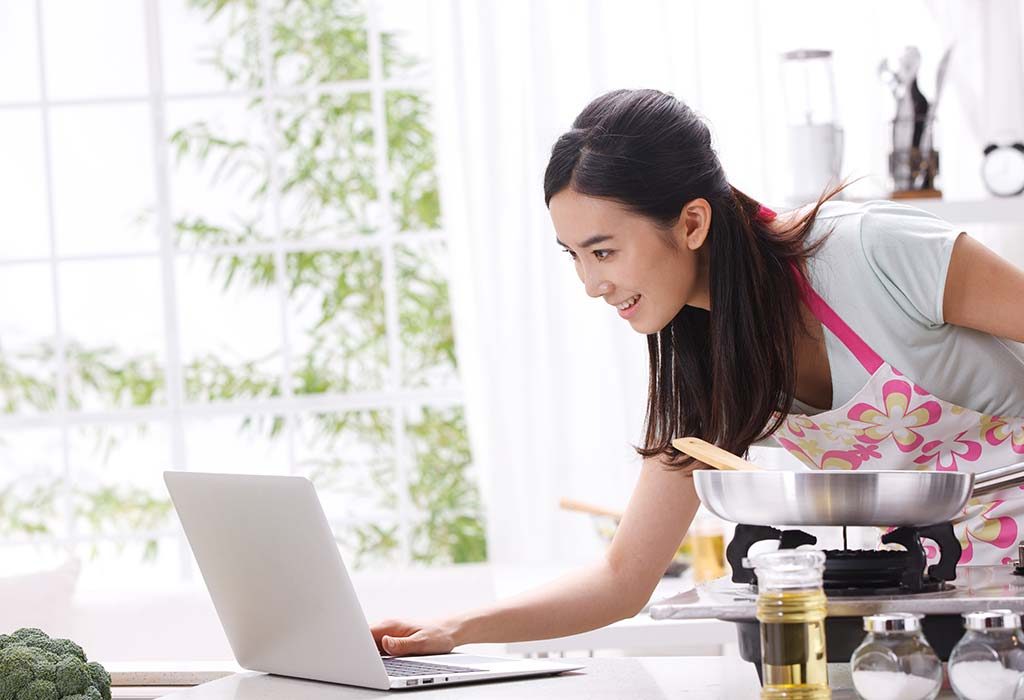 In this Article
Your bundle of joy is finally here! As much as you are enjoying taking care of your baby, it can be an all-consuming task emotionally as well as physically. The late-nights, constant feeding, midnight rocking, and non-existent sleep can take a toll on your energy levels. In such an exhaustive state, how nice will it be if you can have a warm home-cooked meal? The very thought sounds divine. And it is possible too! You just need a bit of planning and some simple recipes to turn this delicious thought into reality.
Post-delivery Recipes for New Moms
When you have to take care of an infant, food preparation and coordinated meals can seem like a daunting task. But you need not stress any more. Here are a few after-delivery recipes that you can try to make your life a bit easy:
1. Roasted Pumpkin Soup
This super healthy soup is the ideal comfort food with its smooth and creamy texture. This delicious soup gets its sweetness from carrots. It may be considered as one of those wonderful recipes for new moms to freeze. You can prepare it ahead of time and freeze for later use. So, when the hunger pangs strike, you simply need to defrost and reheat it!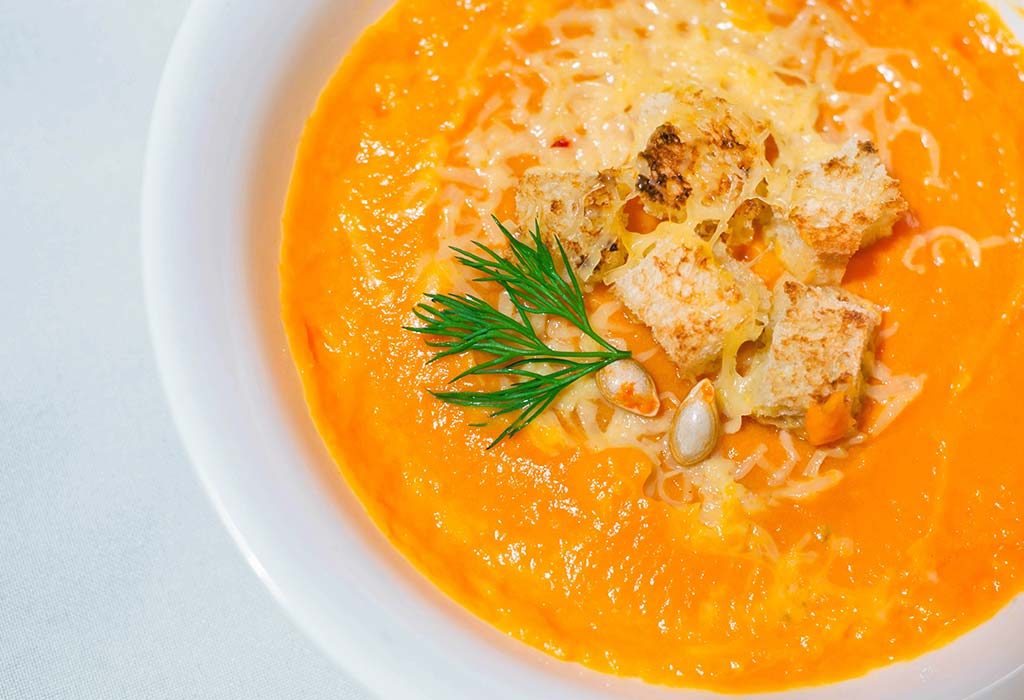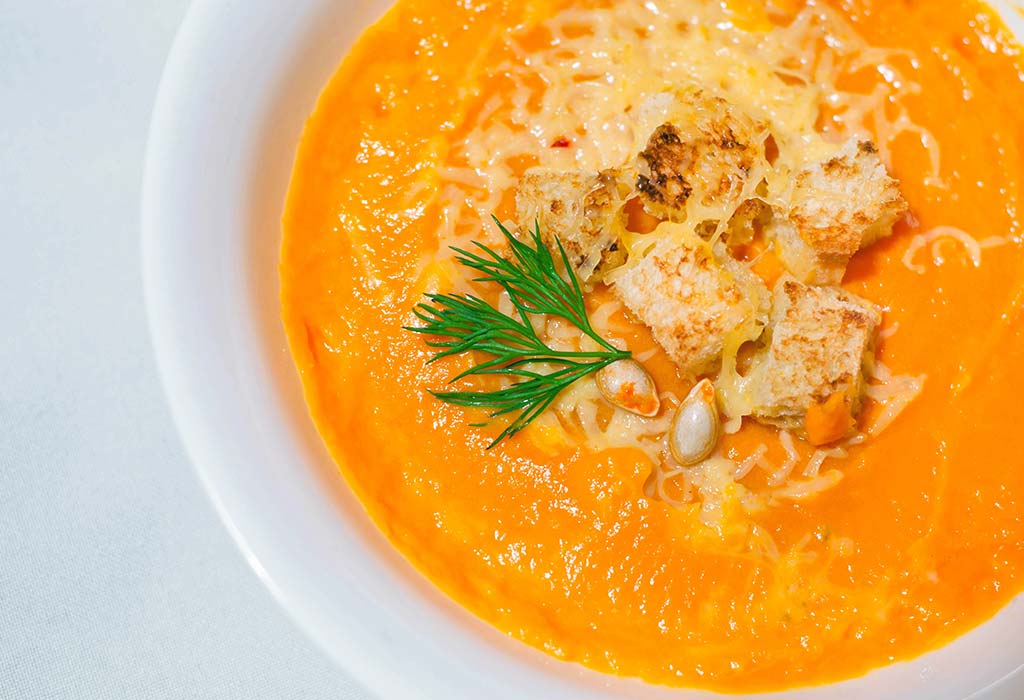 Prep time
It takes approximately an hour to prepare this soup.
Ingredients
1 large pumpkin
2 carrots
1 onion
5 cloves of garlic
3 celery stalks
Herbs of your choice
Pepper and salt to taste
Olive oil
Three cups of vegetable stock
How to Make
Peel, pit and slice the pumpkin into small cube-sized pieces.
Chop the onions, carrots, celery into big chunks.
Take a large pan and pour some olive oil.
Put it on medium heat and add the chopped pumpkin, onions, carrots, celery to it.
Add the cloves of garlic too after finely chopping them.
Then add the herbs, pepper and salt.
Roast the veggies until they are soft and tender.
Transfer the cooked vegetables to a blender. Add some vegetable stock to it and puree until you get the desired consistency.
It may take a few batches to puree all the vegetables. Also, keep in mind to remove the stems of the herbs before pureeing them.
Empty the pureed mixture into a saucepan. Pour the remaining vegetable stock.
Stir this mixture well and let it simmer on low heat for about 10 minutes or until it becomes thick and smooth.
2. Vegetable Pulao
This yummy dish infused with the goodness of vegetables can be a good meal for new mom. It's easy to make and does not require much time.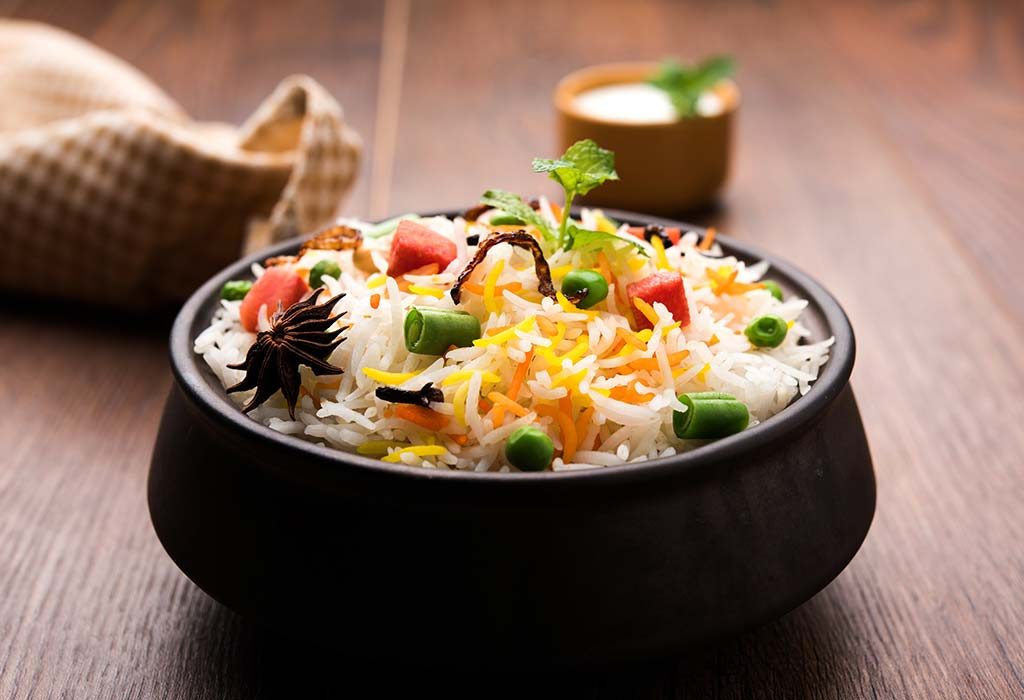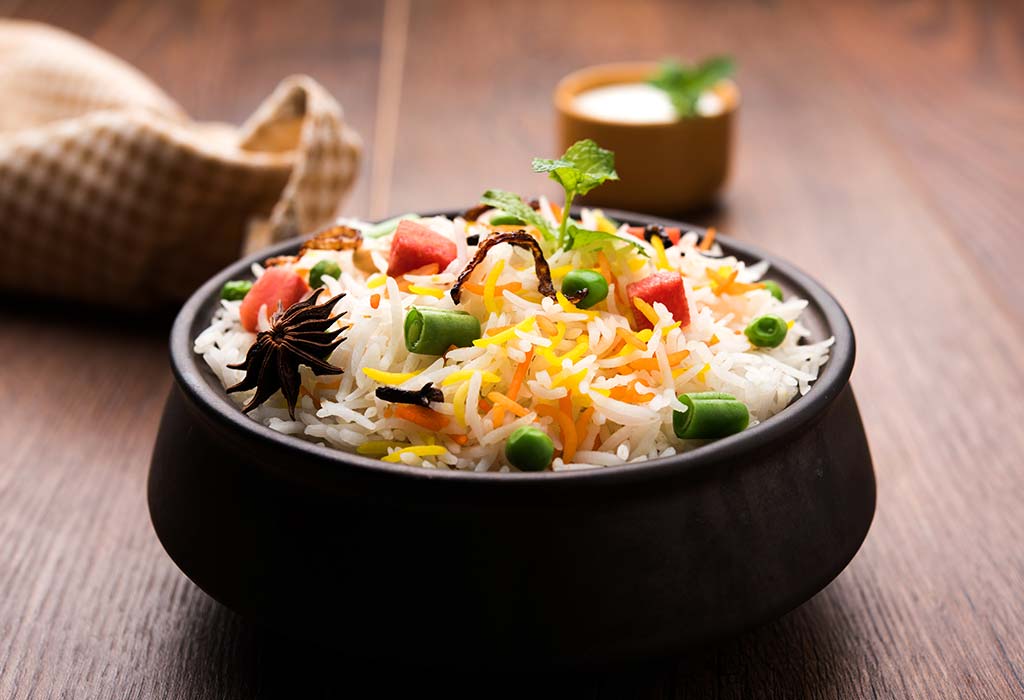 Prep time
It usually takes around half an hour to cook this tasty and healthy pulao. You may also pressure cook the rice to save some time.
Ingredients
2 cups of basmati rice
1 tablespoon of ginger-garlic paste
1 onion (chopped)
1 cup of mixed vegetables, chopped (beans, carrots, peas, cauliflower)
2 tomatoes (chopped)
Green chillies as per choice
Mint leaves (optional)
Salt to taste
Ghee
Water (4 cups)
1 teaspoon of cumin seeds
Cardamom
Bay leaves
Cloves
Cinnamon stick (1/2 inch in size)
Raisins and cashew nuts to decorate (optional)
How to Make
Soak the basmati rice in some water for 15 minutes.
Heat ghee in a pot/rice cooker.
Add the whole spices (cumin seeds, bay leaves, cardamom, cloves, cinnamon stick) one by one to the heated ghee.
Then add the ginger-garlic paste. Sauté for a few minutes.
Now add the chopped onion.
Add the vegetables when the onion turns pink or golden brown followed by chopped tomatoes.
Cook the vegetables for about 5 minutes and transfer the drained rice to it.
Mix well and add the mint leaves, salt and water.
Cook this on low heat with the pot covered until the water evaporates and the rice gets cooked.
Stir the rice from time to time and check the water level. Sprinkle some water if required.
When the rice is cooked, allow it to sit for 6-7 minutes with the pot uncovered.
Garnish with raisins and cashew nuts.
3. Coconut Panjeeri
This traditional healing and nutritional food is an essential part of Indian meals for new mothers. Panjeeri is essentially warming and energising which helps promote lymphatic and circulatory flow. New mothers are usually recommended to have panjeeri with milk.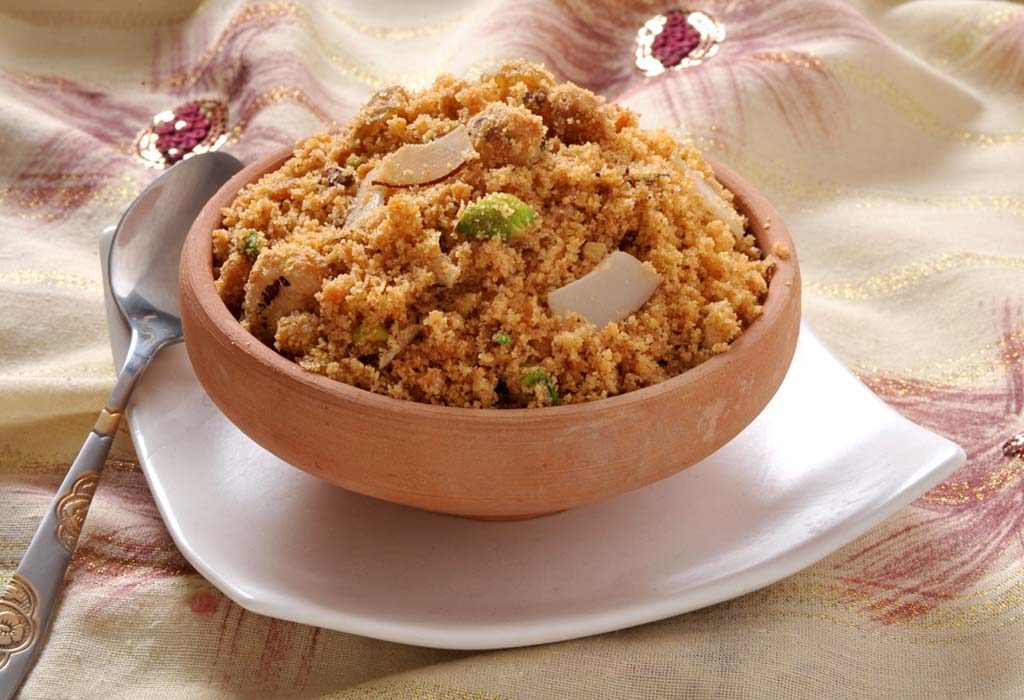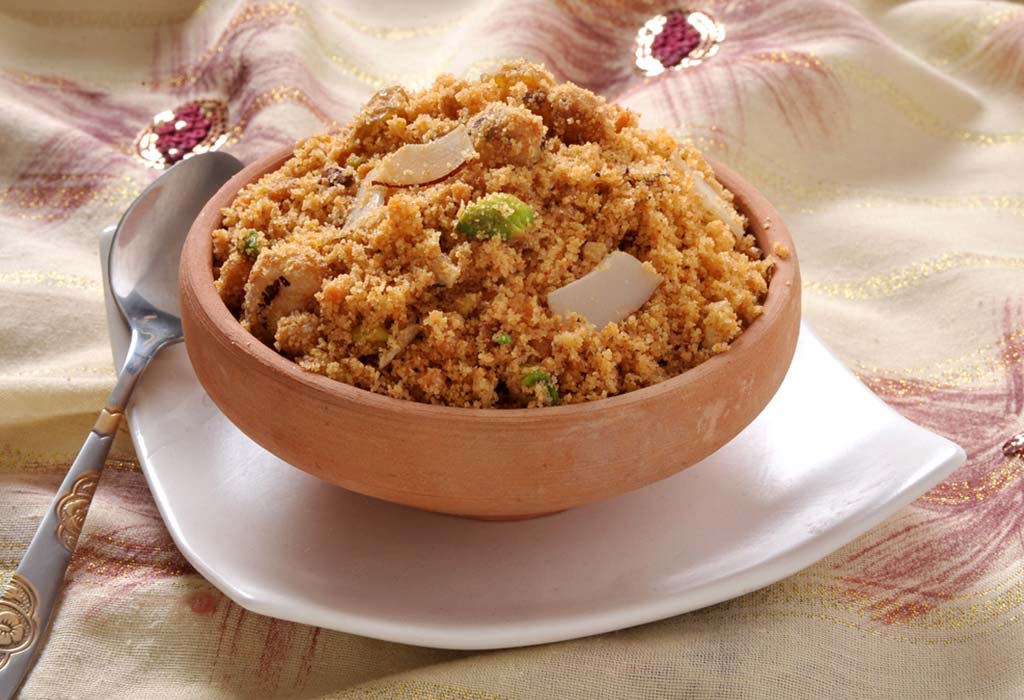 Prep time
This simple recipe can be prepared within an hour.
Ingredients
1 cup of desiccated coconut
¼ cup coconut oil
¼ cup almonds
¼ cup melon seeds
¼ cup gond
¼ cup mixed seeds
¼ cup raisins
1 tablespoon of fennel seeds
1/2 teaspoon of cardamom seeds
1 teaspoon of ginger powder
1 tablespoon of Kamarkas (flame-of-the-forest)
Jaggery (optional and as per preference)
How to Make
Soak all the seeds and nuts in some water for a few hours.
Drain the water and peel off the skin of the almonds.
Lay the drained seeds and nuts on a baking tray and put it in the oven for about half an hour. Next, chop them roughly using a chopper. Alternatively, you could roast them all separately in ghee and blend them together in a mixer-grinder to form a coarse powder.
Grab a pan and place it on low heat.
Add cardamom seeds and fennel, and dry-fry them.
Transfer them to a blender and grind them into a powder.
Take another pan and pour the coconut oil.
Put it on a gentle heat and add the gond to the heated oil.
Fry it until the crystals turn crisp and puff up.
Remove the fried gond and add kamarkas to the same pan.
Fry the kamarkas for a couple of minutes in the remaining coconut oil.
Remove the fried kamarkas. Allow it to cool and then grind it to a fine powder.
Pour more coconut oil into the pan if necessary and add the desiccated coconut.
Gently fry the coconut till it is browned and nicely toasted.
Then add the fennel and cardamom seeds powder and ginger powder to the toasted coconut.
Switch off the flame. Add the powdered Kamarkas.
Next, mix the raisins and chopped seeds and nuts along with fried gond to the coconut mix.
At this stage, you can add some powdered jaggery to the Panjeeri to sweeten it.
You can eat Panjeeri by itself or sprinkle it on your porridge or yoghurt as well.
4. Super Paratha
This wholesome paratha can easily qualify as one of your favourite easy dinner recipes. This paratha goes well with raita or any curry. It tastes best when eaten hot and steaming!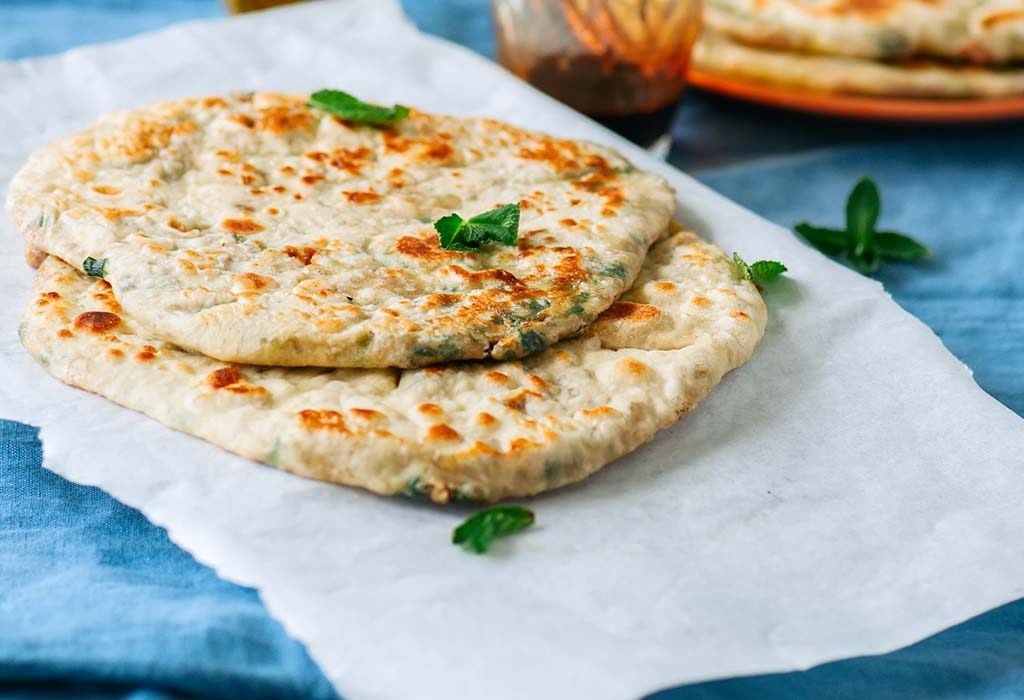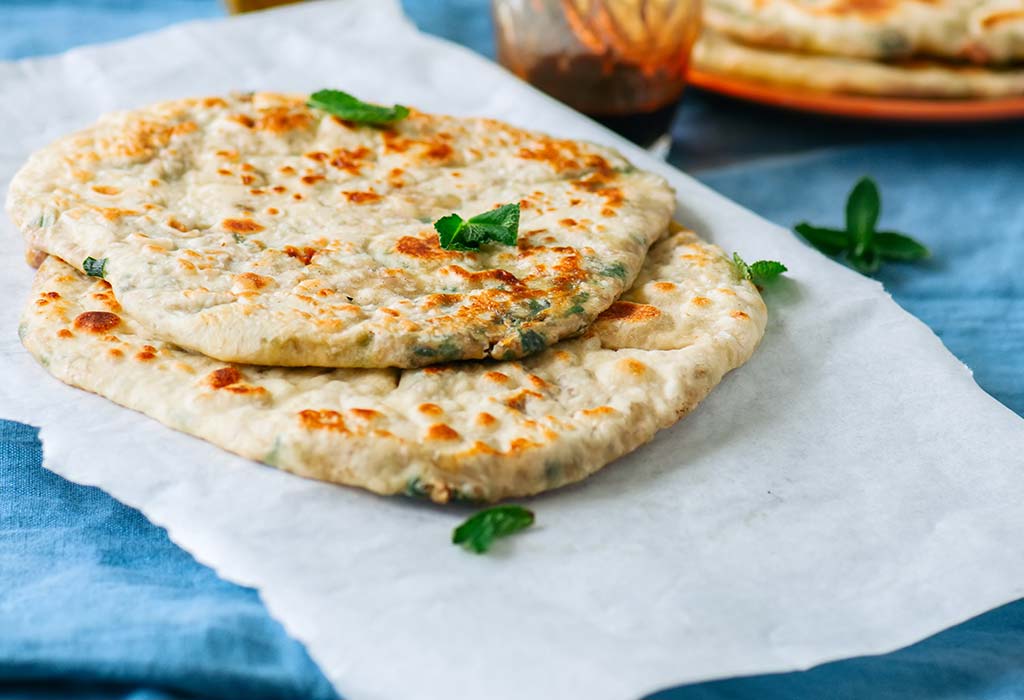 Prep time
The usual prep time for making these delightful parathas is under 15 minutes.
Ingredients
1 cup of leftover cooked moong dal or any other dal available
1 cup of whole wheat flour
1/2 cup rice flour
1/2 cup powdered oats
1/2 cup Besan (gram flour)
1/2 cup grated bottle gourd
1/2 cup grated carrots
Salt to taste
How to Make
Mix all the flours (wheat flour, rice flour, gram flour) and powdered oats well.
Add the dal, grated carrot, grated bottle gourd.
Knead into a smooth dough and make parathas.
5. Beetroot Sambar Curry
This high-protein tangy recipe tastes great with steamed rice or rotis of your choice.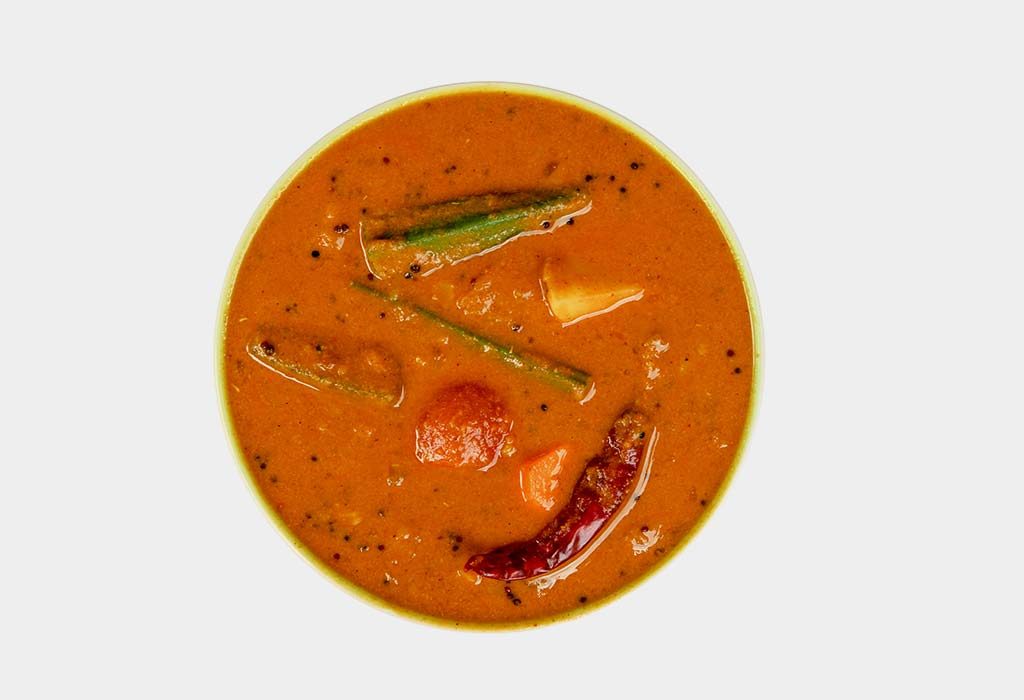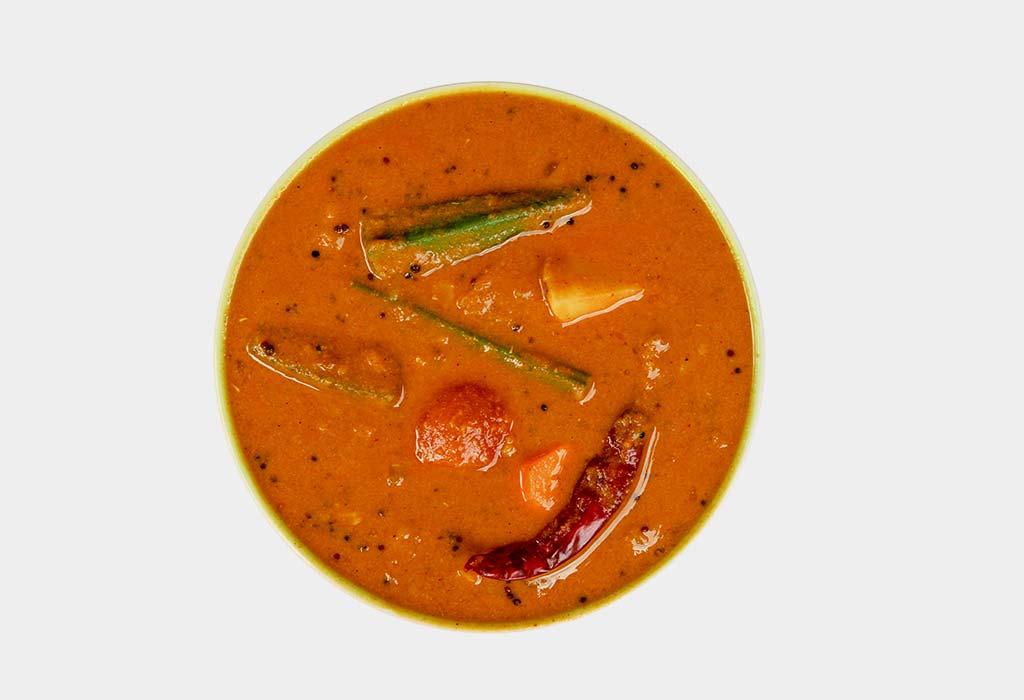 Prep time
The prep time for making this delightful curry is around 45 to 55 minutes.
Ingredients
1 beetroot (peeled and diced)
1 cup of split toor dal (arhar dal)
1 cup of tamarind water
1 tablespoon of sambhar powder
1 teaspoon of mustard seeds
Few curry leaves (roughly chopped)
A pinch of asafoetida (Hing)
1 dry red chilli (optional)
Coriander leaves (chopped) for garnishing
Sesame oil
Salt to taste
How to Make
Add Toor dal to a pressure cooker with about two cups of water.
Allow two whistles and then switch the heat to medium.
Let it simmer for 5 minutes before switching off the heat. Permit the pressure of the cooker to escape naturally.
If the cooked dal appears mushy and thick, add some water and whisk well to get a pouring consistency.
Next, transfer beetroot and tamarind water to a pressure cooker.
Add salt and sambar powder and cook till the beetroot turns soft and tender. It usually takes around three whistles on a high flame to do that.
Turn the stove off and let the pressure escape naturally.
Take a large pan and pour the cooked toor dal and beetroot curry into it.
Place it on a gentle flame and bring it to a boil.
Check the salt levels and adjust accordingly.
Grab another pan and pour some oil.
Add the red chillies and mustard seeds.
Once the mustard seeds start crackling and spluttering, add some curry leaves and hing.
Stir for a few seconds before turning off the flame.
Sprinkle this seasoning on the simmering beetroot curry.
Scatter the coriander leaves and give it a good mix.
The days following the delivery can be a whirlwind of activities. New mothers should take good care of their health and diet for faster recovery. Nevertheless, they can still treat themselves to some delicious and nourishing meals by smart planning and easy-to-prepare recipes.
Also Read: Healthy Foods to Eat After Delivery
Lactation Cookies – Benefits & Recipes
Diet Plan for Weight Loss after Baby