Postpartum Weight Loss Diet Plan – Week 1 (With Recipes)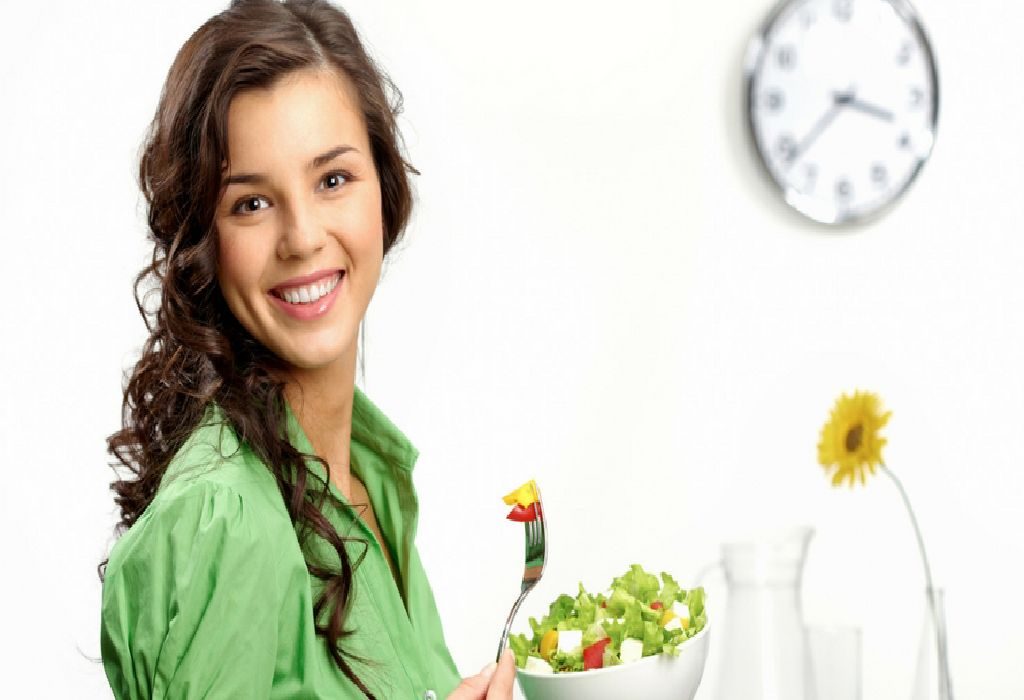 The time from conception to childbirth is beautiful and memorable, perhaps barring some not-so-pleasant experiences such as morning sickness and erratic mood swings. However, the after effects of pregnancy and childbirth tend to stay with you for a while. Yes, we are talking about the stubborn post pregnancy weight that simply refuses to go away.
Slipping into your pre-pregnancy jeans becomes a distant memory and all the 'me' time suddenly seems to vanish slowly after delivery. Experts suggest the average weight gain during pregnancy is about 15-17 kilos. No wonder then, that losing this extra weight after delivery is a fair challenge!
However, post-childbirth, it is not advisable to blindly jump onto a postpartum diet plan for weight loss. Your body is still overcoming a huge change. It is recommended that you start working on any weight loss plans only after completing 6 months postpartum. Until then, it is safest to just stick to a healthy lifestyle, stay positive, and consume fresh, wholesome foods.
Develop a Plan of Action for Postpartum Weightloss
Before you embark on the actual postpartum weight loss journey armed with what you think is a thorough postpartum dietary plan, you need to assess your situation, so that the course of action you take is the most suitable one.
1. Assess the Goal
The first step to your postpartum diet plan should be finding out exactly how much weight you have gained. Then, find out the ideal weight you should be at (taking factors like body tendency, height, lifestyle, etc. into consideration). Then arrive at the exact number of kilos you need to shed.
2. Give Yourself a Year
Now that you have a set goal in terms of the number of kilos you want to shed, spread that over a year. Yes, a year. Only gradual weight loss is healthy and sustainable, especially postpartum. So now, you have a monthly target.
3. Assess Your Body
Finally, Find out where your body is at! Are you lacking any nutrients? Do you need to take any postnatal supplements? If your pregnancy has been challenging, how much damage has it caused physiologically? Get concrete answers to these questions with the help of lab reports, and your gynaec and dietician/nutritionist.
4. Do Not Deprive
Is there a particular food you like? Is there something you just cannot give up? Then don't! If you cannot live without potatoes, there is no sense in depriving your body of them. Food has a very personal connection to our mood; our mood, on the other hand, affects everybody's mood in the house! That does not mean you are not allowed to throw a tantrum, that just means, you should not do something you don't like!
5. Shake it, Baby!
No weight loss plan is complete without some amount of exercise. So get real, and put those shoes on! Even 30 minutes of brisk walking can be enough – the important thing to remember is to do it every single day, no excuses whatsoever!
6. Keep a Food Journal
This is a great way to watch what you eat, and assess which foods work better for your body. Some may find exceptional results with broccoli, others may find out chicken makes them drop that weight faster than anything else! Get intimately interested in your body!
7. Become Selfish
Every time you put anything in your mouth, ask yourself one question: What's in it for me? This is the easiest way to stop yourself from snacking on the wrong foods and instead gorge on healthy, nutritious, nourishing food.
8. Can I Do This Forever?
Never adopt approaches for weight loss which you cannot follow throughout your life! That might sound ridiculous, but think about it: the minute you revert to 'normal' eating, you are going to put on weight, and then you are going to feel bad! So always focus on losing weight doing the things you can continue doing forever. Well, not 'forever', but for a long time anyway.
Postpartum Weight Loss Diet Plan
If you have completed 6 months post-delivery and are seeking a sustained weight loss solution, here is an expert-certified meal plan that will help you kickstart your journey.
Postpartum Weightloss Meal Plan (Week 1)

| | Early morning (7:00 am) | Breakfast (9:00 am) | Mid-morning snack (11:00 am) | Lunch (1:00 pm) | Afternoon (3:30 pm) | Evening Snack (6:00 pm) | Dinner (7:30 pm) |
| --- | --- | --- | --- | --- | --- | --- | --- |
| DAY 1 | 1 cup Lukewarm Lemon Water | 1 Lauki Sandwich (2 bread slices) + 1 Guava | 1 fistful Roasted Chana | 2 Phulka (without oil) + 1 cup Soya Chunks Bhurji or Boiled Egg White Bhurji + 1 plate salad (1 cucumber, 1 tomato) | 1 cup Green Tea | 1 cup Khakra Chat | 1 Jowar Bhakri / Rotla + 1 cup Moong Dal + 1 cup Bhindi Sabji |
| Day 2 | 1 cup Lukewarm Lemon Water | 1 glass Strawberry Banana Smoothie | 1 Plain or Flavoured Khakra | 1 cup Quinoa Salad + 1 cup Sprouts | 1 cup Green Tea | 2 Aubergine Wraps | 2 Phulka (without oil) + 1 cup Dal + 1 cup Cucumber Raita |
| Day 3 | 1 cup Lukewarm Lemon Water | 1 cup Peaches and overnight oats | 1 glass Tomato Smoothie | 1 Wheat tortilla wrap with lentil and veggies / 1 Wheat tortilla wrap with chicken and veggies | 1 cup Green Tea | 3-4 Sweetcorn Salad in Tomato Boats | 1 Spring Onion Jowar Thalipeeth + 1 cup Boiled chana chaat |
| Day 4 | 1 cup Lukewarm Lemon Water | 1 Thepla Pinwheel + 1 cup mildly spiced yoghurt | 1 Apple | 1 cup Brown Rice with Stir-Fried Herbed Veggies + 1/2 cup Five bean salad | 1 cup Green Tea | 2 Cheesy Zucchini Boats | 2 Phulka (without oil) + 1 cup Soya / Chicken Keema + 1 cup Mix Veg Raita |
| Day 5 | 1 cup Lukewarm Lemon Water | 1 Bajra And Mix Vegetable Pancake with 1 cup Cooked Sprouted Moong | 1 Plain or Flavoured Khakra | 1 cup Curd Rice + 1 cup Mushroom Cabbage Salad | 1 cup Green Tea | 1 glass Cold Cucumber and Apple Soup with Lime | 2 Phulka (without oil) + 1 cup Moong Dal + 1 cup Palak Baby Corn Sabji |
| Day 6 | 1 cup Lukewarm Lemon Water | 1 Beetroot Roti with mildly spiced yoghurt | 1 cup Organic Fruit and Nut Yogurt | 1 Greek veggie wrap with spinach tortilla | 1 cup Green Tea | 1 cup Veggie Mix – Oil Free Salad | 1 cup Protein-packed Soybean Starter + 1 cup Veg Fried Rice |
| Day 7 | 1 cup Lukewarm Lemon Water | 1 cup Oats Berries Mania | 1 fistful Roasted Chana | 1 cup Spicy Fruit and Veggie Salad | 1 cup Green Tea | 2 pieces Peanut Chikki | 1 cup Bajra Nu Khichadi + mildly spiced yoghurt |
Expert Guidelines and Tips
This meal plan will provide around 1200-1300 kcal per day, meeting a person's daily calorie need.
Lactating moms who are not exclusively breastfeeding (7-12 months) require an additional 520 kcal per day to compensate for the calories utilised in milk production. Increase portion size or add additional healthy snacks in order to do so.
Baked products, pickles, papads, jams, and sauces should be strictly avoided. Baking soda is completely prohibited as well.
Refrain from having any fried foods like samosas, sev and wafers. Consider cutting down on junk and processed food consumption. High-calorie food like potatoes and sago should also be avoided.
This diet plan is low cal-low fat. The inclusion of protein in all major meals makes the diet fit for consumption by moms who aim to lose weight without losing muscle mass.
Disclaimer: This diet chart is made keeping in mind the average lifestyle and health conditions of a woman who has undergone childbirth more than 6 months ago. If you face any specific medical conditions, please consult your doctor before trying this.
?>