Practical Hacks for Moms That Will Smoothen Up Their Everyday Life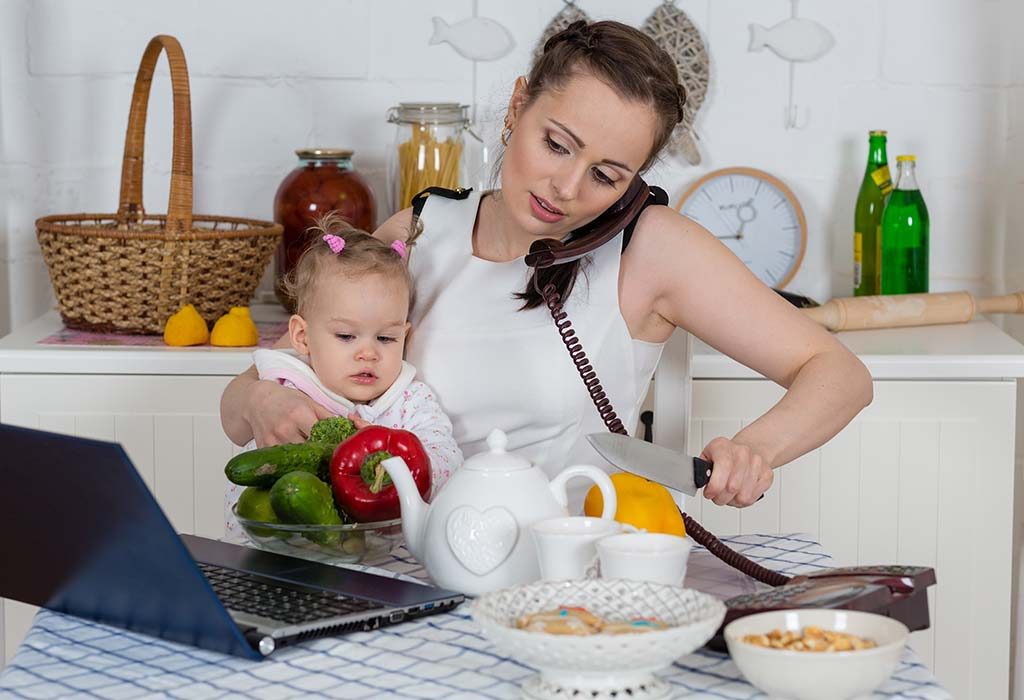 In this Article
Being a mom and raising a child is not an easy job. In fact, it is one of the hardest jobs. A mother has too many roles to play too many roles. She takes care of the baby, cooks for everyone in the family, manages the house, teaches her children, shops for the children, organises everything and keeps the family running smoothly. It is not easy to take care of the baby and manage the house, especially for the working moms. So, to make your life easier, we bring you some tips that you must try.
Best 'Mom Hacks' That Will Make Day-to-Day Life Easier
Here are some practical mom hacks that are sure to help make your life easier.
1. Lunchbox Prep
As you prepare dinner, you can also cut the vegetables for the next day that you plan to give to your child in his lunchbox. You can keep snacks, whatever you think he might like, in his lunchbox at night it self. Cut the veggies, keep them in the refrigerator and cook them the next morning. This little hack will save you time in the morning, and you will only need to focus on important things like getting your child ready for school or giving him breakfast.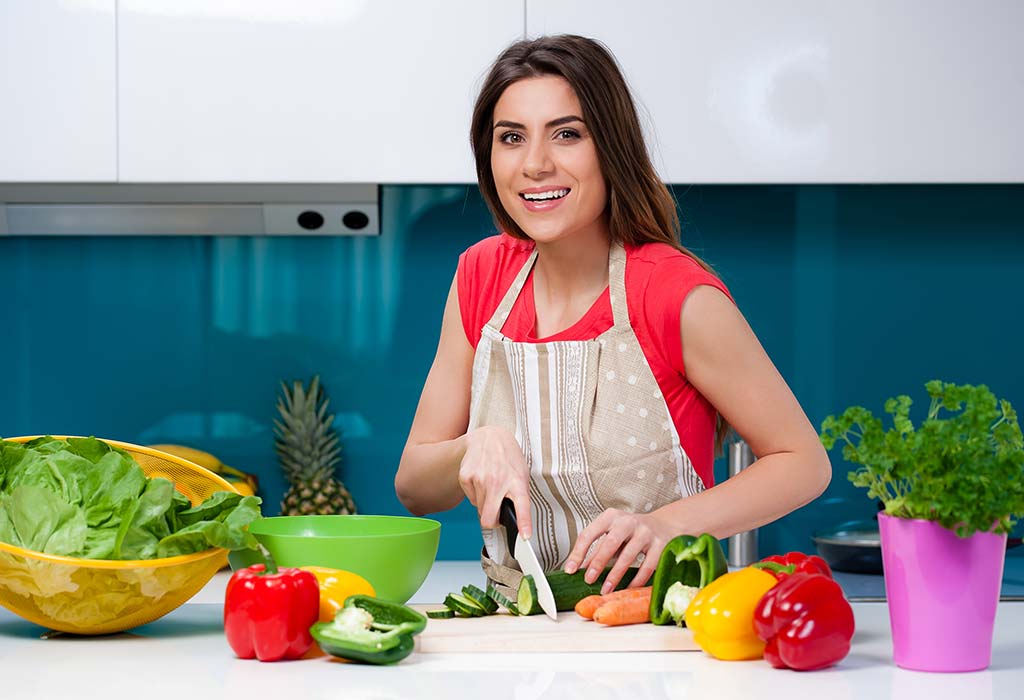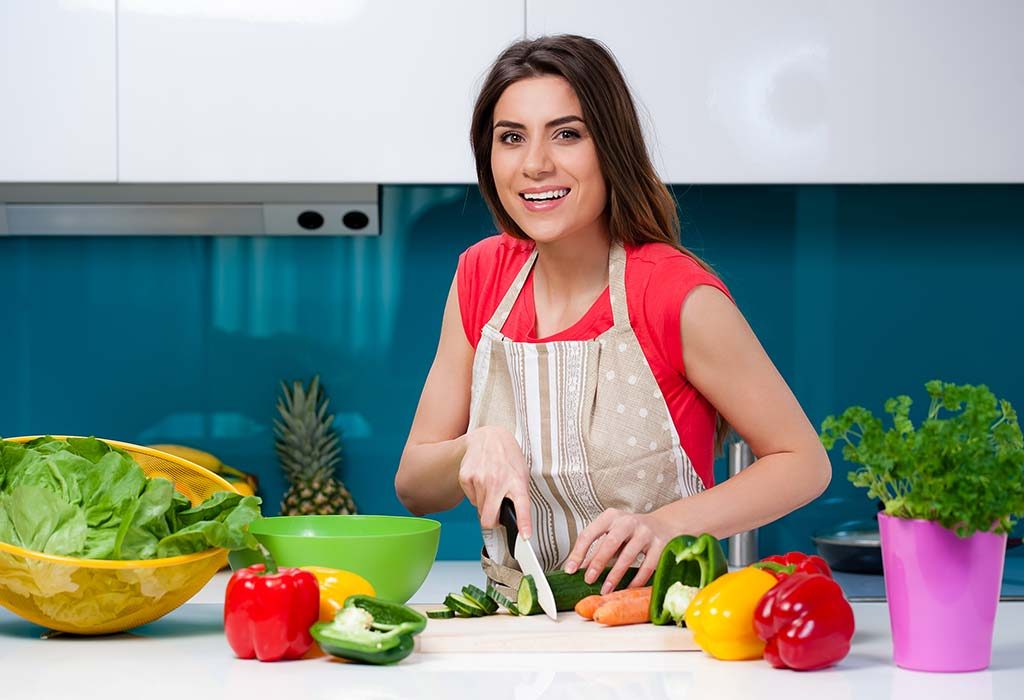 2. Be Prepared
One of the most practical and game-changing hacks for the mothers of newborns and toddlers is to pack a bag with everything you think you will need when you go for an outing or in the case of an emergency. This involves keeping diapers, extra clothes, snacks, etc. Remember to replace the items that you use so that your bag is always packed and does not lack anything.
3. Assign a Place for Everything
When we have kids, we keep on accumulating stuff that we might not even need, which only results in a mess and disorganised house. Managing a house and taking care of the children is not easy, and of course, it is difficult for moms to remember everything. But here's a tip that might help. To make your life organised, assign places for everything so that your kids will also know what thing belongs where.
4. Double The Bedding
This is a practical hack for moms who have kids who wet the bed. The trick here is to place a rubber sheet on the mattress and then cover it with a bed sheet. Next, take another rubber sheet and make the bed in the same way. If your little one wets the bed, remove the bed sheet and the rubber sheet. Change his clothes and make him sleep again. You won't have to go through the hassle of changing the bedsheet late night.
5. Ask for Help
If your kids are old enough to understand an instruction, then ask them to help you. Assign them different tasks like watering the plants or cleaning their wardrobe and praise them once they do their tasks in the right manner. By asking your kids to help, your workload will lessen and at the same time, your kids will also learn to take responsibilities.
6. Pick Your Battles
Children can sometimes throw a tantrum about the strangest and most unexpected things. The worst is when they do it at a time where you are already pressed for time and just cannot handle a meltdown. During these moments, it is best to pick your battles. Don't let your child's tantrums disrupt your schedule. If you are a working mother, we know it will be hard for you to leave your child at home when he is crying, but once in a while, it is fine. If your child is demanding something that you think is not good for him, it is okay to say 'No'. Yes, he will cry, but if you keep fulfilling all his demands, he may become stubborn. Sometimes, it is okay to let go of small things.
7. Sectioned Laundry
When you have to do laundry, do it in sections. Don't do laundry in one go. One day wash your clothes; the next day, wash your baby's, and so on. Doing laundry in one go will tire you out, so do it every day to prevent the task from piling up.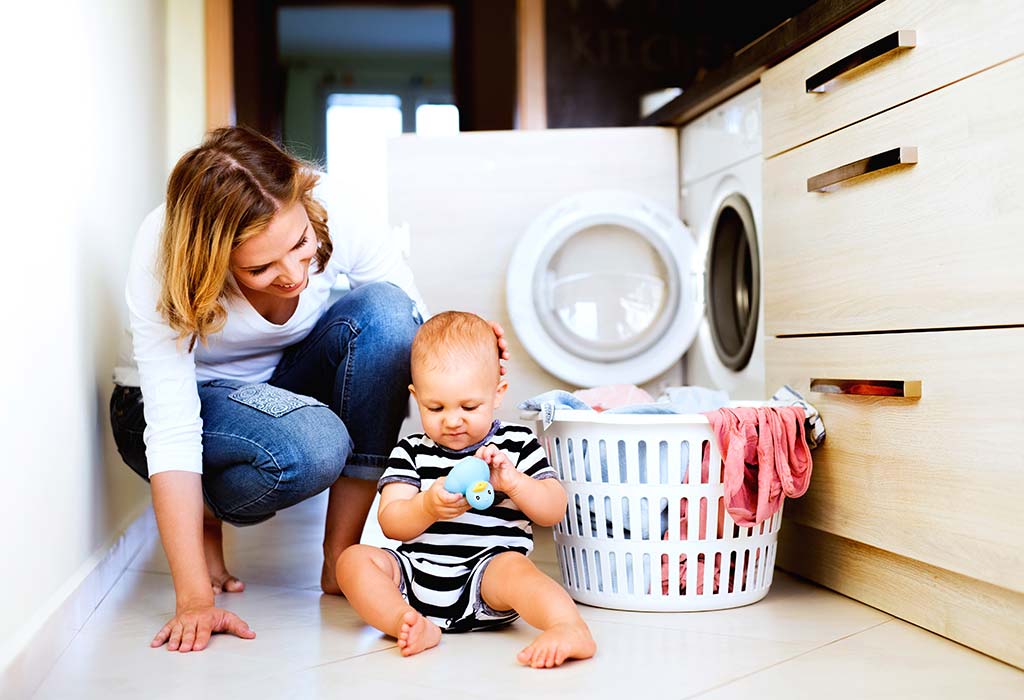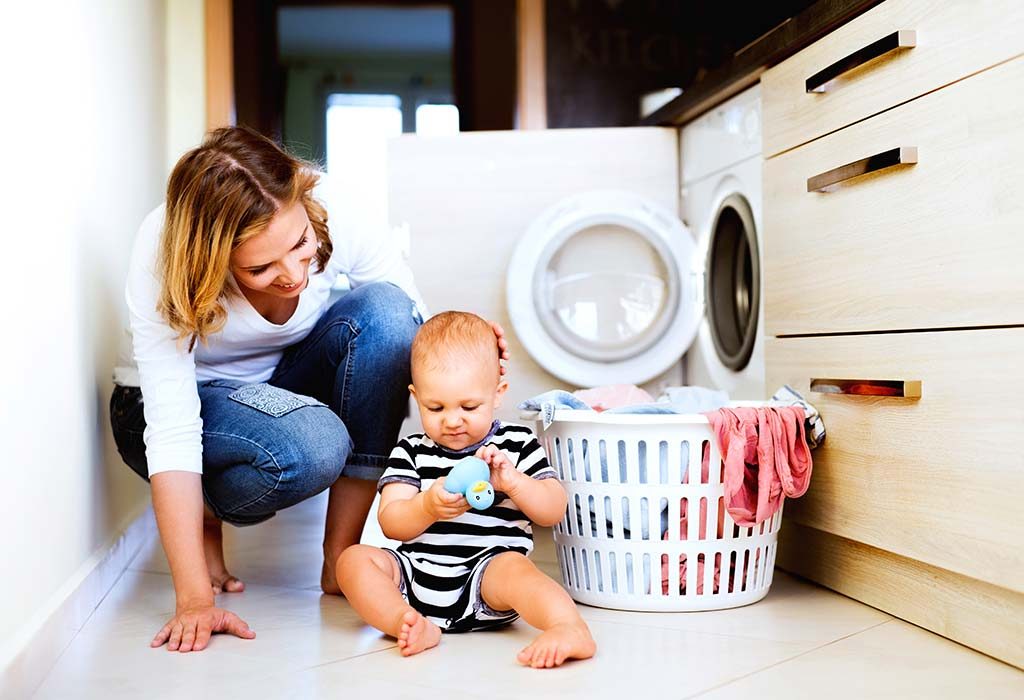 8. Meal Planning
After having a long, busy day, making dinner for the family can seem like a challenging task. But what can you do? Here's a tip that you might like to follow. Either cook in bulk and freeze the food for the week, or prepare your ingredients for the week then freeze them, so that you can just take them out and cook them quickly.
9. Pack Sensibly
If you are going on a vacation with your family, pack sensibly. Pack clothes in different bags. If your child is a little older, we know he'd like to decide what to wear and when. So, pack his clothes in a separate and let him decide what he wants to wear. Also, avoid overpacking.
10. Make Use of Changing Dresser
Don't bother spending money on a changing table. If you just place a changing pad onto a dresser, you can store all sorts of things that will be very useful for you while you need to change your little one. The dresser will also come in handy for years after your kids have outgrown diapers.
11. Car Bin
Set up a bin in your car where all the trash can go. If you are going out with your kids, chances are there will be empty juice boxes, plastic wrappers, and other random bits of garbage around your car. Just grab a small bucket and put a recyclable bag inside. Make it a rule that all trash is to be thrown into that bin only.
12. A First Aid Kit
With kids, you never know when the next illness will hit. When you have more than one kid especially, it can sometimes feel like they are getting sick one after the other. So, always keep a first aid kit with you if you are going out or even at home. Keep medicines for common ailments like a cold, fever, injury or burns.
13. Monster Spray
For kids who tend to get a bit scared to go to bed at night thinking that monsters are lurking about, this hack is a treat for you. Make up a spray filled with water and some essential oils. You can tell the kids it will get rid of monsters and have them spray their rooms before going to bed.
14. Use Your Calendar
Make use of the calendar on your phone. Note all the things that you need to do in 'To-do list' in your phone and set reminders for the same. You can also hang a huge calendar at home and let everyone know that they need to fill out all their important dates. If anything is not on the calendar, it doesn't get done.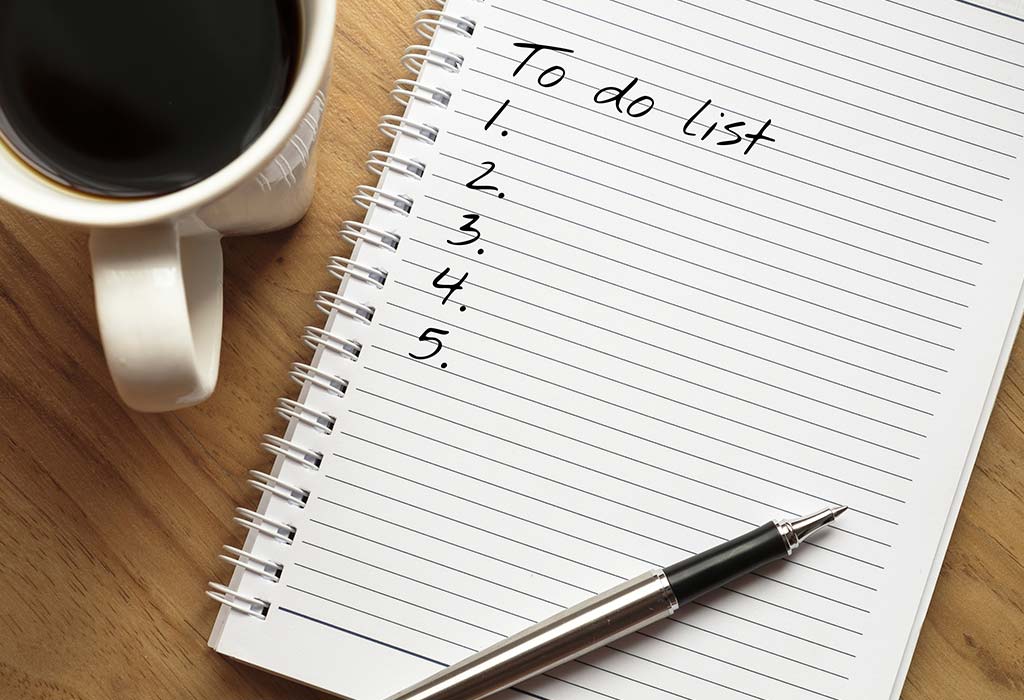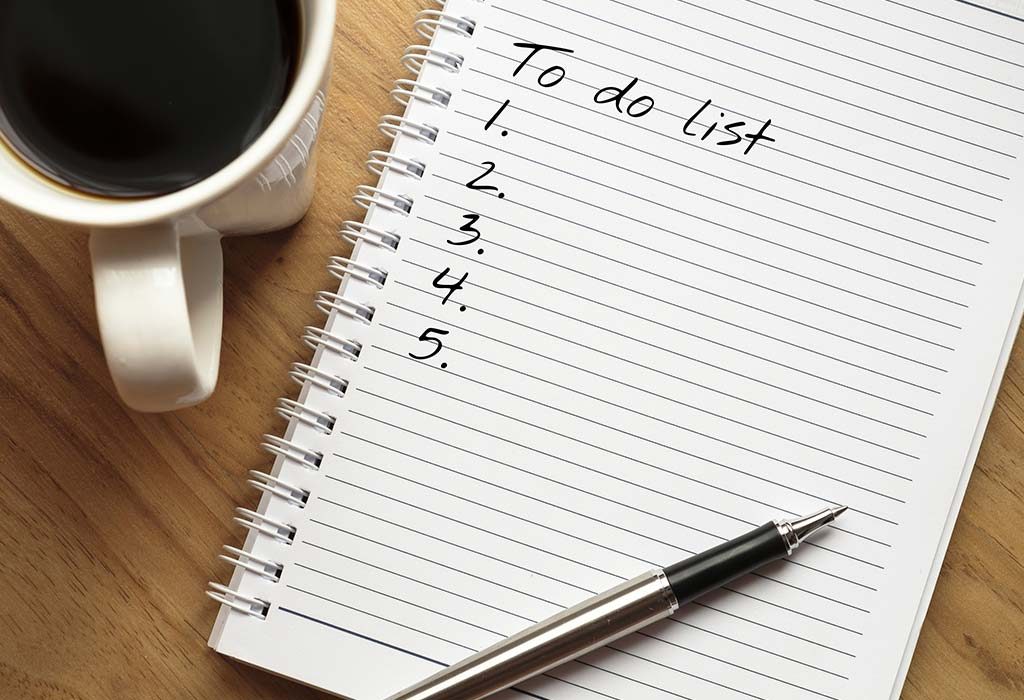 15. Make Lists
Picking kids up from school or a hobby class and running errands can be tough for moms. If you are having trouble planning your days, make a list of what is important and what is not. Picking kids from school or taking care of them is of course, important and we know you do it well. But if you have to take care of your children and run errands at the same time, then you must prioritise your tasks. Write down the things you have to do and do them according to their priority. If you are going to be doing a lot of driving around, plan out your day so that you can run your errands on the way to your destinations. Cross out things that you have completed.
16. Use Mesh Bag for Washing Socks
Everyone who has had anything to do with laundry knows the problem of a missing sock. To make things easier for you while washing socks, throw them all in a mesh bag and put them in the machine. This will help them all stay in one place.
17. Towel for Grip
When bathing the little one, it can become a bit scary because the plastic tubs for babies are quite slippery. Use a towel under your baby's head to prevent him from slipping.
18. Cheerio Necklace
Mothers of the little teethers, this mom hack just may save your life. While running around with errands, it can be pretty distracting when your little one is trying to put everything into her mouth. Make yourself a necklace out of dental floss and cheerios so that your baby can get some relief from the teething and have a snack too. This is to be worn by mum only and is not to be left alone with your child.
19. Keep Pouches in Your Handbag
Carrying snacks and all sorts of things in your bag for the little ones become a part of a mom's style, but it can be very stressful if your child demands something, and you can't seem to find it in your bag. Putting things in separate pouches and then putting them in your bag will save you a lot of trouble when you go out.
20. Prepare for The Week
It should be preferably on a Sunday that you do this, but prepping for the week will save you a lot of time every day. Make sure to plan out the meals and outfits for the entire week so that you have fewer things to worry about.
Being a mother is challenging, but also a rewarding experience. Spending your precious time with your husband and children is worth it. While you are preparing for the week, spend some time on yourself. Pamper yourself because you need it.
Also Read:
Tips to Make Resolutions You Can Actually Keep
Tips to Help Prioritise Yourself for Your Well Being
Ways to Stop Comparing Yourself to Others