Krishna Janmashtami 2023 – Date, Significance and Rituals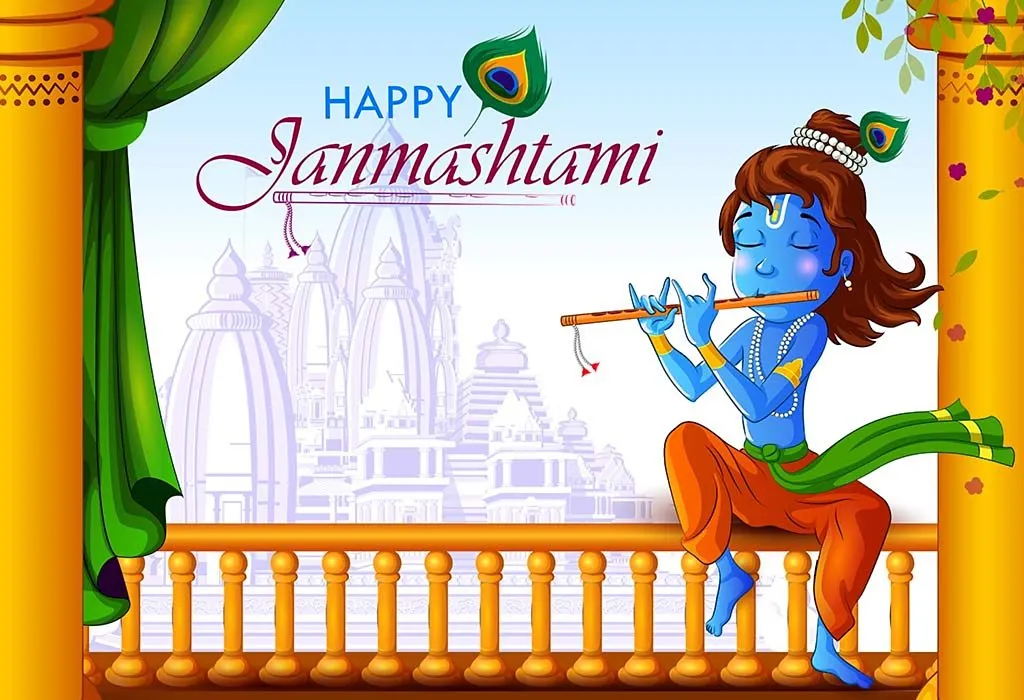 Lord Krishna's life and the stories associated with it are so captivating that, year after year, people rejoice and commemorate every aspect of his life. Janmashtami or Gokulashtami is celebrated annually to pay homage to the great Avatar Lord Krishna and abide by his teachings. The Lord had taken birth on Earth to put an end to Kansa and narrate the Gita to the people.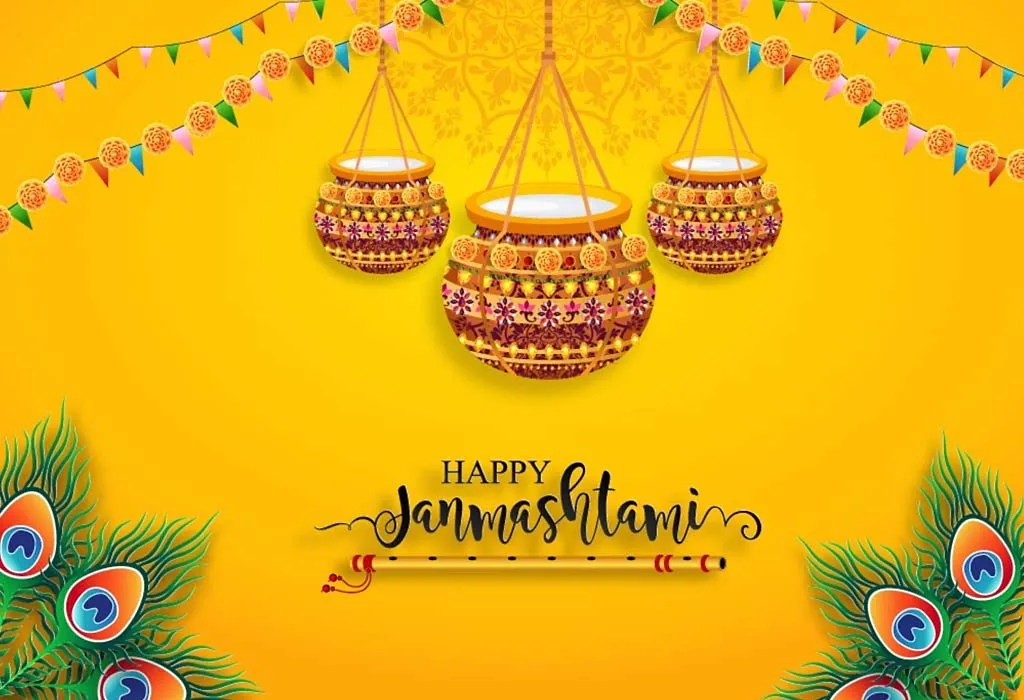 The birth anniversary of Lord Krishna will be celebrated in all its traditional fervour on Wednesday, 6th September 2023 in every household. There are some common rituals and customs that are followed all over the country. Fasting is a ritual that many Krishna devotees observe to purge their body of sins. Devotional songs, shlokas and mantras fill the heart with pure thoughts and feelings. Some people tie swings on the trees as the Lord, in his childhood, was very fond of it. The devotees also prepare sweets made of milk and offer it to Krishna who was very fond of sweets. Raas Leela is also performed by people to traditionally depict the play that Krishna performed with gopis.
When and Why is Janmashtami Celebrated?
The birth anniversary of Lord Krishna, believed to be the eighth incarnation of Lord Vishnu, is celebrated as Janmashtami. This festival always falls on Ashtami or the eighth day of 'Krishna Paksha' – the waning moon in the Bhadrapada (August/ September) month. The festival spreads the message of goodwill and symbolizes unity and faith. Krishna is looked upon by one and all as a hero, friend, teacher, and protector.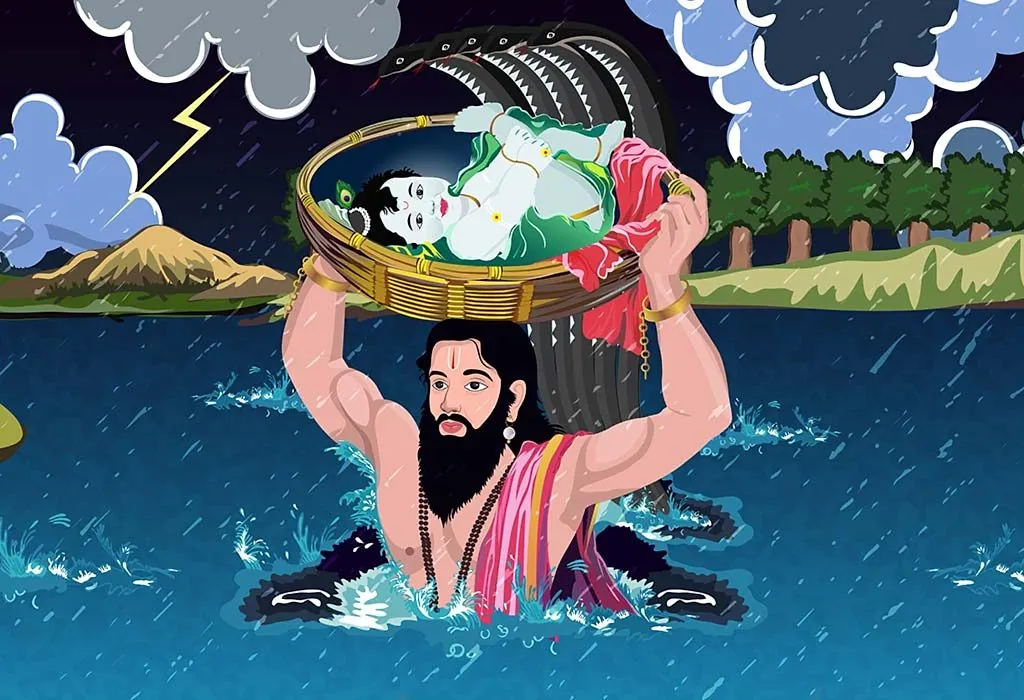 How is Krishna Janmashtami Celebrated Across India?
An auspicious day, it is celebrated with enthusiasm and devotion. Krishna played a significant role during the Mahabharata and propagated the theory of good karma and bhakti in the Bhagwat Gita. Certain rituals associated with the celebration of Janmashtami are rocking the cradle of baby Krishna, singing devotional songs and dances, puja, aarti etc. Performing Raas Leela, Dahi Handi, depicting Jhankis are other ways of celebrating Janmashtami.
In East India
Janmashtami celebration is an extremely rewarding and devotional experience. It is celebrated by worshipping Lord Krishna in the state of Odisha and West Bengal. Nand Utsav is celebrated on the next day of Janmashtami. Pravachana is organized at places to recite texts from the Bhagwat Gita.
In North India
People celebrate Janmashtami in different ways in different parts of the country. People fast on this day and Janmashtami decoration is done in homes and temples. Bhajans are sung in the evening and religious fervour can be seen everywhere. Janmashtami celebration in cities like Vrindavan, Gokul and Mathura are the best. People throng to these places to get a glimpse of the traditional festivities and elaborate arrangements. All the rituals are a hallmark of the celebration. In Jammu, people participate in flying kites on this day.
In South India
The festival of Janmashtami in Kerala is celebrated as Ashtami Rohini. The focus remains on the Rohini star which appears at midnight, considering that the Lord was also born at midnight. The festival is replete with joy and zeal. Verses from the Bhagwat Gita are recited. Young children dress up as Lord Krishna. Sweets and fruits are offered to the Lord and prasadam is distributed among all.
In West India
In the western part of India, Janmashtami is celebrated with a lot of pomp and splendour. People treat the occasion as a grand event. Dwarka, the kingdom founded by Lord Krishna, was built on the land of Gujarat. Women play cards on this day as it is supposed to be an age-old tradition. The festival holds ample opportunities for fun and frolic yet keeps the sanctity of the occasion.
Janmashtami Fasting Recipes
People observe fast on Janmashtami and break their fast after midnight. They take only water, milk and fruits. As many as fifty-six items are offered to God which is known as Chhappan Bhog.
1. Sabudana Khichdi
A vegan and gluten-free recipe made of tapioca pearls with peanuts and potatoes.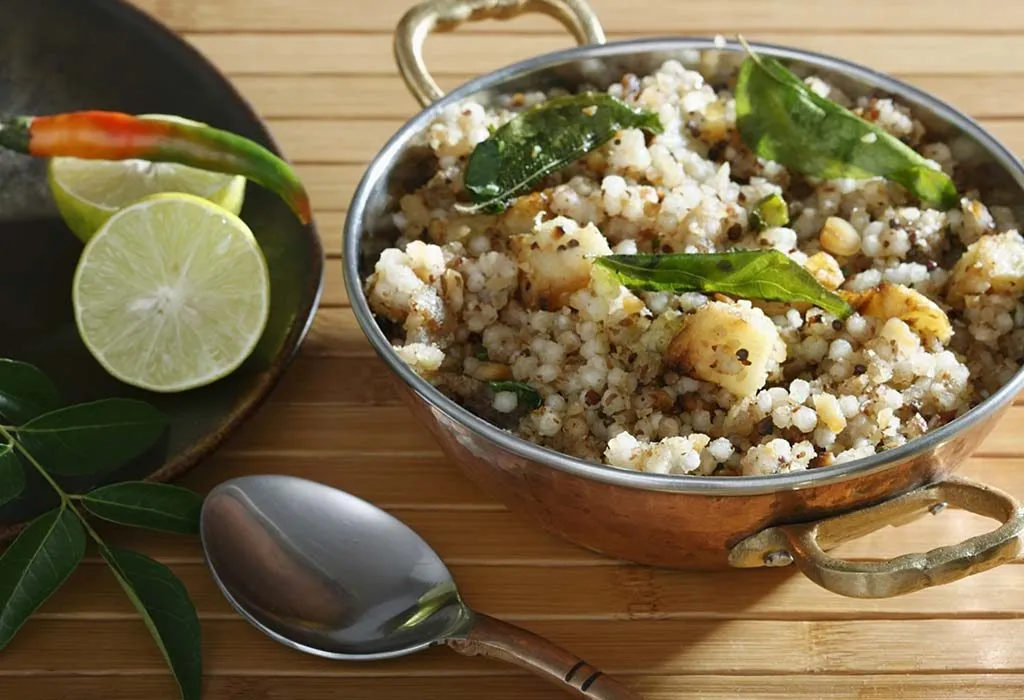 Ingredients:
Sabudana – 1 cup
Potatoes – 2 medium
Rock salt – as required
Ghee or oil – 3 tablespoons
Lemon juice (optional) – ½ teaspoon
Sugar – ½ teaspoon
Grated fresh coconut – ¼ cup
Green chilli – (chopped) 1
Curry leaves – 8-10
Peanuts (roasted) – ½ cup
Method:
Soak sabudana overnight after rinsing it well. Keep it in a bowl the next day after draining the water. Peel and chop boiled potatoes. After roasting peanuts, grind them into a coarse powder. Add the powder to the sabudana.
Heat oil or ghee in a pan. Add curry leaves, cumin seeds, and chillies. Add boiled chopped potatoes. Add sabudana and saute for 4 to 6 minutes. Sprinkle lemon juice and chopped coriander. Sprinkle grated coconut on top. Serve the khichdi hot.
2. Kaddu ki Sabji
A delicious and easy to prepare recipe.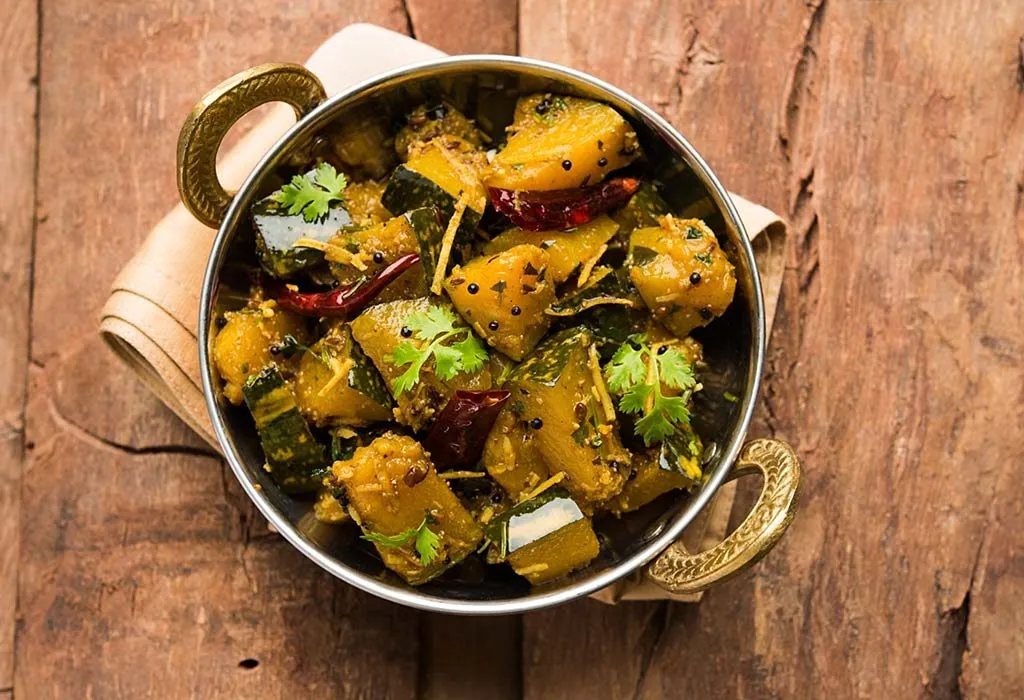 Ingredients:
Pumpkin – 1 small
Fenugreek seeds – ¼ teaspoon
Cumin seeds – 1 teaspoon
Dry red chillies – 1 or 2
Rock salt – as required
Coriander leaves – a few chopped leaves
Mango powder – 1 teaspoon
Turmeric powder – ½ teaspoon
Red chilli powder – ½ teaspoon
Method:
Wash, peel and chop the pumpkin. Heat oil in a kadhai. Add fenugreek, cumin seeds, and dry red chillies and fry for some seconds. Add the chopped pumpkin and all dry spices. Add sugar as required. Add salt and water. Add mango powder and garam masala when the pumpkin turns soft. Garnish with coriander leaves.
3. Jeera Aloo
When fasting, it is a simple and tasty dish to prepare.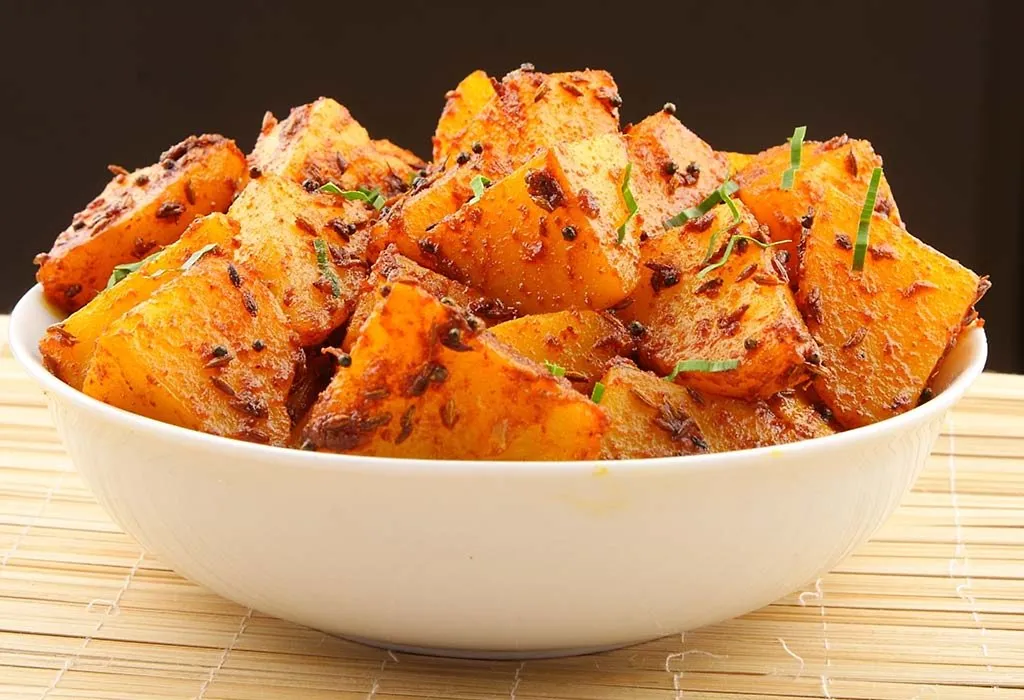 Ingredients:
Potatoes – medium 3 to 4
Salt – as required
Lemon juice – ¼ teaspoon
Cumin seeds – 1.5 teaspoon
Ghee or oil – a ½ tablespoon
Enough water
Method:
Peel and chop the boiled potatoes. Heat oil or ghee in a pan. Add green chillies and cumin seeds and saute for a minute. Add potatoes and salt. You can add coriander if you want. Lastly, switch off the flame and add lemon juice and dry mango powder. Serve it with rajgira pooris or parathas.
4. Arbi Masala
A light North Indian curry made with arbi (taro root) which you can eat during fasting.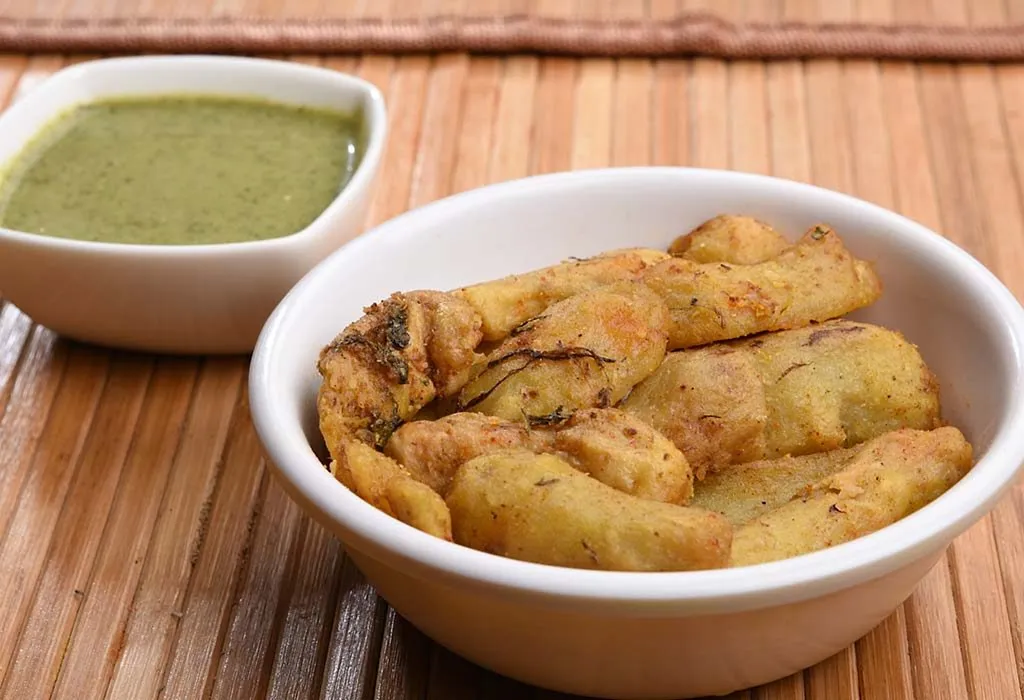 Ingredients:
Arbi or taro root – 10 -12
Mint and coriander for garnishing
Red chilli powder -1/2 spoon
Turmeric powder -1/2 spoon
Carom seeds (ajwain) – ½ spoon
Garam masala powder – ½ spoon
Oil – 2 tablespoon
Method:
Wash and pressure cook the arbi well. Peel and slice it when cool. Grind all the ingredients to a smooth paste. Add carom seeds to hot oil. Add tomato paste and fry. Add water, rock salt, and boiled arbi. Garnish with mint and coriander and serve hot.
5. Vrat ki Kadhi
A quick and easy recipe for religious fasting days.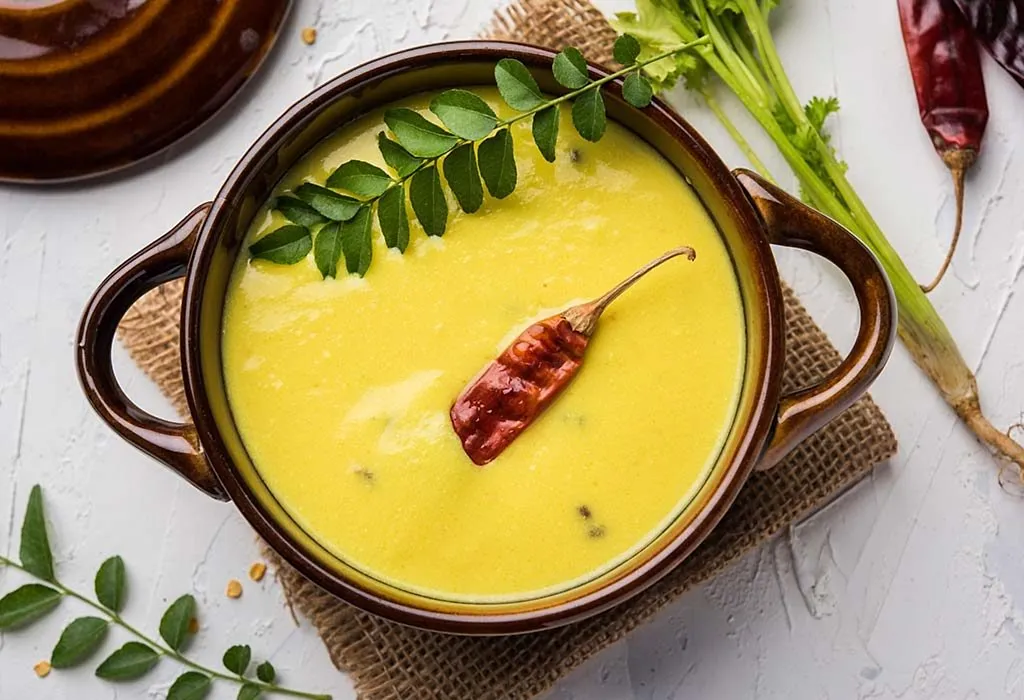 Ingredients:
Curd – fresh full-fat curd – 1 cup
Amaranth (rajgira) flour – 3 tablespoon
Peanut oil – 2 tablespoon
Ginger green chilli paste – 1 spoon
Sugar – as required
Water – ½ spoon
Rock salt – as required
Method:
Whisk 1 cup of curd till smooth. Add 3 tablespoons of rajgira flour. Mix and add water. Whisk it well so that there are no lumps in it.
Heat ghee or peanut oil in a pan. Add cumin seeds and ginger chilli paste to it. Add the curd mixture. Let the kadhi thicken on a simmered flame. Garnish with chopped coriander leaves and serve with pulao, plain rice, poori or paratha.
One of the most powerful human incarnations, Lord Krishna taught us a lot of things with his exemplary life. The rich persona of Lord Krishna was born to dispel evil from the Earth and spread the message of unity and brotherhood. Not just in India, Janmashtami is celebrated in many other countries across the globe. It is a lively and vibrant festival which brings people closer.
Also Read:
Reasons for Celebrating Basant Panchami
Importance of Chhath Puja in Woman
What is the Story Behind Celebrating Raksha Bandhan