Classic & Popular Father- Daughter Dance Song Ideas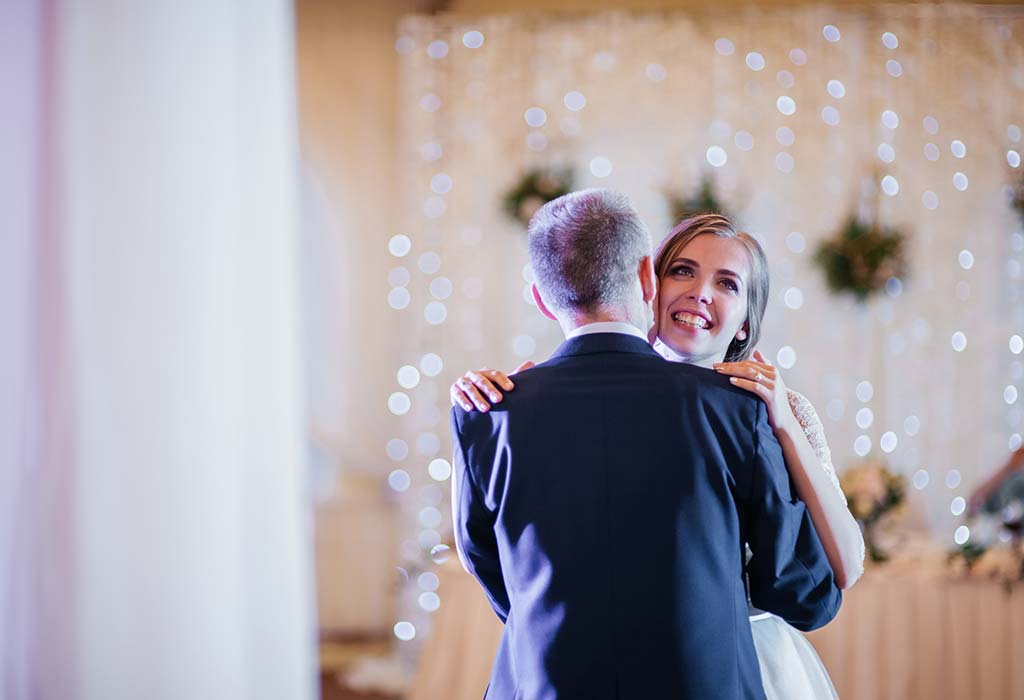 In this Article
When it comes to love stories, the relationship between a father and daughter has to be one of the most complicated and unique of them all. By itself, the task of selecting appropriate music for the father-daughter wedding songs might appear to be challenging enough. As a result, here are some of the best options for an unforgettable dance on such a significant occasion.
Listed below are some of our favorite father-daughter dance song ideas, ranging from contemporary to classics, realistic to conceptual, and pop to country.
Top Best Daddy Daughter Dance Songs List
Besides being a fun way to pay tribute to your father, it can also be a fun way to express your individuality and personality characteristics. Father and daughter dances typically begin during mealtimes or shortly after the bridal couple's first dance; they may also be combined with the mother and son dance, depending on the time of day and the schedule of your wedding day festivities. After the parents have finished dancing, the deejay or musician may invite other guests to join in on the fun and festivities.
With the fun, classic, and lovely list of dad and daughter songs provided below, you will be on your way to finding the perfect dance song for your father-daughter dance.
1. "Isn't She Lovely" by Stevie Wonder
In this production, the inclusion of a dance sequence between a father and his daughter does not imply that the audience members will feel sad due to the dance sequence. Various instruments are used to propel the song "Isn't She Lovely," which is intended to be played as the background soundtrack for life's most memorable moments. These instruments include brass and accordion, among others. Various tools, including brass and accordion, are used to propel the song forward throughout its duration.
2. "To Know Him Is To Love Him" by Amy Winehouse
It doesn't matter that there is a slew of different versions of this song (the first was recorded by The Teddy Bears in 1958). However, Amy Winehouse's stripped-down rendition of the song has an unmistakably unique quality. When she sings, her voice is fascinatingly scratchy, as she sings: "To know him is to love him, and I do…," which she sings at the beginning of the song, refers to the fact that she has come to know and love him.
3. "Father and Daughter" by Paul Simon
During the early 2000s, the Nickelodeon television show Wild Thornberries followed the lives of a nature-loving documentary filmmaker father and his wildlife-obsessed daughter, who were both documentary filmmakers themselves. Given the light, carefree, and lovely father-to-daughter homage performed by Paul Simon, its inclusion in this particular instance is justified based on the nature of the television series under consideration.
4. "Glory" by Jay-Z ft. Blue Ivy
The transition from "Glory," a beautiful and thunderous tribute to Jay-Blue Z's Iv, his first child with Beyoncé, to "Dad Rap" was difficult for Jay-Z in the wake of "Glory." On "Baby, I paint the sky blue," Jay raps with a triumphant tone over an instrumental that is heavy on horns and perfectly complements his words. Neptune, who also produced the song, was in charge of the production of the beat. Just before the song comes to a close, Blue Ivy says, "My greatest creation was you," and the piece concludes with a few murmurs from her. A father and daughter dancing together would be ideal, especially given the presence of Pharrell and the musical notes in the background.
5. "Daughters" by John Mayer
In 2003, every infant school father-daughter dance featured overly strappy dresses and the song "Daughters," a national hit for John Mayer, and became an anthem for the generation. Among the elements that distinguish John Mayer's music from the early 2000s are stripped-down guitars and scratchy vocals, which appear to place the lyrics from the soundtrack front and center on the track.
6. "Sweet Pea" by Amos Lee
With Ukulele strums in the background, this song is one of the best country songs about fathers and daughters. Although the song is titled "Father and Daughter," it is actually about the relationship between two fathers and their young daughters. On such a beautiful day as today, I think it would be more enjoyable for us to swing with our father rather than do anything else. Even though the lyrics suggest otherwise, you will not have the impression that you are having a good time throughout the entire evening.
7. "Anytime You Need a Friend" by Mariah Carey
On repeat throughout your special evening, you should have the dramatic song "Anytime You Need a Friend," performed by Mariah Carey, playing in the background. In addition to Carey's ferocious vocal style, the music is supported by a booming backing chorus, resulting in one of the most epic declarations of love and pleasure ever captured on record. It is a powerful backing chorus that enhances Carey's vocal style even further.
8. "The Way You Look Tonight" by Frank Sinatra
Regardless of their chronological age, every audience member is expected to get a kick out of Frank Sinatra's Saturday night performance. "The Way You Look Tonight" is a music video for the same name by American singer-songwriter Justin Timberlake. The song, which features silky lyrics and the singer's even more beautiful vocal performance, is a lovely piece of music with a sweet melody that will perfectly capture your love. After listening to this timeless song, everyone, regardless of their age or gender, will feel like they are one of a kind in their own right.
9. "Right by You (For Luna)" by John Legend
"I will be there," John Legend assures his daughter after answering a series of philosophical questions. "I will be there," John Legend's sentimental father-daughter songs softly ensure the relationship throughout the entire process. John Legend makes predictions about his daughter's future life and persona based on her development as a young woman, which he observes as she grows older.
10. "My Wish" by Rascal Flatts
Even though country music is a divisive genre, Rascal Flatts' song "My Wish" is one of the most well-known father-daughter ballads out there, even though the band is from Nashville. Country music is a divisive genre, Gary LeVox, the band's lead vocalist, soars above the benign, eminently accessible songs about the simple pursuit of the most excellent, most pure satisfaction for those you love the most, which the other members sing of the group. "My Wish" is a timeless classic, and it doesn't matter if you're belting it out during a drunken karaoke session with your friends or singing it to your father on the most important day of your life; it will always be memorable.
11. "Blue" by Beyoncé ft. Blue Ivy
As a result of Jay-previous Z's inclusion on the list, the release of the song "Blue" is immediately followed, which serves as an emotional counterpoint to Jay's perspective on parenthood through the medium of romantic music. Beyoncé expresses a loving affection for the birth of her child in the song "Formation," which features keyboard notes that fuel an upbeat snare-riddled rhythm. This is the first time she has expressed such affection for the birth of her child. Even though the specifics of her personal life have remained a closely guarded secret until now, this song is a brutally honest song from a musician who has kept the specifics of her personal life a closely guarded secret.
12. "I Hope You Dance" by Lee Ann Womack
Since its release in 2000, the song "I Hope You Dance" has risen to the top of the rural and mainstream music charts, cementing its position as an anthem that appeals to people of all ages and socioeconomic backgrounds. According to Billboard, despite the song's out-of-date lyrics, which include the line "I hope you still feel tiny when you stand by the water," the song has maintained its status as "probably one of the best sentimental crooning tunes of the early 1980s," according to the magazine.
13. "By Your Side" by Sade
A Sade song doesn't need to be romantic for it to be successful. If you're looking for the ultimate velvety soft hit when it comes to providing everlasting and unwavering support for someone you adore, "By Your Side" is the song for you. For these reasons, the song "By Your Side" makes sense for your wedding or celebration.
14. "That's How Strong My Love Is" by Otis Redding
King of Soul, backed by a full band and some of the most prominent singers in the industry, gives the most convincing show of love ever recorded on tape or filmed in real-time in this one amongst the other rock father-daughter dance songs.
15. "God Only Knows" by The Beach Boys
Even though The Beach Boys are best known for their surf-rock songs, their seminal album Pet Sounds demonstrated that they could also create music that featured a more complex layering of sounds than they had shown previously. Because of this bleak investigation into the possibility that we will be forced to live without the people we care about, the film "God Only Knows" serves to remind us of just how important they indeed are to us in our lives. The characters of family and friends play a significant role in this musical about the importance of family and friendship.
16. "Brown Eyed Girl" By Van Morrison
Those who appreciate classic rock will enjoy this timeless Van Morrison song, which will please their fathers. "Brown Eyed Girl" is yet another excellent choice for a piece of joyful, upbeat music, and it is sure to put a smile on either of your faces on this momentous occasion, as well as the faces of your guests. Which of the following versions of this song do you prefer: reggae, country, or bluegrass? A slew of musicians representing diverse musical styles took part in this song that was initially recorded in the 1960s. It has been in the public domain for more than 50 years. The choice of a reggae rendition of the wedding song seems to make sense for a summer wedding.
17. "You've Got A Friend" by James Taylor
Many children go through a period of transition in their lives during which their parents go from being the source of eternal adolescent angst to becoming close friends with their peers. This is known as the "transition period." In 1989, James Taylor wrote the song, which was then released. Taylor wrote the song "You've Got A Friend," which was released in 1989 and featured backup harmonies by Joni Mitchell. Our best friends are the subject of this song, who we later discover may even be our respective fathers, and the music is a celebration of the idea of what we would do for them if we had the chance.
18. "What A Wonderful World" by Louis Armstrong
One of the world's greatest trumpeters/vocalists, Louis Armstrong, sings us through all of the true pleasures of life and our planet, providing the most potent contrast.
https://www.youtube.com/watch?v=CWzrABouyeE
19. "Blessed" by Daniel Caesar
The line "Yes, I'm a mess, but I'm fortunate to be stuck with you" was most likely not intended to be used in the context of a father-daughter dance. Still, it does an excellent job of capturing the essence of what it might be like to have a sibling-child relationship on occasion. Featuring Daniel Caesar's angelic voice and straightforward yet hard-hitting lyrics, "Eternal Bliss" is a powerful, honest, and uplifting selection for your eternal bliss soundtrack.
20. "Wildflowers" By Tom Petty
As a fan favorite due to its beautiful and straightforward melody, this heartfelt father-daughter duet appeals to fans of various musical genres, including pop, rock, and country. While listening to Petty's incredible musical ability, you'll notice that this song is only one example of many he pulled from when writing this beautiful song. Petty's outstanding musical ability is on display in this song. According to him, the writing process for "Wildflowers" went something like this: "I just took a deep breath, and it poured out." Throughout the song, this was repeated several more times. It's as if the words, melody, and chords just came to me in a flash of inspiration as if they were meant to be."
A selection of the best Daddies and Daughters Dance songs has been compiled for your listening pleasure. Enjoy! These upbeat father-daughter dance songs stand fondest, and most endearing recollections of their time are collected here for your enjoyment. Our best times are when we're all together, laughing and having a great time. As adults, we may draw inspiration from the music of our children's dances for years to come.
Also Read:
Best Mother-Daughter Songs
Top Father Daughter Relationship Quotes
Beautiful Bond Between a Father and Daughter