50 Birthday Wishes for Niece to Make Her Feel Special
In this Article
Nieces are adorable and special, your half-daughters who you love to pamper. They make your life beautiful. As your niece makes your life special, so her birthday is also special for you. Every year she loves your gift and enjoys the party you throw for her with family and friends. Giving her a beautiful gift or throwing a party for her make you her favorite aunt/uncle. However, to make her birthday memorable, make sure to wish her birthday with heartfelt words. To do so, you need a birthday greeting, which will express your love for her.
Beautiful or inspirational birthday wishes for a niece from her aunt and uncle will make her feel cherished for many years to come. Perfect words to express your feelings for her are not easy to write. To assist you in writing a beautiful, inspirational, or funny blessing and greeting for your adorable niece, we have collected some amazing birthday wishes. The collection has birthday wishes from funny to inspirational to 18th birthday wishes and messages for niece and many more. Take inspiration and wish your lovely niece an adorable birthday wish to make her feel special.
Happy Birthday Wishes for Niece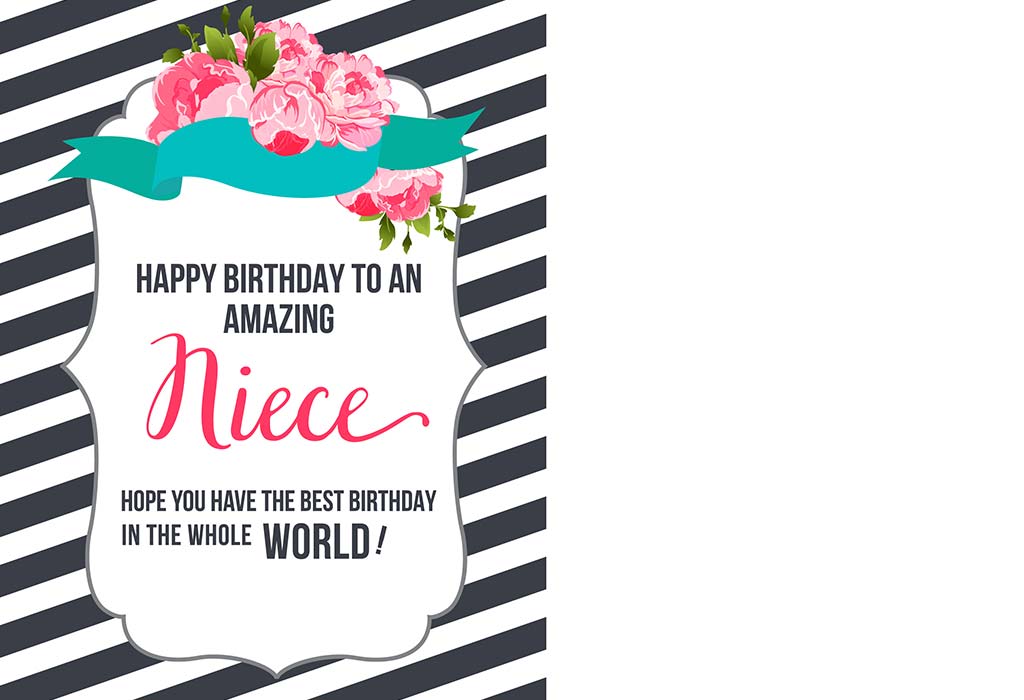 The connection aunts and uncles share with their niece is extra special – nieces are the light that illuminates their lives. So, on your niece's birthday, a simple birthday wish won't work. For making the day as extraordinary as your adorable niece, a special birthday wish is required. Here are some beautiful happy birthday wishes for your niece to greet her lovingly and uniquely:
Happy sweet 18, my dearest niece! Enjoy the freedom, opportunities, and responsibilities that this adulthood milestone presents to you. Happy Birthday!
You are my bright rainbow on my worst days.

You bring joy, laughter, and love into my life.

May your year be full of wonderful experiences.
May you have a happy and successful life, and may you fly like a beautiful dove, spreading peace and kindness across the world with your presence.

Sweetest niece,

I wish you a very happy birthday!
I give you all my love and hugs on your birthday—best wishes on your special day. You are the most lovely youngster I have ever met. As you progress in life, I hope you meet the excellent company and lovely individuals from whom you may learn valuable life lessons and flourish.
Happy birthday to the most amazing girl who is beautiful on the inside and out. You are the loveliest niece, and I wish you all the success in the world—best wishes on your special day.
You, my niece, are my partner in everything. May you conquer the world and fulfill all your desires. Happy Birthday, my lovely niece!
Focus on the positive and shine brightly like a star. Remember that life will provide you with countless problems, and it is your moral responsibility to be strong and confront them all without succumbing. My best wishes on your special day! I wish you all joy and success in life.
How amazing that you are in my life, making every day pleasant and worthwhile to live! You are my dearest child. My sweetest and wildest niece, happy birthday!
May you reach for the stars and shine brightly throughout your life. You are wise, smart, and gifted.

I wish you to be the same throughout your life.

God bless you and have a wonderful birthday.
Life isn't a box of chocolates, but you can always find happiness and delight on every occasion—my darling niece, Happy birthday. I wish you life-long happiness, joy, and wisdom.
You are the life of our family, and it would be lifeless without you. Your grin gives us all the positive energy.

Wish you live your dream life.

Happy birthday to my lovely niece!
Best wishes on your special day, my darling niece!

I wish your day goes as fantastic as you are

—which is pretty fantastic!
Despite the distance between us, our hearts are still connected, and our love has grown. I wish I were there to celebrate your birthday with you, niece. Laugh a lot, and make many great memories. I'm smitten with you. Happy birthday!
Happy birthday to the cheerful child that is so full of life and compassion! You bring joy to all around you—best wishes on your special day. I wish you get all that your heart desires. I wish you hope, knowledge, fun, and happiness.
I extend the warmest 18th birthday wishes to you, my darling niece. You are enjoying a milestone birthday today!
It's a pleasure to see you growing into a peaceful and serene person—happy birthday to the most gorgeous and unique niece on the planet! You are an inspiration to follow as a youngster since you are a wonderful human being.
When faced with adversity, you must have courage in your heart. These come your way because time wants to put you to the test and provide you fresh possibilities. Never be scared of challenges, my darling niece. Have a wonderful birthday!
Happy birthday wishes to the cutest niece. I will always be your go-to person anytime you need assistance or someone with whom you can chat and share feelings. I want to see you achieve the pinnacles of success. No matter what problems you face, remember to look on the brighter side of life.
You're such a cute niece with a lovely personality. When you're around, I'm inspired to look on the bright side of things. Happy birthday, and may God bless you! Continue to be blessed, and may God grant you all of your wishes.
Happy birthday my 'Supergirl' niece! You are the hero of your life, and may you inspire others to be like you.
Years pass, and you continue to grow, becoming a better version of yourself, improving yourself, and achieving all you've ever desired. I am honored to have a niece as beautiful as you. Happy Birthday, darling!
May all of your dreams come true, and may you have the strength to make them all come true. Happy birthday to the best niece on the planet!
On your birthday, I wish you a lot of love and happiness. My niece, I hope you always fill our lives with joy and sunshine.
Today is your birthday, my lovely niece. You are like another daughter to me. There are no words or lyrics that can adequately convey my feelings for you. Enjoy to the fullest; you've earned it. Happy birthday!
Happy Birthday, sweetie! You were born as an angel and have grown up to be a sweetheart. You are the most lovely niece in the world.
A new day has arrived, brimming with pleasure, revelry, and happiness. Today, the sun rose brighter than ever before because it is your birthday. Happy Birthday, darling niece!
May the blessings of your loved ones always remain with you. They're with you, and you're with them, always.

Sweetest niece, I wish you a very happy birthday!

My niece, you are my favorite person in this world. I'm so pleased you came into my life; you've always been there for me. I adore you! Happy Birthday!
I wish you a wonderful birthday from the core of my heart. Today, we will celebrate your birthday with the entire family. We want to send you our warmest wishes on this important day. Best wishes, dear niece!
When you were born, I recall being overjoyed to see my tiny niece. Even though you are all grown up now, I am still ecstatic. I'm proud of the lady you've grown up to be. Dear niece, I wish you a very happy birthday.
It's remarkable how certain individuals appear out of nowhere, and you wonder how you ever survived without them. Happy birthday, my lovely niece, who is my everything.
Another year has passed, and another birthday has arrived. You've evolved from a small girl I babysat and played with to a close friend with whom I can discuss anything. Dear niece, I wish you a very happy birthday—best wishes for the next year of your life.
You're like a candle that casts light in all directions—wishing my wonderful niece a very happy birthday, who is always striving to make other people's lives brighter.
It feels like you were only a newborn girl yesterday. We are very proud of the mature young lady you have grown up to be—best wishes for your birthday.
I wish you a wonderful birthday, niece. Always keep in mind that both love and achievement need effort. I wish you all the strength you need to succeed in your endeavors. I want you to flourish in life and one day be a self-sufficient lady. Dream big and think large, my niece!
It's a joy to see my tiny niece blossom into a beautiful woman. I'd want to wish you the best in life—a very happy birthday, darling.
Happy birthday to the kindest and most compassionate member of our family! Dear niece, you have become a remarkable young lady, and I am so proud of you. We can learn a lot from you and your unique perspective. To the family, you are invaluable. God bless you, and may you be happy and prosperous!
My sweetheart, I wish you a very happy birthday. Today is your day, so savor the richness of the moments that life bestows upon you and tread carefully as you mature into a young lady. It's not just about having a good time. Keep in mind that you have obligations to meet. I wish you all of the wisdom and joy in the world.
You have come into my life as a godsend. May you receive everything you rightly deserve and lead an exciting life. Happy Birthday, darling niece!
Dear niece, I wish you a very happy birthday. From a charming young girl, you are growing into a beautiful woman. I am really proud of you. May all of your wishes come true now and in the future!
The word "nice" is required to spell "niece," although "nice" is an understatement when it comes to describing how fantastic you are. Happy Birthday my nice niece!
Rosy lips, chubby cheeks, and a runny nose—on your every birthday, I remember all your cuteness as a toddler. Happy Birthday, niece!
Best wishes on your special day. May you attain your goals and be happy in your life. I hope you learn all of the essential things on this incredible journey of your life and grow into a wonderful and successful person.
I've known you when you were a lovely newborn girl, then as a sweet little princess, and now as a treasured friend. Sweetheart, you mean a lot to me, and I wish you the happiest birthday ever.
My wonderful niece Happy Birthday! One of the biggest joys of my life is watching you grow into a beautiful young girl.
To the cutest, most talented, and craziest niece on the planet – Happy Birthday! I'm very proud of you, and today all I want to talk about is your intelligence and creativity. I am your biggest fan in this world and your finest advisor. Best wishes on your special day. May you continue to shine brightly and achieve success in all you do.
We couldn't have asked for a better niece. On your birthday and every day, someone as kind and loving as you deserves all the enjoyment life has to give.
Dear niece, you are precious to the family, the only apple of my eye. Because you are the most precious niece, I adore you more than everyone else. My eyes welled up with tears as I saw the overabundance of sweetness and innocence on your face when you were born. Best wishes on your special day. May God continue to bestow his blessings on you.
I wish you success in all you set out to do in life. Remember that time is valuable; learn to appreciate the time and be grateful for all the good people and things you've received in life—best wishes on your special day.
To my adorable niece, I wish you the happiest birthday. You are always silent and content with your surroundings. I have always enjoyed visiting you and will never forget to look after you. Stay focused in life and search for the good in whatever you do. Get rid of all the negativity. It is my birthday advice to you for you to be happy and successful always.
Your niece's birthday is her special day, and she would be expecting you to delight her uniquely. So, take inspiration from our collection of birthday wishes and wish her birthday with a cute or quirky message. A heartfelt birthday wish will go a long way to make her happy and her day extraordinary.
Also Read:
Birthday Wishes for a Sister to Make Her Feel Special
Top Birthday Wishes for Sister-In-Law
Amazing Birthday Wishes for Your Brother-in-Law