50th Wedding Anniversary Gift Ideas for Parents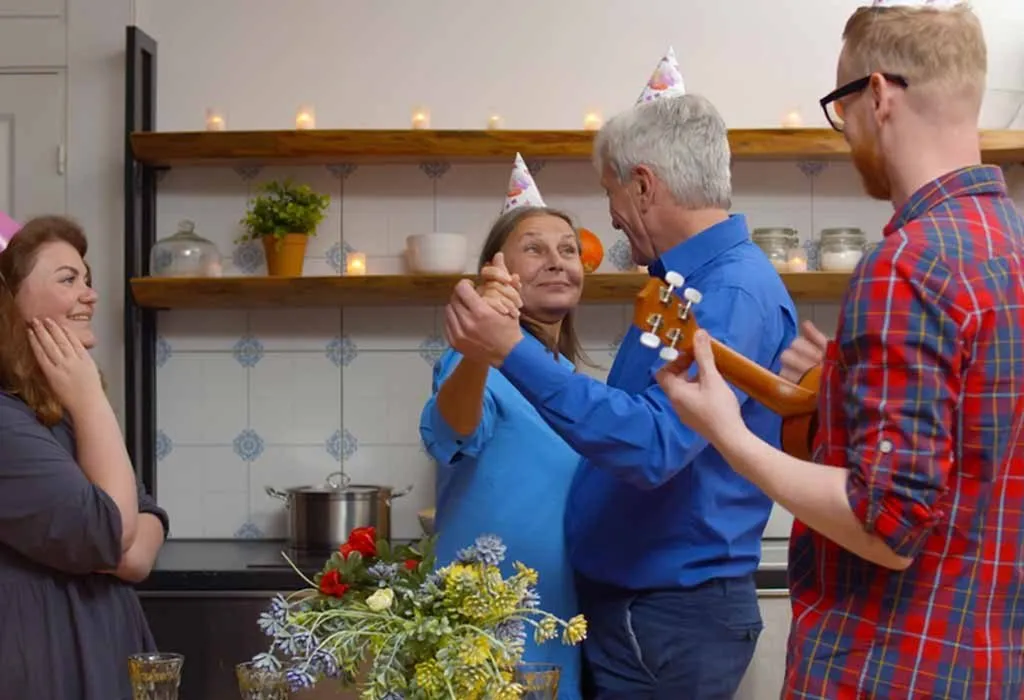 Finding the ideal present to commemorate your 50th wedding anniversary can be challenging, especially if you're short on time. However, it's an important milestone for any couple. Choosing thoughtful and heartfelt gifts can make your parents' golden anniversary special.
From an emotional memento or a lavish experience, there are numerous ways to convey your love and appreciation for your parents' enduring relationship. To choose the ideal golden anniversary gift for parents, take a deep breath, unwind, and browse our list of top practical suggestions.
What Is the Symbol for the 50th Anniversary?
The 50th anniversary is a significant occasion that recognises half a century of a couple's union or partnership. It is regarded as a great accomplishment and is a moment to honour the couple's steadfast love and dedication over the years.
The popular symbol of 50th anniversaries is 'Gold'. This is attributable to the Middle Ages in Europe, where the custom of equating gold with the 50th anniversary first emerged. When a couple reached their 50th anniversary, it was customary for husbands to present their spouses with a gold garland. Since then, this custom has developed through time, and gold is now widely regarded as the emblem for this significant anniversary.
Gift Ideas for Your Parents' Golden Jubilee Anniversary
When you're shopping for a 50th anniversary present for parents, you want to make sure you pamper them to the fullest. Here is a list of the top gifting ideas to surprise them!
1. Photo Collage
A photo collage can be a timeless gift for your parents. It showcases their precious memories, and can be a wonderful way to remember the good old days. Just pick the best photos, and glue them artfully to a frame. Or, you can hang them up on a wall inside a wooden panel, and display it in a room for them to see.
2. Jewelry
Gifting your parents jewelry will never get old. Why not give your mom and dad something beautiful and elegant to cherish? You can start with a necklace and a classy timepiece. If your dad prefers accessories, you can try designer bracelets for men instead. These make for a unique 50th wedding anniversary gift.
3. Chess Board
A chess board may sound like an odd gift, but if your parents are into board games, you can give them one. Chess stimulates the mind, and is always fun to play. As they get older, their brains will stay active, and you won't have to worry about cognitive decline due to idleness.
4. Concert Tickets
If your parents have always wanted to attend an opera or a concert in town, but always seem to miss it, you can gift them tickets! It's a beautiful gesture, and makes for one of the best golden anniversary gifts for parents.
5. Vintage Wine
Vintage wine never gets old, and is one of the pricier items on our list. The price tag may seem steep, but where you get it from will make it extra precious. If your parents don't prefer wine, you can try giving them sparkling water or champagne bottles as gifts. Alternatively, if they're already wine connoisseurs, you can give them a wine cooler instead!
6. Spa Vouchers
Who doesn't like a trip to the spa? Spa vouchers for couples are an excellent way to pamper your parents on their 50th anniversary. These usually give them free massages, swimming sessions, sauna, and various beauty treatments.
7. Video
If you have tons of footage related to your parents' trips and family moments from the past, you can compile them into a montage, or make a video. A video that displays their highlights in life will definitely touch their hearts.
8. Wallet or Purse
You can give your parents a beautiful leather wallet or purse. Animal prints are stylish, but you can get various designer wallets with gold or silver plating on the front. Ask the seller if they can be customized and designed with your parents' names on them as engravings.
9. Newspaper Publishing
This might be an unconventional gift, but it works like a charm. Get a memorable photo of your parents, and get it printed in a newspaper. Surprise them by mailing it to their home before the big day begins.
10. Hand-Knit Blankets
If you're creative and enjoy working with your hands, you can make a hand knit blanket for your parents. Making sweaters, scarves, or any other clothing items also work.
11. Dining Set
A dining set adds class and elegance to the table. Maybe you'd like your parents to enjoy a lavish meal during their 50th anniversary. Get them a beautiful and classy set, and they'll love it!
12. Skincare Products
Your parents may not expect it, but skincare products are the absolute rage. There are various collagen creams and anti-aging creams you could present as gifts. Give them the gift of good health for their later years!
13. 50th Anniversary Mugs
You can order DIY mugs online, and get them customized with the text 'Happy 50th Anniversary' on the front. Get creative with them, and have a blast.
14. Bedside Lamps
Bedside lamps for couples are a huge hit among them. They are considered to be at the top when ranked with other traditional 50th anniversary gifts for mom and dad.
15. Food Basket
If you know what your parents love to eat, you can get a food basket delivered to their doorstep. You can find plenty of options for customizing them online in your city.
16. Customized Cutting Board
A customized cutting board with their names engraved on it makes for a beautiful gift. You can get these in different sizes and textures.
17. Glass Statues
If you can hire an artist to make a sculpture or statue out of your parents' younger years, they'll love it!
18. Art Sets
For couples who are into the creative arts and crafts, art sets are a terrific gift idea.
19. Family Journals
Family journals can be used for penning down thoughts and beautiful memories. You can get your parents one for their 50th anniversary.
20. A Floral Bouquet
We've kept the classiest for the last – a floral bouquet can set the right note for any 50th anniversary celebrations!
Traditional 50th Anniversary Gift Ideas for Parents
A special celebration should be held to honour the great accomplishment of celebrating a 50th wedding anniversary. You can pick from several conventional gift suggestions to commemorate your parents' 50th wedding anniversary and make the event even more special. Here are seven of the most well-liked customary 50th wedding anniversary presents for parents:
1. Gold Jewellery
Gold is the traditional gift for a 50th wedding anniversary, and there's no better way to celebrate this milestone than with a beautiful piece of gold jewellery. Consider a necklace, bracelet, or earrings to show your parents how much you value their enduring love.
2. Personalised Photo Album
Collecting and displaying photographs of their life together in a personalised photo album can be a heartfelt and sentimental gift for your parents. You could include pictures of their wedding day, family vacations, and other memorable events.
3. Golden Roses
A bouquet of golden roses is a lovely and elegant way to celebrate your parent's golden anniversary. The golden hue of the flowers symbolises their love and commitment to each other, and the beauty of the roses will add warmth and joy to their special day.
4. Personalised Wall Art
Commission a personalised wall art commemorating your parents' wedding day or their life together. You could include their names, wedding date, and other meaningful details that reflect their relationship.
5. Gold Watches
Gold watches are a timeless and practical gift for a 50th anniversary. Consider engraving their names or the wedding date on the back of the watch to make it even more special.
6. Romantic Getaway
A romantic getaway can be the perfect way to celebrate your parent's golden anniversary. Consider booking a weekend getaway to a bed and breakfast, a luxury hotel, or a romantic destination your parents have always wanted to visit.
7. Golden Anniversary Retro-themed Party
Finally, throwing a golden anniversary retro-themed party is a great way to celebrate your parents' 50 years of love and commitment. You could invite family and friends, play their favourite songs, and serve their favourite foods to create a festive and joyful atmosphere.
Funny 50th Wedding Anniversary Gifts for Parents
Looking for creative and funny gift ideas for your parent's 50th wedding anniversary? Look no further! Here are four unique and entertaining gift ideas to make your parents smile.
1. Personalised Bobbleheads
This is a fun and unique way to celebrate your parent's 50th anniversary. You can create personalised bobbleheads of your parents dressed in their wedding attire or something more modern. This will surely make them laugh and is a great way to remind them of their special day.
2. Movie Poster Labelled "50 Years of Marriage"
Get creative and design a poster for your parent's 50th anniversary. Include their names as the stars and add fun taglines like "The greatest love story ever told" or "50 years of happily ever after." Frame the poster and present it to your parents as a funny and unique gift.
3. Customised Liquor Bottle Labels
Celebrate your parent's 50th anniversary with customised liquor bottle labels. You can design their favourite wine, champagne or whiskey bottle labels with funny phrases like "Still Drinking Together After All These Years" or "Aged to Perfection – Just Like Our Love." This is a fun and unique way to celebrate their special day while enjoying a nice bottle of your family's favourite alcohol.
4. T-shirts With Quirky Golden Anniversary Captions
Get your parents matching t-shirts with "Survived 50 Years of Marriage" on the front. On the back, you can include funny quotes like "Still Going Strong" or "Can't Get Rid of Each Other." This is a fun way to celebrate their milestone anniversary and show them you appreciate their sense of humour.
Unique 50th Anniversary Gifts for Parents
Fifty years of marriage is a remarkable achievement that deserves to be celebrated with unique and meaningful gifts. This Golden Anniversary reflects on a lifetime of love and commitment between your parents. Honour the couple's enduring bond through these 5 unique gift ideas:
1. Personalised Star Map
Commemorate your parents' wedding's exact moment and location with a beautiful star map print. You can customise the design and choose their wedding date, time, and location to create a stunning and unique piece of art.
2. Wine Tasting Experience
Treat your parents to a private wine-tasting experience at a local vineyard or winery. They can sample various wines, learn about winemaking, and enjoy a beautiful day out together.
3. Memory Jar
Fill a jar with 50 memories, one for each year of their marriage. These can be written on small slips of paper, or you can include photos, mementoes, and other keepsakes to make it even more special.
4. Luxury Bedding Set
Upgrade your parents' sleeping experience with a luxurious bedding set. This can include high-quality sheets, pillows, and a cosy comforter designed to provide a comfortable and restful night's sleep.
5. Personalised Artwork
Commission an artwork that celebrates your parents' love and life together. This could be a portrait, a painting, or a sculpture; all customised to their unique tastes and preferences.
Last-Minute 50th Wedding Anniversary Gift Ideas for Parents
As the milestone of a 50th wedding anniversary approaches, finding the perfect gift for your parents can be challenging. It's a special occasion calling for a thoughtful and meaningful gift that reflects your love and appreciation for them. If you're running out of time and need some last-minute gift ideas, here are four options to consider:
1. Personalised Photo Scrapbook
Collect some of your parents' most cherished memories and photos over the years and create a customised photo book. This gift will be a sentimental keepsake they can treasure for years.
2. Engraved Wine Glasses or Coffee Mugs
Celebrate the occasion with a toast by gifting your parents a set of engraved wine glasses. You can use the same idea on coffee mugs too. You can include their names, wedding date, or a special message they will cherish every time they use them.
3. Experience-Based Package
Treat your parents to a much-needed travel experience by gifting them a package to a unique destination. It's a unique way to celebrate their love and create new memories together.
4. Pampering Day
After 50 years of marriage, your parents deserve a day of relaxation and pampering. Treat them with a day filled with what they like the most; it can be a spa day with massages, facials, and other relaxing treatments to help them unwind and rejuvenate or have a nice picnic.
FAQs
1. Why Is 50th Wedding Anniversary Called Golden?
The 50th wedding anniversary is known as the "golden anniversary" because gold is a priceless metal representing the enduring and cherished character of a long and happy marriage. The word "golden anniversary" expresses that 50-year marriage is a precious and appreciated achievement, just like gold is a precious and prized substance. Historically, it is also attributable to the medieval European custom of exchanging golden garlands.
2. Which Colour Can You Wear for 50th Anniversary?
Gold is the customary colour for a 50th wedding anniversary, an appropriate homage to the significant accomplishment of 50 years of marriage. To add a more contemporary touch, you might alternatively choose a colour scheme of white and gold, symbolising the sincerity, devotion, and love that have characterised your relationship for the last 50 years. The most important thing is to celebrate your love and commitment in a way that feels meaningful to you both; thus, another option is to dress in your favourite colour or the colour that has special value for you as a couple.
That's it! Try out these 50th anniversary gifts for parents and watch their faces light up on their anniversary day.
Also Read:
Ideas on How to Celebrate Your Marriage Anniversary
Party Ideas to Celebrate 50th Wedding Anniversary
Wedding Anniversary Messages, Wishes & Quotes for Parents