Amazing 50th Anniversary Gifts for Parents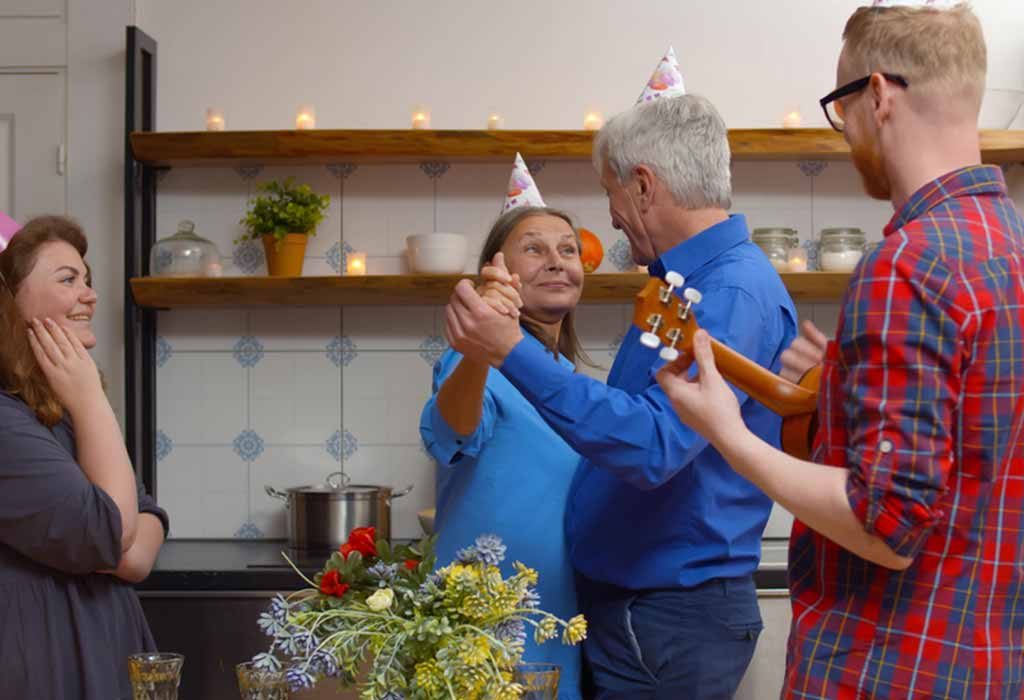 In this Article
Coming up with 50th anniversary gift ideas may seem impossible if you're scrambling at the last minute, but it isn't! If your parents are about to celebrate their golden years soon, here's a list to help you out below.
Gift Ideas for Your Parents' Golden Jubilee Anniversary
When you're shopping for a 50th anniversary present for parents, you want to make sure you pamper them to the fullest. Here is a list of the top gifting ideas to surprise them!
1. Photo Collage
A photo collage can be a timeless gift for your parents. It showcases their precious memories, and can be a wonderful way to remember the good old days. Just pick the best photos, and glue them artfully to a frame. Or, you can hang them up on a wall inside a wooden panel, and display it in a room for them to see.
2. Jewelry
Gifting your parents jewelry will never get old. Why not give your mom and dad something beautiful and elegant to cherish? You can start with a necklace and a classy timepiece. If your dad prefers accessories, you can try designer bracelets for men instead. These make for a unique 50th wedding anniversary gift.
3. Chess Board
A chess board may sound like an odd gift, but if your parents are into board games, you can give them one. Chess stimulates the mind, and is always fun to play. As they get older, their brains will stay active, and you won't have to worry about cognitive decline due to idleness.
4. Concert Tickets
If your parents have always wanted to attend an opera or a concert in town, but always seem to miss it, you can gift them tickets! It's a beautiful gesture, and makes for one of the best golden anniversary gifts for parents.
5. Vintage Wine
Vintage wine never gets old, and is one of the pricier items on our list. The price tag may seem steep, but where you get it from will make it extra precious. If your parents don't prefer wine, you can try giving them sparkling water or champagne bottles as gifts. Alternatively, if they're already wine connoisseurs, you can give them a wine cooler instead!
6. Spa Vouchers
Who doesn't like a trip to the spa? Spa vouchers for couples are an excellent way to pamper your parents on their 50th anniversary. These usually give them free massages, swimming sessions, sauna, and various beauty treatments.
7. Video
If you have tons of footage related to your parents' trips and family moments from the past, you can compile them into a montage, or make a video. A video that displays their highlights in life will definitely touch their hearts.
8. Wallet or Purse
You can give your parents a beautiful leather wallet or purse. Animal prints are stylish, but you can get various designer wallets with gold or silver plating on the front. Ask the seller if they can be customized and designed with your parents' names on them as engravings.
9. Newspaper Publishing
This might be an unconventional gift, but it works like a charm. Get a memorable photo of your parents, and get it printed in a newspaper. Surprise them by mailing it to their home before the big day begins.
10. Hand-Knit Blankets
If you're creative and enjoy working with your hands, you can make a hand knit blanket for your parents. Making sweaters, scarves, or any other clothing items also work.
11. Dining Set
A dining set adds class and elegance to the table. Maybe you'd like your parents to enjoy a lavish meal during their 50th anniversary. Get them a beautiful and classy set, and they'll love it!
12. Skincare Products
Your parents may not expect it, but skincare products are the absolute rage. There are various collagen creams and anti-aging creams you could present as gifts. Give them the gift of good health for their later years!
13. 50th Anniversary Mugs
You can order DIY mugs online, and get them customized with the text 'Happy 50th Anniversary' on the front. Get creative with them, and have a blast.
14. Bedside Lamps
Bedside lamps for couples are a huge hit among them. They are considered to be at the top when ranked with other traditional 50th anniversary gifts for mom and dad.
15. Food Basket
If you know what your parents love to eat, you can get a food basket delivered to their doorstep. You can find plenty of options for customizing them online in your city.
16. Customized Cutting Board
A customized cutting board with their names engraved on it makes for a beautiful gift. You can get these in different sizes and textures.
17. Glass Statues
If you can hire an artist to make a sculpture or statue out of your parents' younger years, they'll love it!
18. Art Sets
For couples who are into the creative arts and crafts, art sets are a terrific gift idea.
19. Family Journals
Family journals can be used for penning down thoughts and beautiful memories. You can get your parents one for their 50th anniversary.
20. A Floral Bouquet
We've kept the classiest for the last – a floral bouquet can set the right note for any 50th anniversary celebrations!
That's it! Try out these gifting ideas, and watch your parents' faces light up on their anniversary day.
Also Read: Ideas to Celebrate Your Anniversary