Amazing 50th Anniversary Party Ideas
50th wedding anniversary is the epitome of happiness for every couple. Half a century of married life of your parents calls for a grand celebration. You want to host a party to celebrate this day with all your friends and family to make it special. Whether the gathering is small or large, the 50th-anniversary party should be personalized as per the couple to signify their important married life milestone. It has to be a day to remember by the couple, making it as memorable as their marriage. For that, the party must be well planned, taking care of every aspect of the party. To plan the memorable 50th-anniversary party for your parents, here are some beautiful 50th-anniversary celebration ideas.
Beautiful Ideas to Make Your Parents' 50th Anniversary Special
Your parents completing 50 years of married life deserve a special celebration. A beautiful party honoring their memorable journey is one of the best golden wedding anniversary gift ideas for parents. Their 50th-anniversary party should be about celebrating and honoring their bond by creating sentimental moments for them. A memorable party has to be planned meticulously and in advance. It doesn't matter whether you are planning an intimate gathering at home or restaurant or a huge event, every aspect of the party has to be planned well in advance to make it special. Some 50th-anniversary party ideas for parents are:
Deciding the Venue
The venue is one of the most important aspects of planning a successful party. There are several key points to remember while deciding the venue. They are:
Decide the venue as per the gathering or number of people you'll be inviting.
When planning an intimate gathering- your home or a relative's home or a private room at a restaurant can be finalized.
For a big gathering, book a banquet room or hotel ballroom, lawn, or church hall.
When booking an outdoor space like a park, ensure an adjacent parking lot and restroom are available.
Finalize the venue well in advance. Doing it at the last moment can result in non-availability.
If out of station guests will be attending the party, make arrangements for their stay too.
If you plan to serve alcohol at the party, make sure the venue allows alcohol serving.
In case any of your guests have limited mobility or uses a wheelchair, make sure the venue is accessible for them.
Preparing the Guest List
Your parents' 50th wedding anniversary party is a big occasion. So it's no wonder that most of your family and relatives will be looking forward to it. Your parents, too, have several friends, work associates, church fellows, community members, and neighbors they might want to invite. So sit with them and finalize the guest list as per the celebration size and your budget. If you were planning for an intimate gathering, then just include the family members, close relatives, and close friends in the guest list. When planning a large party, you can invite everyone. Though remember to make the guest list several days or weeks in advance. Invite the guest in advance to give them time to keep themselves free on that day.
Invitation Ideas
Invitations are the preview of the party the guests can expect. They are an important aspect of party planning. The 50th-anniversary party invitations should be classy and elegant like the marriage milestone. The ideal invitation theme for a 50th-anniversary party is Gold color—another great invitation idea is-then and now pictures of the couple printed on the invitation. You can send e-invitations for a small gathering of close people. For a large gathering, send formal invitations. Your out-of-town guests should be invited at least several weeks in advance. In case you want an RSVP from your guests, designate a person to follow up for the RSVP. Also mention on the invitation, if it is a party just for adults.
Theme and Decor Ideas
50th wedding anniversary is considered the Golden jubilee anniversary. Therefore, it is commonly associated with the color gold. The theme revolves around the color gold and set the guide for décor, invitations, cake, etc. Gold also gives a classy and elegant look to the theme and decorations. However, too much gold may become too gaudy, so blend it with other colors to complement the decorations. Some ideas for the theme and décor of the 50th anniversary incorporating the color gold are:
Gold can be mixed with other colors to make various color schemes such as – Black, White, and Gold, Gold and Black, Gold and Violet/Purple, Gold and Blush/Beige, Gold and Rose pink, Red, Cream and Gold, Gold, and peach or Gold and Cream.
Make the other color prominent and add gold on the centerpieces, tablecloths, table runners, flower arrangements, balloons, etc.
Add golden accents to the various decorations elements such as golden paper doilies, golden tassels or ropes on chairs or curtains, gold-rimmed china/cutlery, golden ribbon on napkins, golden candlesticks, place cards, votive holders, etc.
You can also display pictures of couples from over the years in golden frames.
With the addition of color gold in the invitation or signage, you can also add the word 'Golden' on the invitations, signage, or decorations.
Pick fresh flowers in the same color as the theme.
Do remember to decorate the outdoor of the venue. Illuminate the doorway and walkway with light strings and add a sign or banner announcing the big event.
Food, Drink and Cake Ideas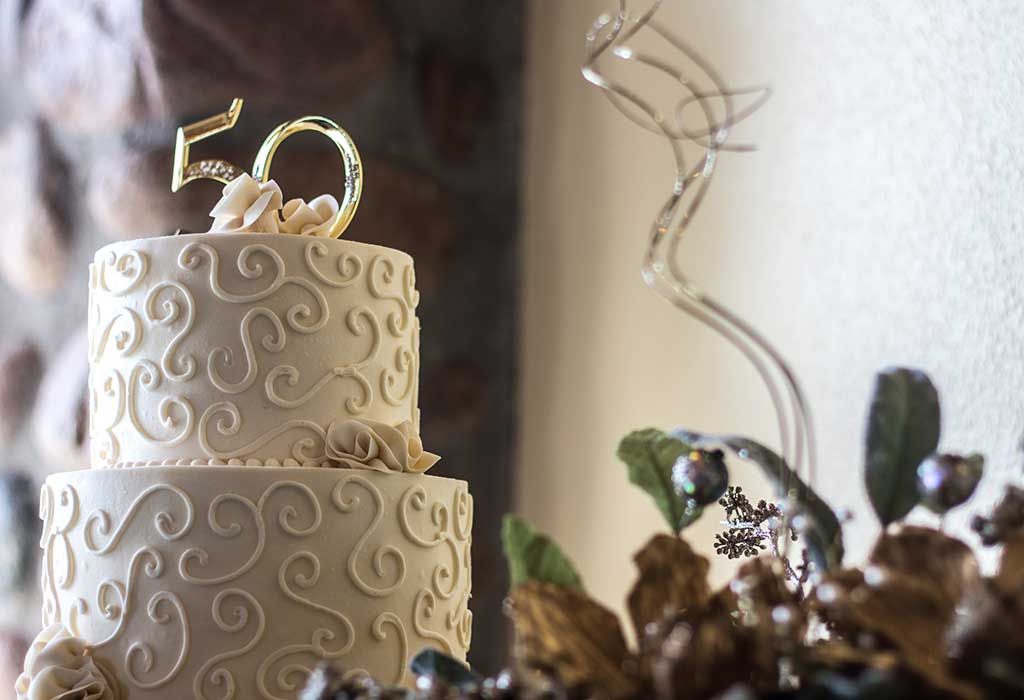 Food, drink and anniversary cake is the main focus of the 50th-anniversary party. You could be hosting the party at a restaurant or cooking at home, or hiring a caterer; the 50th-anniversary dinner ideas have to be as per the party's theme. Themed menu with dishes and drinks following a theme create an amazing impact on the guests. You can also go for the menu from their wedding, to make them remember the happy occasion. Your menu should have few appetizers, full-course dishes, and a few options of deserts. Add options of both non-veg and veg in the menu. Remember to add a few dishes for guests with dietary restrictions. In drinks do have some non-alcoholic options and fresh fruit drinks for people who don't drink and kids. Do remember to toast your parents and ask some of the near ones to do the same.
A specially decorated cake for the couple will complete the celebration. The cake should follow the decoration theme or color scheme and have some personalized symbol for the couple. You can go for the same cake topper as their wedding cake. Remember to order the cake as per the number of guests. It should be sufficient for all the guests with some leftovers, in case some guests take two servings. If kids are invited to the party remember to order a bigger cake. Also, do remember to pick up the cake or get it delivered early in the day. This will give you time to correct something, in case something is not as per your order.
Game and Activity Ideas
No party is enjoyable ill there are some games or activities which engage everyone in the celebrations. As the 50th-anniversary party celebrates a couple's happy journey, some games can be played to test the compatibility and knowledge of couples at the party. All the couples at the party can play this game. They can be asked questions testing their knowledge about their partner or their response to different things. One other game can be truth or lie about the couple's knowledge of each other. Guessing the celebrity couples can also be fun games for couples. In this game, one partner has to guess the celebrity couple on the other partner's hints. If the party is hosted outdoor, then games such as three-legged races or find the treasure can also be played, forming a team of couples. Few enjoyable games such as musical chairs or sack races can be played with every guest at the party. The guest will enjoy running around like kids, trying to grab the chair, or hopping in the sack. If kids are invited to the party, do remember to add a few games for them, such as a spoon race or even a drawing contest. A dance floor with DJ will add to the enjoyment of the party for both kids and couples.
Favor Ideas
After party favors, do not just return gifts to be given to guests. They are also tokens of appreciation and gratitude from the host for the guest to be part of their celebration. Some favor ideas for the 50th-anniversary party are:
Good quality chocolates wrapped in personalized packaging or theme-based packaging commemorating the occasion.
An elegant gold-tone picture frame with a picture of the couple.
A small vase with gold-tone work.
A brocade pouch filled with gourmet goodies.
A personalized champagne bottle.
Cute jewelry in gold-tone.
Decorative Candleholders with an etched message.
Donation to a charity in the guest's name. The host can hand a thank you card to the guest informing their donation.
Take inspiration from the mentioned 50th-anniversary party ideas and plan a memorable party for your parents—plan in advance so that you are not making last-minute arrangements. Enjoy the great event with your parents and make this day memorable for them.
Also Read:
Anniversary Gifts Ideas for Your Husband You Should Consider
Amazing Ideas on How to Celebrate Your Marriage Anniversary
Handmade Gift Ideas for Husband for Any Special Occasion