Baby Beach Tents and the Right Way to Choose One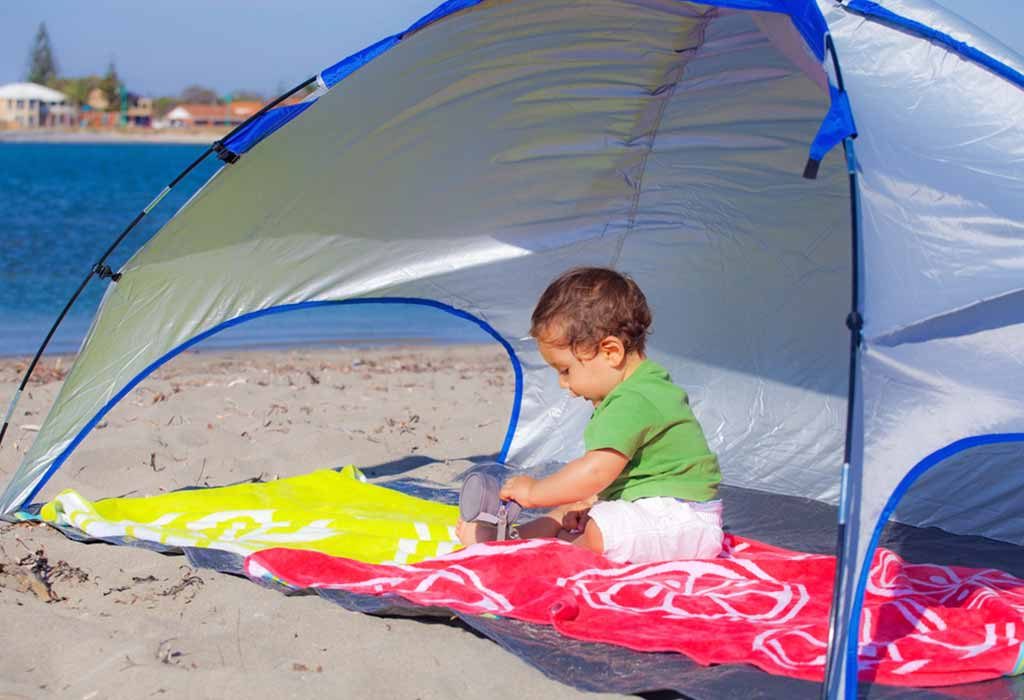 Beach tents protect your child from the harmful UV rays of the sun and provide a nice shade to rest under. They're very convenient to set up and take just a few minutes to install. If you're planning for a family trip to the beach and have kids, you'd want to invest in a good baby pop up tent. Here's a short guide to picking the right one for your child.
What Are Infant Beach Tents?
An infant beach tent creates a safe haven for your child to rest and protects them from the sun. Mothers who are breastfeeding kids prefer using this to get privacy and most infant beach tents come with sandbags and various pockets. Young children have sensitive skin and these tents protect them from the harmful effects of UV rays. Besides this, an infant beach tent can do wonders when it comes to providing a safe environment for kids to play in.
They're perfect for families who are planning to spend more than a few hours at the beach since they ensure your kids' safety and good health.
How to Choose the Perfect Beach Tent for Babies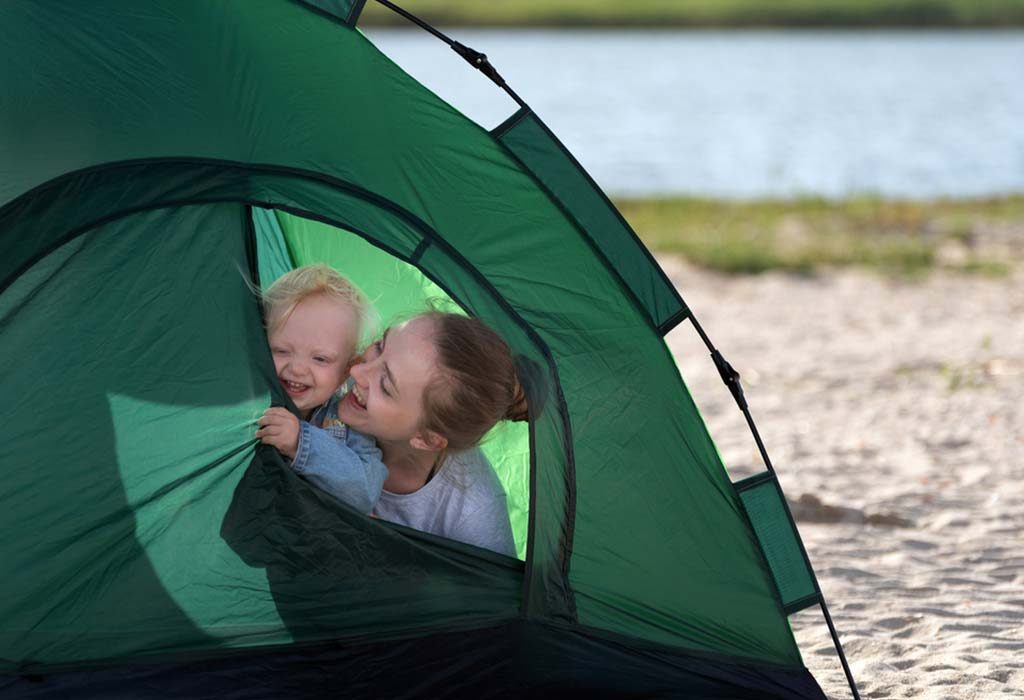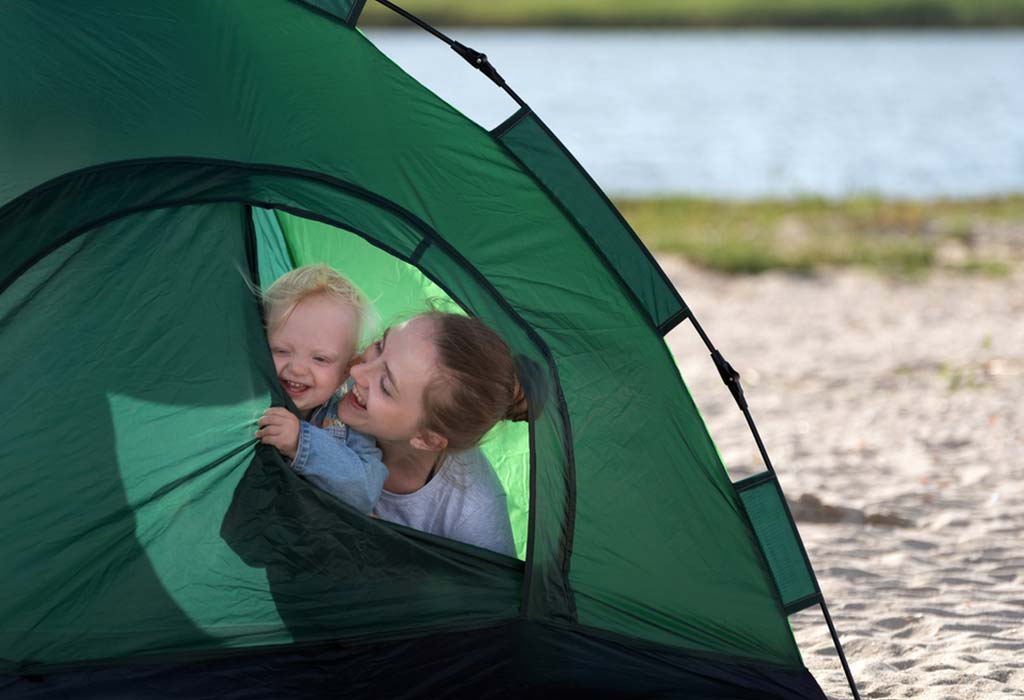 Here are a few important things to keep in mind when going shopping for a baby shade tent:
How big is it?: You should ask yourself this first. If you're buying a tent exclusively for your baby, you don't have to worry about the size that much. But if you're buying a tent for the whole family that includes your babies and their siblings, you have to take into account the exact measurements before buying.
What features does the tent have?: Features like pegs, stakes, and slots for placing wooden stumps come in handy when you're setting up the tent. You don't want it to get blown away by the wind when you're installing it in the sand. Make sure the airflow is good and the tent provides prover ventilation. Some tents have windows and open-up sides for angling the sun's rays.
Does it have UV-ray certification?: UV-ray certification is important if you don't want your baby to get sunburns. Tents may claim to protect your child from the sun but don't go for products that aren't UV-ray certified when it comes to their protection.
Why You Should Choose Beach Tent Over Umbrellas
Here are a few reasons why you'd want to invest in a baby sun tent instead of a beach umbrella.
1. More Privacy
If your baby throws a tantrum out of nowhere and has to be fed, you can breastfeed them without worrying about losing privacy. Beach baby tents can be closed off from the inside and have proper ventilation so that mothers don't suffocate. There's enough space for storing food, diapers, and water bottles so that parents can help get their babies well-fed and changed when needed.
2. Great Portability
Some beach umbrellas are too big and much of a hassle to set up. But you won't find that problem with beach tents. These are compact enough to fit into backpacks and you can take them with you wherever you go. The installation takes just a few minutes and pop-up tents have minimal assembly times. Look for enclosure options on the side to get the best value on your portable baby tent deals. You can ask the manufacturer about the shelf life of these tents before deciding to buy one.
3. Durability
Umbrellas can get blown over by the wind and you can't suddenly set them back up. But beach baby tents are designed to withstand various weather conditions. You can get tents made using high-quality and strong materials that withstand strong winds and gusts. Check with the seller to see if the tent is waterproof and has options for completely sealing off the outsides so that you make sure your baby stays protected.
4. Adequate Sun Protection
The biggest reason why parents prefer baby beach tents over umbrellas is adequate sun protection. Your baby has soft and sensitive skin which means he/she is more prone to sunburns. An umbrella might not provide sufficient shade or coverage but a good beach tent will. This is an advantage that's outmatched and you cannot compare it with umbrellas. Additionally, beach tent manufacturers are providing exclusive UV-ray certification which guarantees that your baby enjoys the oceanside safely, without getting exposed to the UV rays.
5. Enough Storage
If you're looking for extra storage space from these products, you won't be disappointed. Families prefer going for these tents mostly because of that. You get pockets for keeping your sunscreens, lotions, snacks, and baby toys. There are special designs which make packing and moving these tents very easy. Some tents come with in-built storage bags for keeping valuable belongings as well.
6. Check the Materials
You don't want to end up buying a tent that's too flimsy or tears up easily. Check to see what fabrics the manufacturer used to make the tent. This may sound something basic but can get overlooked, if not taken care of.
Safety Tips for Using Beach Tents
Here's what you want to keep in mind when you're using beach tents for your children.
1. Carry a Fan
No matter how much great ventilation a beach tent provides, there will be times when your baby feels the heat inside. It's a good idea to carry a small fan with you to ensure proper air circulation in the tent. Also, pack a few water bottles with when bringing along the tents since you'll get pockets for keeping them inside.
2. Set up Sturdy Sand-Pegs
Most tent suppliers will provide sand pegs but it's good to carry a few of your own. You want strong and sturdy pegs that secure the tent in place, making sure it doesn't get blown away.
3. Pack Sunscreen
Organic baby sunscreens are recommended for the best safety. Avoid applying sunscreen on your baby's hands and make sure the SPF number is high. The higher the better since it means your child gets extra protection.
4. Read the Instructions
Don't forget to read the instruction manual before setting up the tent. If there's something the manufacturer failed to mention, you can always follow up. Check to see what are the contents included with your baby beach tent and if they have additional safety measures in places like mesh windows, extended floor panels, and built-in paddle pools.
Now that you're aware of what goes into baby beach tents, you can make a sound decision before committing to a purchase. Baby beach tents give your child a playful space to relax and sleep in while you're busy exploring the beach. If you plan on spending a full day at the beach, you'll find that they are a good investment.
Also Read:
Infant Travel Checklist
Things to Consider While Travelling With a Baby
Travelling With an Infant on a Flight
?>