Baby Bath Thermometers – Types, Usage and Tips to Choose the Right One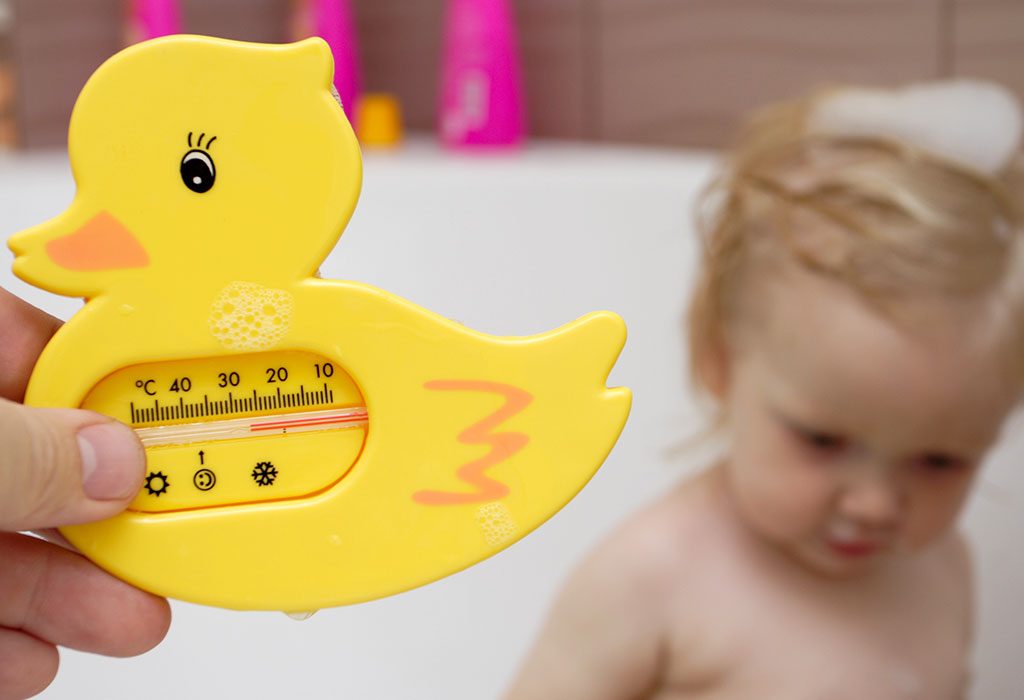 Baby grooming and bathing need your ultimate care and love. Here are some different types of baby bath thermometers that are 100% per cent safe and effective in determining the right temperature of water required for your child during the bath. Proper tips and recommendations to choose the right one can make parents feel confident about using baby care products with ease.
What Is a Baby Bath Thermometer?
Giving your baby a mild soap bath will help to keep them clean and prevent skin rashes and chafing. However, bathing sessions for babies can be chaotic and daunting enough for new parents. Your baby's skin needs cooler water than your own as water that may feel moderately warm could be painfully hot for your baby. When you dip your elbow into the water, it should feel warm and not hot. Your hands may not be heat-sensitive enough. One must remember to put cold water in the tub first followed by hot water. Before putting your child into the bath, it is important to swirl the water around to remove the hotspots. Fill up with just enough water in the baby bathtub or sink so that the bottom of your baby's body is covered. As babies tend to lose body heat quickly, it's best that the water has the right temperature before putting your child in. Do not add hot water once the child is already in the water. Luckily, there are bath thermometers that can give you an accurate reading of the bathwater temperature every single time. However, just don't grab anything off the pharmacy or any baby store shelf! Thermometers need to be compliant with all safety standards as they are sensitive instruments. Apart from an accurate temperature reading, they also serve more purpose. New-age bath thermometers have several built-in features that meet the expectation of quality and safety requirements of modern-day parents. Here are some of the best bath water thermometers that require minimum maintenance and takes the stress out of bath time.
Types of Bath Water Thermometers
Among the various types of baby bath thermometers that are available in the market, the following brands listed below are designed specifically for your convenience and the safety of your child.
1. Philips AVENT SCH550/20 Bath and Room Temperature
This new-age gadget gives a fast and accurate digital measurement of the bathwater and room temperature. This leak-proof and safe product can be used for babies of any age. You can place it in your infant's room or even float it in the bathwater.
2. Munchkin Safety Ducky
This bath and room thermometer is economical and has round edges to avoid unwanted injuries. Designed as a playful little rubber ducky, it is both water-tight and mild-dew resistant.
3. Dream Baby Room and Bath Thermometer-Yellow Duck
This BPA-free thermometer adheres to EN71 standards. It spontaneously shuts off after an hour to aid in saving the battery life. Its reading gets updated every 10 seconds and displays the temperature in Fahrenheit and Celsius. Its red and green indicator shows if the water is too hot or cold.
4. Mothermed Baby Bath Thermometer and Floating Bath Toy
This bath thermometer provides an accurate bath and air temperature in one minute. Made using BPA-free material, it automatically turns off after 30 minutes and can be activated with a shake. It flashes red for hot and cold for low temperature.
5. Acculove Yellow Fish Baby Bath Thermometer
This compact stingray shaped thermometer has smooth edges for easy grip. It can be instantly activated with a shake. It features accurate temperature measurements every 5 seconds on an LCD screen. Made using BPA-free material, it has a battery lifespan of one year.
6. Mothermed Whale Baby Bath Thermometer
This attractively designed whale-shaped thermometer can be your perfect bath mate for your baby. Made with environment-friendly material, it has a sealed built-in battery. It provides accurate information on water temperature in two seconds while flashing if the water is excessively hot or too cold for your child.
7. Aquatopia Safety Bath Time Audible Thermometer
This innovative hands-free thermometer has a cute hippo design. Its audible alarm sets off when the water is too hot or cold. It constantly monitors the water temperature and has a safe battery compartment.
8. Ozeri Turtlemeter, Floating Turtle Toy and Bath Tub Thermometer
This fully submersible thermometer comes in an impressive turtle design. It gives an instant display of water temperature in Fahrenheit in three varied digital colors.
Ideal Temperature to Bathe an Infant
The ideal temperature of your baby's bath water should be 100 degrees Fahrenheit or 37.7 Celsius to prevent any burning or chilling sensation.
How to Use a Baby Water Thermometer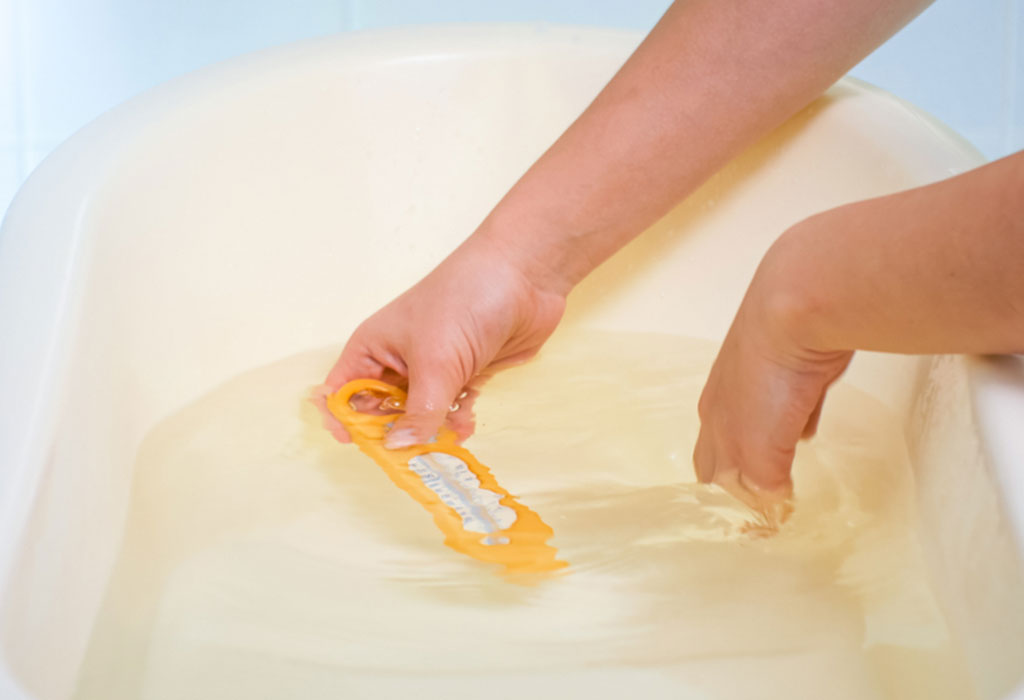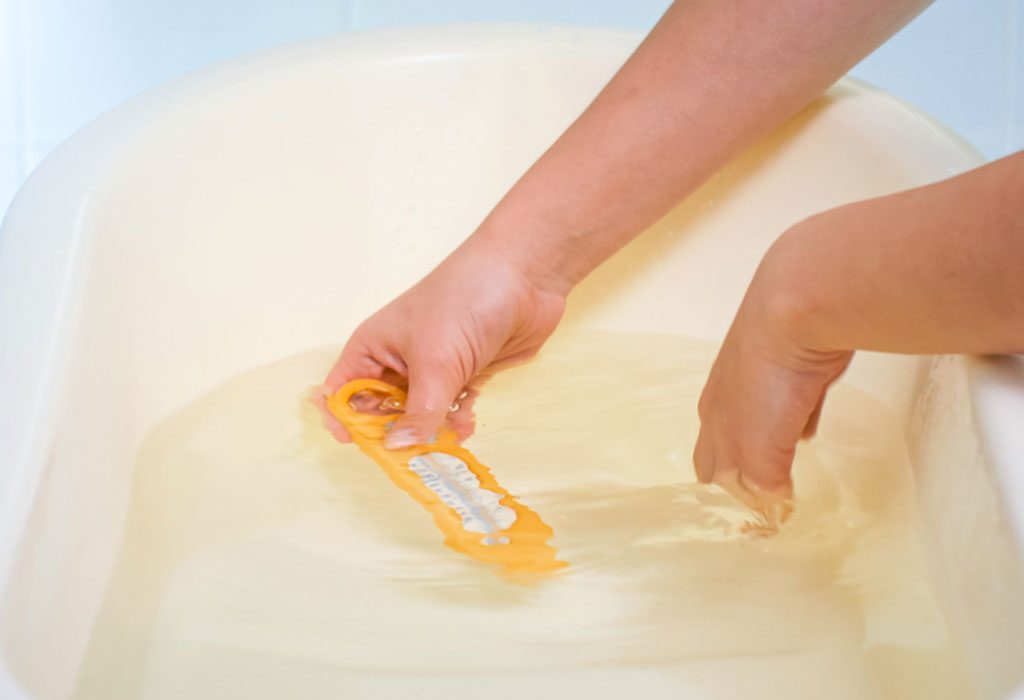 Most baby bath thermometers have an on/off button or switch that can be used to activate them. However, there are some hands-free devices that just need to be shaken or placed in water to turn on. You just need to check the LCD display once it is activated and make sure that the temperature is right for your child's age and preferences. The submersible ones have a color-changing or digital display screen that can be stuck to the sides or the base of the bathtub with the attached suction cup. There are also liquid crystal display cards that can be stuck to the side of the bath.
Things to Consider While Choosing a Water Thermometer for Your Baby's Bath
As the safety of the child is of utmost importance for all parents, they need to make an informed decision while buying any product for them. Decide whether you want a thermometer that would record water temperature or room temperature. Some devices have a clock display and countdown timer. Opt between a thermometer with temperature display in Celsius or Fahrenheit. Go for an energy-efficient device that offers long battery life, has a built-in battery or has an automatic shut-down in order to preserve battery consumption. Baby bathtub with thermometer has a built-in device that comes with plastic baby baths. It has a color-sensitive pad that changes color with heat. Floating baby bath thermometer usually comes in the form of a bath-toy and has a digital display or color-changing spot. Thermometers with flashing light are good for your child's sensory engagement while bathing.
Here are some ways of choosing and meeting the right safety standards while buying your baby bath thermometer.
One must consider the functionality, appearance and longevity potential of a thermometer before buying one.
It is important that the baby bath thermometer meets the safety standards set by the Consumer Safety Product Improvement Act.
The thermometer should be made of soft and reliable material with round edges that can do no harm to your baby.
It should be made of soft eco-friendly material that would be safe kids in case they chew or put it in their mouth.
The battery compartment of the thermometer should be safe and not accessible to babies.
Read the instructions for cleaning the thermometer. Check whether it has been pre-treated with an anti-bacterial product to make it last longer.
Make sure the endless shopping list for your baby has the right baby bath temperature thermometer which is just a small price to pay for your baby's safety and your peace of mind. This reliable device takes a lot of guesswork out when it comes to the ideal bath temperature. Incorrect temperature can scald your baby's delicate skin while too cold water can leave your baby shivering. So, it is important to invest in a good baby bath thermometer that aids in your child's sensory development and makes their bath time an opportunity to bond and have fun together.
Also Read:
Is Co-bathing With an Infant Safe?
Breast Milk Bath for Infants
Sponge Bath vs Tub Bath for Infants