130 Best Captions for a Newborn Baby Boy & Girl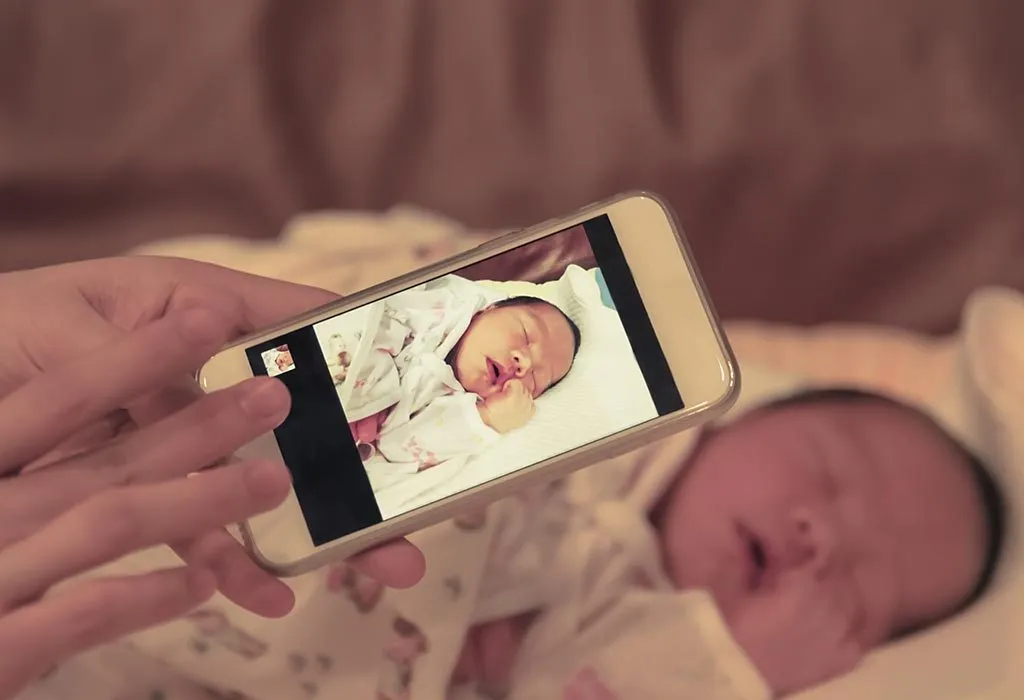 Being a parent is one of the happiest feelings in the world. The arrival of a little one in your inner circle is a joyous occasion for you and your extended family of relatives and friends. No wonder you want to tell them your good news as soon as the baby is born! The best way to do so these days is by posting it on social media so that all your family and friends will get the good news instantly and together, with just one post. That's why we're bringing you a curated list of beautiful newborn photo captions, with plenty of captions so you can select a perfect caption for newborn baby!
Best Newborn Baby Captions to Introduce Them to the World
Here is the list of the best newborn baby captions to introduce your little one. You can choose one that best suits your personality or expresses your happiness. Make a personalised welcome caption for the newborn baby by adding the little one's name. Pick the best caption for baby girl and boy from this amazing list:
1. "Our world has become a better place with a new member."
2. "Baby (name) was eager to meet us and arrived early!"
3. "Here comes the sunshine of our family!"
4. "Our little one has arrived to add giggles to our lives."
5. "You will be the mark that I will be leaving in the world."
6. "My new world starts with you."
7. "Welcome, my heart and soul."
8. "God has given His piece of heaven to me."
9. "Proud to announce that I am the mother/father of this bundle of joy!"
10. "Our family is now complete."
11. "Happiness is born in our home!"
12. "A perfect gift wrapped in love has been put in my arms."
13. "(Name) fills my life with happiness and good luck."
14. "Thank you for choosing us as your parents!"
15. "The most beautiful flower has bloomed in the garden of my life."
16. "This one has touched us with love."
17. "Welcome to your new world, (name)."
18. "A huge miracle in such a tiny person!"
19. "Here's my baby's first selfie!"
20. "Keep calm, our baby has arrived."
21. "Our Christmas gift has arrived early!"
22. "It's official! Our baby (name) has arrived!"
23. "The snuggle is real. Meet our cuddly new family member, (baby name)."
24. "We dreamt it, and it's now a reality."
25. "A new star comes to the planet."
Caption for Newborn Baby Boy
Here are some of the best captions to tell the world about your newborn baby boy:
1. "Introducing Mr. (name) as a super boy!"
2. "Our homemade product has turned out so handsome!"
3. "The star of the sky has landed in my arms. That's you, my baby boy!"
4. "My superhero is born today."
5. "I am going to love him today, tomorrow, and forever."
6. "Hey, world! Please welcome the new heartthrob of the girls."
7. "Hey, boy, you will always be the hero of my life."
8. "My cute baby boy reminds me of how much love is still there in the world."
9. "My little man has taken my heart away."
10. "The second man who has stolen my heart is my son."
Caption for Newborn Baby Girl
Some captions for you to tell the world about your cute baby girl are:
1. "This baby girl is the miracle of my life."
2. "I see the moon and star in your wide grin, sweetheart."
3. "My little princess has made me a queen/king today."
4. "My darling daughter has made my life a happy place."
5. "My mother thought I was the cutest in the family. You proved her wrong."
6. "Nothing could be more adorable than my sweet angel."
7. "Introducing to the world, the queen of all the sweetie pies in the world."
8. "It's not just a girl. It's a super girl who's arrived at our home."
9. "I have my precious jewel, and will always keep her safe."
10. "Here's a new princess in town. Want to meet her?"
Captions for Twin and Multiple Babies
Parents' joy doubles when they are blessed with twins or multiple babies. Some captions to express the happiness of parents for twins and multiple babies are:
1. "Introducing my sun and moon to the world."
2. "Double fun, double happiness, and double love!"
3. "We asked for one gift. God has blessed us with (number)."
4. "Welcome, my beautiful daughter and a handsome son. Can the world get better than this?"
5. "Our family is not big. It has become bigger."
6. "Welcome the new prince and princess in town."
7. "Happy to experience double the fun and half the sleep!"
8. "We were planning for one miracle. God blessed us with two."
9. "Now we know why more is merrier!"
10. "Fortunate to be blessed with a big bundle of cuteness."
Funny Captions for a Newborn Baby
Frame these sweet captions about your newborn in your social media posts.
"Will be delighted about milk."

"A sweet smile, but else, ugh!"

"Our energy sources in this house are love, coffee, and baby giggles."

"This infant and a limitless coffee cup are all I need in life."

"As long as there is milk, they continue to live happily ever after."

"It's a big deal for a little package!"

"There is a new boss at work. He thrives on love, and we thrive on coffee."

"Free, sobbing, and stinky things are the nicest things in life."

"Champion cuddler from the start."

"Happy child, happy vibes."
Sweet Captions for a Newborn Baby
Sweet captions for pictures are more than required. These captions will make you fall in love with your child's picture.
"Now we understand why more is indeed better."

"Double enjoyment, double joy, and twofold affection."

"We prayed for one gift, and God granted us 'you' in return."

"Welcoming the world to my sun and moon."

"Our family has grown, but it is not large."

"Lucky to have a large bundle of sweetness as a blessing."

"I didn't realise the suffering would be worth this amazing gift from God."

"I pledge to hold your hands forever, new love."

"Your grin is all I need to make my day happy."

"I cried when giving birth to you. But I'm confident I'll always be content as long as you're here."
Newborn Baby Captions to Put on Instagram
Instagram is the trendiest platform for uploading pictures, but finding the right caption for each one of them is also important. Here are some captions on Instagram to welcome your newborn baby into this wonderful world.
"Going to be a wonderful mom."

"My superhero is born today."

"Don't worry, champ I will be there for you always."

"I believe you will make me proud one day."

"Children are naughty, but mine is the naughtiest."

"Maybe your journey will be tough, my baby, but you must go through it and learn from it."

"When you came into this world, I was the one who cried because I love you more than anyone."

"I would rather be a friend than a strict mom to my children."

"A new member is about to come."

"Keep calm my baby is coming."
Other Cute Captions to Put Out with Baby Pictures
Some cute newborn social media captions are:
1. "There is no better feeling in the world than holding your precious child."
2. "Of all the things my hands have held, the best by far is you."
3. "The first day of your life was the best day of mine."
4. "Your first breath took ours away."
5. "The sweetest little part of destiny."
6. "Happiness is homemade."
7. "A child is the most beautiful gift this world has to give."
8. "Twinkle, twinkle, little star, do you know how loved you are?"
9. "Last name: 'Ever,' first name: 'Cutest'!"
10. "Words can not express the joy of a new life."
11. "You're my favorite reason to lose sleep."
12. "Blessed to have this little one holding my hands."
13. "Sometimes, the smallest things take up the most room in our hearts."
14. "I want to take every single step of yours with you."
15. "After having you, we need nothing more from the universe."
16. "Our cheerful, bouncing baby has entered the world."
17. "You came like a sunrise."
18. "This little one is our entry pass to the Parents Club."
19. "My baby has made me a powerful mother/father."
20. "Our sequel is released!"
21. "Such a big miracle in such a small person."
22. "Look out, world — (baby name) has arrived!"
23. "We have grown by two feet. Excited!"
24. "Isn't it love at first sight? It sure is!"
25. "Dream big, little one."
26. "Nobody else but you matters more."
27. "His/her first breath took ours away. Meet (baby name)."
28. "The Force (of Cuteness) is strong in this one."
29. "Thank you for choosing me."
30. "Our lovely little champ has arrived."
31. "You are my definition of perfection."
32. "You are what I would define as perfection."
33. "The littlest feet make the biggest footprints in our hearts."
34. "Your first breath has taken mine away."
35. "Thanks for promoting me to Parent!"
36. "A baby is God's opinion that the world should go on."
37. "A new baby is like the beginning of all things."
38. "My baby makes my world wonderful."
39. "Behold, children are a gift of the Lord."
40. "Here to make the world a cuter and happier place."
41. "Dreams do come true! Meet (baby name)."
42. "You can outgrow a mother's lap, but never her heart."
43. "I will teach you everything I can."
44. "Welcome the new superstar in our family!"
45. "Your little fingers and perfect toes fill our hearts with love that overflows."
In today's world, all personal news is shared with family and friends via social media. So, choose the best caption to share your good news with your near and dear ones!
Also Read: Cute Baby Quotes