Lentil Sweet Potato Soup Recipe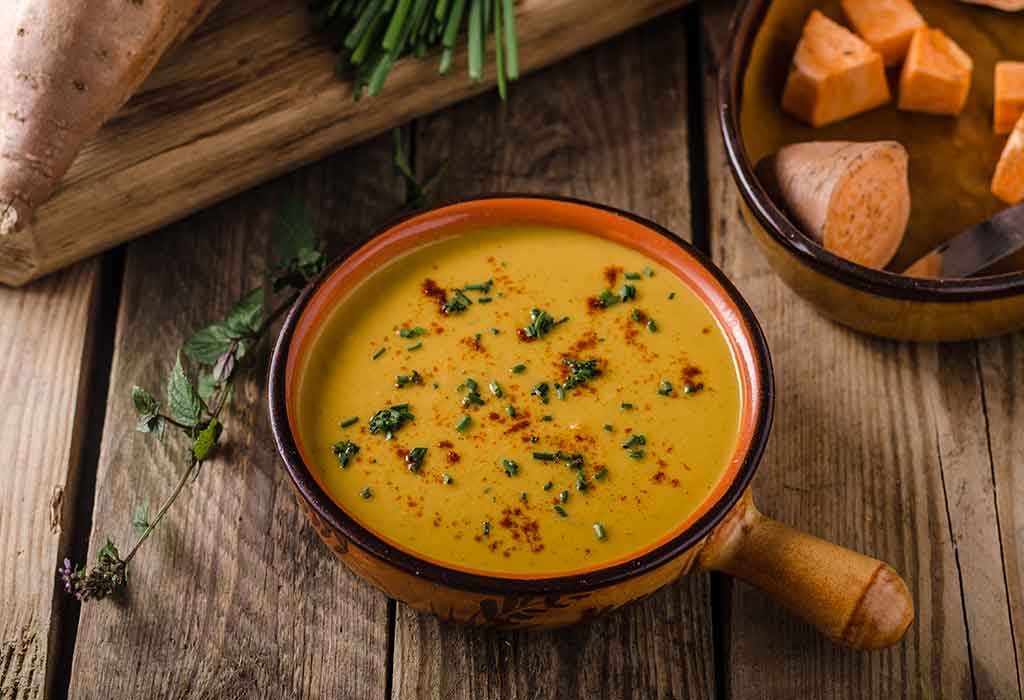 If you are worried about finding a perfect recipe for your baby, then this lentil sweet potato soup is just right for you. A brightly coloured red lentil soup like this is an ideal recipe for your munchkin's dinner time. This is a healthy soup with veggies rich in vitamin C. Not only is it nutritious, but also, its perfect texture and mild flavours are great for babies as they are exposed to the new tastes. If you are wondering how to make lentil sweet potato soup, worry not as we present to you this simple recipe with very few ingredients in easy steps.
Video : Lentil Sweet Potato Soup Recipe for Babies and Toddlers
Cooking time
| | |
| --- | --- |
| Type | Time (hh:mm:ss) |
| Preparation Time | 00:10:00 |
| Cook Time | 00:30:00 |
| Total Time | 00:40:00 |
Cooking Method
Gas Stove
Type of Meal
Vegetarian
Suitable For
Babies above eight months
Meal Schedule
mid-morning, lunch, evening, dinner
Recipe Type
Soups
Ingredients
| | |
| --- | --- |
| Ingredients | Quantity and Volume |
| Coconut oil | 2 tsp |
| Carrot | 3 (medium-sized) |
| Sweet potato | 1 (medium-sized) |
| Red lentils | ¼ cup |
| Turmeric | ½ tsp |
| Salt | As per taste |
| Grated ginger | ½ tsp |
| Vegetable stock | 1½ cups |
| Coconut milk | ½ cup |
Instructions
This simple lentil and sweet potato soup can be made with just the three main ingredients too. However, a flavourful lentil sweet potato soup recipe with a step by step instruction is given below:
Heat a pot over medium heat.
Add coconut oil and warm the oil.
Now add in carrots and sweet potatoes and cook for 10 minutes with the lid on.
Add the lentils, salt, turmeric, ginger, and vegetable stock. Bring to a boil on high flame.
Reduce to a simmer and cook for 15 minutes until the lentils are cooked.
Stir in the coconut milk and switch off the flame.
Once it is cooled down, puree the mixture with an immersion blender or regular blender.
Blend it smooth and serve in a bowl.
For babies above 1.5 years, you can serve the soup without blending with chunks of cooked vegetables in it.
Recipe tips
To make this simple lentil sweet potato soup recipe perfectly, follow the recipe tips below:
You can buy canned coconut milk or make homemade for better taste by grinding grated coconut with two glasses of water and filtering the extract.
Allow the mixture to cool before blending to avoid hot splashes.
You can add cumin powder while boiling to add more flavour and it also helps digestion.
Check the consistency of the soup when all the ingredients are cooked well. You can add water to adjust it to a soupy consistency before blending.
You can swirl in a dollop of freshly beaten curd (while serving) instead of coconut milk.
Nutrition information(Per 100 Gms)
| | |
| --- | --- |
| Nutrient | Value |
| Energy | 230 Cal |
| Total fat | 16 gm |
| Polyunsaturated fat | 0.3 gm |
| Total carbohydrates | 19.1 gm |
| Sugar | 5.4 gm |
| Vitamin A | 800 mcg |
| Calcium | 54.6 mg |
| Dietary Fibre | 3.5 gm |
| Protein | 4 gm |
| Vitamin C | 5.6 mg |
| Iron | 2.3 mg |
| Calcium | 100.3 mg |
| Iron | 1.2 mg |
Health benefits
Find below the various health benefits of home-made lentil and sweet potato soup:
Red lentils are a plentiful source of fibre, folic acid and potassium, which are vital for your baby's healthy growth.
Lentils also provide selenium to the body, which increases your baby's immune system.
Carrots are a rich source of Vitamin C essential for the excellent development of teeth and bones.
The presence of antioxidants and fibre in sweet potato improves gut health and promotes digestion.
Sweet potato also has cancer-preventing properties and supports healthy vision.
The rich content of Vitamin C and E promotes healthy and glowing skin.
Buying guide
Keep in mind the following pointers before heading to buy the ingredients for lentil sweet potato soup for babies:
Look for carrots that are bright orange and without spots.
Always select organically grown carrots and sweet potatoes to stay away from the pesticides.
Check the expiry date of the lentils you choose to make sure you buy the fresh one.
Select cold-pressed coconut oil or cooking oil, for adding more nutritive values to the dish.
Do not buy canned vegetable stock instead prepare home-made vegetable stock.
Lentil and sweet potato soup is a wholesome food packed with flavours and nutrients that is satisfying and easy to prepare. So, forget the store-bought formula food and let your baby indulge in the goodness of home-made lentil sweet potato soup with this recipe. This simple recipe will be warming comfort food for your little one. Happy cooking!