Laced Chocolate Ganache Cake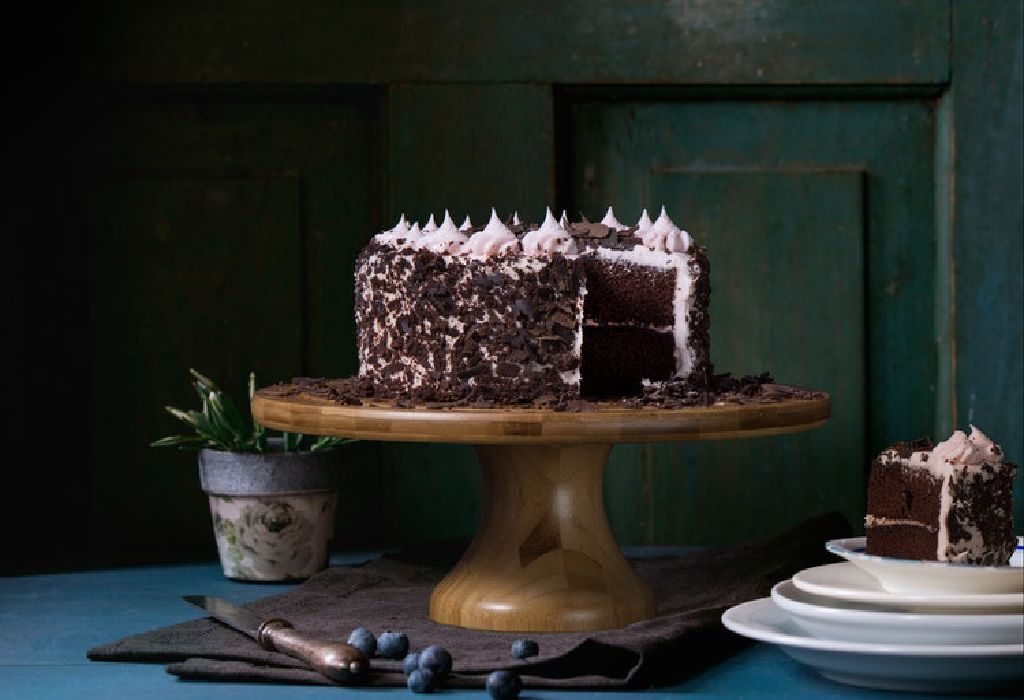 In this Article
One piece of this laced chocolate ganache cake can bring an instant smile on your kid's face. Chocolate cakes are always a hit among kids. But, the one we are sharing here is not your regular chocolate cake – it is something special. Covered in decadent chocolate ganache and wrapped with a chocolate lace, it is sure to win your kid's heart instantly
| | | |
| --- | --- | --- |
| Serves | Preparation Time | Cooking Time |
| 8 People | 20 – 25 Minutes | 25 – 30 Minutes |
Ingredients
2/3 cup maida
½ cup condensed milk
¼ cup butter
3 tbsp cocoa powder
3/4 tsp baking powder
½ tsp baking soda
100 ml soda water
½ tsp vanilla essence
For the Ganache
60 gram dark chocolate, chopped
60 ml cream
For the chocolate lace
50 gram chocolate
Chocolate shavings for garnishing
Method
Step 1
Preheat the oven at 180 C. Grease a 6 inch round tin and dust it with flour.
Step 2
In a mixing bowl, shift all the dry ingredients and stir well. In another medium mixing bowl, add the softened butter and condensed milk and whisk for two minutes. Add the vanilla essence and whisk it well again.
Step 3
Now add the liquid mixture to the dry mixture, slowly and keep whisking to form a lump-free batter. Add the soda water and mix for another 2 minutes.
Step 4
Pour the batter in pre-greased tin and bake it at 180 degrees celsius in the preheated oven for 25-30 minutes. When done a skewer pricked in the middle of the cake will come out clean.
Step 5
Cool it completely on a wire rack. While it is cooling prepare the ganache.
Step 6
Boil cream in a saucepan and add the chopped chocolate into it. Stir and take it off heat. Keep stirring till you get a smooth chocolatey ganache. Let it cool it for 7-10 minutes and pour the ganache over the cooled cake. Spread the ganache evenly.
Step 7
Make a cone with parchment paper. Also cut a strip of parchment paper that fits into the circumference of the cake.
Step 8
Chop the chocolate and melt it in a microwave. Let it cool for a minute or so and fill the paper cone with melted chocolate. Straighten both the ends of the parchment paper and using the parchment paper cone, pipe a lace border chocolate.
Step 9
When the piped border is semi set – it will take 3-4 minutes; carefully wrap it around the cake. Transfer the cake in the refrigerator for 5 minutes. After 5 minutes, take it out and peel off the parchment paper to get a beautifully set lace border.
Step 10
Slice and serve!
Nutritional Information
| | |
| --- | --- |
| Calories | 233 K cal |
| Proteins | 4.1 g |
| Fats | 12.2 g |
| Carbohydrates | 28.1 g |
| Cholesterol | 26 mg |
| Sodium | 158 mg |
| Potassium | 236 mg |