Is it Safe to Get a COVID-19 Vaccine During Pregnancy or Breastfeeding?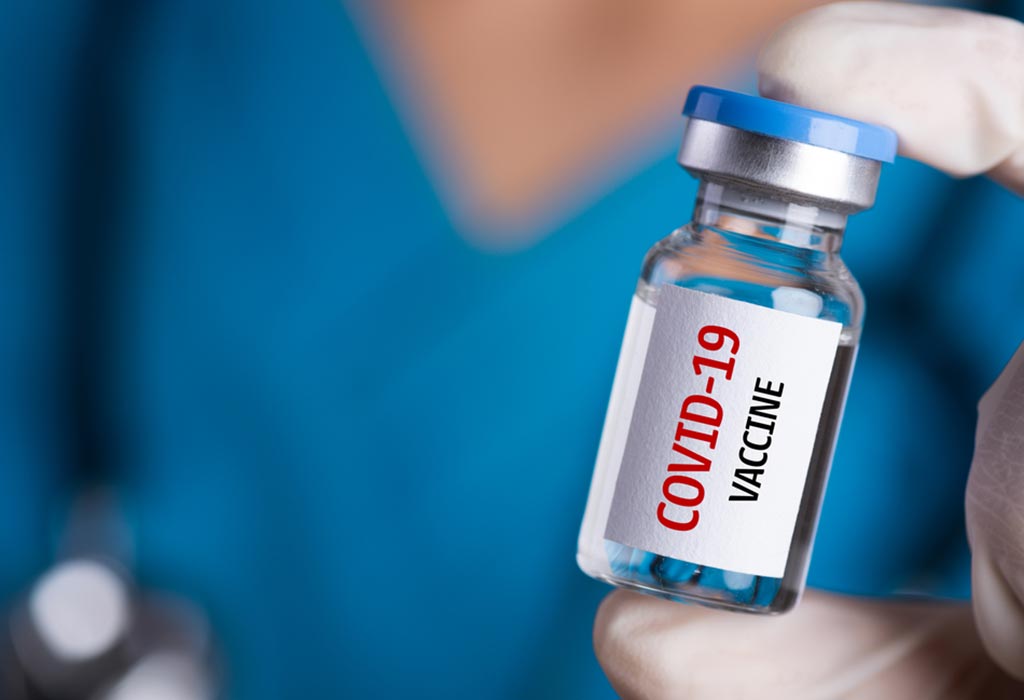 It's been more than a year since the COVID-19 outbreak. The year 2020 introduced us to words like social distancing, pandemic, lockdown, and new normal. While living with the fear of the novel coronavirus, we were all waiting for the scientists to say, 'The vaccine is here!'
Video : Is COVID-19 Vaccine Safe While Pregnant or Breastfeeding?
Now that the COVID-19 vaccine is invented, it has given us hope. Although we're learning something new about the COVID-19 vaccine each day, it is safe and effective. Yes, the vaccine does have some side effects like any other vaccine, but it has proven effective so far.
However, it's not for everyone, at least not yet. If you're pregnant (or trying to conceive) or breastfeeding, you'll want to learn about the efficacy of the vaccine and whether or not you should get vaccinated.
Can a Pregnant Woman Get COVID-19 Vaccine?
Pregnancy or breastfeeding should not stop you from getting the COVID-19 vaccine, but you must check with your healthcare provider about receiving the vaccine before you decide to get vaccinated. Moreover, since COVID-19 vaccines are available in limited quantities, each state and country has a different rollout system. Some states in the US are administering the vaccine to those who've some underlying condition (pregnant women included). Some states are vaccinating the elderly first. In other states, people are getting vaccinated based on their occupation. If you're a working professional, you can check your home state's health department website to see if you qualify for it. In case you do, you must get the vaccine, only if your doctor gives you a go-ahead.
In India, healthcare workers were vaccinated first, followed by frontline and municipal workers. At present, people who are above 60 years of age, and people between the ages of 45 and 59 years with comorbidities are being administered the vaccine. Soon people between the ages of 45 and 59 years will be eligible for vaccination, whether or not they have any health condition.
You can check if you're eligible for the vaccine on the health department website of your country. In case you are, you must get vaccinated, only if your doctor gives you a go-ahead.
Is COVID-19 Vaccine Safe While Pregnant or Breastfeeding?
As the information around the COVID-19 vaccine is evolving rapidly, we reiterate that checking with a doctor about a vaccine's efficacy is a MUST during pregnancy or breastfeeding.
Although all COVID-19 vaccines have proven to be safe and effective for people who are not pregnant, it cannot be said for sure that these vaccines would prove to be safe for pregnant or breastfeeding women. Clinical trials are still being conducted to check for the efficacy of the COVID-19 vaccine during pregnancy.
That said, as per the Centers for Disease Control and Prevention (CDC), the mRNA vaccines do not contain the live virus that causes COVID-19, and should not give someone COVID-19. But if you're eligible to receive the vaccination, you should check with your doctor if you should get it.
As the risks and effects of the mRNA vaccine on pregnant women and the foetus are unknown due to a lack of studies and proper research, your doctor may advise against getting vaccinated.
What Should You Consider About COVID-19 Vaccine If You're Pregnant?
If you're eligible for the COVID-19 vaccine in your home state, there are certain questions you should ask yourself and your healthcare provider before you take the shot.
Check if you should get vaccinated when you're eligible for the vaccine, and as soon as it is available.

You might need the vaccine at the earliest if you're at risk of exposure to COVID-19 from your family members or other close friends. In case of a complicated pregnancy, testing positive for coronavirus may further affect your health, and getting vaccinated would be a wise option.
Ask if you should wait to get vaccinated until after you give birth to your baby.

Waiting until childbirth can be a safe option for you if yours isn't a complicated pregnancy, and if you can limit your exposure to the outside world by social distancing, and by following precautionary measures such as washing hands, using sanitisers, wearing masks, etc.
Check if you should consider limiting your exposure to COVID-19 so that you can delay getting the vaccine.
If there are some risk factors and uncontrolled exposure, you can check with your doctor about what you can do to minimise exposure. The vaccine should be delayed vaccination until the second trimester, as by this time the risk of miscarriage will reduce. As per the recent updates given by the RCPI, the vaccine can be administered after 14 weeks of pregnancy. You can check with your doctor about what precautions you should follow so that you can defer getting vaccinated until the baby is born.
What You Should Know About COVID-19 Vaccine If You're Breastfeeding
If you're a breastfeeding mother considering getting the COVID-19 vaccination, you can get the mRNA COVID-19 vaccine as it is safe for breastfeeding moms. Here's something that will reassure you about this vaccine.
As mRNA vaccine does not contain live virus, it won't give you or your baby COVID-19. The components of the vaccine are not known to harm the breastfed babies.
When the vaccine is administered, the small particles of the mRNA vaccine are used up the muscle cells at the injection site and are less likely to reach breast milk. If any small particle does reach, it will be digested.
When you get vaccinated, your immune system will produce antibodies that fight COVID-19. These antibodies can pass to the baby through breast milk and can protect the baby from COVID-19.
The viral vector vaccine which isn't presently available in India, but available in other parts of the world can be administered to pregnant women, as well as, breastfeeding mothers as it is of a non-replicating kind.
Can Infants and Kids Get the COVID-19 Vaccine?
The first vaccine authorised for emergency use by the FDA is for 16-year-olds and above. The other two vaccines approved by the FDA are safe to use for 18 years of age and above. So infants and young children cannot be vaccinated yet.
Clinical trials in kids are underway, but it can take months for babies and young children to get vaccinated. At present, the World Health Organisation does not recommend the administration of the COVID-19 vaccine to children below 16 years of age, even if they belong to a high-risk group.
Does COVID-19 Vaccine Affect Fertility?
Many women are considering to defer the COVID vaccine due to the misinformation, about the vaccine causing infertility, making rounds on the internet. But there's no scientific evidence to date to confirm that COVID vaccines cause infertility.
The rollout of the COVID vaccine can help us fight the battle against coronavirus, and one must not spread false information or believe in it. If you have any questions about the vaccine affecting fertility levels, speak to your doctor; the information provided by a medical professional will put your mind at ease.
Can a Baby Be Born With Antibodies If the Mother Has Been Vaccinated During Pregnancy?
While the research on this subject is still on, the recent news of a baby being born with antibodies to a mother who was vaccinated during pregnancy has given us hope.
Paul Gilbert and Chad Rudnick from Florida Atlantic University presented an article on this with their observations, which is yet to be studied further by other experts. As per their study, the mother was administered the first dose of the Moderna mRNA vaccine at 36 weeks and 3 days of her gestation period. She gave birth to a healthy, full-term baby, whose blood sample revealed the presence of antibodies against the novel coronavirus. This certainly is a sign of hope, but one case is not enough to confirm if babies would be born with antibodies if their mothers were vaccinated while pregnant. More research is needed to confirm whether or not the babies born to mothers who are vaccinated during pregnancy will be born with antibodies against the coronavirus, and if yes, then to quantify the response of antibodies.
FAQs
1. What If I Find Out That I am Pregnant After Getting Vaccinated for COVID-19?
If you find out about your pregnancy after getting the first dose of the vaccine, you should wait for the second dose until you have had your baby, unless you are frontline healthcare or social worker. If you received the vaccine before finding out you are pregnant, you need not worry as the risk of the vaccine causing any harm to your baby is low.
If you find about your pregnancy after receiving the first dose of the vaccine, you should speak with your doctor about the same. As per the RCPI, the second dose of the COVID-19 vaccine should be administered within 33 weeks of pregnancy, if the first vaccine is administered.
2. How to Decide When to Get Vaccinated During Pregnancy?
You know the answer to this: speak to your gynaecologist to know when would be the ideal time to get vaccinated, i.e., if you're considering getting vaccination while pregnant.
Your doctor will most likely suggest that you get vaccinated after your first trimester, as the risk of natural miscarriage subsides by this time. Your doctor will also consider other factors such as your health, the environment you're living in, and your occupation before advising you on the same.
3. If I Have Been Administered Any Vaccine During Pregnancy, Should I Wait to Get the Coronavirus Vaccine?
The CDC recommends scheduling the COVID-19 vaccine at least 14 days before or after any other vaccination to minimise the chances of complications that may arise due to receiving two or more vaccines simultaneously. A better and wiser option would be consulting your doctor about the best timing for scheduling the COVID-19 vaccine.
4. What If I Become Pregnant Between the First and Second Doses?
If you get pregnant after you've received the first shot of the COVID-19 vaccine, you can wait for the second dose until you've delivered your baby or you can get it during pregnancy. Speak to your doctor to know what's best for you.
With so much information and misinformation circulating about the COVID-19 vaccine, it's natural to have questions and concerns about getting vaccinated, especially, when you are pregnant or breastfeeding, and there's a life that depends on you. As the trials are still on, we will learn something new about the efficacy, side effects, and possible risks of the vaccine each day.
Unless you're confident about getting the vaccine, take the necessary precautions to keep yourself safe. If you do want to get vaccinated, again, we recommend that you check with your doctor and decide what would work best for you and your growing baby.
Also Read:
State-Wise Government Approved COVID-19 Laboratories in India
How to Protect the Senior Citizens at Home Against the Coronavirus
Keeping Your Home Coronavirus-Free