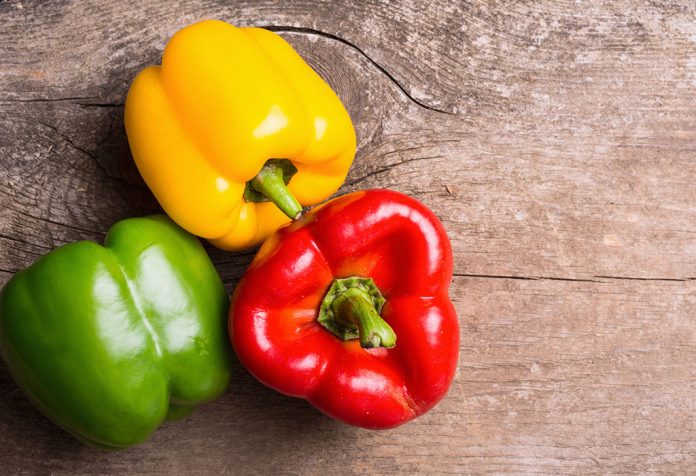 You must be aware of the benefits of eating green capsicum during pregnancy. If you are pregnant, including capsicum in your diet would be a great way to maintain your health throughout the nine months of pregnancy. To know the benefits of eating capsicum during pregnancy, read this article.
Can You Eat Capsicum during Pregnancy?
Capsicum is a healthy vegetable that you can consume at any point in life. Of course, you can eat capsicum during pregnancy, as it has tons of benefits, however, eat it in the right form and quantity. Don't eat too much.
Nutritional Value of Capsicum
Capsicum is generally used in our cuisine for elevating the flavour or enhancing the visual appeal of the palate. But it has a lot more to it. Capsicum contains provide us with a wide range of vitamins and minerals that are necessary for our body. The nutritional constitution in 100g of capsicum is distributed as follows.
| | |
| --- | --- |
| Nutrient | Value |
| Choline | 5.5 mg |
| Phytosterols | 9 mg |
| Betaine | 0.1 mg |
| Vitamin B12 | 0.0 mcg |
| Selenium | 0.1 mcg |
| Copper | 65 mcg |
| Fluoride | 2.1 mcg |
| Zinc | 0.15 mg |
| Phosphorous | 20 mg |
| Manganese | 122 mcg |
| Magnesium | 10 mg |
| Iron | 350 mcg |
| Calcium | 10 mg |
| Sodium | 3 mg |
| Potassium | 174 mg |
| Vitamin K | 7.4 mcg |
| Vitamin E | 0.4 mg |
| Vitamin C | 80.4 mg |
| Vitamin A | 370 IU |
| Folates | 10 mcg |
| Vitamin B6 | 0.2 mg |
| Pantothenic acid | 0.1 mcg |
| Niacin | 0.5 mg |
| Riboflavin | 0.0 mg |
| Thiamine | 0.1 mg |
| Proteins | 0.9 gm |
| Omega-3 acids | 8 mg |
| Omega- 6 acids | 54 mg |
| Saturated fats | 0.1 gms |
| Fibre | 1.7 g |
| Sugar | 2.4 g |
| Carbohydrates | 4.6 g |
| Starch | 0.0 gms |
Source: https://nutritiondata.self.com/facts/vegetables-and-vegetable-products/2536/2
Benefits of Eating Capsicum during Pregnancy
Capsicums are available in multiple colours and each type has a specific benefit to offer during pregnancy.
1. Red Capsicum
Eating red capsicum during pregnancy is beneficial massively since it contains cancer prevention properties due to the presence of lycopene antioxidants within it.
2. Green Capsicum
Green capsicum is highly recommended for women due to the presence of natural silicon in it, which keeps nail and hair healthy during pregnancy.
3. Yellow Capsicum
The presence of lutein zeaxanthin is quite high in yellow capsicum. It helps in combating free radicals and boosting the immune system during pregnancy.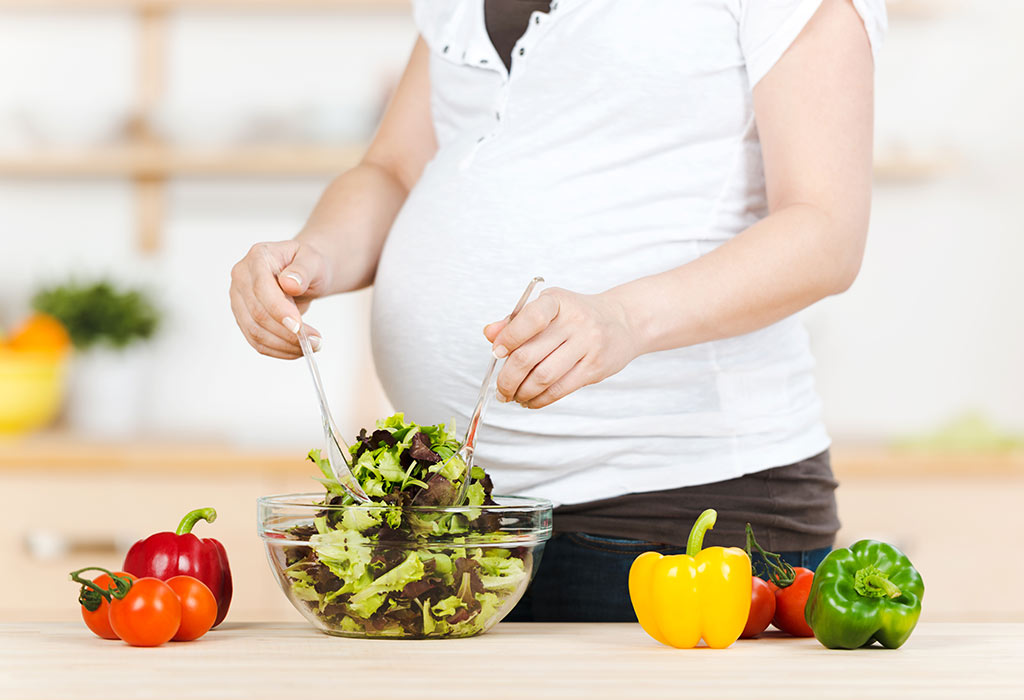 Side Effects of Excessive Consumption of Capsicum while Pregnant
Although eating capsicum is beneficial during pregnancy, in certain conditions eating it may prove harmful for the mother-to-be and the baby.
Capsicum contains numerous seeds in it, which have a strong tendency of triggering allergies in a person who already suffers from them. These can result in rashes on your body or sneezing cycles, which may not be safe during pregnancy. Similarly, consuming a lot of capsicum can upset the internal balance of the stomach, causing frequent stools or indigestion, too.
Mothers are strongly advised to stay away from capsicum while breastfeeding since it can make the breastmilk spicy for the child. Similarly, it is best to stop eating capsicum a couple of weeks prior to delivery, since it can cause thinning of the blood and result in excessive bleeding during childbirth.
How to Choose a Right Capsicum & How to Store It
When purchasing capsicum from the market, opt for ones that are firm, with an evenly coloured skin that is smooth and spotless. Stay away from capsicums that look dry or wrinkled. Make sure you wash them before use or storage and use them as freshly as possible.
Capsicum Recipes for Pregnant Women
Capsicum can be consumed in a number of ways during pregnancy and in general as well. Here are a couple of recipes that can help you taste capsicum in all its glory.
1. Capsicum Gravy
Capsicum has a wonderful taste when it is consumed in a dry vegetable preparation. This gravy recipe will help you make the best of it in an easy way.
Ingredients

Fennel seeds
Poppy seeds
Cashew nuts
Turmeric
Garam masala
Ginger garlic paste
Coriander powder
Chilli powder
Curd
Capsicums
Onions
Tomatoes
How To Prepare
Take the fennel and poppy seeds along with the cashew nuts and blend them together properly.
Take some oil in a pan. Heat it up and add garam masala.
Later add chopped capsicums and onions to the pan and stir them.
Once the capsicums and onions are fried properly, add ginger garlic paste to the pan and mix them all properly.
Finally, pour in the tomato puree and stir the entire mixture together.
Allow the entire preparation to cook in the pan for 3-5 minutes. Once done, pour some water into it.
Add rest of the spices, cashew paste, salt and other condiments, if required.
Mix them all together, stirring it properly. Let this cook again for around 15 minutes or so.
Once the gravy is prepared and oil separates, turn off the flame. Serve the gravy with roti and rice.
2. Capsicum Masala
While a dry capsicum vegetable gravy has its own fun, the real finger-licking experience stems from a wonderful preparation of capsicum masala that can truly tickle the taste buds in your pregnancy.
Ingredients
Oil
Cumin seeds
Turmeric
Red chilli powder
Green chillies
Tomatoes
Capsicums
Coconut
How To Prepare
Take some oil in a pan and allow it to heat well.
Add green chillies to it and cook until their colour changes.
Later add chilli powder, cumin seeds, turmeric, and stir well.
In this mixture, add chopped capsicum and fry. Then add chopped tomatoes, salt, and stir well.
Let it cook for a while. Add more condiments as required.
You can add grated coconut if you want.
Later, add some water and bring the mixture to a boil.
Let the oil separate from the masala. Once that happens, turn off the flame and serve.
Consuming bell pepper and other vegetables during pregnancy has a ton of advantages for the mother-to-be as well as for the growing baby. Balancing that intake with a diet that provides all-around nutrition can help you stay in the pink of health throughout.
Also Read: Healthy Food Recipes for Pregnant Women