Consuming Cabbage During Pregnancy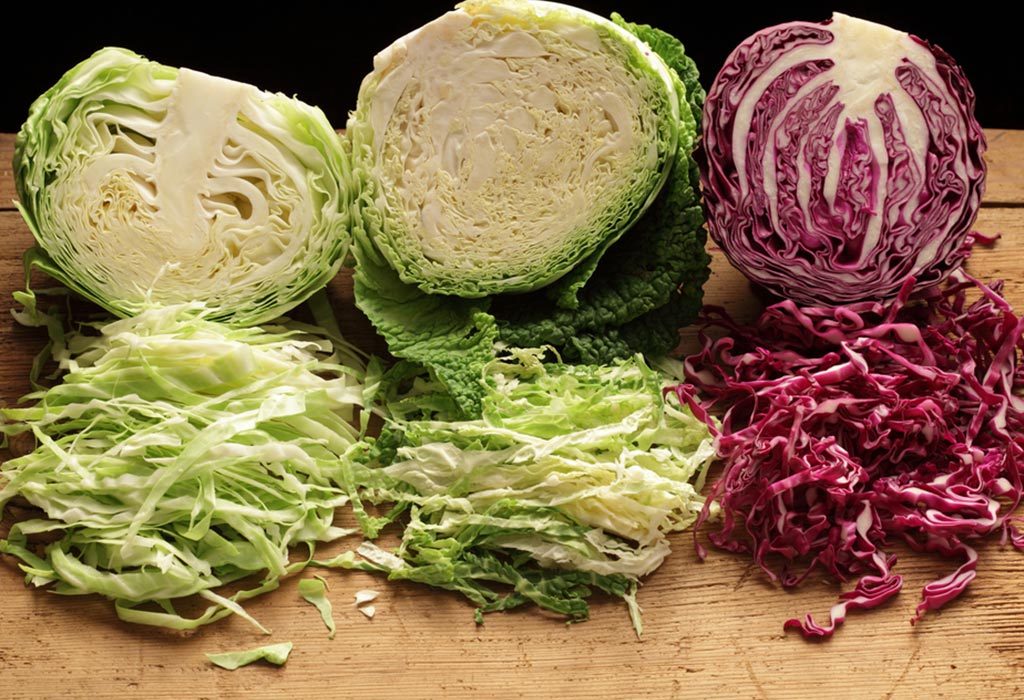 For an expecting mother, taking care of her health becomes twice as important as there are more lives to take care of. To ensure safe delivery and a healthy baby, adopting a mindful diet is a must. Making green veggies a part of your diet has many advantages, and one such vegetable is cabbage – also known as patta gobi in India. It provides a number of benefits for the health of the mother-to-be. However, as with each food, there are a few risks associated with consuming cabbage during pregnancy. In this article, we discuss its benefits, and when to avoid it.
Is It Safe to Eat Cabbage During Pregnancy?
It is not only safe to eat cabbage during pregnancy, but also highly recommended by health specialists in a pregnancy diet. However, you should avoid consuming raw cabbage as it is most likely laced with bacteria, which can cause food poisoning. Food-borne illnesses like listeria are very risky since the infection can sicken you and the unborn baby, and it has often resulted in miscarriage, premature delivery, and stillbirth.
If you are consuming patta gobi during pregnancy, make sure that you properly wash, boil, and cook the vegetable before eating it. You may want to avoid items that include raw cabbage, like coleslaw. You can consume cabbage in various forms, thus making it a versatile vegetable. We hope we have given you the answer to whether cabbage is good for pregnancy!
Nutritional Value of Cabbage
Cabbage is a low-calorie, fibre-rich vegetable. This leafy ball is loaded with nutrients which are essential for your body. Here are the nutrients present in per 100g of cabbage:
| | |
| --- | --- |
| Nutrients | Quantity |
| Calcium | 40.00 mg |
| Copper | 0.02 mg |
| Iron | 0.47 mg |
| Magnesium | 12.00 mg |
| Manganese | 0.160 mg |
| Phosphorus | 26.00 mg |
| Potassium | 26.00 mg |
| Sodium | 18.00 mg |
| Zinc | 0.18 mg |
| Protein | 1.28 g |
| Fat | 0.100 g |
| Carbohydrate | 5.80 g |
| Fibre | 2.50 g |
| Vitamin A, RAE | 5.00 mcg |
| Vitamin B6 | 0.124 mg |
| Vitamin C [Ascorbic acid] | 36.6 mg |
| Vitamin E (alpha-tocopherol) | 0.15 mg |
| Vitamin K | 76.0 mcg |
Health Benefits of Eating Cabbage While Pregnant
The nutrient-rich cabbage provides a lot of health benefits owing to its nutrition content. Some of the health benefits are:
1. Better Digestion
Constipation is a common problem in pregnant women, and cabbage helps in regulating bowel movements on account of its high amount of dietary fibre. If you have gas-related issues, you must avoid consuming large amounts of cabbage.
2. Improves DNA Health
The folic acid in cabbage protects the foetus from neural tube birth defects and facilitates proper replication of DNA.
3. Improves Bone Health
Cabbage is also a rich source of calcium and vitamin K, which make your bones stronger and help make the baby's bones stronger as well.
4. Regulates Blood Pressure
Electrolytes play a vital role in the regulation of blood pressure and heart rate, and cabbage is loaded with them.
5. Boosts Immunity
As it is a rich source of antioxidants and vitamin C, cabbage helps improve the immune system.
6. Slows Weight Gain
Since cabbage is low in energy density and rich in nutrients, it plays a key role in maintaining weight. Cabbage can make you feel full, thus reducing your need to consume more calories.
7. Treats Gestational Diabetes
This fibre-rich vegetable aids in the maintenance of blood sugar levels, thereby reducing the risk of developing gestational diabetes, which is quite common during pregnancy.
8. Lowers the Risk of Anaemia
Iron deficiency is a major cause of anaemia. A pregnant woman can benefit from the iron content in cabbage to keep the threat of anaemia away.
10. Treats Swollen legs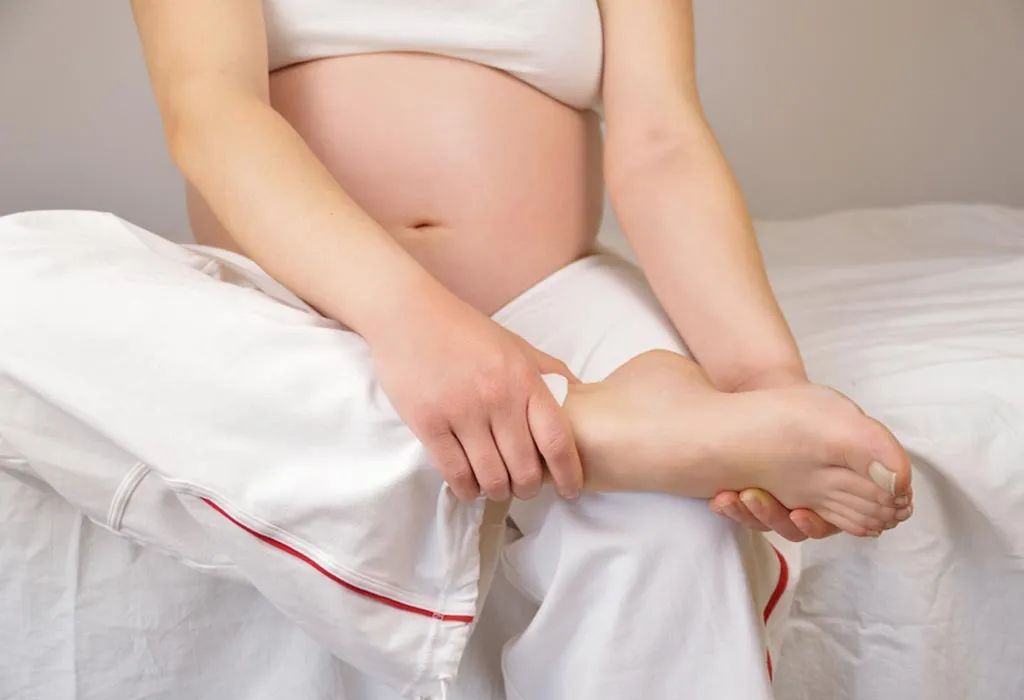 Pregnancy oedema is a common condition identified as swelling in certain parts of the body due to a higher volume of blood and fluid. Wrapping cabbage leaves around the swollen area can help relieve the swelling.
11. Helps Relieve Breast Engorgement
Whole cabbage leaves work in a way that is similar to ice packs when it comes to pain relief. Breast engorgement is common during pregnancy, and the soreness that comes with it can be painful. Cabbage plays a role in relieving some of the pain.
12. Reduces Inflammation
A vegetable like cabbage can help prevent chronic inflammation as it contains different antioxidants that ease swelling or inflammation of the tissue.
What Variety of Cabbage Is Beneficial for Pregnancy?
Purple or red cabbage, although less popular than green, is rich in nutritional value. Although green cabbage is richer in vitamin K, purple cabbage contains comparatively higher amounts of vitamin C, vitamin A, and iron. Anthocyanins are present in purple cabbage but absent in the green variety. It is possible to include different types of cabbage in your diet. While buying cabbage in general, look for ones that feel heavier and fuller.
How to Include Cabbage in Your Pregnancy Diet?
Let's take a look and some easy ways to include this vegetable in your pregnancy diet.
Take cabbage and chop it. Roast it and then drizzle it with olive oil, minced garlic and cracked black pepper.
Add cabbage to any stew or soup while cooking.
Add boiled cabbage to any fresh leafy salad.
Tips to Select the Right Cabbage
Wondering how to select the right cabbage when you are pregnant? These tips can help!
Buy a fresh cabbage with no limp or wilted leaves or spots.
The bottom of the cabbage should not be separated from the stem, and the leaves must be intact.
The cabbage should be heavy when you pick it up.
The head of the vegetable should be compact and large, with tender green layers of leaves.
Harmful Effects of Eating Raw Cabbage When Pregnant
Since cabbage is sprayed with pesticides and fungicides, it is prone to be infected with bacteria and other food-borne illnesses. It is best to consume organic cabbage – washing it thoroughly is a must.
Also, it is important not to overeat cabbage if you are vulnerable to gas problems because consuming a large amount of it can increase gas and pain.
When to Avoid Eating Cabbage?
Though it is healthy to consume green or red cabbage during pregnancy, some precautions must be taken.
Always buy fresh cabbage and check for damage.
Avoid buying pre-cut cabbage as its nutritional value is compromised when it is cut and stored for a long time.
Do not consume cabbage if you are allergic to it.
It's best to limit the consumption of cabbage if you have an underactive thyroid gland.
Things to Remember
For a healthy diet, it's also crucial to know the dos don'ts.
Wash, boil, sauté or cook cabbage. Avoid eating it raw during pregnancy.
Avoid overeating cabbage.
Buy wisely and make new preparations to keep it interesting.
Choose organic varieties of cabbage as they can reduce the risk of food-borne illnesses.
Do not buy shredded cabbage, as the vitamin C content reduces once it is cut.
Cabbage Recipes for Pregnant Women
Now that you have learned everything about cabbages for pregnant women, here are some delicious cabbage recipes you can try making at home.
1. Cabbage Pancake
Ingredients
Grated cabbage – 1 cup
Bengal gram flour – ½ cup
Chopped onion – 1
Chopped green chillies – 2
Crushed cumin seeds – ½tsp
Turmeric – 1tsp
Grated ginger – ½tsp
Chopped coriander – 2tbsp
Salt
Method
Prepare a thick batter by adding all the ingredients in a bowl and mixing using water.
Take a non-stick pan and apply some oil to it.
Now add one-quarter of the batter to the pan.
Cook the pancake from both sides until golden brown.
Take the pancake off the pan and serve it hot.
2. Cabbage Rava Upma
Ingredients
Rava – 2 cups
Mustard Seeds – ½ tbsp
Jeera Seeds – ½ tbsp
Urad Dal – ½ tbsp
Chana Dal – ½ tbsp
Red dry chillies – 3
Curry leaves – 8
Cabbage – ½ cup
Garlic and ginger paste- 1tbsp
Cashewnuts – 20 gms
Oil – 2tbsp
Salt
Method
Heat the oil in a pan and add the mustard seeds.
When the seeds begin to crackle, add in the curry leaves and sauté till the leaves turn whitish.
Add in the urad dal, dry red chillies and the chana dal and sauté the ingredients till it turns golden brown.
Add the ginger-garlic and fry.
Add in the chopped cabbage and sauté for 7 minutes.
Drop in the nuts and little water into the mixture and mix well.
Bring the mixture to a boil and add in rava and salt to taste.
Let it cook for about 10 minutes, and then switch the flame.
The upma is now ready to serve.
FAQs
1. Is It Normal to Crave for Cabbage in Pregnancy?
Yes, craving cabbage during pregnancy is quite normal. Craving cabbage when pregnant can mean that you are in need of some of the vital nutrients this vegetable contains.
2. Can You Consume Cabbage Soup While Pregnant?
Yes, cabbage soup is an excellent way to consume this nutritious vegetable during pregnancy.
3. Can Pregnant Women Eat Pickled or Fermented Cabbage?
Yes, you can enjoy eating pickles or fermented cabbage when pregnant, but in moderation.
4. Is It Safe to Drink Cabbage Juice During Pregnancy?
Cabbage juice is prepared from raw cabbage, and it is not advisable to consume raw cabbage during pregnancy.
5. Can Breastfeeding Moms Eat Cabbage?
You should avoid eating cabbage if you are a breastfeeding mother as cabbage is a "gassy food," which can cause gas in the mother's bowel. However, gas and fibre do not pass into breast milk.
Considering all the health benefits of cabbage during pregnancy, consume your favourite variety in a safe and healthy way. Consult your doctor for a proper diet, custom-made for your body and for the health of the baby.
References/Resources:
1. Goun Jeong, Sung Won Park, Yeon Kyung Lee. et.al; Maternal food restrictions during breastfeeding; National Library of Medicine; https://www.ncbi.nlm.nih.gov/pmc/articles/PMC5383635/; March 2017
2. Managing Gestational Diabetes; nichd.nih.gov; https://www.nichd.nih.gov/sites/default/files/publications/pubs/Documents/managing_gestational_diabetes.pdf
3. Cabbage, raw; nutritionvalue.org; https://www.nutritionvalue.org/Cabbage%2C_raw_nutritional_value.html?size=100+g
4. Chander Shekhar Gautam, Lekha Saha, Kavita Sekhri, et.al; Iron Deficiency in Pregnancy and the Rationality of Iron Supplements Prescribed During Pregnancy; National Library of Medicine; https://www.ncbi.nlm.nih.gov/pmc/articles/PMC2644004/
5. Cabbage, raw; fdc.nal.usda.gov; https://fdc.nal.usda.gov/fdc-app.html#/food-details/169975/nutrients
Also Read:
Can you Eat Radish during Pregnancy
Eating Parsley while Pregnant
Is It Safe to Eat Rhubarb in Pregnancy