Fun Iceland Facts for Kids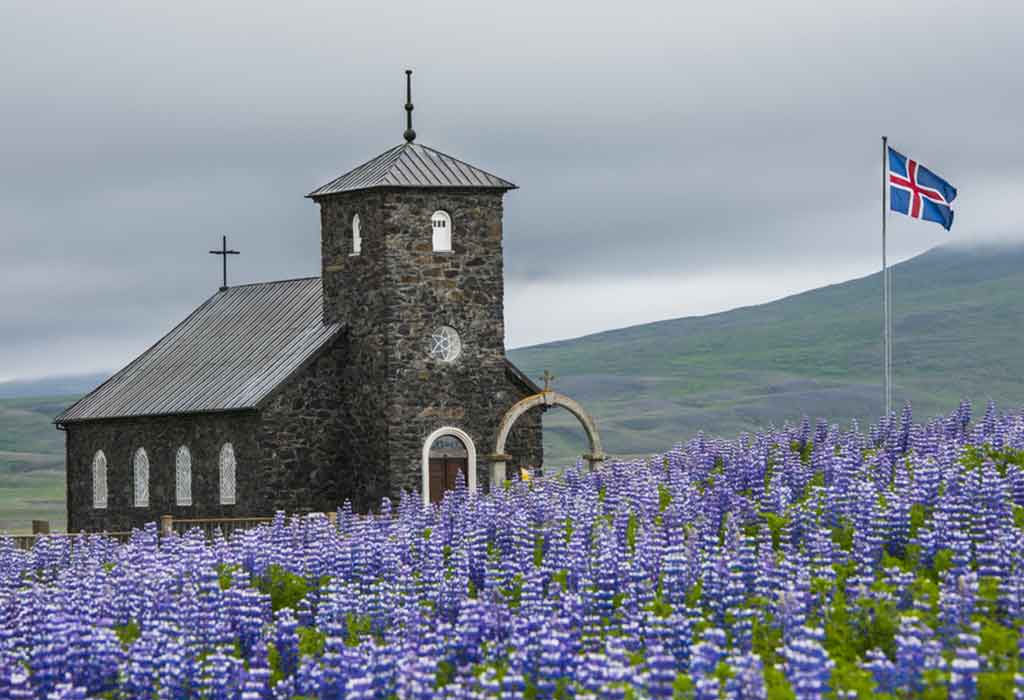 Iceland, the land of fire and ice, has recently become a popular tourist destination. While Iceland has many unique features, you may be surprised by these Iceland interesting facts!
History of Iceland
When the pagan Norse invaded Iceland in the late ninth century, the Irish hermits fled. The Althing has the world's oldest constitution (930). History is told in the 13th century Sagas. Until the Kalmar Union ended in 1397, Norway ruled Iceland and Denmark. Iceland's constitution was written in 1874, and Denmark's Act of Union recognized it in 1918. During WWII, when Iceland was controlled by the British and then the Americans, it was Danish. Despite its declared neutrality, Iceland aided the Allies throughout WWII. By popular vote on June 17, 1944, Iceland became a republic.
Geography of Iceland
Iceland is a small island off the coast of Greenland. This 7% rich coastland, surrounded by snowfields and glaciers, supports over 13 million. Being in a volcanically active area, Iceland has a hot Arctic climate.
Iceland Language
Language forms a crucial part of the culture of any country. Here are a few facts about the language used in Iceland:
Icelandic is the nation's official language and is spoken well by the majority of its population.

It is an Indo-European language of the North Germanic subgroup.

There is evidence of Celtic influence in early Icelandic literature.
Famous Attractions of Iceland
What are the must-see sights in Iceland? The following are some of Iceland's most well-known sights and activities:
A trip to Iceland's Blue Lagoon, which is situated near the capital, Reykjavik

Visit the geothermal spa in Blue Lagoon.

Gullfoss waterfall and Strokkur Geysir, which spews up to 30 meters (100 feet) of water every few minutes, are also worth seeing in Iceland.

The Northern Lights will astound you between November and March.

Iceland's magical Northern Lights

Hike the park's paths in Skaftafell National Park.

Reykjavik has a plethora of natural attractions. Visit the National Museum of Iceland and the Hallgrimskirkja Church.

Consider a whale-watching excursion. You can take a boat out of Reykjavik Harbour from May to September to observe massive humpback whales.
Iceland People and Wildlife
Iceland offers a vast array of animals for such a tiny and isolated island (population: 330000). Whales and dolphins, seals, and puffins (which make up roughly 60% of the world's population) are among the spectacular native wildlife. See the following information to learn more:
Iceland People Facts
Iceland has no surnames: A few Icelandic surnames are derived from a foreign nation, mainly Denmark.

Icelanders Have a Hot Sauce Craving: Icelandic cuisine is replete with gravy, bearnaise, and other sauces.

Icelanders Speak During Their Inhalations: Icelanders often talk in their native dialect while holding their breath. They will often use 'Já' and 'Jja' (yes and sound, respectively).

Icelanders Cook Outside Almost Every Day of the Year: Even during a snowstorm or a storm, an Icelandic BBQ is still conceivable!

Icelanders are particularly fond of monster trucks: Iceland's huge autos baffle many foreign visitors.
Iceland Animal Facts
Because sheep are the most common agricultural animal in Iceland, cropland is heavily occupied with them.
Icelandic Sheep:

There are a large number of seabirds, such as puffins. Puffins are black-and-white cliff breeders with bright orange beaks.

The Puffin:

Iceland is a great place to go whale watching, and there are a variety of marine species to observe off the Icelandic coast.

Icelandic Equines:

Are you also acquainted with Iceland ponies? They are large and powerful Icelandic

horses

. They're adamant, and they could even make it through the winter in the fields.
Tradition and Culture of Iceland
Despite its small size, Iceland's cultural heritage draws visitors from all over the world. Icelandic people celebrate many annual festivals and traditions, adding to the country's appeal. Many of these Icelandic customs are centuries old. Here are a few strange Iceland cultural facts:
Bóndadagur (Husband's Day):

For Bóndadagur, the fourth winter month is Thorri, celebrated on January 1. On this particular day, husbands – or key male figures – are often showered with gifts and treated to a traditional Thorri feast.

Konudagur (Wife's Day):

On the eve of Thorri's last day, the tables are turned in Konudagur. In the same way, ladies are treated on Bóndadagur. They are also served a special meal and given gifts.

Sjómannadagur:

The 'Festival of the Sea,' also known as Sjómannadagur, honors Iceland's sailors, who play a vital role in the country's history and culture. Villages hold events, lectures, and conferences on fresh

fish

on the first Sunday in June.

Twelfth Night:

Iceland's winter festivities go on until the day following Christmas, which is January 6. After Santa Claus has left, families and communities congregate to watch fireworks and enjoy the warmth of crackling bonfires.

Bolludagur (Bun Day):

Cheers to those of you with a sweet tooth! Before Ash Wednesday, plan your trip to Iceland near Bolludagur. On 'Bun Day,' bakeries and households cook exquisite buns with jam, cream, and chocolate drizzle.

Ash Day:

On Ash Wednesday, Iceland's version of Halloween, kids get out of school, dress up (not just in costumes!) and sing for treats. The unofficial Ash Day capital, Akureyri, has a place where kids take turns thumping the cat out. It'll be a family affair!

Bjordagur (Beer Day):

For 74 years, starting on January 1, 1915, Iceland prohibited the sale of beer. This prohibition was lifted on March 1, 1989. Beer Day, which occurs on March 1 every year, commemorates the end of the country's beer prohibition and is celebrated at local pubs, restaurants, and clubs across Iceland.

Summer Solstice:

Before and after the Summer Solstice, you may catch the Midnight Sun. June 20 to 22nd is the Icelandic Summer Solstice.

Thorrablot/Thorri:

Icelanders celebrate Thorrablot, the Norse legendary figure that represents winter and frost. Thorri is when the villagers get together to feast, drink, and have a good time.

Verslunarmannahelgi (Weekend party):

At the beginning of August, there is a three-day event called Verslunarmannahelgi. Family-friendly activities during the day and dancing and music at night make the long weekend popular with people of all ages.
Food and Economy Facts of Iceland
Icelandic cuisine is basic and straightforward. Seafood has long been a significant economic engine, helping to revive the nation's economy. There are a few more intriguing facts regarding Icelandic cuisine and economy:
Iceland Food Facts
Icelandic cuisine has a lot of seafood and dairy products.
Icelandic bread typically consists of dark rye bread or flat rye bread, both of which are delicious. It would help if you also sampled the famed 'Kleina' pastries.

Iceland offers reindeer meat, although it's rather expensive.

In Iceland, 'Hakarl,' which is decomposing shark meat with a terrible stink, is one specialty that takes some getting used to.

Skyr: Yogurt with a mild yogurt flavor that tastes like low-fat cream cheese or quark.

Porrablot: a festive supper in the dead of winter.
Iceland Economy Facts
Iceland's economy is based on three primary industries: fishing, manufacturing, and tourism. Tourism is undeniably the nation's current savior.
The Icelandic Krona, commonly known as the slenska kronan, is the country's currency, represented by the sign ISK.

It's no accident that the term 'króna' derives from the same root as the currencies of Sweden, Denmark, and Norway.

One euro costs around 155 ISK, whereas one dollar costs approximately 140 ISK.
Other Important Facts and Information of Iceland for Children
These intriguing facts and tidbits about Iceland will intrigue your children while they study the country.
Glaciers cover eleven percent of Iceland's land area.

With more than 200 active volcanoes and 30 percent of the world's lava flows, Iceland is a geological wonder. A glacier or cooled lava makes up 10% of the

Earth's

surface.

Hydropower and geothermal energy are used in Iceland to generate electricity and heat.

The Arctic fox is the sole indigenous animal of Iceland.

It is estimated that one in every ten Icelanders will produce a book throughout their lifetime.

For some, elves and trolls are real!

Glma is a traditional Icelandic wrestling sport, which is also the national sport of the country.

Handball is the national

sport

of Iceland. A lot of people like sports like soccer and

basketball

.

Icelandic flag has three colors to reflect the island's three central regions. The island's volcanoes are erupting in red flames. The color white represents the elements of

snow

, ice, and water.
This summer, do you have any plans for a vacation to Iceland? If this is the case, you'll want to be sure to plan activities to keep the kids occupied while you're there. The most incredible way to achieve this is to discover all of Iceland's exciting activities for children.
Also Read: