Evie Name Meaning and Origin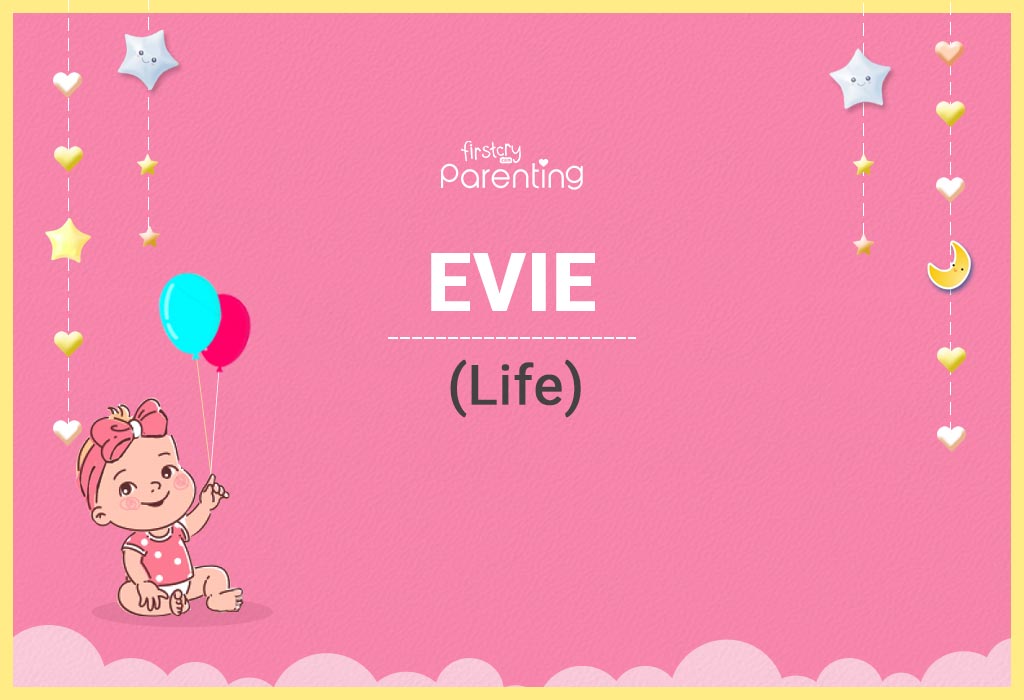 Derived from Eve, which comes from Chawwah, a
Hebrew name
related to the concept of life, Evie is primarily used as a girl's name. Evie can be used as a nickname that starts with the prefix Ev, including Eva,
Evelyn
, and Evangeline. Evie can be typically pronounced with a long E sound, but a short E is also valid. It might be a nickname for other popular 'E' names, but it can stand alone as a most commonly considered nickname. Eve from the Old Testament is the mother of the human race who tasted the forbidden fruit, leading to the Fall of Man. Evie means "life" as Eve is the biblical mother of all the living. This sweet and unassuming name follows a particular naming style prevalent in
English
-speaking countries of the world. Evie is quite popular in
Scotland
, Northern Ireland, and
Australia
.
What Does Evie Mean?
Derived from Latin origin, the meaning of Evie, a beautiful Hebrew name, is 'Living one,' 'Life,' 'living' or 'lively'. As it is a diminutive of Eve, this name has much religious significance in the Abrahamic religions. According to Abrahamic tradition, Eve is widely beloved as the mother of all of mankind. She was the first woman God created and both the wife and companion of Adam.
Origin
A Latin form of Eve, Evie comes from the Hebrew Hayya, meaning "life" or "breathe." According to the Catholic Church, Adam and Eve are considered saints as per the ancient tradition. Since the Middle Ages, the liturgical feast of Saints Adam and Eve was celebrated on December 24. Eve was first used in England in the 12th century. However, the name gained widespread appeal only during the Protestant Reformation. In Kathleen M.Crowther's Adam and Eve in the Protestant Reformation: "The story of Adam and Eve played a central role in the religious controversies of 16th century Europe. The Protestant reformers disregarded Christian belief and salvation in the free grace of God." Different variations of Evie are commonly found in the Middle East. Princess Haya of Jordan, Haim Saban, and Victor Raul Haya de la Torre are famous bearers of this name.
Gender
Female
Pronunciation
Syllables
2 syllables
Length/Letter
4 letters
Name Variations/Spellings
The other spellings for Evie lend a unique spin to a common given name. Here are some Evie name variations that can be the top alternate contenders of the given name.:
| | |
| --- | --- |
| Name | Origin |
| Evia | Hebrew |
| Evvie | Latin |
| Ivie | English |
| Edie | English |
| Elvie | Irish |
| Genevieve | French |
| Evangaline | English |
| Evita | Spanish |
| Evaleen | Latin |
| Eba | Latin |
How Popular Is the Name Evie?
Evie has been a trendy choice in the US. The Evie popularity ranking was first observed in the chart in 2007, since 1941. According to the latest Social Security Administration data of 2022, Evie ranks at 210. Although the Evie baby name ranking has been on the rise in the US, it still lags behind the rest of the English-speaking world. Evie is a Top 100 name throughout the British Isles, in Ireland, Australia, and New Zealand. Princess Evie in Disney's Descendants franchise is the daughter of the Evil Queen. Natalie Portman played an Evie in V for Vendetta, and Rachel Weiss bore it in The Mummy.
Interest in Evie – Worldwide
A consistent search value of over 20 has been recorded on interest for the name Evie reaching 100 in July 2015 and Oct 2015, respectively. The lowest recorded value was at 15 in March 2012 on the popularity scale.
Interest in Evie – the Us
The search trend for Evie in the US reached its peak up to 100 in Sept 2017. The lowest record value was ten on the popularity scale in March 2012.
Popularity of the Name Evie
URL: https://www.ssa.gov/cgi-bin/babyname.cgi
Where Is the Name Most Searched?
Search Trends of Evie Worldwide
Evie has been searched the most in Indonesia as per the global trends. Australia, the United Kingdom, New Zealand, and Ireland follow close behind to reach the top five positions in the popularity index. The presence of Sephardic Jews in the Jewish community of Indonesia makes Evie a common choice among the parents living there.
Search Trends of Evie in the US
Ohio has recorded the highest search value of 100 in the last ten years among the metro cities in the US. New Jersey, California, Pennsylvania, and West Virginia have made it to the top five positions where search trends for Evie have been recorded as the highest.
Middle Names That Go With Evie
The historical purpose of middle names is to honor a family member, a godparent, or even an outsider who is a local or national prominent figure. Here are some double names with Evie that may attract an equal amount of praise and attention as the first name:
| | |
| --- | --- |
| Alexis | Alaine |
| Alice | Amber |
| Belle | Amelia |
| Catherine | Caroline |
| Christine | Florence |
| Emily | Elizabeth |
| Helen | Hope |
| Isabel | Jade |
| Julia | Kate |
| Kathleen | Joanne |
| Liana | Lark |
Famous People Named Evie
Popular personalities named Evie may impact any parent's name selection process due to the fame and wealth they have earned over the years. Here are some amazing names of celebrities named Evie who can have a positive influence on children:
| | |
| --- | --- |
| Celebrity Name | Profession/Famous For |
| Evie Christie | Canadian Poet and Author |
| Evie Dominikovic | Australian Tennis Player |
| Evie Irie | Australian Pop Singer |
| Evie Peck | American Actress and Producer |
| Evie Millynn | New Zealand Footballer |
| Evie Richards | British Cyclist |
| Evie Tamala | Indonesian Pop and Dangdut Singer |
| Eva Evie Hone | Irish Painter and Stained Glass Artist |
| Evie Carnahan | Female Lead in Movie The Mummy |
| Evie Prior | Character In Waterloo Road |
| Evie The Mist Fairy | Character From The Rainbow Magic book Franchise |
| Evie | Character In 2016 show No Tomorrow |
| Evie | The protagonist of the Paranormalcy Novel Series |
Similar Names & Last Names
Baby names like Evie can stand on their right due to their individualistic appeal and style. At the same time, family names for Evie may help to identify a person's cultural heritage and ethnicity. Here are some other names for Evie that may be superb alternatives to the first name:
| | |
| --- | --- |
| Other Baby Names | Suitable Family Names |
| Eva | Smith |
| Elsie | Johnson |
| Edie | Brown |
| Gracie | Jones |
| Eden | Thompson |
| Poppy | Anderson |
| Ivy | Moore |
| Elle | Martin |
| Maisie | White |
| Lola | Harris |
Names That Sound Like Evie
Rhyming names for Evie can have a similar theme or special connection, be unique from one another, or be based on the syllable that corresponds to their birth star. Here are some names that rhyme with Evie to match with the names of your children:
| | |
| --- | --- |
| Ellie | Millie |
| Lily | Ella |
| Emily | Ruby |
| Isla | Niene |
| Chloe | Lucy |
| Sophie | Gracia |
| Rebecca | Hannah |
| Daisy | Lola |
| Megan | Freya |
| Poppy | Katie |
Sibling Names Related to Evie
Whether you go for high-energy names that are modern in usage or choose sibling names that go with Evie, we have created the most definitive guide to sibling names. Here are some fun combinations of suitable sister names for Evie and suitable brother names for Evie that can have a warm, feminine, and vintage feel.:
| | |
| --- | --- |
| Sister names for Evie | Brother Names for Evie |
| Molly | Henry |
| Naomi | James |
| Olivia | Max |
| Sophie | Paul |
| Tilden | Oliver |
| Ella | Roland |
| Grace | Thomas |
| Bailey | Zoe |
| Cameron | Victor |
| Lisa | Evan |
Nicknames for Evie
Since Evie has been around for a long time, this name has evolved into many different forms in its nicknames. Here are some of the best nicknames for Evie that can express your deep-seated affection for your child or convey their behavioral traits.:
| | |
| --- | --- |
| Eve | Eva |
| Ev | Ezzie |
| Evalyn | Evangeline |
| Ez | Jean |
| Ena | Elayne |
| Elena | Elin |
| Halina | Evaline |
| Zoe | Lena |
| Aileen | Jenny |
Evie has a strong religious connotation as Eve was believed to be the first woman and the "mother of the living." Girls named Evie are Curious and impulsive; they're free-spirited, enjoy traveling, and adapt quickly to new situations. Hence, parents interested in choosing this name for their child are sure to have liked its soft and gentle sound and its profound meaning, which might positively impact their daughter's personality.
Sources/References
Social Security Administration: https://www.ssa.gov/cgi-bin/babyname.cgi
Evie Name Popularity in the United States: https://trends.google.com/trends/explore?date=2012-02-08%202022-02-08&geo=US&q=Evie
Evie Name Popularity Across The World: https://trends.google.com/trends/explore?date=2012-02-08%202022-02-08&q=Evie
Evie Name Interest in the United States: https://trends.google.com/trends/explore?date=2012-02-08%202022-02-08&geo=US&q=Evie
Evie Name Interest Across the World: https://trends.google.com/trends/explore?date=2012-02-08%202022-02-08&q=Evie