Eating Duck During Pregnancy – Is It Safe or Unsafe?
You would have heard different things about eating duck during pregnancy. The stigma around it suggests that pregnant women can feel tired when they eat duck. However, duck is highly nutritious for pregnant women. It offers multiple nutritional benefits. We will know about eating ducks, their benefits, easy to cook recipes in this article.
What Is Duck Meat?
Duck is white meat, which is part of the poultry family. The presence of myoglobin classifies duck meat as white meat. Though people from across the world relish different delicacies of duck meat, the method of cooking duck varies from one region to region. Pekin duck meat is the most common duck meat eaten in the United States of America. Pekin ducks are also known as the 'Long Island' ducks.
Can You Eat Duck Meat When Pregnant?
You can eat duck mean when you are pregnant. Anything consumed in moderation does not have bad effects on the body. It is, however, advised to eat cooked duck when pregnant. Do not eat undercooked or raw meat as they can contain harmful bacteria for the expecting mother. It can result in unnecessary complications for the mother and have a possibility of harming the fetus.
Health Benefits of Having Duck While Pregnant
Many expectant mothers have this question in mind, "Is duck good for pregnancy?" Yes, eating duck during pregnancy is good. Below listed are the benefits that mothers can reap by eating duck during pregnancy.
1. Excellent Source of Protein
Duck is rich in high-quality protein. It includes a wide variety of amino acids a pregnant lady requires and meets the daily protein intake. Protein helps boost the growth and development of the fetus and build the placenta, red blood cells, and tissues of the baby's body. Protein generally improves the body's immunity, skin, nails, and hair.
2. Immunity Booster
Duck meat is a good source of antioxidants with the presence of a mineral called Selenium. It works on preventing inflammation and getting the body cells from being damaged. Prevent cell damage and prevent inflammation, thereby boosting your immune system. Hence, duct meat helps a pregnant to fight different infections or diseases that may occur during pregnancy.
3. Promotes Healthy Heart
Duck meat has Omega-3 fatty acids, which help develop the baby's nervous system, brains, and eyes. These fatty acids also help lower high blood pressure levels and thus reduce the potential risk of evolving heart ailments.
4. Source of Antioxidants
Duck meat has antioxidants that effectively fight free radicals in the body. The presence of extra free radicals in the body can cause different diseases like diabetes, cancer, and heart issues. Antioxidants protect the body cells against free radicals.
5. Excellent Source of Vitamin B
Vitamin B, also known as Vitamin B complex, is found abundantly in duck meat. Vitamin B complex comprises eight vitamins; all these are put together with help in multiple ways to the mother and the growth of the fetus and then the baby. Some examples are increased energy levels, brain development, neural tube formation, vision, nervous system spine, etc.
6. Rich Calcium and Phosphorus
The presence of calcium and phosphorus plays an essential role in developing and strengthening the bones and teeth of the baby. Calcium also helps in building the baby's muscles, heart and nerves. It helps to prevent preeclampsia and osteoporosis that are common pregnancy complications faced by many pregnant women.
7. Improves Hemoglobin Count and Avoids Anemia
Hemoglobin is found in Red Blood Cells within the body. These help in transmitting oxygen to the tissues in the body. Duck meat is a high source of iron content, thereby helping in preventing iron deficiency and avoiding Anemia. An expectant mother needs a sufficient quantity of iron for the unborn baby and herself.
Risks of Eating Duck When Pregnant
Below are the two commonly related risks of eating duck when pregnant. Read them to understand and take a conscious decision before eating duck.
1. Listeria or Listeriosis
Listeria monocytogenes is a type of pathogenic bacteria that are found in animal meat, cheese, soil water, etc. They can survive in refrigerated foods like refrigerated pates, meat spreads, ready-to-eat meat, dairy products, etc. When a pregnant mother consumes this bacterium through food, it can easily transmit the bacteria to the baby. Symptoms of listeria include fever, muscle pain, chills, headache, etc. At times the risks include meningitis, spontaneous abortion, and other bacterial infection.
2. Toxoplasmosis
This is a parasite that is present in meat and soil. This can be easily detected through blood tests during early signs and stages of pregnancy. If you are immune and have antibodies, don't worry about toxoplasmosis; however, the bacteria don't get killed during cooking.
Pregnancy Safe Duck Recipes to Try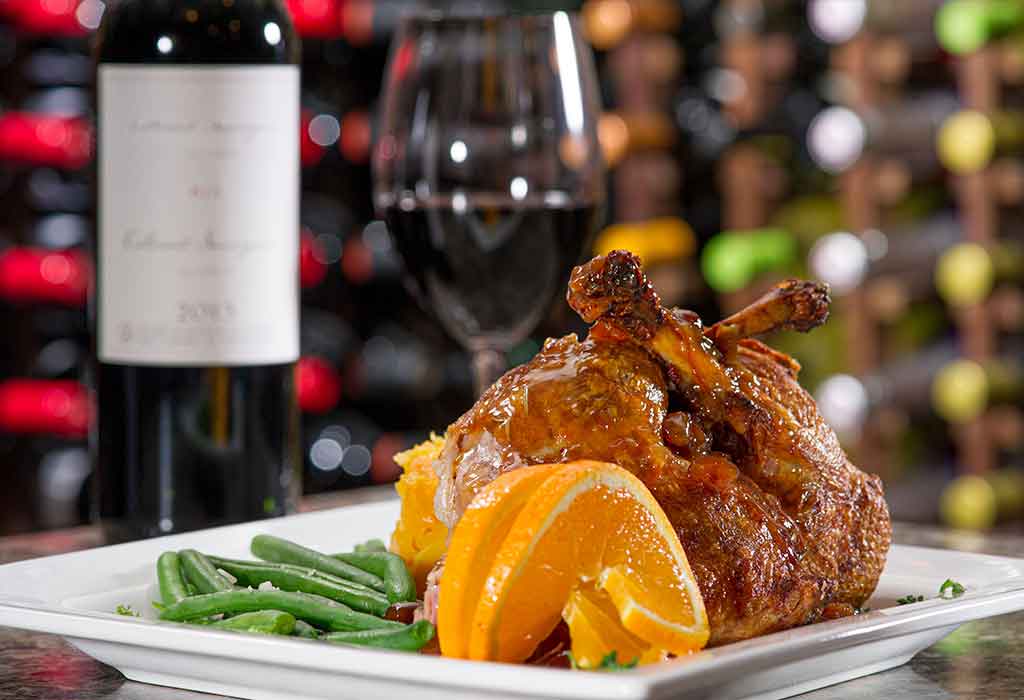 1. Duck a l'Orange
Total Cook Time: 50 Minutes
Serves: 4
Ingredients
Duck Legs: 4
Butter: 50 grams
Oranges: 2 (for the sauce and garnishing)
Orange Juice: 200 ml
Red Wine: 200 ml
Chicken Stock: 100 ml
Honey: 1 tablespoon
Black Pepper: 1 teaspoon
Salt to taste
Instructions
First, use a zester to zest the orange

Now remove the peel and pith and break the orange into different parts – keep aside the zest and the parts
Remove the duck skin with a sharp knife. Then season it with pepper
Take a pan and heat butter in it. Now add the duck once the butter is hot
Now let the duck cook for 10 minutes. Now turn the heat off – flip the duck over and allow it to sit in the pan for 10 minutes. Ensure the flame is off
Make sure the duck is cooked properly without any part being left raw or uncooked. Now remove it from the pan. Set it aside and cover it to keep it warm
The next step is to make the sauce using the same pan
Remove the duck fat, put the red wine, chicken stock, orange juice, honey, orange parts, and the orange peel
Bring all of it to a boil and then put on simmer for 2-3 minutes. Continue to stir.
Once cooked, it is ready to serve
Carve the duck and serve it with orange sauce. Add some boiled vegetables like potatoes and carrots along.
2. Crispy Duck Pancake
Total Cook Time: 2 Hours 15 Minutes
Serves: 5
Ingredients
Chinese Pancakes: 2 Packs (100gms each)
Whole Duck: 2 Kgs dressed
Spring Onions: 1 bunch finely shredded
Cucumber: 1 finely shredded
Orange (large): 1 peeled
Hoisin Sauce: 120 Gms
Cinnamon Powder: 1 tsp
Ginger: 50 gms finely sliced
Sichuan peppercorns: 2 teaspoon
Five Spice: 2 teaspoon
Sea Salt Flakes: 2 teaspoon
Oil: to grease
For the Glaze:
Hoisin Sauce: 1 tablespoon
Soy Sauce: 1 tablespoon
Shaoxing Rice Wine: 1 tablespoon
Honey: ½ tablespoon
Five Spice: 1/4th teaspoon
Instructions
Preheat microwave oven to 170°C.
Take a large roasting tin and line it with foil, and place an oiled metal rack over the top.
Now take the dressed duck and, with the help of a fork, prick all over. Put it in the fridge uncovered for 2 hours.
Mix five-spice Sichuan peppercorns, cinnamon, and salt and make powder out of it.
Now rub this powder mix all over the duck, inside and out.
Put the orange peel and ginger into the bird's cavity, place it on the prepared rack and roast it in the oven for two hours.
Now mix the glaze ingredients in the meantime.
Once the duck is roasted, remove it from the oven. Increase the temperature to 200°C.
From the tin, pour away the collected fat. Now place the duck back on the rack over the tin.
Generously brush the duck with the glaze and place it in the oven for 15 minutes,
Keep brushing glaze every 5 minutes until the duck's skin becomes crispy and the duck meat is carefully cooked.
Now remove from the oven, leave it covered and allow it to rest for 15 mins. Then shred the meat and keep it aside.
Warm the pancakes and follow the pack instructions to serve rolled up with the shredded meat, with hoisin, cucumber, and spring onion inside.
Safety Tips to Ensure Before Having Duck Meat in Pregnancy
It is very important to take precautions before eating duck when pregnant. Duck meat needs to be cooked thoroughly before eating, at least in 165°F. Organize the refrigerator properly, keep the raw meat, cooked food, and ready-to-eat food separately. Leftover food needs to be warmed properly before being eaten. Ensure you do not eat raw, dried, or smoked duck meat.
Do not touch foods that are risky to consume. Ensure you wash the hands properly, rinse the kitchen utensils cautiously. Remember not to rub your eyes.
FAQs
Below are the answers to some of the most commonly and frequently asked questions related to duck and pregnancy. Read them carefully to know what options a pregnant woman can consider and whatnot.
1. Is It Safe to Eat Duck Eggs in Pregnancy?
Yes, it's safe to eat both the duck and the duck eggs during pregnancy. However, the duck meat and the egg need to be cooked properly. Do not consume raw meat as it can lead to constipation during pregnancy.
2. Is It Okay to Eat Duck Breasts or Duck Steaks During Pregnancy?
Duck meat contains two types of bacteria like campylobacter and salmonella. These bacteria get killed only when they are cooked properly at a high temperature of 165°F. Hence it is not advisable to eat pink duck. Duck breasts and duck steaks are usually cooked in rare to medium heat.
3. Can I Have Crispy Duck (Peking Duck) and Duck Spring Rolls During Pregnancy?
Yes, you can have Crispy Duck (Peking Duck) and Duck Spring Rolls During Pregnancy. Crispy duck is thoroughly cooked, and duck spring rolls are deep-fried in hot oil before serving.
4. Can I Eat Duck Terrine and Duck Pate (Duck Liver Pate) When Pregnant?
The answer is simply a no. Duck pate and duck terrine have a high chance of causing listeriosis or listeria. This is an infection that enters the body through contaminated food. Listeria causes very severe infections in pregnant women.
Duck is generally safe to eat when you are pregnant, provided it is cooked properly. Consult your doctor before you begin eating duck meat when you are pregnant. Duck meat has immense minerals, omega-3 fatty acids, antioxidants, and other essential vitamins beneficial for an expectant mother. Thus, it is considered a highly nutritious food. Follow the recipes, tips, and ways suggested to eat duck meat and enjoy your pregnancy period.
Also Read:
Eating Fish when Pregnant
Eating Chicken during Pregnancy
Eating Meat while Pregnant – Is It Safe?