DIY Minion Hand Puppet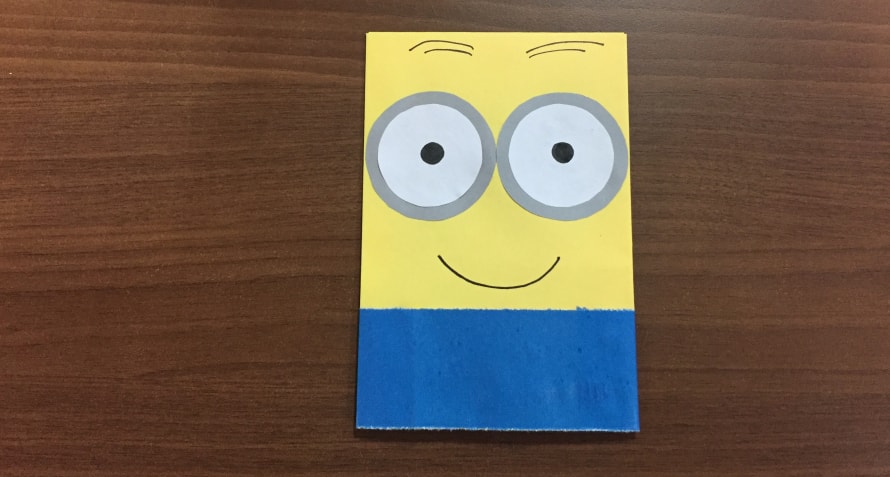 There's something so fun about minions, whether it's their cute language or the fact that they are so little, we love them! Here's a cute puppet you can make with your child, it's perfect for long journeys or lazy afternoons.
Who doesn't love puppets? And when they are minion puppets, your child is bound to hop around the house in glee! As a young child ready to start going to kindergarten, your child must now know her colours well, as well as her shapes. Kids around this age also develop another important quality – pretend play. Knowing the difference between reality and imagination is a huge developmental milestone, and one of the hallmarks of this milstone is a child who can successfully engage in pretend play.
So if you think your child needs a creative and colourful outlet for her imagination, this is the DIY project for you!
You Will Need
Coloured paper – black, white, and grey, yellow, and blue.
Black marker or sketch pen
Scissors-Glue
Pencil, ruler and eraser
One mommy-child pair willing to speak in Minionese for hours!
Procedure:
Take a rectangular piece of yellow paper. Draw a 1cm-border on three sides of the paper. Place the paper on the table with the blank side (without border) towards you.
2. Cut out strips of the paper as shown below.
3. Fold the paper in half, paste the extra flaps. You will get a yellow paper pocket.
4. Cut two bigger grey circles, and two slightly smaller white circles to make the minion 'eyes'.
5. Paste the white circle on the grey circle. Using a marker, draw a small dot in the middle of the white circle. Your minion 'goggle-eyes' are ready. Paste them on the plain side of the yellow pocket.
6. Cut a long strip of the blue paper and stick it along the bottom of the yellow pocket (make sure you don't close off the opening!).
7. Draw eyebrows and a smile using a black marker or sketch pen. Your Minion Hand Puppet is ready!
Messiness Score
2
Parental Involvement
Medium
Level Of Difficulty
Medium
Skills Enhanced
Playing with puppets encourages imagination and creativity in kids.
This Will Be Fun Because…
Everybody loves minions!
Fun Tip: You can play around with the white, black, and grey coloured paper to create different 'expressions'. You can even add 'hair' or 'teeth' to your minion puppet. If you want to give your puppet a more 'soft-toy' feel, you can use yellow felt paper instead of regular coloured paper.