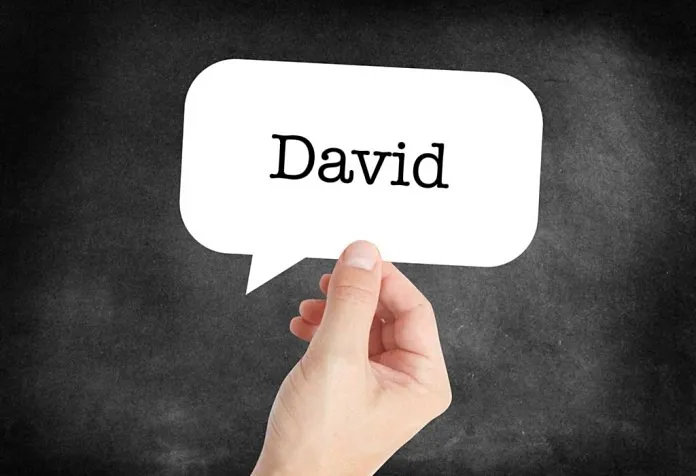 David is a beautiful masculine name highly popular with parents as numerous parents worldwide adore the name for its beautiful meaning and Biblical significance. The attractive name is equally popular in English-speaking and non-English-speaking countries, such as Saudi Arabia and India.
What Does David Mean?
The English name David is an important biblical figure. David appears in the Old Testament as the second king of Israel. The young shepherd, David, defeated the giant Philistine Goliath with just a slingshot. The meaning of David is "beloved" or "beloved of Jehovah," which signifies the beloved of God. It is an apt name for your loved baby boy. The name holds special significance in Jewish culture as the symbol of Judaism is the Star of David.
Origin
David is an English masculine name derived from Dawid – a Hebrew origin word evolved from "dod," which means "beloved." It is also said to be from "Dodaveha," a Hebrew word meaning "Beloved of Jehovah." Though it is the Old Testament that first mentions David, as per the New Testament, David was the ancestor of Jesus. Due to its Biblical Hebrew origin, David is a prominent name in Christian, Judaism, Sabbatean, and Islamic religions and languages.
Gender
Male
Pronunciation
Day-Vidh
Day-Vid
Da-Veed
Dah-Vid
Syllables
2 syllables
Length/Letter
5 letters
Name Variations/Spellings
David name variations are found in numerous languages due to their Biblical Hebrew origin. Here are some name variations and other spellings for David from different language origins:
| | |
| --- | --- |
| Name | Origin |
| Dafydd | Welsh |
| Daihbi | Irish |
| Daividh | Scottish |
| Daoud | Arabian |
| Dauf | Arabic |
| Davide | French |
| Davidde | Italian |
| Davito | Spanish |
| Daveed | Russsian |
| Dewey | Welsh |
| Davidek | Czech |
How Popular Is the Name David?
David has been a popular name in Britain, especially in Wales, since the middle ages. The credit for the popularity goes to the saint of Wales, a 5th-century patron honored with David's name. In Scotland, David was the name of two kings. In the 1950s and 60s, David was the top-ranked name in Wales and England.
In the last century, David has consistently been on the top 30 masculine names list in the U.S. In 1900, David ranked at #32 in the United States as per the Social Security Administration, while the level of the name's popularity reached its peak in 1960 as it hit the #1 rank in America. For the next many decades, the David baby name ranking remained in the top 10 choices for baby boy names. This continued till 1993 when its popularity slowly decreased, and it dropped from the top 10 list.
In 2000, David was at the rank of #16, and it remained in the top 15 ranks till 2010. From 2011 its popularity slowly decreased as it dropped in ranks. It reached its peak popularity at rank #12 in the years 2001 and 2007. In the year 2020, it reached the rank of #28. Though it may have dropped in ranks, it remains a beloved name and a considerably popular choice.
Interest in David – Worldwide
According to the Google search trends, David reached its peak popularity in Jan 2016. The name before 2016 registered a popularity scale in the range of 50s and 60s. However, after May 2016, its search popularity started to decline, and it recorded a popularity scale of 36 in July 2021.
Interest in David – the US
The United States Google search trends are almost the same as the Worldwide Google search trends for David. Same as the worldwide trend, David search reached its popularity in Jan 2016. From Jan 2011, David remained in the range of 55 to 61 till May 2016, when it reached its peak. Since then, it started declining and reached the scale of 41 in June 2021.
The popularity of name David
URL: https://www.ssa.gov/cgi-bin/babyname.cgi
Where Is the Name Most Searched?
Search trends of David Worldwide
As per Google search trends, David was most searched in Panama. After Panama, it was most searched in Australia, followed by United Kingdom, Ireland, and New Zealand. The Christian population in all these countries led to the popularity of the name there.
Search trends of David in the US
In the United States, David is most searched in the sub-region of the District of Columbia. Then as per the Google search trend, it is most searched in the sub-regions of Massachusetts, followed by New York, Connecticut, and Vermont.
Middle Names That Go With David
Choosing a suitable middle name can be a more daunting task than deciding the first name for your baby. Some double names with David for you to choose from are:
| | |
| --- | --- |
| Gabriel | James |
| Mark | Nolan |
| Logan | Andrew |
| Zaire | Daniel |
| Luke | Phillip |
| William | Russell |
| Adam | Bruce |
| Caleb | Scott |
| Henry | Alan |
| Ethan | John |
Famous People Named David
There have been numerous popular personalities named David. These popular personalities have helped in the consistent popularity of the name. Here are some of the most renowned Davids that you may know of:
| | |
| --- | --- |
| Celebrity Name | Profession/Famous for |
| David Beckham | English former professional football player |
| David Letterman | American late-night talk show host |
| David Spade | American actor and comedian |
| David Alan Grier | American actor and comedian |
| David Copperfield | American magician and illusionist |
| David Bowie | English singer-songwriter, actor |
| David Lee Roth | American rock musician, singer, songwriter |
| David Schwimmer | American actor |
| David Duchovny | American actor |
| David Justice | Baseball player |
Similar Names & Last Names
There are numerous baby names like David that are equally meaningful and beautiful. Few choices for other names for David with family names for David are:
Names That Sound Like David
Many names that rhyme with David may have different meanings. But these similar-sounding names incorporate the beauty of the name while lending a modern touch. Some of the names that sound like David are:
| | |
| --- | --- |
| Daven | Navid |
| Davin | Ovid |
| Davion | Yazid |
| Davon | Trevin |
| Davian | Arvid |
| Davidde | Dacio |
| Dafydd | Tavid |
| Davuth | Daavid |
Sibling Names Related to David
Similar or connected sibling names feel beautiful. Many meaningful sibling names go with David that will make all your children's names seem connected. Some sister and brother names for David for you to shortlist are:
| | |
| --- | --- |
| Sister Names for David | Brother Names for David |
| Olivia | Jonathan |
| Amelia | Joshua |
| Davina | Joseph |
| Ruth | Donavan |
| Rebecca | Daveth |
| Miriam | Alexander |
| Abigail | Louis |
| Rachel | Fredrick |
| Elizabeth | Jacob |
| Charlotte | Francois |
Nicknames for David
Nicknames show your affection for your baby without expressing it in words. Some nicknames for your boy named David are:
| | |
| --- | --- |
| Dave | Dain |
| Davie | Dovi |
| Davey | Dav |
| Dennis | Dewi |
| Dovi | Davo |
| Avi | Dato |
David will always be a good choice for a boy's name. The name, with its biblical connotations and meaning, is ideal to name your beloved son. Despite its ancient origin, David remains a timeless name that is classic and strong.
Sources/References
Social Security Administration: https://www.ssa.gov/cgi-bin/babyname.cgi
David Name Popularity in the United States: https://trends.google.com/trends/explore?date=2011-01-01%202021-07-10&geo=US&q=David
David Name Popularity Across The World: https://trends.google.com/trends/explore?date=2011-01-01%202021-07-10&q=David
David Name Interest in the United States: https://trends.google.com/trends/explore?date=2011-01-01%202021-07-10&geo=US&q=David
David Name Interest Across The World: https://trends.google.com/trends/explore?date=2011-01-01%202021-07-10&q=David